Tarasenko leads St. Louis Blues past Edmonton Oilers in first game since layoff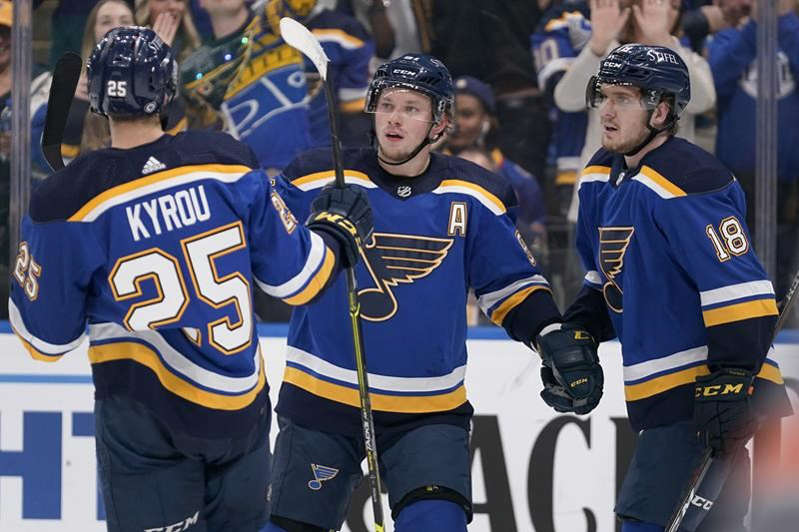 ST. LOUIS (AP) — Vladimir Tarasenko had a goal and two assists as the St. Louis Blues beat the Edmonton Oilers 4-2 on Wednesday night.
Brandon Saad, Robert Thomas and Jordan Kyrou also scored in St. Louis' first game since a 4-2 loss at Winnipeg on Dec. 19.
Leon Draisaitl and Evan Bouchard scored for Edmonton in its first game since a 5-3 win at Seattle on Dec. 18.
Jordan Binnington made 26 saves in his second start since being activated off the COVID-19 list.
Mike Smith stopped 29 shots for the Oilers.
Tarasenko gave the Blues a 3-2 lead on his 13th goal of the season when he skated to the edge of the crease and pushed the puck past Smith with 4:14 remaining in the second period. Tarasenko has scored in four straight games, compiling five goals and four assists during that span.
Saad added his 12th of the season 16 seconds into the third on a power play to make it 4-2.
Thomas scored his third goal after a give-and-go with Tarasenko 4:03 into the first period.
Kyrou scored his 10th nearly three minutes later.
Draisaitl cut St. Louis' lead to 2-1 when he got his 24th of the season just 32 seconds later.
Bouchard scored his sixth on a shot from outside the faceoff circle that snuck past Binnington to tie it 2-all with 8:11 remaining in the second.
BENCH BOSS
Craig Berube earned his 200th win as an NHL coach, making him the seventh in league history to win 200 games and play in at least 1,000. Berube played in 1,054 games over 17 seasons.
WELCOME TO THE NHL
Oilers D Dmitri Samorukov made his NHL debut. The 22-year-old was a third-round pick by the Oilers in the 2017 draft.
LATE SCRATCH
Blues LW Pavel Buchnevich was scratched with a non-COVID-19 illness. St. Louis dressed 11 forwards and seven defensemen.
UP NEXT
Oilers: At the New Jersey Devils on Friday.
Blues: At the Minnesota Wild on Saturday to compete in the Winter Classic at Target Field.
___
More AP NHL: https://apnews.com/hub/NHL and https://twitter.com/AP_Sports
David Solomon, The Associated Press
Rookie goalie Jaxson Stauber in form as Blackhawks dump Flames 5-1
By Darren Haynes in Calgary
Rookie goaltender Jaxson Stauber made it two wins in as many career starts by making 34 stops on Thursday to help the Chicago Blackhawks to a 5-1 victory over the Calgary Flames.
Taylor Raddysh, Boris Katchouk, Jason Dickinson, Sam Lafferty and Connor Murphy, into an empty net, scored for Chicago (15-28-4), which entered the game last in the NHL's overall standings. Max Domi had an assist to extend his point streak to four games (one goal, three assists).
Jonathan Huberdeau scored for Calgary (23-17-9). The Flames sit outside of a playoff spot in the Western Conference after last season finishing atop the Pacific Division.
Markstrom had 24 stops for the Flames. Winless in his last four decisions (0-3-1), his record fell to 13-13-5. That's 10 times this season Markstrom has received one or no goals for support.
With Alex Stalock (concussion) out, Stauber made his NHL debut on Saturday in a 5-3 win in St. Louis.
The undrafted 23-year-old is in his first pro season after signing as a free agent last March after playing the previous two years with Providence College. He began the season with AHL Rockford.
Tied 1-1 after 20 minutes, Chicago seized control in the second period with three unanswered goals.
At 9:39, Katchouk one-timed a pass from Luke Philp past Markstrom, who was screened.
Chicago made it a two-goal lead at 15:37 when both Flames defencemen Nikita Zadorov and MacKenzie Weeger went to Patrick Kane, leaving the middle of the ice open. Kane's pass sent Dickenson in alone and he beat Markstrom over his shoulder.
Just 30 seconds later, another defensive miscue from the Flames resulted in a two-on-one rush with Colin Blackwell setting up Lafferty for his eighth goal of the season.
The Flames outshot the visitors 18-6 in the third period, but couldn't beat Stauber. The scattered booing from disgruntled fans throughout the stanza was at its loudest at the final buzzer as Calgary players left the ice.
In a listless first period from the home side, Chicago scored first at 17:47 when Raddysh beat Markstrom under his arm.
The Flames would tie it in the final minute. Huberdeau took a pass from Kadri and made a slick move to tuck the puck behind Stauber.
TOEWS AND TANEV OUT
Both teams were without key players. Calgary defenceman Chris Tanev (upper body) was out. His spot was taken by Connor Mackey, a healthy scratch the last 16 games.
Chicago was without captain Jonathan Toews (non-COVID illness). Philp was inserted into the lineup and recorded his first NHL point.
MILESTONE FOR TOFFOLI
Tyler Toffoli played in the 700th game of his career. He has played 86 games for the Flames.
Toffoli has also played for Los Angeles (515), Vancouver (10) and Montreal (89).
UP NEXT
Blackhawks: Wrap up a three-game road trip on Saturday in Edmonton.
Flames: Are back in action Friday night in Seattle.
—
This report by The Canadian Press was first published Jan. 26, 2023.
Russia's path to 2024 Olympics takes shape, Ukraine objects
LAUSANNE, Switzerland (AP) — Russia's path to sending a team to the Paris Olympics next year became clearer on Thursday amid fierce objections from Ukraine.
The International Olympic Committee indicated on Wednesday it favors officially neutral teams from Russia and its ally Belarus at the 2024 Olympics despite a plea from Ukrainian President Volodymyr Zelenskyy to exclude them entirely.
A day later, Russia and Belarus were invited to compete at the Asian Games, a key Olympic qualifier.
Russia typically competes as part of Europe but has a tense relationship with many of the countries set to host qualifying events there. Russia and Belarus have been barred from almost all international competitions in Olympic sports following the invasion of Ukraine.
Zelenskyy has said he told French President Emmanuel Macron, whose country is hosting the Olympics, that Russia should have "no place" there. Ukraine is seeking to rally support against the IOC-brokered plan.
"IOC has been disregarding Russian war crimes, claiming that 'No athlete should be prevented from competing just because of their passport', while Ukrainian athletes continue to be killed by Russia because of their passports. I urge all sports figures to make their stance known," Foreign Minister Dmytro Kuleba wrote on Twitter on Thursday.
Ukraine boycotted an Olympic qualifier in judo last year when Russians were allowed to compete as neutrals.
In Russia, there was praise from the IOC plan from Igor Levitin, an aide to President Vladimir Putin who holds influential government and sports posts.
"I think it is already a success. Olympic society understands that the Olympic Games cannot be staged without Russia," said Levitin, who is the senior vice-president of the Russian Olympic Committee, in comments reported by state news agency Tass.
Some Russian officials expressed unhappiness at the IOC declaring it would not allow athletes found to be "actively supporting the war in Ukraine." Russian Olympic Committee president Stanislav Pozdnyakov said on Wednesday he opposed "any restrictions, extra requirements or sanctions."
The IOC statement on Wednesday referenced the civil war in the former Yugoslavia at the 1992 Olympics in Barcelona. The country was under United Nations sanctions so Yugoslav athletes were allowed to compete individually only as "Independent Olympic Participants." They didn't take part in team sports such as soccer and basketball.
That would be stricter than previous IOC measures against Russia in the years-long fallout from one of the largest doping cases in sports history. Russians competed under the name "Olympic Athlete from Russia" at the 2018 Winter Olympics and as ROC — short for Russian Olympic Committee — in 2021 and 2022, without their country's anthem or flag but with national colors on uniforms.
The Asian Games will be in Hangzhou, China, in September and October, and function as Olympic qualifiers in several sports including archery and boxing. Some other sports host their own Asia-specific qualifying competitions.
"The OCA believes in the unifying power of sport and that all athletes, regardless of their nationality or the passport they hold, should be able to compete in sports competitions," the OCA said in a statement.
The long-time director general of Kuwait-based OCA, Husain al-Musallam, is also the president of World Aquatics, which is overseeing the core Olympic sport of swimming in the IOC home city Lausanne.
"The OCA has offered to give eligible Russian and Belarusian athletes the opportunity to take part in competitions in Asia, including the Asian Games," the organization said.
The OCA added it "remains on standby" until the IOC and the individual sports' governing bodies finalize the conditions for Russia and Belarus to compete.
___
More AP sports: https://apnews.com/hub/apf-sports and https://twitter.com/AP_Sports