Tam warns that full vaccination does not equal full protection from COVID-19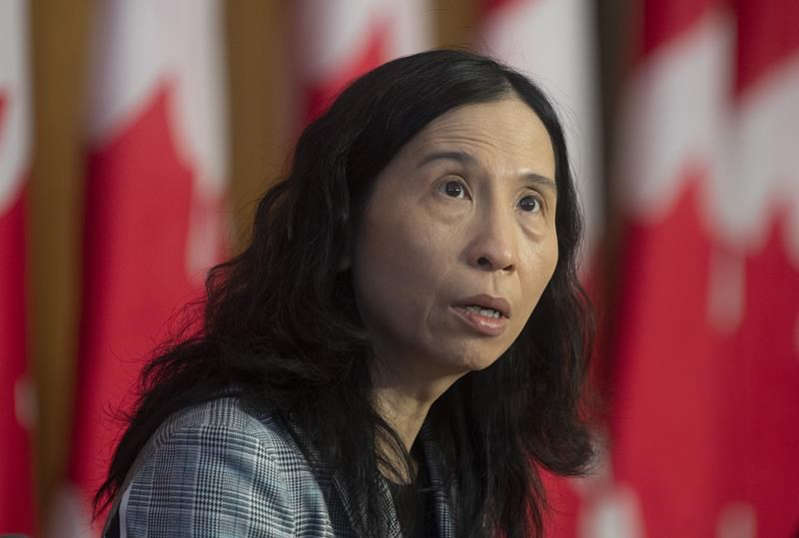 Canada's chief public health officer reminded Canadians on Saturday that even those who are fully vaccinated remain susceptible to COVID-19.
Speaking at a virtual townhall for Yukoners, Dr. Theresa Tam said the risk of asymptomatic infection and transmission is far lower for anyone who receives two shots of the Pfizer-BioNTech, Moderna, or Oxford-AstraZeneca vaccines.
"But it's not absolute. There's reduction in your risk of transmission, but it doesn't necessarily eliminate your risk of transmission," Tam said, adding that the danger dials down especially after the second dose.
"Some studies have shown that it reduces the amount of virus in the back of your nose. If you sample people, there's less virus, which means less risk of transmission."
Young people, who often work in frontline or essential services and sit at the bottom of vaccination priority queues, now have some of the highest case rates and can transmit the virus despite showing no symptoms, Tam added.
"The groups that transmit the virus the most are actually younger adults, many of whom have to work. They can't stay at home," she said.
"It's important that we protect them, as well as the fact that if they're protected, we reduce transmission of the virus in the community."
Alberta and other parts of Canada remain mired in the third wave of the COVID-19 pandemic, even as hospitalization rates have started to tick downward in provinces such as Ontario and Quebec.
Many parts of the country face tight restrictions, with schools closed across Ontario and Alberta and patios shut down in Montreal, Toronto and — as of this Monday — Calgary.
Some Albertans continue to chafe at the tougher measures, which Premier Jason Kenney announced Tuesday.
Protesters went ahead with an anti-lockdown demonstration outside a highway diner in central Alberta on Saturday, despite pouring rain and a pre-emptive court injunction.
Dozens of demonstrators gathered outside the Whistle Stop Café in the hamlet of Mirror, Alta., for the "Save Alberta Campout Protest."
The largely mask-free gathering follows a rodeo billed as an anti-lockdown event held last weekend in Bowden, about 100 kilometres southwest of Mirror.
Alberta Health Services has said the provincial government will take legal action to stop any planned protests of COVID-19 public health orders, including the one outside the café.
Mass vaccination efforts continue to broaden across swaths of the country.
In Ontario, nearly 150 pharmacies started offering COVID-19 vaccines to all adults in some virus hot spots this weekend, a shift made to align with provincial efforts to protect the most vulnerable amid a third wave of infections.
The province quietly announced the expanded eligibility — for anyone aged 18 and older — on a provincial pharmacy vaccine booking webpage on Friday afternoon, with slightly more than half of the locations in Toronto and Peel Region.
On Thursday, Quebec said it vaccinated 102,762 people, the highest single-day number since the start of its vaccine rollout. The province set another record that day, when vaccinations opened to everyone 35 and over, with 272,000 people booking vaccinations, Health Minister Christian Dubé said Friday.
Quebec's health situation remains relatively stable, with the number of new COVID-19 cases falling short of 1,000 for the sixth day in a row on Saturday and hospitalizations also on the decline.
Dispiriting numbers kicked off the weekend in Nova Scotia, however.
The province continues to log high case counts of COVID-19, reporting 163 new infections Saturday, mostly in the Halifax region.
On the other side of the country, communities along the Alberta-British Columbia boundary said they're worried continuing COVID-19 restrictions could hit their economies hard this summer.
The B.C. government is discouraging Alberta tourists from visiting. In Fernie, in southeastern B.C., the executive director of the Chamber of Commerce said about 80 per cent of tourism business comes from Alberta and Saskatchewan — and he's encouraging travellers to keep coming.
A spokeswoman for the RCMP in B.C. clarified that Albertans are not prohibited from visiting British Columbia, but, once there, they aren't allowed to travel to other areas within the province unless it's deemed essential.
This report by The Canadian Press was first published May 8, 2021.
— With files from Hina Alam in Vancouver, Fakiha Baig in Edmonton and Holly McKenzie-Sutter in Toronto
Christopher Reynolds, The Canadian Press
Rampaging bear in Japan injures 4 before being shot dead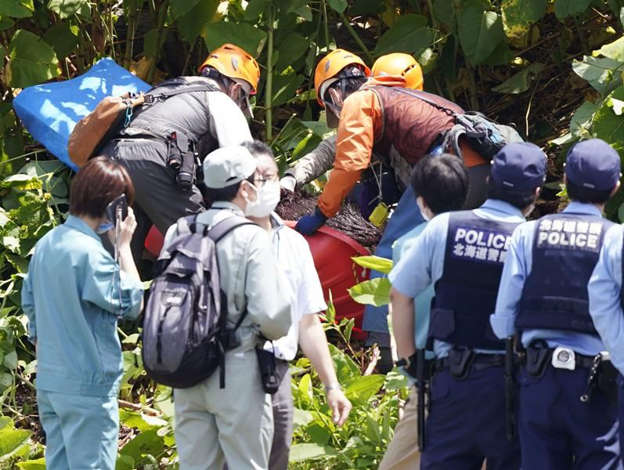 TOKYO (AP) — A wild brown bear on the the loose all night in a city in northern Japan wounded four people, entered a military camp and disrupted flights at an airport Friday before being shot and killed by authorities.
The bear was seen wandering through the streets of Sapporo in the early hours of Friday, triggering a number of calls to police. Over the next eight hours, Hokkaido prefectural police said the bear injured a woman in her 80s, a man in his 70s and a man in his 40s before attacking a soldier.
Police said the condition of those injured was not known, but the Asahi newspaper reported that the man in his 40s suffered serious injuries to his chest, back and limbs after he was mauled by the bear while walking on the street.
Footage on local television showed the bear wandering a street in Sapporo. Chased by a car, it crossed a busy road and forced its way into the Ground Self-Defense Force's Camp Okadama. The bear knocked down a uniformed soldier on duty at the gate.
The soldier suffered cuts to his chest and stomach, but his injuries were not life threatening, according to the Defense Ministry.
Next the bear ran through the camp and intruded onto the runway at a nearby airport, causing several flights to be grounded.
The bear then ran into a forest, where it was shot by local hunters.
Toshihiro Hamada, an official at Sapporo city environmental department, said the bear's presence in town was a surprise and officials were investigating how the animal ended up in town.
"We are sorry that four people were injured," Hamada said.
Brown bears roam mainly in Hokkaido forests, but experts say they have been increasingly spotted in inhabited areas looking for food, especially during the summer.
___
Follow Mari Yamaguchi on Twitter at https://www.twitter.com/mariyamaguchi
Mari Yamaguchi, The Associated Press
Canadiens defenceman Jeff Petry talks injury, 'scary looking' eyes after return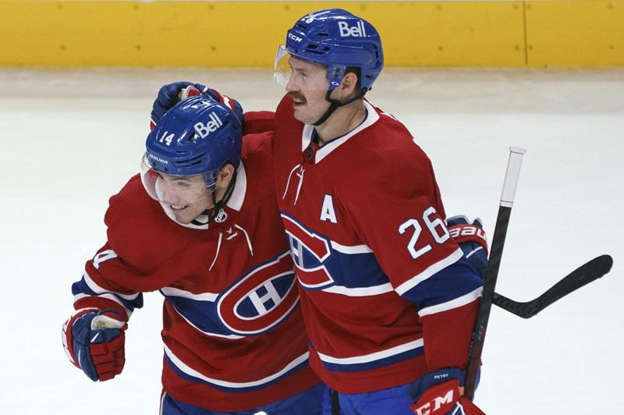 Jeff Petry's young sons were warned by their mother that dad looked a little different.
A hand injury suffered by the Canadiens defenceman in Game 3 of Montreal's series against the Winnipeg Jets had also eventually resulted in broken blood vessels in both of his eyes.
It gave the soft-spoken blue-liner a demonic look that startled his children — despite Julie Petry's best efforts to calm their fears.
"Kids were at school when I came home," Petry recalled Thursday. "(They) didn't want to look at me and decided that I would be the villain and they'd be the super heroes and we started playing.
"That got them to relax and feel a little bit more comfortable."
Petry wasn't a super hero Wednesday night, but his return to the lineup helped the Canadiens secure a 3-2 victory in Sin City to even their semifinal matchup with the heavily favoured Vegas Golden Knights 1-1.
Game 3 of the best-of-seven showdown goes Friday at the Bell Centre in Montreal.
Petry was hurt June 6 when his right hand got caught in one of the holes photographers and television camera operators use along the glass. He departed that game, wasn't available when Montreal completed a sweep of Winnipeg the following night, and sat out the opener against Vegas.
The 33-year-old was confident he'd suit up Wednesday after coming through the morning skate while sporting a specially made glove, but he didn't take line rushes in warmups and was initially scratched before being added to the game sheet just prior to puck drop.
Once in the lineup, it didn't take long for TV viewers and social media users to notice Petry's eerie, blood-tinged eyes.
"He's scary looking," Canadiens goaltender Carey Price joked following his ninth victory of the post-season. "But he's obviously a big part of our team and played a big game."
Montreal head coach Dominique Ducharme, who also got defenceman Jon Merrill back after he was injured during the Canadiens' stunning comeback win over the Toronto Maple Leafs in the first round, said his team wasn't being coy with Petry's status.
"He was confident he was gonna play, but we needed to talk to the doctors, we needed to have the green light," Ducharme said Thursday morning before Montreal flew home. "They wanted to make sure everything was fine.
"There's no game there."
Petry, who doesn't have any vision issues, finished second on the Canadiens with 42 points during the pandemic-shortened regular season, and has four assists in 11 outings in these playoffs with the Original Six franchise now just three victories from the Stanley Cup final.
"It is the most important time of the year," he said after logging nearly 21 minutes Thursday. "With any injury that you're dealing with, you're trying to cut the timeline down and get out there as quick as possible."
Normally a player with terrific puck-handling skills, Petry said he'll have to continue relying on his skating and stick work to get by in the defensive zone with his hand still ailing.
"It's come along," he said. "It was something that needed to get time — talking with the doctors, getting a timeline and coming up with what made sense, but what was realistic.
"It was just a matter of when I felt like I could play without hurting the team."
That was certainly the case in Game 2.
RED-HOT TOFFOLI
Tyler Toffoli led the Canadiens offensively throughout the regular season.
Not much has changed in the playoffs.
The winger, who had 28 goals in 52 games in 2021, has 12 points in 13 contests this spring. Toffoli is also on an eight-game point streak — one back of the franchise record shared by Guy Lafleur (1977) and Larry Robinson (1978).
FLEURY HEADING HOME
Golden Knights netminder Marc-Andre Fleury is looking forward to playing in his home province for the first time since before the pandemic because of COVID-19 border restrictions.
The Canadiens will have 3,500 fans in attendance at the Bell Centre for Games 3 and 4 — up 1,000 as coronavirus rules continue to loosen in Quebec — but the 36-year-old is only focused on what happens between the whistles.
"I haven't been back in a little while," said Fleury, a native of Sorel-Tracy, about an hour's drive northeast of Montreal. "It's always a building that's fun to play in. It's usually pretty loud.
"But the goal is the same — just go in and grab the win."
PERRY LIVING THE DREAM
Montreal forward Corey Perry fell in love with the Canadiens as a kid when his father was an Ontario Provincial Police officer not far from the Quebec border in New Liskeard, Ont.
After playing his entire career in the U.S., the 36-year-old former Hart Trophy winner and 2007 Stanley Cup champion signed with his childhood team for US$750,000 right before training camp.
And he couldn't be happier.
"To put on that jersey each and every night and play for this franchise, it's a special feeling," said Perry, who has three goals and five assists in the post-season. "It's been a dream come true.
"But there's a lot of work left to be done."
This report by The Canadian Press was first published June 17, 2021.
___
Follow @JClipperton_CP on Twitter
Joshua Clipperton, The Canadian Press