Talk of race, sex in schools divides Americans: AP-NORC poll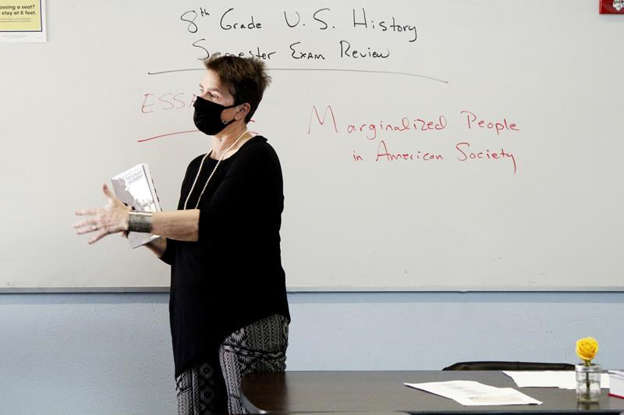 WASHINGTON (AP) — Americans are deeply divided over how much children in K-12 schools should be taught about racism and sexuality, according to a new poll released as Republicans across the country aim to make parental involvement in education a central campaign theme this election year.
Overall, Americans lean slightly toward expanding — not cutting back — discussions of racism and sexuality, but roughly 4 in 10 say the current approach is about right, including similar percentages across party lines. Still, the poll from the University of Chicago Harris School of Public Policy and The Associated Press-NORC Center for Public Affairs Research shows stark differences between Republicans and Democrats who want to see schools make adjustments.
About 4 in 10 Republicans say teachers in local public schools discuss issues related to sexuality too much, while only about 1 in 10 say too little. Among Democrats, those numbers are reversed.
The findings reflect a sharply politicized national debate that has consumed local school boards and, increasingly, state capitols. Republicans see the fight over school curriculum as a winning culture war issue that will motivate their voters in the midterm elections.
In the meantime, a flurry of new state laws has been introduced, meant to curtail teaching about racism and sexuality and to establish a "parents' bill of rights" that would champion curriculum transparencyand allow parents to file complaints against teachers.
The push for legislation grew out of an elevated focus on K-12 schools during the COVID-19 pandemic, when angry parents crowded school board meetings to voice opposition to school closures, mask mandates and other restrictive measures intended to prevent the spread of illness.
"All that that's happening these days kind of goes against the longer history of school boards being relatively low salience government institutions and, in a lot of cases, they are nonpartisan offices," said Adam Zelizer, a professor at the University of Chicago Harris School researching school board legislation.
What distinguishes this moment, Zelizer said, is the "grassroots anger" in response to school policies and the national, coordinated effort to recruit partisan candidates for school boards and local offices.
What started as parents' concern about virtual learning and mask wearing has morphed into something larger, said Republican pollster Robert Blizzard, describing parents as thinking: "OK, now that we have the schools open, what are these kids learning in school?"
The poll shows 50% of Americans say parents have too little influence on curriculum, while 20% say they have too much and 27% say it's about right. About half also say teachers have too little influence.
Kendra Schultz said she and her husband have decided their 1-year-old daughter will be homeschooled, at least initially, because of what friends have told them about their experiences with schools in Columbia, Missouri.
Most recently, she said, one 4-year-old's pre-K class talked about gender pronouns. Schultz offered that and mask requirements as examples of how the public school system "doesn't align with what we believe or how we would like to see our children educated."
"I'm just like, you're a little kid, you should be learning your ABCs and your numbers and things like that," said Schultz, a 30-year-old conservative. "That's just not something that me and my husband would be interested in having teachers share with our children."
In Florida, Republican Gov. Ron DeSantis in March signed into law a billbarring instruction on sexual orientation and gender identity in kindergarten through third grade. Opponents, including the White House, have dubbed it the "Don't Say Gay" law.
The poll shows Americans are slightly more likely to say the focus on sex and sexuality in local schools is too little rather than too much, 31% to 23%, but 40% say it's about right. The poll didn't ask about specific grade levels.
Blizzard, who has been working with a group called N2 America to help GOP candidates in suburbs, said the schools issue resonates with the Republican base and can motivate voters.
In the Virginia governor's race last year, Republican Glenn Youngkin won after campaigning on boosting parental involvement in schools and banning critical race theory, an academic framework about systemic racism that has become a catch-all phrase for teaching about race in U.S. history. His Democratic opponent, Terry McAuliffe, had said in a debate that parents shouldn't tell schools what to teach.
The poll also shows Americans have mixed views about schools' focus on racism in the U.S.
Randi Weingarten, president of the American Federation of Teachers, said parents and teachers alike are frustrated after pandemic disruptions and should partner to help kids recover. The efforts to predetermine curriculum and restrict teaching are getting in the way, she said.
"The people who are proposing them, they've been pretty clear … they just want to sow doubt and distrust because they want to end public education as we know it," Weingarten said.
Parents of school-age children aren't more likely than other adults to say parents have too little influence in schools. But there is a wide partisan gap, with 65% of Republicans saying that, compared with 38% of Democrats.
Michael Henry, a father of three in Dacula, Georgia, says he's wrestled over what the right level of involvement is. It didn't sit right with him, for example, that his 6-year-old was taught about Christopher Columbus in an entirely positive light. He says he's reflected on "some of the lies" and "glorifications of history" in his own public school education and thinks race needs to be talked about more.
But ultimately, school curriculum is "outside my area of expertise," said Henry, 31, an actuary who is also the acting president of the Gwinnett County Young Democrats.
"I have to do a lot of studying and work to be able to make informed decisions, and I don't feel like parents generally have that kind of skill set" for curriculum, he said. "I think professionals should mostly be determining what the curriculum should be."
Henry worries that new restrictions are "adding extra hassle for teachers, who already have a lot on their plate, to solve a problem that doesn't exist."
___
AP Education Writer Collin Binkley in Boston contributed to this report.
___
The AP-NORC poll of 1,082 adults was conducted March 17-21 using a sample drawn from NORC's probability-based AmeriSpeak Panel, which is designed to be representative of the U.S. population. The margin of sampling error for all respondents is plus or minus 4 percentage points.
Hannah Fingerhut, The Associated Press
Alberta ups ante in mandate fight with Athabasca University, threatens funding cut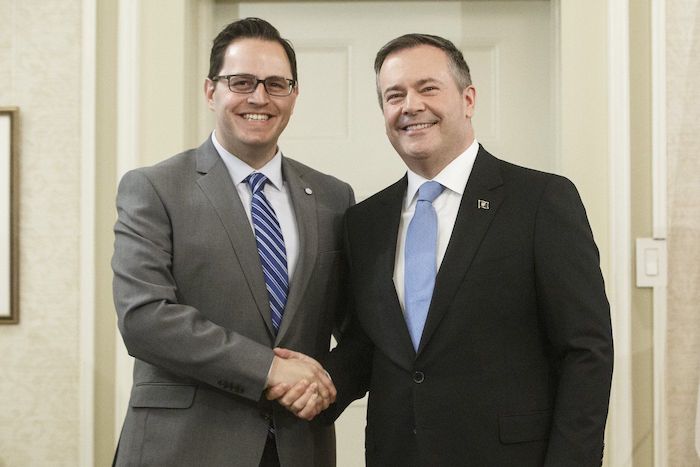 By Dean Bennett in Edmonton, Alberta, Canada
The Alberta government has upped the ante in its fight with Athabasca University, directing the online-oriented school to get busy making sure more staff work in the small northern town or risk losing millions of dollars in funding.
"The university must end its pursuit of the near-virtual strategy and must deliver a new strategic plan to Advanced Education for approval by Sept. 30," Advanced Education Minister Demetrios Nicolaides said in a statement Tuesday.
"Failure to comply will result in reductions to Athabasca's future funding."
Nicolaides informed the school of the changes in a letter sent over the weekend.
In it, Nicolaides tells the school's board of directors that it has until the end of August to direct school president Peter Scott to stop implementing what is known as the university's "near-virtual" strategy.
Further, writes Nicolaides, the board must then help Scott craft a new strategy "that expands and reinforces the university's physical presence in the town of Athabasca."
That new strategy must be submitted to Nicolaides for approval by the end of September.
Failure to do so, said Nicolaides, "would allow the Ministry of Advanced Education to withhold the $3.43-million monthly instalment for Athabasca University's base operating grant."
The letter also stipulates that all executive members of the university live in the town by no later than April 2025.
Kristine Williamson, the university's spokesperson, did not immediately respond to an email request for comment.
The letter escalates a standoff between the province and the university over the school's mandate.
Prior to the COVID-19 pandemic, the university instituted the "near-virtual" plan to give employees more freedom over where they carried out their work. That plan was accelerated when the pandemic forced people to work from home.
Scott has publicly argued the goal of the school is to provide the best distance education with the highest-quality staff — a mandate that would be hampered by a demand that employees work in Athabasca.
Nicolaides says high quality can still be maintained while adhering to the pledge of economic diversification that led to Athabasca being relocated from Edmonton almost 40 years ago.
Nicolaides directed the university in March to deliver by June 30 a plan to resume and expand in-person operations.
In May, the province replaced Nancy Laird as Athabasca University board chair to accelerate the shift. She was replaced by Calgary lawyer Byron Nelson.
Nevertheless, the shift has been rebuffed by Scott.
Scott, in an April email to staff, said "ongoing work with our near-virtual workforce will continue."
He also noted the university shuttered satellites in Calgary and Edmonton to concentrate on Athabasca.
Nicolaides said Tuesday that the June 30 response did not pass muster, leading to "the need for Alberta's government to take substantive action."
Local residents have also taken up the fight.
The advocacy group Keep Athabasca in Athabasca University has argued for more local presence, concerned that a small fraction of about 1,200 staff are left in the town.
The group hired a lobbyist to plead its case and, in March, Premier Jason Kenney himself came to town to promise they would make changes to bring people back.
Athabasca University has about 40,000 students.
This report by The Canadian Press was first published Aug. 2, 2022.
Lindsay Thurber grad off to school in Ottawa and job in Parliament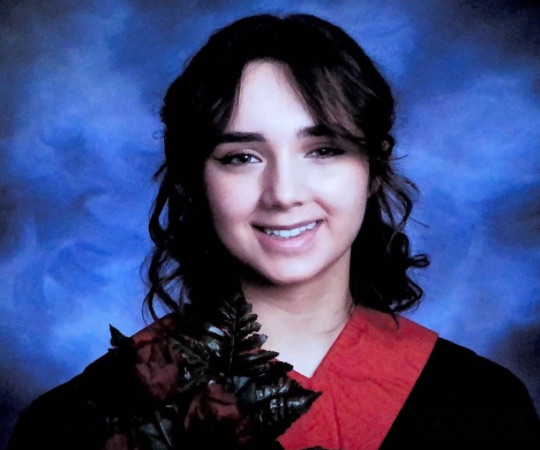 Local graduate to participate in prestigious Page Program
One Red Deer Public graduate will get an opportunity not many have had, which is to live and breathe the history and action of one of Canada's oldest political institutions.
Elena Bakker, who graduated from Lindsay Thurber in June, is one of 40 students from across Canada who will be off to Ottawa later this summer to participate in the House of Commons Page Program.
"I heard about the program through my Principal Mr. Good and it sounded like something that would be up my alley," she said. "It's for students who are politically inclined and anybody who wants to know more about the parliamentary system. It was appealing to me and I was really interested in trying it out."
Duties of a Page include performing tasks directly related to the sittings of the House; working with Members of Parliament in a non-partisan role; experiencing debates live in the Chamber; meeting with student groups in the Chamber; and participating in the Speaker's parade, among other duties.
The process to apply was lengthy – Elena first applied in October and found out she was accepted in April. As part of the application process, she had to send in a cover letter and resume, and her second language ability was tested to ensure she could communicate confidently in both English and French.
"I'm really excited for the opportunity. You are guaranteed a year of work, and it opens the door for a lot of opportunities going forward," said Elena. "There are many Pages who have gone back to work on Parliament Hill for various people in various different sectors. It connects you with a lot of people."
While fulfilling work as a Page, Elena will also be entering her first year at the University of Ottawa as she works towards her Bachelor of Science in Psychology. "I am not 100% sure where my degree will take me, but I am using this first year to explore all opportunities and that is really exciting," she said.
As for her upcoming role as a Page, Elena said there is much to look forward to.
"I am most looking forward to meeting the other Pages," said Elena. "They are from all across Canada, come from different backgrounds and have different perspectives. It will be really cool to meet all of these people who are there for the same reason."