Swedish artist threatened for Muhammad sketch dies in crash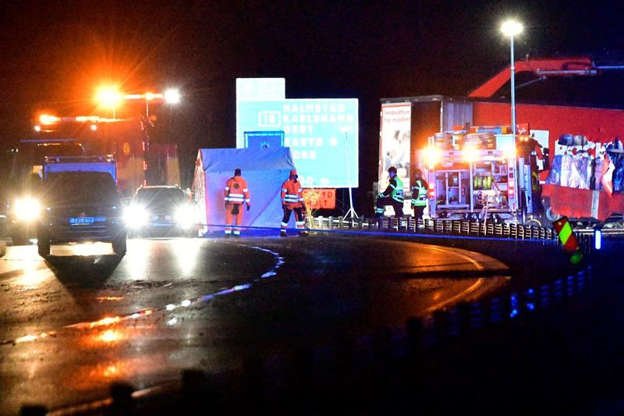 STOCKHOLM (AP) — Swedish artist Lars Vilks, who had lived under police protection since making a sketch of the Prophet Muhammad with a dog's body in 2007, died in a weekend crash along with two police bodyguards, police said Monday. He was 75.
Vilks and two plainclothes police officers were killed in a head-on crash with a truck on Sunday afternoon, said Carina Persson, police chief for southern Sweden. All three died on the spot. The 45-year-old truck driver was flown to a hospital with serious injuries.
Persson said the police car, which had left Stockholm and was heading south, veered into the path of the truck and both vehicles burst into flames. The accident occurred near Markaryd, some 100 kilometers (60 miles) northeast of Malmo, Sweden's third largest city.
"There is nothing else for now that indicates that it was something else but a traffic accident," Persson told a press conference.
Sweden's top police chief, Anders Thornberg, said an investigation would take place, but was expected "to take a relatively long time."
Sweden's Culture Minister Amanda Lind called called it "an extremely tragic traffic accident."
Vilks was largely unknown outside Sweden before 2007, when he drew a sketch of Muhammad with a dog's body. Dogs are considered unclean by conservative Muslims, and Islamic law generally opposes any depiction of the prophet, even favorable, for fear it could lead to idolatry.
Al-Qaida put a bounty on Vilks' head. In 2010, two men tried to burn down his house in southern Sweden.
Since that time Vilks was forced to live under police protection. As Lind put it Monday, "due to the fact that he made use of his freedom of expression and his artistic freedom."
Over the years he continued to face threats to his life.
In 2014, a woman from Pennsylvania pleaded guilty in a plot to kill him.
The following year, a free-speech seminar that Vilks attended in Copenhagen, Denmark, was attacked by a lone gunman who killed a Danish film director and wounded three police officers.
Vilks, who was widely believed to have been the intended target of that 2015 attack, was whisked away unharmed by bodyguards. The gunman later killed a Jewish security guard outside a synagogue and wounded two more officers before he was killed in a firefight with police.
Police said Monday they did not know why the car drove into the wrong lane but they were investigating whether a tire might have exploded. The car transporting Vilks had puncture-proof tires, police said.
The accident happened on the north-south E4 highway Sunday afternoon. The unmarked police car apparently ploughed through a cable guardrail separating the north and south-bound lanes, senior police officer Stefan Siteus said at the news conference.
"We have found residues of tire on the E4 before the accident, and we are looking into the possibility that there could have been some kind of tire explosion," Siteus said.
The vehicle weighed 4.5 tons, which could explain how the vehicle could drive through a cable guardrail, Siteus said. He added that the speed limit at the site was was 110 kilometers per hour (68 miles per hour). An ordinary large vehicle weighs less than 2 tons.
Born in 1946 in Helsingborg, in southern Sweden, Vilks worked as an artist for almost four decades, and rose to fame for challenging the boundaries of art through several controversial works.
His most famous pieces included "Nimis" — a sculpture of driftwood built without permission in Sweden's Kullaberg nature reserve — as well as Prophet Muhammad drawings, including the one that showed the prophet as a dog.
Vilks initially planned to display the drawing at an exhibit at a Swedish cultural heritage center, but the drawing was removed over security concerns.
It went largely unnoticed until a Swedish newspaper printed the drawing with an editorial defending freedom of expression.
Several of his works, including driftwood sculptures and Mohammad drawings, including the one showing the Muslim prophet's head on the body of a dog, are currently on display in Warsaw, Poland. The works are being shown as part an exhibition curated by a right-wing director which aims to challenge left-wing political correctness.
___
Jan M. Olsen in Copenhagen, Denmark, contributed to this report.
The Associated Press
Companies could face hurdles covering abortion travel costs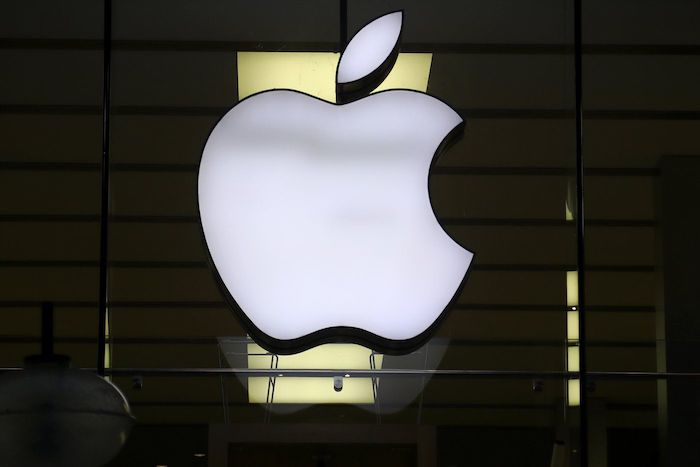 By Barbara Ortutay And Dee-ann Durbin
After the U.S. Supreme Court revoked the federal right to an abortion that's been in place for half a century, companies like Amazon, Disney, Apple and JP Morgan pledged to cover travel costs for employees who live in states where the procedure is now illegal so they can terminate pregnancies.
But the companies gave scant or no details on how they will do this and it's not clear if they will be able to — legally — while protecting employees' privacy and keeping them safe from prosecution.
"Most employers were not prepared for Roe to be overturned, and even those that were didn't realize the law would literally be changed the next minute," said Brian Kropp, a vice president at the consulting firm Gartner. "They're trying to play catch-up."
Kropp said many companies announced plans to offer travel benefits without the infrastructure in place to make them work. Some, he added, are creating supplementary policies that employees can buy to cover abortion travel, while others are contacting insurers to see if travel can be added to their current plans. Others are trying to figure out how to offer a benefit without breaching employees' privacy.
"Are employees going to have to tell their manager they are going to have to travel from Texas to California to have an abortion?" Kropp said.
The answer is no — but they would likely have to tell human resources or a similar department that they are pregnant and want to get an abortion, said Sharona Hoffman, a health law professor at Case Western Reserve University. The company or its health insurer would then provide money upfront or a reimbursement after the fact.
Hoffman called the travel cost pledges a "generous benefit" from companies, and said she would not be surprised "if this becomes a practice that more companies undertake — just without trumpeting it," for fear of the backlash that can come with public statements on a divisive issue such as abortion.
"It's not necessarily altruistic," she said. "It also makes some sense for companies to not have a bunch of employees that are highly distressed because they have unwanted pregnancies and have to carry the child to term."
For now, most big companies offering an abortion travel benefit will likely add it to existing health care plans, said Jonathan Zimmerman, a partner with the law firm Morgan Lewis who helps companies develop and maintain their benefits.
Big companies are generally self-insured, which means they pay for all claims and have more flexibility to decide what the plans will cover. A third party then processes the claims on their behalf.
That's the case at outdoor clothing company Patagonia, which updated its health coverage last fall to add travel costs for employees after Texas's law banning most abortions went into effect. Patagonia said abortion and travel costs are administered in the same manner as other medical services, ensuring confidentiality for employees.
Restaurant review company Yelp said its abortion travel benefit is also administered by its health insurance provider. Yelp has told its employees that if they do use the travel benefit, Yelp will not have access to the details of the service.
Microsoft, meanwhile, noted that it already covers abortion, as well as gender-affirming care, for its employees and has now extended the coverage to include travel expenses for "these and other lawful medical services" if they are not available in an employee's home state.
Smaller companies may have fewer options. They typically buy health insurance for their employees from insurers that are subject to state regulations. Those companies have less flexibility to design benefits, and they may operate in states that ban abortion.
Dr. Ami Parekh, chief health officer at Included Health, which offers health care navigation services and virtual care for employers, said it is "quite a scramble" right now for large employers to navigate this fast-moving landscape.
"They're moving as fast as they can," Parekh said. "And I bet you they're going to be nimble and change as needed as things come up."
For instance, some companies are offering to pay for a partner to travel with the person getting the abortion.
With the legal landscape shifting quickly, even adding travel benefits to a current medical plan carries some risk. In May, 14 state lawmakers in Texas sent a letter to Lyft warning the company to rescind its abortion travel benefit, saying they plan to introduce legislation that would ban companies from doing business in Texas if they pay for abortions or reimburse abortion-related expenses.
That said, no such legislation has been enacted as of now in Texas or anywhere else. It is also not against the law to travel to states where abortion is legal, Hoffman noted. There are efforts afoot, however, to change that.
And while the federal Health Insurance Portability and Accountability Act, or HIPAA, protects sensitive patient information, it can be overruled in cases where a crime has been committed. That's the case now in states where abortion has become a crime.
"It's challenging for employers to navigate what is a rapidly evolving legal landscape," said Sharon Masling, the head of Morgan Lewis's reproductive rights task force. "There's going to be a lot of litigation over the next few years."
Beyond the legal questions, abortion travel benefits also present some thorny workplace issues, Kropp said. Employees who don't support abortion may be angry that their company is paying for other employees' travel, for example. Even those who do support abortion may question why the company isn't paying them to travel for fertility treatments or transgender health care, he said.
This is why it's likely, experts say that some companies are offering travel benefits but aren't making public announcements about it.
"My sense is most employers are trying to very quickly figure out what's best for their employees and dependents," Parekh said. "And not all employers want to spend the energy to be very public about that at this moment in time."
__
Associated Press staff writers Haleluya Hadero and Anne D'Innocenzio in New York and Matt O'Brien in Providence, Rhode Island contributed to this story.
Canada signs $20B compensation agreement on First Nations child welfare
OTTAWA — The federal government says it has signed a $20-billion final settlement agreement to compensate First Nations children and families harmed by chronic underfunding of child welfare.
The Assembly of First Nations and plaintiffs in two class-action lawsuits agreed to the deal, which also accounts for the government's narrow definition of Jordan's Principle.
Indigenous Services Canada says the settlement is the largest in Canadian history.
The $20 billion accounts for half of an overall $40-billion deal that aims to reform the child-welfare system, including five-year funding for the First Nations Child and Family Services program.
The deal must still be approved by the Canadian Human Rights Tribunal and Federal Court.
The court had dismissed Canada's application to review two human-rights tribunal orders around child welfare and Jordan's Principle, which is meant to eliminate jurisdictional squabbles in paying for services for First Nations kids.
AFN Manitoba Regional Chief Cindy Woodhouse says in a statement she is proud of this "historic milestone" for First Nations children and their families.
This report by The Canadian Press was first published July 4, 2022.
The Canadian Press