Stephen King to testify for government in books merger trial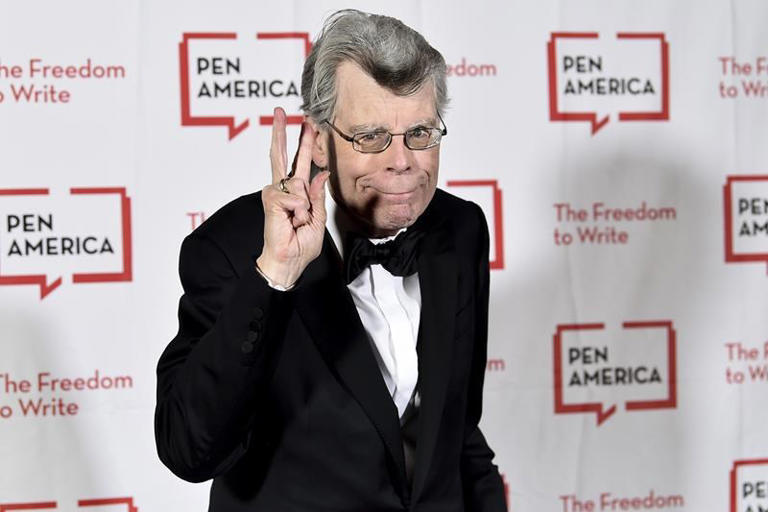 WASHINGTON (AP) — As the Justice Department bids to convince a federal judge that the proposed merger of Penguin Random House and Simon & Schuster would damage the careers of some of the most popular authors, it is leaning in part on the testimony of a writer who has thrived like few others: Stephen King.
The author of "Carrie," "The Shining" and many other favorites, King has willingly — even eagerly — placed himself in opposition to Simon & Schuster, his longtime publisher. He was not chosen by the government just for his fame, but for his public criticism of the $2.2 billion dealannounced in late 2021, joining two of the world's biggest publishers into what rival CEO Michael Pietsch of Hachette Book Group has called a "gigantically prominent" entity.
"The more the publishers consolidate, the harder it is for indie publishers to survive," King tweeted last year.
One of the few widely recognizable authors, known for his modest-sized glasses and gaunt features, King is expected to take the witness stand Tuesday, the second day of a federal antitrust trial anticipated last two to three weeks.
He may not have the business knowledge of Pietsch, the DOJ's first witness, but he has been a published novelist for nearly 50 years and knows well how much the industry has changed: Some of his own former publishers were acquired by larger companies. "Carrie," for instance, was published by Doubleday, which in 2009 merged with Knopf Publishing Group and now is part of Penguin Random House. Another former King publisher, Viking Press, was a Penguin imprint that joined Penguin Random House when Penguin and Random House merged in 2013.
King's affinity for smaller publishers is personal. Even while continuing to publish with the Simon & Schuster imprint Scribner, he has written thrillers for the independent Hard Case Crime. Years ago, the publisher asked him to contribute a blurb, but King instead offered to write a novel for them, "The Colorado Kid," released in 2005.
"Inside I was turning cartwheels," Hard Case co-founder Charles Ardai would remember thinking when King contacted him.
King himself would likely benefit from the Penguin Random House-Simon & Schuster deal, but he has a history of favoring other priorities beyond his material well-being. He has long been a critic of tax cuts for the rich, even as "the rich" surely includes Stephen King, and has openly called for the government to raise his taxes.
"In America, we should all have to pay our fair share," he wrote for The Daily Beast in 2012.
On Monday, attorneys for the two sides offered contrasting views of the book industry. Government attorney John Read invoked a dangerously narrow market, ruled tightly by the Big Five— Penguin Random House, Simon & Schuster, HarperCollins Publishing, Macmillan and Hachette — with little chance for smaller or startup publishers to break through.
Attorney Daniel Petrocelli argued for the defense that the industry was actually diverse, profitable and open to newcomers. Publishing means not just the Big Five, but also such medium-size companies as W.W. Norton & Co. and Grove Atlantic. The merger, he contended, would in no way upend the ambitions so many hold for literary success.
"Every book starts out as an anticipated bestseller in the gleam of an author's or an editor's eye," he said.
Hillel Italie, The Associated Press
The return of Zellers: Hudson's Bay to resurrect Canadian discount retail chain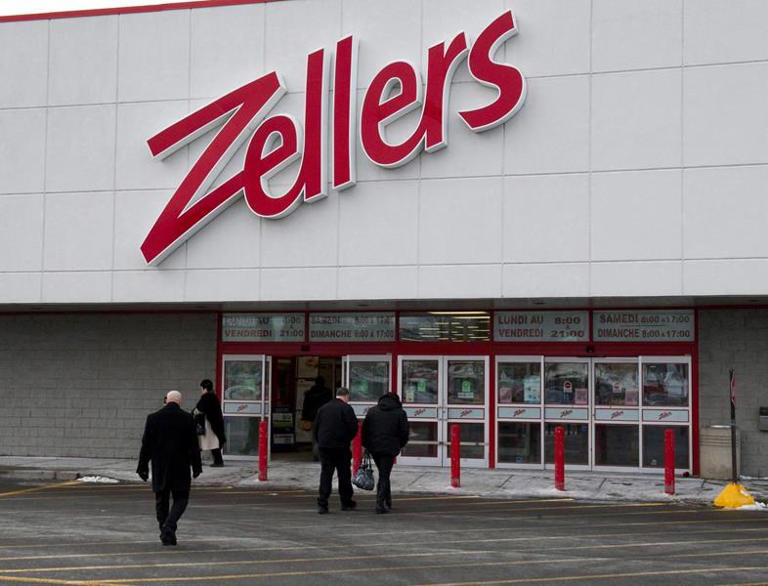 Canadian department store Zellers hopes to make a comeback next year, a decade after the discount chain shuttered most of its locations.
Hudson's Bay Co. said Zellers will debut a new e-commerce website and expand its brick-and-mortar footprint within select Hudson's Bay department stores across the country in early 2023.
The company said the relaunched Zellers will offer "a digital-first shopping journey that taps into the nostalgia of the brand."
The return of Zellers comes as soaring inflation drives consumers to discount retailers in search of lower prices and fierce competition from existing stores like Walmart and Dollarama.
It also comes amid an ongoing lawsuit over a Quebec family's use of the Zellers brand.
The Moniz family is behind various recent trademark applications and corporate registries, including Zellers Inc., Zellers Convenience Store Inc. and Zellers Restaurant Inc.
In a statement of claim filed last fall, HBC accused the Moniz family of trademark infringement, depreciation of goodwill and so-called passing off — the deceptive marketing or misrepresentation of goods.
The Zellers department store was founded in 1931 and acquired by HBC in 1978.
It operated as the discount division of its flagship Hudson's Bay department stores, with the slogan "Where the lowest price is the law."
The store hit its peak of about 350 locations in the late 1990s before losing ground to big box competitors such as Walmart.
In 2011, HBC announced plans to sell the majority of its remaining Zellers leases to Target Corp., closing most stores by 2013.
The retailer kept a handful of Zellers locations open as liquidation outlets until 2020.
The company recently launched pop-up Zellers shops inside Hudson's Bay department stores in Burlington, Ont., and in Anjou, Que.
This report by The Canadian Press was first published Aug. 17, 2022.
Brett Bundale, The Canadian Press
Inflation "slows" to 7.6 per cent in July, Statistics Canada says
Ottawa – Canada's year-over-year inflation rate slowed to 7.6 per cent in July, with the deceleration largely driven by a decline in gas prices.
The inflation rate hit a nearly 40-year-high of 8.1 per cent in June, but economists were widely expecting inflation to have since slowed.
In its latest consumer price index report, Statistics Canada said the rise in prices in July was the smallest monthly gains since December 2021.
It also marks the first decline in year-over-year inflation since June 2020.
The federal agency said gas prices rose 35.6 per cent year-over-year in July, compared with 54.6 per cent in June.
"Ongoing concerns related to a slowing global economy, as well as increased COVID-19 pandemic public health restrictions in China and slowing demand for gasoline in the United States led to lower worldwide demand for crude oil, putting downward pressure on prices at the pump," the report said.
But while gas prices declined, food prices at grocery stores rose at the fastest pace since August 1981, with prices up by 9.9 per cent on a year-over-year basis compared with 9.4 per cent the previous month.
Bakery goods are up 13.6 per cent since last year amid higher input costs as the Russian invasion of Ukraine continues to put upward pressure on wheat prices. The prices of other food products also rose faster, including eggs, which are up 15.8 per cent, and fresh fruit, up 11.7 per cent since last year.
As mortgage costs increase with higher interest rates, the report notes rent prices are accelerating, rising faster in July than the previous month.
With more Canadians travelling during the busy summer season, airfares rose by around 25 per cent in July compared with the previous month. Traveller accommodation prices rose by nearly 50 per cent since a year ago, with the largest price increases in Ontario.
As countries around the world struggle with skyrocketing prices, there are some signs inflation is beginning to ease, with the U.S. seeing its inflation rate decline in July as well.
Still, inflation is well above the Bank of Canada's two per cent target.
The central bank is watching the latest reading of inflation as it gears up to make its next key interest rate on Sept. 7, when it's expected to raise borrowing rates again.
This report by The Canadian Press was first published Aug. 16, 2022.