State of emergency declared, evacuations ordered amid central B.C. wildfire
FRASER LAKE, B.C. — An active wildfire in central British Columbia has prompted a local state of emergency and several evacuations.
The Regional District of Bulkley-Nechako issued a state of emergency Saturday night and ordered people to leave an area near the community of Lejac, about five kilometres east of Fraser Lake.
Regional district chairman Gerry Thiessen said he first received a call at around 4 p.m. when the fire was about four hectares in size, and it grew to 260 hectares by the evening.
"We had pretty significant winds yesterday and that was a big concern," Thiessen said in a phone interview Sunday.
The evacuation area affects only about half a dozen homes in an area that formerly hosted a residential school, Thiessen said.
An evacuation alert is in place for another area, meaning about 40 people there have to be ready to leave at a moment's notice.
The BC Wildfire Service says that as of Sunday morning, the fire was considered 70 per cent "guarded" but zero per cent contained.
Forty firefighters, two helicopters and several pieces of heavy equipment are currently deployed to fight the blaze.
The cause remains under investigation, but Thiessen said that with no recent lightning in the area it appears to have been human-caused.
A dry winter and spring means the snowpack is low in the region, making it more vulnerable to fires, he said.
"We haven't had any significant snow or rain since almost Christmas so that's a real concern for us," he said. "We're hoping that we get some precipitation and we will be able to get through the summer with as few fires as possible."
Having grown up in the area, Thiessen said wildfires are not uncommon in July and August, but it's rare to have such a large blaze so early in the season.
"This is very unusual and it's concerning," he said.
The Canadian Press
Ontario doctor alleged to have killed 4 people around same date in 2021: documents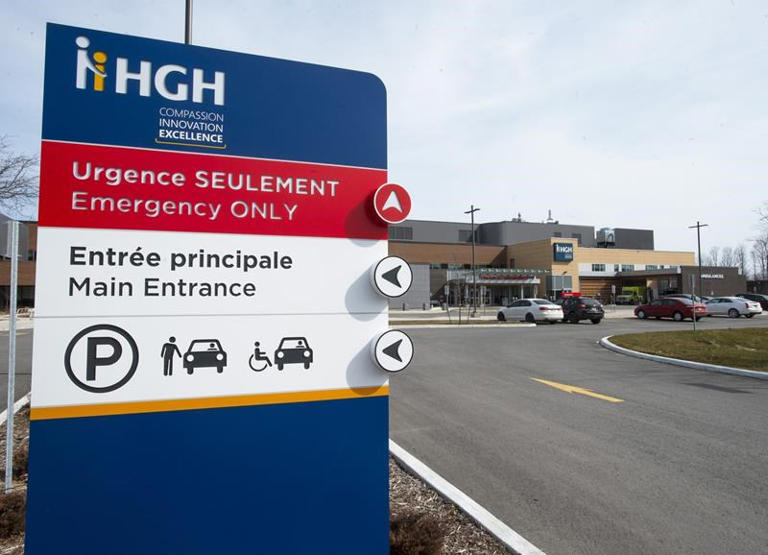 HAWKESBURY, Ont. — Court documents allege an eastern Ontario doctor killed four people around the same date in 2021.
Dr. Brian Nadler was initially charged with first-degree murder last year in the death of 89-year-old Albert Poidinger at the Hawkesbury and District General Hospital.
At the time, police said they were investigating the doctor in connection with several other deaths at the hospital.
Ontario Provincial Police laid three additional charges of first-degree murder against Nadler on Wednesday, in the deaths of 80-year-old Claire Briere, 79-year-old Lorraine Lalande and 93-year-old Judith Lungulescu. But they declined to provide details on the new charges, including when and where the three died.
Court documents allege Poidinger was killed on March 25, 2021, and the three others "on or about" that date.
The documents say Briere, Lalande and Lungulescu also died in Hawkesbury, Ont.
Nadler's lawyers have said their client maintains his innocence.
In a statement issued Wednesday, Brian Greenspan, David Humphrey and Naomi Lutes said Nadler provided "excellent palliative care" to the four patients, who they said died from COVID-19.
The doctor was released on bail in July of last year, and his lawyers said he was released again under the same conditions after his arrest this week.
Those conditions include that Nadler remain in Canada, reside at an approved address and notify police of any address change. He is also forbidden from practising medicine and from communicating with employees, patients and relatives of patients at the Hawkesbury hospital.
The case is set to return to court on Sept. 7.
This report by The Canadian Press was first published Aug. 19, 2022.
The Canadian Press
Wolf missing from Vancouver zoo found safe, returned to pack
ALDERGROVE, B.C. — A wolf missing from a British Columbia zoo has been found safe and returned to its pack.
The Greater Vancouver Zoo says in a statement the discovery of the one-year-old female canine known as Tempest puts an end to a three-day search and rescue operation.
It does not say where the wolf was found or elaborate on her condition, but it says the zoo in Aldergrove, B.C., will re-open Saturday.
Menita Prasad, the zoo's deputy general manager, said Thursday that nine wolves escaped after a perimeter fence and their enclosure were deliberately "compromised."
Workers and conservation officers began searching for the wolves after the escape was discovered Tuesday morning, while the RCMP is investigating the incident as a suspected case of unlawful entry and vandalism.
A three-year-old female wolf called Chia was found dead on a roadside, while all others have now been accounted for.
This report by The Canadian Press was first published Aug. 19, 2022.
The Canadian Press