Stars stay alive with 4-2 road victory over Golden Knights
Dallas Stars celebrate after defeating the Vegas Golden Knights in Game 5 of the NHL hockey Stanley Cup Western Conference finals Saturday, May 27, 2023, in Las Vegas. (AP Photo/John Locher)
By Mark Anderson in Las Vegas
LAS VEGAS (AP) — With Dallas' season on the line, the Stars got two critical goals from a player who was a healthy scratch the first two games of the Western Conference final.
Ty Dellandrea's goals came within a 1:27 span midway through the third period, and the Stars beat the Vegas Golden Knights 4-2 on Saturday to keep alive their hopes of advancing to the Stanley Cup final to face the Florida Panthers.
"He's one of the best guys I've ever played with," said Stars goalie Jake Oettinger, who made 27 saves. "He deserves every opportunity he gets, and there's no one happier for him than the guys in this room.
"It shows how special you are when you get taken out. He didn't make it about him. He needed the opportunity to step up, and that's what he did."
The Stars escaped elimination for the second straight game and head to Dallas for Game 6 on Monday night down 3-2. Dallas is attempting to become the fifth team in NHL history to win a series after being down 3-0.
And look who's back for the Stars? Captain Jamie Benn returns after a two-game suspension for his cross-check to the neck of Vegas captain Mark Stone in Game 3. That was the only game in this series that was decided early, and until Saturday the Stars hadn't even had a multigoal lead.
"I know our group, and we weren't happy about being in the hole we were in, and they decided to do something about it," Stars coach Pete DeBoer said. "And now we're rolling."
The only problem for DeBoer was waiting two days to play Game 6.
"Drop the puck," he said.
DeBoer said before the game if his team won, the pressure would shift to the Knights. Now it's up to them to respond after twice being a period away from playing in the Stanley Cup final and letting both opportunities slip away.
"I don't think we brought our best the last two games," Stone said. "We were still in a good spot to win the game. We've got to bring a little bit better effort and start playing a little more desperate."
Vegas coach Bruce Cassidy said "it's a very good question" why his team didn't play with more desperation, but he also wasn't thrilled with the Knights' execution.
"We had 24 giveaways," Cassidy said. "I'm not sure you're beating the Arizona Coyotes in January with 24 giveaways. That's no disrespect to Arizona, but it's not the right way to play."
Dellandrea found the right way to play and put together the first multigoal playoff game of his career. Jason Robertson and Luke Glendening also scored, and Thomas Harley had two assists.
Chandler Stephenson and Ivan Barbashev scored for the Knights, and Jonathan Marchessault had two assists to extend his points streak to four games. Adin Hill made 30 saves.
Dellandrea scored from the right circle to put Dallas ahead, the puck deflecting off Vegas defenceman Alex Pietrangelo with 9:25 left for a 3-2 lead. Then, Dellandrea scored from the slot with 7:58 remaining.
Dellandrea said the older players kept him motivated when he was temporarily sidelined.
"There's no denying it's hard," he said. "I'm thankful for a good group of character guys, and you've just got to stay ready."
The teams traded goals in the first two periods.
Jack Eichel battled two Stars players for the puck in Vegas' offensive zone, and then Barbashev swooped in and made a fantastic move to glide past Oettinger and score with 6:24 left in the first period. The Stars wasted little time in answering when Glendening scored on a deflection less than two minutes later.
Dallas was robbed of what looked like a sure goal when Hill snagged a point-blank shot from Roope Hintz, who then threw his back in disbelief.
Like in the first period, the Knights had a goal in the second quickly answered by one from the Stars. Stephenson scored from the left circle at 16:40 of the period, and Robertson knocked his own rebounds 2:09 later to make it 2-2. Stephenson tied the Knights' record with his eight playoff goal this year, and Robertson had his fifth of the series.
—
U Sports drops first-year grade requirements for participation, scholarships
Laval Rouge et Or quarterback Arnaud Desjardins is tackled by Conner Delahey of the Saskatchewan Huskies during the first half of the Vanier Cup in London, Ont., Saturday, Nov. 26, 2022. Canada's governing body of varsity sports is changing its policies to allow students entering universities to be eligible to participate in sports and receive athletic scholarships regardless of their grades.THE CANADIAN PRESS/Geoff Robins
Toronto
Canada's governing body of varsity sports is changing its policies to allow students entering universities to be eligible to participate in sports and receive athletic scholarships regardless of their grades.
U Sports said in a statement Thursday that enrolling student-athletes will be able to play and receive scholarships as long as they have been accepted to a member university and enrolled in degree-granting courses.
The changes will come into force for the 2024-25 season.
Currently, student-athletes to have an 80 per cent average in their final year of high school or CEGEP to be eligible for an entering athletic scholarship and a 60 per cent average to be allowed to play varsity sports in their first year.
Also, beginning in the 2024-25 U SPORTS institutions will be required to give a minimum of 45 per cent of their total athletic scholarship units to athletes on men's teams and a minimum of 45 per cent to athletes on women's teams.
An athletic scholarship unit equals 100 per cent of tuition and mandatory fees for any student-athlete during an academic year.
"These changes intend to remove systemic barriers impacting a student-athlete's ability to participate in U Sports and receive funding assistance for pursuing their education," Pierre Arsenault, U Sports chief executive officer, said in a statement.
This report by The Canadian Press was first published Sept. 28, 2023.
Renegades squad recognized for incredible season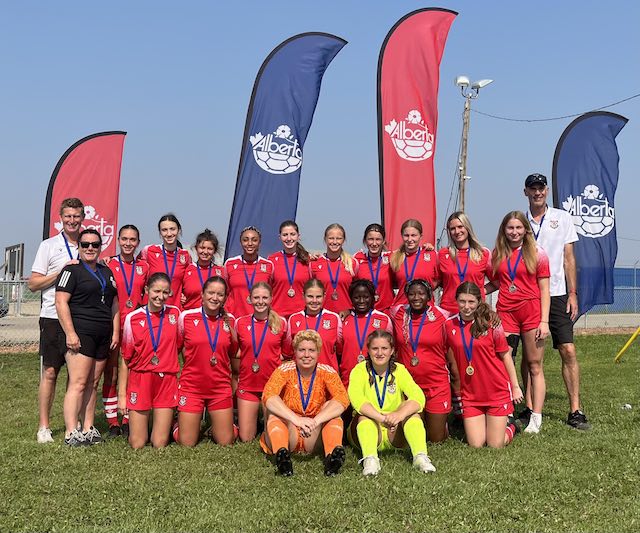 The Alberta Sport Development Centre – Central (ASDC-C) is pleased to announce that the ASDC-Central Athlete of the Month for September 2023 is the Red Deer Renegades 17UGirls Soccer team.
This past competitive season, the Renegades 17UG finished 2nd in the Alberta Soccer Tier 1 Provincial Championship in a notable and unique performance for the Renegades Soccer Club.
Additionally in the 2022-23 season, the team captured the Tier 1 Gold Medal in the Fall 2022 Caledonia Cup; the Silver Medal in the 2023 Tier 1 EMSA Indoor League; the Gold Medal in the 2023 BTB Spring Cup; the Bronze Medal in the 2023 Tier 1 EMSA Outdoor League. Further the team travelled and competed at the 2023 Southern California Del Sol PDT in Phoenix, and the 2023 Premier International Cup in Vancouver.
Team Roster
Jaymin Ball, Ava Balon, Amanda Beasley, Arden Berry, Bryce Hanusich, Jenna Jennings, Emma Larochelle, McKenna Leslie, Olivia Lundell, Emma Lundell, Jaeda Marquart, Isabella Pritchard, Kylie Ross, Hallie Ross, Fati Sesay, Brielle Simonot, Kennedy VanArragon, Jaidin Wiebe,
Coaching Staff
John Leslie, John Beasley, Kristen Leslie, Ajdin Sarcevic
Technical Staff
Ado Sarcevic, Esad Elkaz, Steve Fullerton
It is clear to the Red Deer soccer community that the athletes, staff, and families of the 17UG Renegades will continue their successes into their futures as they have shown an outstanding commitment to their sport and their development. In fact, seven (7) players from the team have already signed scholarship offers with the RDP Queens Soccer team beginning in the 2024-25 ACAC/CCAA season.
ASDC-Central thanks Tom Bast Sports for celebrating the ASDC-Central Athlete of the Month recipients by the provision of commemorative apparel for each recipient.
ADSC-Central Athlete of the Month – Renegades 17UG Soccer