Stampeders knock off Redblacks on icy field to exorcise Grey Cup demons
EDMONTON — A slick turf couldn't derail Bo Levi Mitchell, Terry Williams and the Calgary Stampeders.
Mitchell threw two TD passes to earn game MVP honours while Williams had a record 97-yard punt return touchdown as Calgary ended two years of Grey Cup misery with a 27-16 win over the Ottawa Redblacks in the CFL final on Sunday night.
Mitchell, who finished 24-of-36 passing for 253 yards with two touchdowns and two interceptions, said the Stampeders exorcised their demons by beating Ottawa in the aftermath of two straight Grey Cup losses. Calgary lost 39-33 in overtime to Ottawa in 2016 and dropped a 27-24 decision last year to the Toronto Argonauts after two campaigns in which the Stampeders were the CFL's dominant regular-season club.
"It feels surreal," said Mitchell, also the Grey Cup MVP of Calgary's 2014 win over Hamilton. "I know we talked that (the two previous losses) didn't mean anything but we couldn't make the game bigger than it was. We had to understand that this was one game and you can only win one game and win only one Grey Cup. I think the guys who were on those two teams, even on the team last year, the emotions at the 30-second mark kind of hit. It wasn't about redemption against anybody else or the league … it felt like as an organization we've been at the top too much not to finish the job. It feels amazing to get it done for the city of Calgary."
A Commonwealth Stadium gathering of 55,819 watched the opening kickoff in 1 C conditions with an 11 kilometre-an-hour wind. But the field conditions quickly became the story as a hard, slick Commonweath Stadium turf made traction near impossible.
During pre-game warmups, many Stampeders wore shoes featuring short, traditional turf cleats or those with a flat rubber sole. Before the contest, Ottawa head coach Rick Campbell downplayed the field conditions, but it became apparent early that footing would be an issue.
That was especially clear with 38 seconds left in the first quarter when Williams had both feet slip from beneath him while returning a missed 47-yard Lewis Ward field goal try.
"It (the field) was terrible, to be honest it was really bad," said Calgary receiver Lemar Durant, the game's top Canadian with four catches for 30 yards and a TD. "I couldn't get my footing on anything.
"On a lot of stuff, yes (the slick surface was an advantage for receivers). But at the same time you're trying to bust out of your cuts quick because you feel you have that advantage and you don't. Either way, if you slip, advantage other team."
Ottawa running back William Powell, who ran for a game-high 94 yards on 16 carries, was more to the point.
"It wasn't pretty icy, it was very icy," said Powell, who opened the game wearing neon orange shoes before going to traditional white in the second half. "But both teams had to play on it.
"Hopefully in the future we can make better conditions for the Grey Cup but that's just how it was today."
The field conditions nearly prevented Williams from delivering the game's biggest play. After taking the punt, Williams nearly slipped heading upfield but an Ottawa defender engaged with a blocker slid on by. Once Williams regained himself, it allowed him to hit the open field, then run past punter Richie Leone to put Calgary ahead 21-11.
"I thought I was going to land on my butt for a second but I caught myself," Williams said. "I saw the opening, hit it at full speed.
"It was big because we needed a spark. We were battling all game and needed to make it happen and I'm happy we did."
Calgary head coach Dave Dickenson said the slippery surface forced him to change his plan.
"We knew it was going to be tough to make sharp cuts so we had to try and adjust our play calling," he said. "For me, I didn't think we ran as well as we could have and I thought they ran the ball quite well.
"It looked like we were a bit on a skating rink but we were both one the same field, same advantage. It seemed like we just made more plays."
Ottawa, in its third Grey Cup game in four years, never seemed to get into an offensive rhythm on the slick surface. Quarterback Trevor Harris was 20-of-38 passing for 288 yards and a TD but had three interceptions.
Last weekend, Harris threw for 367 yards to 10 different receivers and had a playoff-record six TDs in Ottawa's 46-27 East Division final win over Hamilton. Harris came into the Grey Cup having thrown for 2,262 passing yards with 17 TDs and just two interceptions over his prior seven starts.
Even with a receiving corps featuring three 1,000-yard receivers — including CFL top Canadian Brad Sinopoli — Ottawa's offence had few answers for a Calgary defence that was tops in the CFL in fewest offensive points allowed (17.8 per game), offensive touchdowns (27), passing TDs (11) and tied for most sacks (45).
While the Redblacks amassed 387 offensive yards, Calgary controlled the ball for 35 minutes. And the Stampeders forced six turnovers (three interceptions, two fumbles and on downs) while having none of their own.
"The performance those guys (Calgary's defence) put in against a guy who is elite, very elite, was incredible," Mitchell said. "He set a CFL record last week with six touchdowns and they got (three) picks off him.
"They're amazing. It was fun to watch tonight."
But Mitchell said it was special-teams player Riley Jones who delivered the game-winning play. In the fourth quarter, Jones delivered a crushing hit on Ottawa's Diontae Spencer during a punt return, forcing a fumble Wynton McManis recovered.
That set up 29-yard Rene Paredes field goal at 2:54 that put Calgary ahead 27-14.
"If (Spencer) breaks that tackle or gets around Riley, it's a touchdown and a completely different game," Mitchell said. "Riley Jones not only tackled him but got the ball out and gave us a chance to get three points.
"That's a 10-point swing there. To me, that play by Riley Jones won the game."
Mitchell earned his second Grey Cup win and MVP honour in four starts. The 28-year-old native of Katy, Texas will become a free agent in February and said with the CFL and its players heading into off-season bargaining on a new contract, he'll take his time pondering his options, which could include the NFL.
Calgary players will receive the $16,000 winner's share while the Redblacks get $8,000 apiece.
Don Jackson had Calgary's other TD. Paredes booted the converts and two field goals.
Julian Feoli-Gudino had Ottawa's touchdown. Jean-Christophe Beaulieu added a two-point convert while Ward booted two field goals. The other points came on a safety.
NOTES: Dickenson said Sunday eight Calgary players were stuck in an elevator Saturday night for an hour and 15 minutes. A coach was involved and Dickenson said he had to buy lunch for that member of his staff … Dickenson said 'a little bug' worked its way through his players — including Mitchell — and coaches this week. Dickenson was confident the worst was over and added when he played quarterback he performed better when he wasn't feeling well. He was hopeful that would be the case Sunday. TSN reported six Ottawa players, including linebacker Chris Ackie and cornerback Sherrod Baltimore, battled sickness this week.
Dan Ralph, The Canadian Press
The evolution of a Red Deer College student-athlete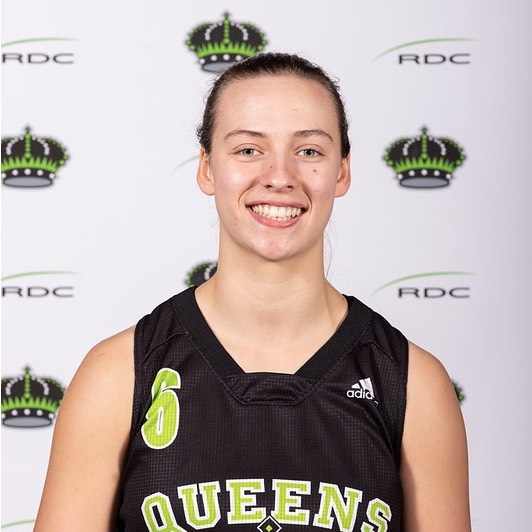 This article submitted by RDC Athletics
Three years have brought big changes for Amy Szymanek of Queens Basketball
Red Deer College Queens Basketball forward Amy Szymanek's progression as a player has been nothing short of remarkable, but perhaps her development as a student and leader have been even more impressive.
In her rookie season with the Queens in 2018/2019, the former David Thompson High School Voyageurs guard, averaged 2.8 points per game, and connected on 45.5 per cent of her free-throws, and 34.6 per cent from the field. That experience set the foundation for future development.
"With one year under my belt, I was more comfortable at the college level and believed in myself a lot more," said Szymanek. "I was very motivated to return and wanted to contribute in more ways."
In the summer of 2019, the Bachelor of Education student added another aspect of training to her routine as she prepared for her second year of competition in the Alberta Colleges Athletic Conference (ACAC).
"I trained physically and mentally," she said. "Visualization was a big aspect of improving my performance. I visualized the gyms we played in, the colours on the floor, my opponents' faces, and the crowd. Throughout the next season, it felt like I was reliving many of the situations I envisioned."
As the 2019/2020 season approached, Szymanek made a positive impression on new Queens Head Coach Mandy Botham.
"The first time we met, Amy offered to take on any role that would help the team," said Botham. "At our first scrimmage, it only took five minutes for me to see that Amy was a player I wanted to have on the Queens. She displayed huge potential as a player and a leader."
During Szymanek's second year, Botham challenged the student-athlete from Stauffer, Alberta, to reach new heights, and she responded. Szymanek more than tripled her offensive output from the previous season to 10.2 points per game. Only teammates Harneet Sidhu (12.1) and Britney Peters (10.5) averaged more points.
"Amy is so coachable and the more opportunity I gave her, the more she rose to the occasion," said Botham. "Amy is a good shooter, but one of her best aspects offensively is her ability to get to the rim and draw fouls."
Last season, Szymanek earned 64 free-throw opportunities, which was second most on the Queens, and only one behind teammate Sandra Garcia-Bernal. Szymanek's accuracy from the free-throw line climbed to 71.9 per cent and her efficiency from the field increased to 38.5 per cent, but her growth extended to other areas of the court.
"Rebounding was a big emphasis for us as a smaller team, and Amy's contributions at both ends of the floor kept getting better," explained Botham. "We were one of the top rebounding teams in the ACAC last season, which I am really proud of."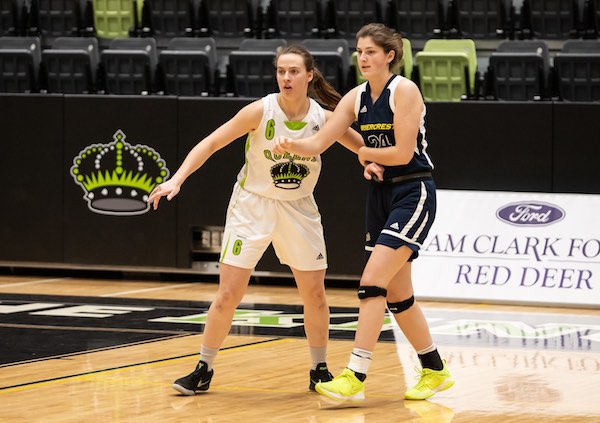 Szymanek exhibited impeccable timing and tenacity, more than doubling her total of 57 rebounds to 121 from one season to the next. The Queens ranked second in the 15 team league with 46.1 boards per game, slightly behind the Briercrest College Clippers (47.6).
While Szymanek's statistics increased, she also embraced a crucial defensive role.
"Amy is gritty and versatile, and she loves the challenge of defending our opponents' best players, who are often bigger," said Botham of the five-foot-nine forward. "So her footwork and technique have to be spot on to overcome that size disadvantage."
As impressive as Szymanek's progression has been on the hardwood, the development of her leadership skills has also become more prominent and impactful.
"As one of our team captains, Amy takes initiative, communicates with her teammates, and holds herself and others to a really high standard," said Botham. "She has the ability to properly read the situation, lighten the mood when it's appropriate and know when it's time to be serious. As a coach, I really appreciate that."
Szymanek credits past and current coaches, and family, especially her older brother Kevin, who was a member of Kings Basketball, for the development of her basketball and leadership skills.
"Kevin is an essential catalyst in my basketball growth. He had his sights on college basketball before I did, and he pushed me to limits I never thought I'd achieve. He still does," she said.
"As kids, we would play on this little court with a make-shift hoop that my dad made and we would play all night. I smile when I think about that memory. Playing against a larger and more skilled brother, it fuelled my competitive spirit."
Along with additional team depth and experience, Szymanek played an instrumental role in the Queens Basketball team (10-11) nearly capturing the final playoff spot in the South Division in 2019/2020, finishing only two points behind the Medicine Hat College Rattlers (11-10). At the end of the campaign, Szymanek and the Queens identified several valuable lessons to bring forward.
"It really hurt when we missed the playoffs, but our coaches encouraged us to use it as a learning opportunity," said Szymanek. "If we want to compete and win, we have to bring it each and every night, including in practice."
When the 2020/2021 ACAC season was cancelled due to COVID-19, the RDC Queens practiced together as a cohort, according to health and safety protocols. As restrictions tightened, the student- athletes pivoted their plans to work out more individually.
"Our strength and conditioning coach [Greg Howe] altered our workouts to be done at home," said Szymanek. "RDC Athletics has also been really supportive of us during the pandemic."
Szymanek, who plans to play all five years at RDC, also experienced growth academically.
"Amy was always a good student, but she raised her GPA to nearly 3.70 for Fall 2020 Term. I've seen a tremendous commitment from her," said Botham. "She excels in her courses, trains, has basketball responsibilities as a leader, and works on her parent's farm year round."
Botham appreciates Szymanek's willingness to participate in a variety of College and community events.
"Amy is always one of the first athletes to volunteer when I have a request or opportunity for community engagement," stated Botham. "She was part of the Student-Athletes Advisory Council last season and is involved again this year."
"As Co-Chair, along with Tyler Podgorenko from Kings Hockey, we organize and run the Student- Athletes Advisory Council meetings, and oversee the completion of initiatives," said Szymanek. "We are still doing a lot of community work this year – blood drives, sidewalk shoveling, and mental health awareness, with six projects in total."
As part of their Bleed Green campaign from February 22 to 26, the Council is encouraging a friendly competition of blood donations between RDC's 15 teams. The student-athletes hope that members of the College and surrounding communities will join their efforts to contribute to Canadian Blood Services.
"These initiatives are important because they emphasize community and as student-athletes we can use our voices to help," said Szymanek. "Children and people of a variety of ages look up to us. We have that reach and it is essential that we use it for positive things."
Trying to stay positive is essential during this time, as COVID-19 has created challenges for Queens Basketball, as well as teams and leagues across North America. Szymanek, Botham, and the Queens look forward to the return of basketball, which includes hosting the ACAC Championship when competition safely resumes.
"Playing in front of our own fans in the beautiful Gary W. Harris Canada Games Centre for a championship will be awesome. Winning and heading to nationals is the ultimate goal," said Szymanek. "I feel our team is on the rise and we can make it a reality. We have a long way to go and it won't come easy, but we work for that every day, even now."
While waiting for the next season to officially begin, Szymanek continues to impress her head coach and many others as she develops in all aspects of being an RDC student-athlete.
"Amy is a positive ambassador for not only Queens Basketball, but for RDC Athletics as a whole," said Botham. "The trajectory of Amy's improvement as a student-athlete and leader have almost been unbelievable and I've been fortunate to have a front row seat."
2 years later the Canada Winter Games presents massive gift to Albertans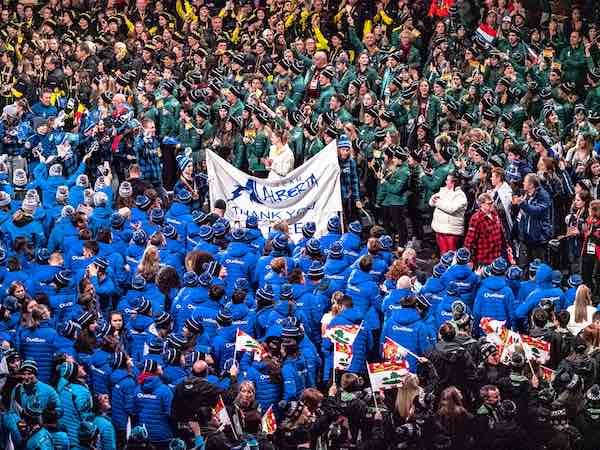 From the 2019 Canada Winter Games Legacy Fund Society
2019 CANADA WINTER GAMES LEGACY FUND SOCIETY ANNOUNCE FINANCIAL LEGACY AND LAUNCH FUNDING APPLICATION PROCESS
 The 2019 Canada Winter Games Legacy Fund Society is pleased to share the details of the final 2019 Games legacy—a legacy fund of $650,000 designed to support not-for-profit sport and community organizations in the province of Alberta.
"The Legacy Fund Society is now accepting funding applications from Alberta-based sport and community not-for-profits until April 2," said Guy Pelletier, Legacy Fund Society Chair. "Requests for funding will be reviewed based on their alignment with the values of the 2019 Games and accepted in four categories: athlete and coach or official development; infrastructure or equipment development or acquisition; sport development capacity building; and non-sport or discretionary projects."
Not-for-profit sport and community organizations in Alberta are encouraged to review the Legacy Fund Society's application form and criteria available online here. Organizations may also email [email protected] for a copy of the application form.
The original intention of the Legacy Fund Society was to disburse the financial legacy during one granting period; however, given the impact of the COVID-19 pandemic on sport and community organizations, future grant allocation opportunities may be necessary. Applications for the initial funding opportunity are open until April 2, 2021, at midnight.
Today's announcement builds on the numerous legacies the 2019 Games left in Alberta. These legacies include investing $14.5 million across five capital projects; acting as a catalyst for over $200 million in infrastructure projects in the region; distributing over $500,000 in sport equipment and assets to over 40 local and provincial sport organizations and not-for-profits; building a strong, trained volunteer base for future events; donating 3,000 pairs of mittens and toques, as well as thousands of meals, to the Mustard Seed; and supporting $110.3 million in economic activity in Alberta.
2019 Canada Winter Games Host Society
"Thanks to the sound planning and execution by our Board, volunteers and staff and the amazing support of our Funding Parties, sponsors, donors and community partners, we are thrilled to build on the legacies of the 2019 Games with a significant legacy fund," said Lyn Radford, 2019 Canada Winter Games Board Chair.
Government of Canada
"The Government of Canada is proud of its contribution to the 2019 Canada Winter Games in Red Deer," said the Honourable Steven Guilbeault, Minister of Canadian Heritage. "The Games not only allowed athletes from the region to perform in their hometown, but also gave all Canadians the opportunity to watch athletes and teams from across the country excel and make us proud. I congratulate the Host Society for ensuring that the legacies of the Games will keep having positive impacts for years to come."
Government of Alberta
"I applaud the 2019 Canada Winter Games Legacy Fund Society for their excellent work in delivering this substantial legacy fund," said the Honourable Leela Aheer, Minister of Culture, Multiculturalism and Status of Women. "Red Deer's 2019 Canada Winter Games was a very successful and memorable event that gave an opportunity to Canada's next generation of athletes to continue their sport development. The decision to share the legacy fund with the province's non-profit sport organizations is commendable since it will provide further opportunities to support Alberta athletes in their development journey."
City of Red Deer
"Red Deer is stronger for having hosted the 2019 Canada Winter Games. It ignited our community spirit, transformed our city through new and upgraded infrastructure, and it now brings us a legacy fund to continue to help future generations and community organizations with sustainable funding," said Mayor Tara Veer. "We are grateful for the outstanding support from our partners, the corporate sector, our 5,000 incredible volunteers, staff and our community as a whole for positioning our city for a prosperous future in sport, culture, recreation and community life."
Canada Games Council
"The 2019 Canada Winter Games in Red Deer were a tremendous success. In addition to the infrastructure, sport programming, and social legacies of the Games, the Canada Games Council is thrilled to see the distribution of a financial legacy to benefit sport and culture in Red Deer and central Alberta," said Evan Johnston, Chair of the Canada Games Council.
2019 Canada Winter Games Legacy Fund
What is the 2019 Canada Winter Games Legacy Fund?
From February 15 until March 2, 2019, Red Deer and central Alberta hosted the 2019 Canada Winter Games. Hosting the 2019 Games left a lasting legacy of new and enhanced sport facilities, volunteer and leadership development and a financial legacy in the form of a $650,000 legacy fund. This legacy fund will be distributed to Alberta not-for-profit sport and community groups through a grant application process running from February 10 until April 2, 2021.
How can I apply?
Applications are being accepted online through a Google Form here. Online submissions require a Google account to access and complete. If you do not have access to a Google account and require a copy of the application form to fill out, please email [email protected]
Who can apply for funding through the 2019 Canada Winter Games Legacy Fund?
1. Applications will be considered from Alberta not-for-profit organizations that have a mandate for the development of sport locally, regionally or provincially and are affiliated with a recognized provincial sport organization in good standing. The Legacy Fund Society will not accept applications from individual athletes or coaches/officials; however, the Society will accept applications for athlete and coach/official development programs and organizations.
2. Applications will be accepted from Alberta community organizations for non-sport purposes and activities provided they build community capacity and reflect the values of the 2019 Canada Winter Games.
What information do I need to provide as part of the application process?
You are asked to provide:
1. Organizational information, including your organizational structure and business plan and/or financial statements;
2. A brief description of the project with an explanation of how the grant dollars will be spent, impact the community in a positive manner and how the project aligns with the 2019 Games' values;
3. Motion from the applying organization's Board of Directors approving an application for Legacy Funds and a statement outlining the process for the use of the funds and accountability protocol in place to ensure alignment with the application; and
4. Letters of support from all stakeholders impacted by the application or from organizations that will benefit from the grant and support the application. Up to five letters can be submitted.
Can I apply for a project that won't take place until 2022?
Given the ongoing effects of COVID-19 on many organizations, applicants are permitted to apply for events or activities that may take place beyond 2021. The applicant must provide specifics as to the timeline for the use of grant allocations. Hold backs may be in place for deferred events/activities.
Can I make a funding request for on-going expenses?
Applications may be made for projects that will be expended over time. In these instances, the grant allocations may have a hold back pending confirmation of the ongoing need for future grant allocations. Organizations that are applying for funds to be expended in the future should identify the timelines for these expenditures.
Can I apply for funding for regular, operational costs?
All applications that meet the application criteria and demonstrate alignment with the 2019 Games' values will be considered. This may include requests to fund operational costs. Requests to offset operating costs should demonstrate how that request provides for sustainable funding within their business model.
What is the maximum amount of funding that an organization may request?
There is no specific funding request maximum. The Legacy Fund Society will look to support as many projects as possible with meaningful grants.
What are the application categories?
Applications will be accepted in four categories: athlete and coach or official development; infrastructure or equipment development or acquisition; sport development capacity building; and non-sport or discretionary projects.
What is the 2019 Canada Winter Games Legacy Fund Society?
The 2019 Canada Winter Games Legacy Fund Society was formed in 2018 with the mandate to create a process to disburse the financial legacy of the 2019 Canada Winter Games to support not-for-profit sport and community organizations in the province of Alberta. While evaluating applications, the Legacy Fund Society will be guided by the values of the 2019 Canada Winter Games.
What are the values of the 2019 Canada Winter Games?
The values of the 2019 Games are:
1) Innovative – Surprising solutions;
2) Collaborative – Stronger together;
3) Sustainable – Future generations matter;
4) Frontier Spirit – Raise the barn;
5) Inclusive – Everybody's in;
6) Authentic – True to our roots;
7) Tenacious – All stones turned.
Will there be another granting period in 2022?
The original intention of the Legacy Fund Society was to disburse the financial legacy in one granting period; however, given the impact of the COVID-19 pandemic on sport and community organizations, future grant allocation opportunities may be necessary. The first granting period is open from February 10 until April 2, 2021. If another granting opportunity is available, a call for applications will be issued.
Where can I get more information?
If you have any questions regarding the application form or the application process, please email [email protected].