Stampeders knock off Redblacks on icy field to exorcise Grey Cup demons
EDMONTON — A slick turf couldn't derail Bo Levi Mitchell, Terry Williams and the Calgary Stampeders.
Mitchell threw two TD passes to earn game MVP honours while Williams had a record 97-yard punt return touchdown as Calgary ended two years of Grey Cup misery with a 27-16 win over the Ottawa Redblacks in the CFL final on Sunday night.
Mitchell, who finished 24-of-36 passing for 253 yards with two touchdowns and two interceptions, said the Stampeders exorcised their demons by beating Ottawa in the aftermath of two straight Grey Cup losses. Calgary lost 39-33 in overtime to Ottawa in 2016 and dropped a 27-24 decision last year to the Toronto Argonauts after two campaigns in which the Stampeders were the CFL's dominant regular-season club.
"It feels surreal," said Mitchell, also the Grey Cup MVP of Calgary's 2014 win over Hamilton. "I know we talked that (the two previous losses) didn't mean anything but we couldn't make the game bigger than it was. We had to understand that this was one game and you can only win one game and win only one Grey Cup. I think the guys who were on those two teams, even on the team last year, the emotions at the 30-second mark kind of hit. It wasn't about redemption against anybody else or the league … it felt like as an organization we've been at the top too much not to finish the job. It feels amazing to get it done for the city of Calgary."
A Commonwealth Stadium gathering of 55,819 watched the opening kickoff in 1 C conditions with an 11 kilometre-an-hour wind. But the field conditions quickly became the story as a hard, slick Commonweath Stadium turf made traction near impossible.
During pre-game warmups, many Stampeders wore shoes featuring short, traditional turf cleats or those with a flat rubber sole. Before the contest, Ottawa head coach Rick Campbell downplayed the field conditions, but it became apparent early that footing would be an issue.
That was especially clear with 38 seconds left in the first quarter when Williams had both feet slip from beneath him while returning a missed 47-yard Lewis Ward field goal try.
"It (the field) was terrible, to be honest it was really bad," said Calgary receiver Lemar Durant, the game's top Canadian with four catches for 30 yards and a TD. "I couldn't get my footing on anything.
"On a lot of stuff, yes (the slick surface was an advantage for receivers). But at the same time you're trying to bust out of your cuts quick because you feel you have that advantage and you don't. Either way, if you slip, advantage other team."
Ottawa running back William Powell, who ran for a game-high 94 yards on 16 carries, was more to the point.
"It wasn't pretty icy, it was very icy," said Powell, who opened the game wearing neon orange shoes before going to traditional white in the second half. "But both teams had to play on it.
"Hopefully in the future we can make better conditions for the Grey Cup but that's just how it was today."
The field conditions nearly prevented Williams from delivering the game's biggest play. After taking the punt, Williams nearly slipped heading upfield but an Ottawa defender engaged with a blocker slid on by. Once Williams regained himself, it allowed him to hit the open field, then run past punter Richie Leone to put Calgary ahead 21-11.
"I thought I was going to land on my butt for a second but I caught myself," Williams said. "I saw the opening, hit it at full speed.
"It was big because we needed a spark. We were battling all game and needed to make it happen and I'm happy we did."
Calgary head coach Dave Dickenson said the slippery surface forced him to change his plan.
"We knew it was going to be tough to make sharp cuts so we had to try and adjust our play calling," he said. "For me, I didn't think we ran as well as we could have and I thought they ran the ball quite well.
"It looked like we were a bit on a skating rink but we were both one the same field, same advantage. It seemed like we just made more plays."
Ottawa, in its third Grey Cup game in four years, never seemed to get into an offensive rhythm on the slick surface. Quarterback Trevor Harris was 20-of-38 passing for 288 yards and a TD but had three interceptions.
Last weekend, Harris threw for 367 yards to 10 different receivers and had a playoff-record six TDs in Ottawa's 46-27 East Division final win over Hamilton. Harris came into the Grey Cup having thrown for 2,262 passing yards with 17 TDs and just two interceptions over his prior seven starts.
Even with a receiving corps featuring three 1,000-yard receivers — including CFL top Canadian Brad Sinopoli — Ottawa's offence had few answers for a Calgary defence that was tops in the CFL in fewest offensive points allowed (17.8 per game), offensive touchdowns (27), passing TDs (11) and tied for most sacks (45).
While the Redblacks amassed 387 offensive yards, Calgary controlled the ball for 35 minutes. And the Stampeders forced six turnovers (three interceptions, two fumbles and on downs) while having none of their own.
"The performance those guys (Calgary's defence) put in against a guy who is elite, very elite, was incredible," Mitchell said. "He set a CFL record last week with six touchdowns and they got (three) picks off him.
"They're amazing. It was fun to watch tonight."
But Mitchell said it was special-teams player Riley Jones who delivered the game-winning play. In the fourth quarter, Jones delivered a crushing hit on Ottawa's Diontae Spencer during a punt return, forcing a fumble Wynton McManis recovered.
That set up 29-yard Rene Paredes field goal at 2:54 that put Calgary ahead 27-14.
"If (Spencer) breaks that tackle or gets around Riley, it's a touchdown and a completely different game," Mitchell said. "Riley Jones not only tackled him but got the ball out and gave us a chance to get three points.
"That's a 10-point swing there. To me, that play by Riley Jones won the game."
Mitchell earned his second Grey Cup win and MVP honour in four starts. The 28-year-old native of Katy, Texas will become a free agent in February and said with the CFL and its players heading into off-season bargaining on a new contract, he'll take his time pondering his options, which could include the NFL.
Calgary players will receive the $16,000 winner's share while the Redblacks get $8,000 apiece.
Don Jackson had Calgary's other TD. Paredes booted the converts and two field goals.
Julian Feoli-Gudino had Ottawa's touchdown. Jean-Christophe Beaulieu added a two-point convert while Ward booted two field goals. The other points came on a safety.
NOTES: Dickenson said Sunday eight Calgary players were stuck in an elevator Saturday night for an hour and 15 minutes. A coach was involved and Dickenson said he had to buy lunch for that member of his staff … Dickenson said 'a little bug' worked its way through his players — including Mitchell — and coaches this week. Dickenson was confident the worst was over and added when he played quarterback he performed better when he wasn't feeling well. He was hopeful that would be the case Sunday. TSN reported six Ottawa players, including linebacker Chris Ackie and cornerback Sherrod Baltimore, battled sickness this week.
Dan Ralph, The Canadian Press
Brent Sutter fires himself from head coach of the Red Deer Rebels
RED DEER, Alta. — Brent Sutter has stepped down as head coach of the Western Hockey League's Red Deer Rebels, which is a team he owns.
Sutter has run the Rebels for 20 seasons and coached them for 15. There was a five-year interruption to be an NHL head coach of the New Jersey Devils and Calgary Flames from 2007 to 2012.
Sutter navigated the Rebels to WHL and Memorial Cup titles in 2001, and coached Canada to world junior men's hockey gold in 2005 and 2006.
The 58-year-old from Viking, Alta., who won two Stanley Cups as a player with the New York Islanders, remains president and general manager of his WHL club.
Assistant coaches Ryan Colville and Brad Flynn, and assistant general manager Shaun Sutter take over coaching duties for the rest of the season. The search for a new head coach will wait until the off-season.
"After lots of thought and consideration of all the variables that go into being a head coach, at this time I feel this is the right thing for our organization," Sutter said Saturday in a statement.
"Being involved in the game as long as I have both as a player and head coach, I've never looked at the game selfishly. The most important thing has always been what's best for the hockey club."
The Rebels are 6-6-2 in a WHL season shortened and delayed by the COVID-19 pandemic.
Red Deer's players are living in their home rink, Westerner Park Centrium, while they try to complete the season.
"Since we were shut down over a year ago, it has been a very difficult and trying time for all of us, especially the players," Sutter said.
"In my heart I know this is the right thing to do, and is best for them at this point in time. They need a different voice for the rest of this season and moving forward."
The Rebels faced the Lethbridge Hurricanes on Saturday after losing to the 'Canes 6-3 the previous evening.
This report by The Canadian Press was first published April 10, 2021.
The Canadian Press
King of the Kings is undisputed King (of National College Gaming Challenge)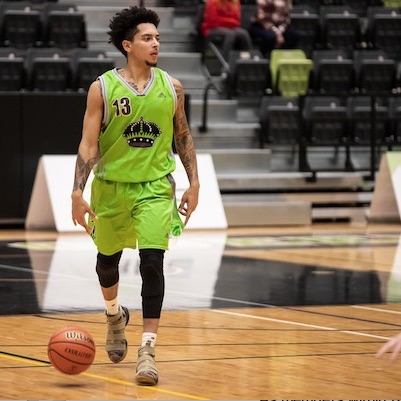 From RDC Communications
RDC student-athlete is king of CCAA Gaming Challenge
When it comes to basketball, Red Deer College Kings guard Tyronn King has demonstrated an impressive skillset beyond the court at the Gary W. Harris Canada Games Centre.
Over four weeks of online competition, King had a perfect 10-0 record in the NBA 2K Canadian Collegiate Athletic Association (CCAA) Gaming Challenge, using PlayStation 4. This unblemished performance earned him first place.
With the absence of Alberta Colleges Athletic Conference (ACAC) competition this year due to COVID-19, King embraced the opportunity to participate in this event created by the CCAA in coordination with Uniting Gamers.
"It was definitely a great experience – fun, and something competitive to do, especially right now with COVID-19 going on," said King, who rose to the top among 32 participants from CCAA member post- secondary institutions. "The people hosting it were great. They communicated well with the players and had everything set up nicely."
In order to continue advancing to the next round, King had to win the best of three games. It was randomly determined which player received first choice of current NBA teams. Participants could not select the same team and King had two squads that he relied on.
"I always picked either the Brooklyn Nets or the Milwaukee Bucks every game of the tournament," said King, who identified the Nets as his favourite team. "I didn't want to take a chance of losing one game of the tournament, so I made sure I always came out with fire power."
King faced Christopher Graham, a setter on The King's University Eagles Men's Volleyball team, in the quarter-final. The RDC Legal Assistant student from Toronto swept the series 2-0, with scores of 61-57 and 58-53 over Graham. In the semi-final, King persisted past Glynn Willis-Paris, a member of the St. Clair Saints Men's Basketball team, 48-44 and 50-47, to solidify a berth in the championship.
"In the two rounds prior to the final, I played a couple of guys who were really good and they put up a fight. In some of the games, I was down in the fourth quarter," said King, who helped guide his RDC Basketball team to the postseason in 2019/2020. "They gave me a run for my money, but when games are close and competitive, that's when they are the most fun."
King felt those hard-fought games adequately prepared him for the championship against Ryan Farrell of the University of New Brunswick Saint John Seawolves Men's Volleyball team.
"The two previous games were championship games to me. Once I got to the finals, I felt ready," explained King. "In the last two games, I was able to put my bench [players] in fairly early and won 57-43 and 54-42."
While balancing academics and training, King's hobby of playing basketball video games was a recipe for enjoyment and success in the CCAA Gaming Challenge.
"In my free-time, I play [NBA] 2K, so that was my preparation," said King. "It was pretty cool, knowing that I had a game each week, and being out of physical competition for so long, I looked forward to the days when I played."
The talented RDC student-athlete, who finished second in team scoring last year with 18.8 points per game, recommends this type of gaming challenge to others.
"Overall, it was fun and I would encourage anyone who plays 2K for fun or competitively to get involved in one of these tournaments," said King, who will enter his fifth year of eligibility when ACAC competition resumes. "It's definitely exciting and something to do during these COVID-19 times when there's not much competition going on."
For winning first place in the CCAA Gaming Challenge on March 18, King will receive a memorable gift.
"It is a customized ring from Jostens, so that's pretty cool," he said.
As members within RDC Athletics and the ACAC anxiously await the safe resumption of competition, King has been dedicated to his fitness and staying connected to his teammates and coaches.
"From a physical standpoint, I've been trying to stay in shape. When gyms weren't open, I trained at home and went for runs," said King, who is a 2019/2020 ACAC Men's Basketball South Second All- Conference team member. "As a team, we connect a lot via Zoom for weekly meetings that our coach organizes. Now, we are starting to get back in the gym, so it feels great."
In the absence of traditional sports this year, the CCAA Gaming Challenge was administered by the CCAA and Uniting Gamers in an effort to encourage connections among Canadian learners, in a fun and competitive virtual environment.
More information about the NBA 2K CCAA Gaming Challenge, including the results, is available online.