Sri Lanka leader says IMF agreement pushed back after unrest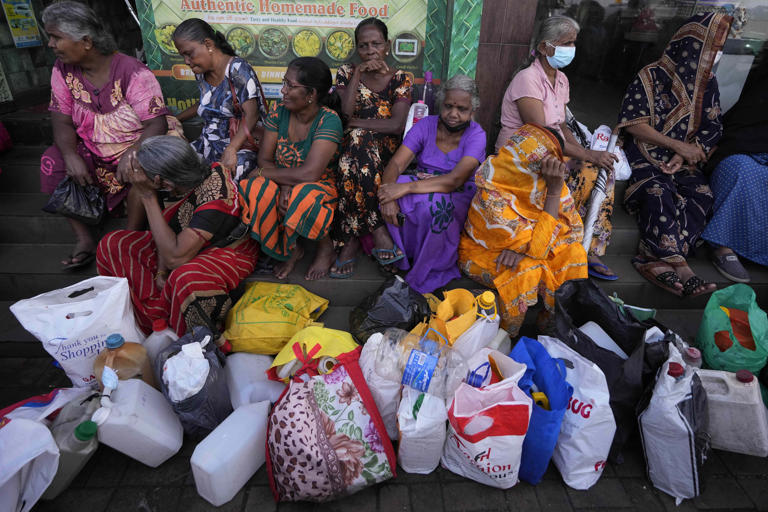 By Krishan Francis in Colombo
COLOMBO, Sri Lanka (AP) — Sri Lanka's president said Saturday that an agreement with the International Monetary Fund to help pull the bankrupt nation out of its economic crisis has been pushed back to September because of unrest over the past weeks.
President Ranil Wickremesinghe, in his first speech since he was elected by Parliament on July 20, said even though he as the prime minister had aimed to reach an agreement by early August, it has now been pushed back by a month.
Wickremesinghe was elected to complete the five-year term of his predecessor Gotabaya Rajapaksa, who fled to Singapore after protesters angry over economic hardships stormed his official residence and occupied several key government buildings.
Wickremesinghe said talked with the IMF on a rescue package had not moved since those incidents.
Sri Lanka announced in April that it is suspending repaying its foreign loans because of a serious shortage of foreign currency. The island nation owes $51 billion in foreign debt, of which $28 billion must be paid by 2027.
The currency crisis led to a shortage of many critical imported items like fuel, medicine and cooking gas.
Wickremesinghe on Friday wrote to 225 lawmakers in Parliament to join him in a multi-party government to face the crisis. He reiterated the call Saturday saying that blaming former leaders will not solve the problem but everyone should get together to stop the country from falling further.
Wickremesinghe, a six-time prime minister and veteran politician, is unpopular because he is supported by majority lawmakers who are backed by the powerful Rajapaksa family, which has ruled Sri Lanka for most of the past two decades. Many accuse Wickremesinghe of protecting the Rajapaksas, who are widely blamed for corruption and misrule that led to the crisis.
Wickremesinghe has empowered the military to dismantle protest camps that had been set up near the president's office for more than 100 days. Several people including protest leaders have been arrested in the crackdown.
Feds to lay out 'sustainable jobs' plan for energy transition ahead of legislation
By Mia Rabson in Ottawa
The federal government will show Canadians its plan to protect jobs during the clean energy transition no later than early spring, Natural Resources Minister Jonathan Wilkinson said Wednesday.
Legislation to guide how that plan is implemented, however, won't come for some time after that.
The Liberals have promised a "just transition act" since at least 2019, and Wilkinson has been saying it will finally happen this year.
That prospect prompted outcry in Alberta, where the energy transition will have the biggest impact and provincial politicians are headed for a tightly contested election this spring.
Alberta Premier Danielle Smith has asked for a meeting with Prime Minister Justin Trudeau to help shape that legislation. Her chief opponent, NDP Leader Rachel Notley, asked the federal Liberals to delay the whole thing at least until after the election, which is scheduled for the end of May.
But Wilkinson said the bill, for which he didn't offer a timeline, will in some ways be secondary to the action plan listing what the government intends to do. He said that plan will hopefully be revealed by the end of March, though it may "slip into the next quarter."
"The legislation will guide future efforts and will create a governance structure, but it's the policy statement that I think is going to be the most impactful," he said. "And, as I say, we will be releasing that in the coming few months."
He said the plan is based on lengthy consultations with provinces, labour organizations, business and Indigenous communities. Ultimately, he said, it will contain no surprises.
The concept of a "just transition" has existed for several decades, but it took on new meaning after the 2015 Paris climate agreement committed most of the world to transitioning to cleaner energy sources in a bid to slow climate change.
The idea is that any efforts to adjust reliance on fossil fuels must ensure that people who work in energy industries can move to new sectors and will not be left out in the cold.
The "just transition" debate exploded last month when Smith lambasted the federal government for a briefing document that listed the number of jobs that could be affected by the ongoing global transition away from fossil fuels and towards renewable energy.
Smith misread the total number of jobs in the affected sectors to mean the number of jobs the federal government expected would be lost, and pledged to "fight this just transition idea" with everything she had.
A week later, the premier wrote to Trudeau warning him that the Ottawa-Alberta relationship was "at a crossroads," and demanding that Alberta be included in all discussions on a "just transition" going forward.
She also said the legislation shouldn't be labelled as a "just transition" bill, but one about "sustainable jobs."
That request hit the federal government with interest and even amusement, since several federal ministers had already signalled their intention to use the term.
"I think I've been pretty clear I don't like the term 'just transition,'" Wilkinson said Wednesday.
"I prefer 'sustainable jobs.' I think it speaks to a future where we're looking to build economic opportunity for all regions of this country, very much including Alberta and Saskatchewan."
Smith will be in Ottawa next week as part of a first ministers meeting on health care, but there is no sign she will get a one-on-one meeting with Trudeau on sustainable jobs.
This report by The Canadian Press was first published Feb. 1, 2023.
I will fight this 'Just Transition' idea with every tool at Alberta's disposal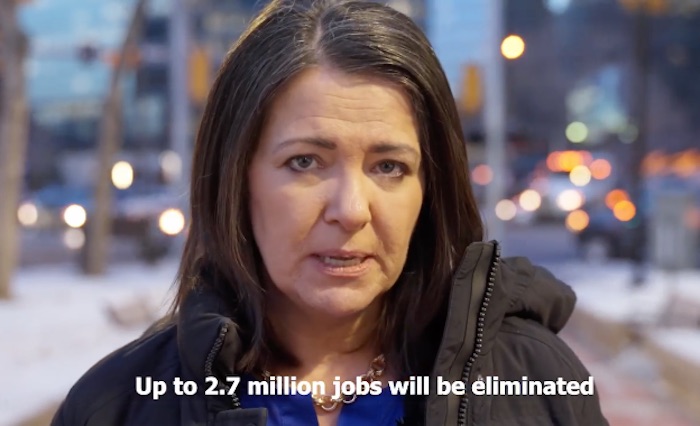 Premier Danielle Smith has released a video explaining to Albertans the tight relationship between the Provincial and Federal NDP parties. This after a briefing note from Ottawa showed Alberta will be severely affected by Prime Minister Trudeau's "Just Transition" legislation.
Overall 2.7 million jobs are expected to disappear in this scenario, including about 187,000 in Alberta's Oil and Gas sector alone. While the federal government claims these workers will be smoothly moved to clean sector energy jobs, Premier Smith says it's a non-starter for our province.
Provincial NDP Leader Rachel Notley has asked the Prime Minister to put the brakes on the plan, but Premier Smith says that's not enough. Smith suggests Notley should declare whether Alberta is her priority, or her own political party.