Space telescopes capture asteroid slam with striking clarity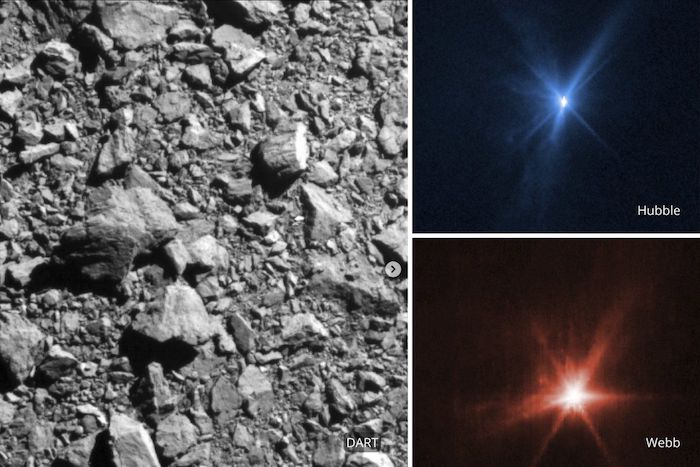 By Marcia Dunn in Cape Canaveral
CAPE CANAVERAL, Fla. (AP) — The world now has stunning new photos of this week's asteroid strike, the first planetary defense test of its kind.
NASA on Thursday released pictures of the dramatic event taken by the Hubble and Webb space telescopes.
A few hours later, SpaceX joined NASA in announcing that they're studying the feasibility of sending a private mission to Hubble, potentially led by a billionaire, to raise the aging telescope's orbit and extend its life.
Telescopes on all seven continents watched as NASA's Dart spacecraft slammed Monday into the harmless space rock, 7 million miles (11 million kilometers) from Earth, in hopes of altering its orbit.
Scientists won't know the precise change until November; the demo results are expected to instill confidence in using the technique if a killer asteroid heads our way one day.
"This is an unprecedented view of an unprecedented event," Johns Hopkins University planetary astronomer and mission leader Andy Rivkin said in a statement.
All these pictures will help scientists learn more about the little asteroid Dimorphos, which took the punch and ended up with a sizable crater. The impact sent streams of rock and dirt hurtling into space, appearing as bright emanating rays in the latest photos.
The brightness of this double asteroid system — the 525-foot (160-meter) Dimorphos is actually the moonlet around a bigger asteroid — tripled after the impact as seen in the Hubble images, according to NASA.
Hubble and Webb will keep observing Dimorphos and its large companion Didymos over the next several weeks.
The $325 million Dart mission was launched last year. The spacecraft was built and managed by Johns Hopkins' Applied Physics Laboratory in Laurel, Maryland.
As for Hubble, NASA officials stressed Thursday that the observatory launched 32 years ago is in good shape and might have another decade of life left.
Hubble's orbit constantly is decaying, but the telescope could have even more years ahead if it were boosted from its current 335 miles (540 kilometers) above Earth to 375 miles (600 kilometers) or more. The six-month technical feasibility study also will consider whether any parts could be replaced, presumably by a crew.
Jared Isaacman, a Pennsylvania tech entrepreneur who bankrolled his own SpaceX flight last year with contest winners, said a Hubble mission, if approved, would fit nicely into his planned series of spaceflights. But he stopped short of saying whether he was volunteering.
"We're working on crazy ideas all the time," NASA's science mission chief, Thomas Zurbuchen, told reporters. "Frankly, that's what we're supposed to do."
______
The Associated Press Health and Science Department receives support from the Howard Hughes Medical Institute's Department of Science Education. The AP is solely responsible for all content
Russian FM: US, NATO directly involved in Ukraine conflict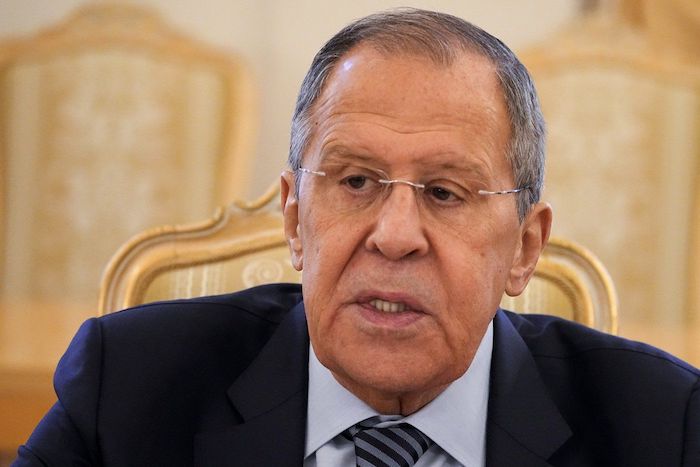 MOSCOW (AP) — Russia's foreign minister accused the West on Thursday of becoming directly involved in the conflict in Ukraine by supplying the country with weapons and training its soldiers.
Foreign Minister Sergey Lavrov also said that Russian missile strikes on Ukrainian energy facilities and other key infrastructure were intended to weaken Ukraine's military potential and derail the shipments of Western weapons.
"You shouldn't say that the U.S. and NATO aren't taking part in this war. You are directly participating in it," Lavrov said in a video call with reporters. "And not just by providing weapons but also by training personnel. You are training their military on your territory, on the territories of Britain, Germany, Italy and other countries."
He said the barrages of missiles, drones and artillery fire that have left millions of Ukrainians without power, heating and water was intended to "knock out energy facilities that allow you to keep pumping deadly weapons into Ukraine in order to kill the Russians."
"The infrastructure that is targeted by those attacks is used to ensure the combat potential of the Ukrainian armed forces and the nationalist battalions," Lavrov said.
Ukraine and the West have accused Russia of targeting key civilian infrastructure in order to reduce morale, cause Ukraine's people to suffer during the winter and to force the government in Kyiv into peace talks on Moscow's terms.
The southern city of Kherson, which Russia's forces seized in the opening days of the conflict and withdrew from last month, is among the places targeted. Russian shelling on Thursday cut off power in the recently liberated city just days after it was restored.
Weeks before the pullback allowed Ukrainian forces to reclaim Kherson, Russia declared the entire Kherson region part of its territory along with three other regions following hastily called "referendums" that Ukraine and the West rejected as shams.
Asked how the strikes on infrastructure in Kherson and other areas comply with Moscow's stated goal of protecting Ukraine's Russian-speaking population, Lavrov responded by drawing parallels with the Battle of Stalingrad during World War II.
"The city of Stalingrad also was part of our territory, and we beat the Germans to make them flee," he said.
Lavrov insisted that Moscow remains open for talks on ending the conflict. "We never asked for talks but always said that we are ready to listen to those who are interested in a negotiated settlement," he said.
The Kremlin has urged Ukraine to acknowledge Crimea, which Moscow annexed from Ukraine in 2014, as part of Russia and to recognize other land gains that Russia has made since sending its troops into Ukraine on Feb. 24. It also has pushed for guarantees that Ukraine wouldn't join NATO, along with vaguely formulated "demilitarization" and "denazification" goals.
Asked if a meeting between Russian President Vladimir Putin and U.S. President Joe Biden was possible, Lavrov replied that "we don't shun contacts" but added that "we haven't yet heard any serious ideas yet."
Lavrov said U.S. Secretary of State Antony Blinken has raised the issue of U.S. citizens imprisoned in Russia in a phone call, but he noted that Putin and Biden agreed to set up a separate channel of communication between special services to discuss the issue when they met in Geneva in June 2021.
"It's working, and I hope that some results will be achieved," he said.
The Biden administration has tried for months to negotiate the release of WNBA star Brittney Griner and another American jailed in Russia, Michigan corporate security executive Paul Whelan, including through a possible prisoner swap with Moscow.
Commenting on Russia's decision to postpone a round of nuclear arms control talks with the United States that was scheduled for this week, Lavrov maintained "it's impossible to discuss strategic stability nowadays while ignoring everything that is happening in Ukraine."
"The goal has been announced to defeat Russia on the battlefield or even destroy Russia," he said. "How can the goal of defeating Russia not bear significance for strategic stability, considering that they want to destroy a key strategic stability actor?"
During the online news conference that lasted for 2 1/2 hours, Lavrov railed against the U.S. and its NATO allies, accusing them of trampling on international law while trying to isolate and destroy Russia.
He claimed the U.S. has tried to discourage other countries, including India, from maintaining close ties with Russia but said those attempts have failed.
US Virgin Islands reach $105M settlement with Epstein estate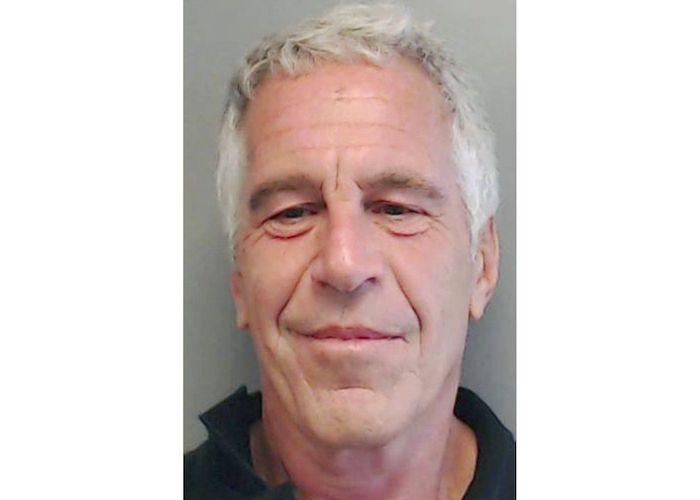 By Dánica Coto in San Juan
SAN JUAN, Puerto Rico (AP) — The U.S. Virgin Islands announced Wednesday that it reached a settlement of more than $105 million in a sex trafficking case against the estate of financier Jeffrey Epstein.
The settlement ends a nearly three-year legal saga for officials in the U.S. territory, which sought to hold Epstein accountable after he was accused of sexually abusing dozens of underage girls and of causing environmental damage on the two tiny islands he owned in the U.S. Virgin Islands. The islands will be sold as part of the agreement.
"This settlement restores the faith of the people of the Virgin Islands that its laws will be enforced, without fear or favor, against those who break them," Attorney General Denise George said.
Epstein's estate agreed to pay the territorial government $105 million in cash and half of the proceeds from the sale of Little St. James island where Epstein owned a home and authorities allege many of his crimes took place.
The estate also will pay $450,000 to repair environmental damage on Great St. James, another island Epstein owned where authorities say he removed the ruins of colonial-era historical structures of slaves.
The money from the sale of Little St. James island will be placed in a government trust to finance projects, organizations, counseling and other activities to help residents who have been sexually abused, officials said.
"We owe it to those who were so profoundly hurt to make changes that will help avoid the next set of victims," said George, who added that she met with three alleged victims who were trafficked and sexually exploited on Little St. James island.
A real estate company is listing the island for $55 million, noting that its features include three beaches, a helipad, a gas station and more than 70 acres (28 hectares) of land that offer "an array of subdivision possibilities" and "a comprehensive, discreetly located, infrastructure support system."
The company also is offering Great St. James for $55 million, an island of more than 160 acres (65 hectares) with three beaches.
In addition, the estate will return more than $80 million in economic tax benefits that U.S. Virgin Islands officials say Epstein and his co-defendants "fraudulently obtained to fuel his criminal enterprise."
The government previously accused an Epstein-owned business known as Southern Trust Co. of making fraudulent misrepresentations to qualify for the benefits.
Daniel Weiner, an Epstein estate attorney, sent a statement to The Associated Press saying that the settlement does not include any admission or concession of liability or fault by the estate or anyone else.
"The co-executors deny any allegations of wrongdoing on their part," he wrote. "The co-executors ultimately concluded that the settlement is in the best interest of the estate."
Weiner also noted that the estate has paid more than $121 million to 136 individuals via a victims' compensation fund.
Epstein killed himself at a federal jail in New York in August 2019 while awaiting trial. He had pleaded not guilty to charges of sexually abusing dozens of girls, some as young as 14 years old.
Several had sued Epstein and accused him and his longtime companion, Ghislaine Maxwell, of pressuring them into sexual trysts with powerful men.
Maxwell, who was convicted on sex trafficking and other charges, was sentenced to 20 years in prison in June.