Sorokin stops 49, Pageau scores 2 as Isles blank Oilers 3-0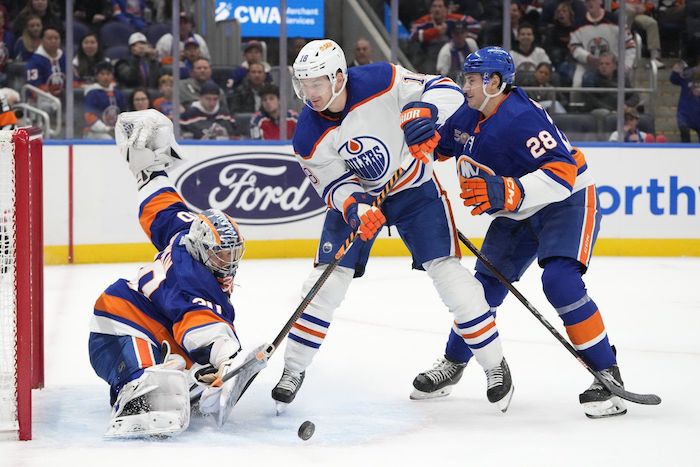 By Allan Kreda in New York
NEW YORK (AP) — Ilya Sorokin made a career-high 49 saves and Jean-Gabriel Pageau scored twice early in the second period as the New York Islanders beat the Edmonton Oilers 3-0 on Wednesday night.
Defenseman Sebastian Aho also scored for the Islanders, who have won two consecutive games and four of six. New York improved to 12-1-2 in its last 15 home games against the Oilers.
"What this game came down to is we were unable to solve their goaltender," Edmonton coach Jay Woodcroft said. "We didn't find a way to crack him."
After a scoreless first period, Pageau scored shorthanded at 4:33 against Oilers netminder Jack Campbell while Anthony Beauvilier was serving a slashing penalty. Zach Parise and Adam Pelech assisted.
The Islanders are 8-0-0 when the 38-year-old Parise gets a point.
Parise hasn't missed a game in his two seasons with the Islanders.
"It's fun playing with Zach. He made a great pass and I just put it in," Pageau said. "He's been helping me a lot."
Pageau scored again at 6:39, this time on a power play. His fifth goal of the season was assisted by Mathew Barzal and Anders Lee.
"He's a big-moment guy,″ Islanders forward Cal Clutterbuck said of Pageau, who scored twice for the first time this season.
The assist extended Barzal's point streak to six games. Barzal leads the Islanders with 21 assists and 23 points overall.
Aho made it 3-0 at 16:56 of the second with his second goal of the season, with assists to Oliver Wahlstrom and Casey Cizikas.
"I thought we were committed to play the right way," Islanders coach Lane Lambert said. "And our goaltender played really well and made some great saves."
Sorokin made nine saves in the first, 17 in the second and 23 more in the third for his second shutout this season and the 12th of his career.
"It was a good game for us. Those guys are very dangerous," Sorokin said, referring to high-scoring Oilers forwards Connor McDavid and Leon Draisaitl. "I don't think much about how many shots."
The Islanders denied three Edmonton power-play chances in the third as the 27-year-old Sorokin improved to 9-5-0.
"Three kills against them was huge," Clutterbuck added.
The Islanders were coming off a 2-1 overtime win Monday at Toronto. The Oilers lost their previous game, 5-2 at New Jersey on Monday.
The Islanders outshot the Oilers 12-9 in the first, though Edmonton didn't record a shot on goal until 13 minutes into the period. Sorokin's best save was a dazzling right pad stop on Zach Hyman at the 16:58 mark to keep the game scoreless.
Sorokin also denied Hyman from in close early in the third and Ryan Nugent-Hopkins with a snazzy glove stop with just under eight minutes remaining.
Campbell, who took a puck to the face on the bench during Monday's loss in New Jersey, made 27 saves in defeat.
"I thought he gave us a chance to win tonight and made some good saves when called upon," Woodcroft said. "I'm impressed with Jack Campbell and that level of stick-to-it-iveness and refusing to let a puck to the nose take a start away from him."
The Islanders are 13-2-0 this season when they score at least three goals.
NOTES: The Islanders, who improved to 13-6-0, did not reach 13 wins last season until Jan. 18. … Islanders forward Simon Holmstrom made his NHL debut after Kyle Palmieri was a late scratch with an upper-body injury. Holmstrom, a first-round draft pick in 2019, was recalled from Bridgeport and skated on a line with Barzal and Wahlstrom. … New York also scratched defenseman Robin Salo and forward Ross Johnston. … The Oilers scratched defenseman Ryan Murray and forwards Devin Shore and Kailer Yamamoto. … The teams meet again Jan. 5 in Edmonton. … Islanders defensemen have scored an NHL-leading 17 goals.
UP NEXT
Oilers: Visit the Rangers on Saturday afternoon to complete a three-game trip to the New York area.
Islanders: At the Columbus Blue Jackets on Friday.
___
AP NHL: https://apnews.com/hub/NHL and https://twitter.com/AP_Sports
Hot rental market makes search 'stressful' for many — and it won't get better soon
Marissa Giesinger is pictured in Calgary, Thursday, Sept. 21, 2023. On the hunt for a rental home in Calgary over the last six weeks, Giesinger and her boyfriend trawled through listings morning, noon and night, only to find most come along with dozens of applications and a steep price tag. THE CANADIAN PRESS/Jeff McIntosh
By Tara Deschamps in Toronto
On the hunt for a rental home in Calgary over the last six weeks, Marissa Giesinger and her boyfriend trawled through listings morning, noon and night, only to find most come along with dozens of applications and a steep price tag. As an added difficulty, many landlords are unwelcoming to the couple's brood — dogs Kado and Rosco and a cat named Jester.
"We made the tough decision recently to house our dogs with someone else until we can find a place that's affordable and we can take both of them," said Giesinger, a 23-year-old Mount Royal University student.
"It's definitely been stressful."
The competitive rental market Giesinger has encountered in Calgary is being seen across the country as multiple factors combine: high interest rates deter buyers and add to rental demand, still-high inflation is squeezing renter budgets, there's an undersupply of purpose-built rental units and population growth is fuelling demand.
These conditions have left prospective renters feeling even more frustrated than usual by sky-high rents, the frenzy of interest that surrounds any affordable listing and the litany of demands landlords can make when so many people are interested in their home.
Giacomo Ladas, communications director for Rentals.ca, calls it "almost a perfect storm" — and it isn't likely to ease up any time soon.
"What this does is create such a burden on this rental housing market that even though we're out of the (busy) summer rental season, there's so much demand that (these conditions are) going to continue like this until the fall and into the winter," he said.
Data crunched by his organization and research firm Urbanation.ca shows average asking rents for newly-listed units in Canada increased 1.8 per cent between July and August and 9.6 per cent from a year earlier to reach a record high of $2,117 last month.
Between May and August, asking rents in Canada increased by 5.1 per cent or an average of $103 per month.
When Giesinger rented a two-bedroom basement unit with a roommate a few years ago, the duo paid $1,000 per month, but now she routinely spots "super tiny," one-bedroom places for $1,350 a month.
"If you want a basement suite or an apartment, you're looking at minimum $1,200 and that doesn't include any utilities or anything like that unless it's a super rare listing," Giesinger said.
Rentals.ca data show newly listed one-bedroom properties in Calgary priced at an average $1,728 per month in August, up 21.6 per cent from a year earlier. Two-bedroom homes have climbed 17.4 per cent to $2,150 over the same period.
The picture in Vancouver and Toronto is far bleaker. Rentals.ca found the cities had the highest rents in the country.
Newly-listed one-bedroom properties in Vancouver averaged $2,988 in August, up 13.1 per cent from a year earlier, while two-bedroom units hit $3,879, an almost 10 per cent increase year-over-year.
Newly-listed Toronto one-bedroom homes averaged $2,620 in August, up almost 11 per cent from the year before, while two-bedroom properties had a 7.1 per cent rise over the same time frame to $3,413.
It's numbers like these that have convinced Kanishka Punjabi to abandon her hopes of moving in the near term.
"Two days ago, I gave up on my search because the rental market is that bad," she said.
The public relations worker has been living in Mississauga, Ont., but felt it was time to find a home in downtown or midtown Toronto, closer to where she works.
However, few of the two-bedroom homes she spotted in her two-month search were within her $2,800 budget.
For example, one apartment she liked at the intersection of Yonge and Eglinton streets had 25 offers in just over a week.
"Some people actually just sent in their offer without looking at the apartment too because there are so many people who are in desperate need of rental units," said Punjabi. "There's just not enough."
The Canada Mortgage and Housing Corp. has projected that the country needs to build 3.5 million additional homes beyond what's planned before the market reaches some semblance of affordability.
It also calculated that the annual pace of housing starts — when construction begins on a home — edged down one per cent in August to 252,787 units compared with 255,232 in July.
Despite the nudge down, Rishi Sondhi, an economist with TD Bank Group, said it has been a strong year for starts because the industry is responding to elevated prices by building at a robust pace.
But between population growth and rising interest rates, he said, "supply is struggling to keep up with demand" and that's bound to weigh on renters for quite some time.
"In the short term, it would be unrealistic to expect too much of a reprieve simply because population growth is likely to remain strong through the duration of this year — and that's really one of the big fundamental drivers," he said.
"In addition, it's unlikely to expect affordability in the ownership market to improve too much either because we think the Bank of Canada (key rate) is going to be on hold for the remainder of the year, but there is some risk that they take rates even higher, especially if inflation doesn't co-operate."
For renters like Giesinger that message puts even more pressure on her to settle on a place soon.
"Now I'm scrambling to find the money for a deposit and we're still never really sure like what kind of place we're going to get," she said.
"And when you're battling dozens of other people for a rental it can be super stressful."
This report by The Canadian Press was first published Sept. 24, 2023.
Alberta is getting serious about nuclear power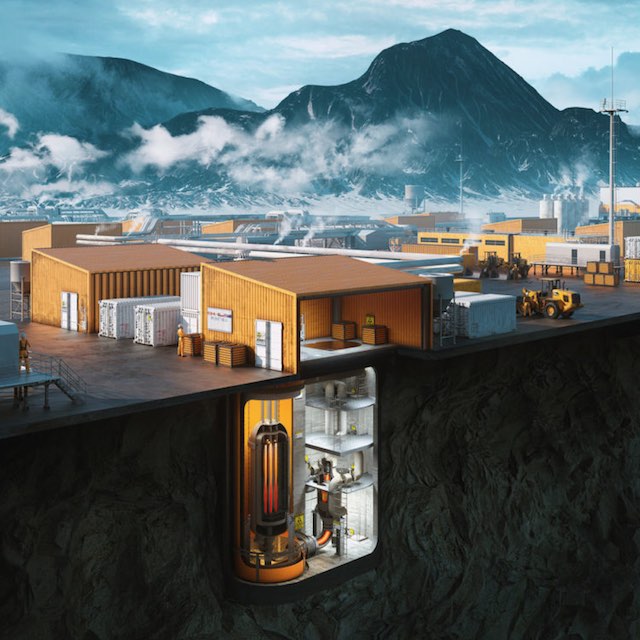 Image from CanadianMiningJournal.com
New funding to study small modular reactors
Alberta has approved funding for a multi-year study that will explore how small modular nuclear reactors could be safely, technically and economically deployed for oil sands operations.
Alberta is investing $7 million from the Technology Innovation and Emissions Reduction Fund to help Cenovus Energy study how small modular reactors could be used in northern Alberta, and what additional information might be needed to pursue regulatory approval in the future.
As outlined in the province's Emissions Reduction and Energy Development Plan and A Strategic Plan for the Deployment of Small Modular Reactors, Alberta is committed to responsible and innovative energy development, and small modular reactors have the potential to provide zero-emissions energy and further reduce emissions from Alberta's oil sands in the years to come.
"A few years ago, the idea of expanding nuclear energy use was on the back burner – that is no longer the case. In Alberta, small modular nuclear reactors have the potential to supply heat and power to the oil sands, simultaneously reducing emissions and supporting Alberta's energy future. This funding is the foundation for that promising future. I want to thank Cenovus Energy and Emissions Reduction Alberta for their leadership in this work."
Small modular reactor technology involves scalable and versatile nuclear reactors that could potentially supply non-emitting heat and power to the province's oil sands. Provincial funding delivered through Emissions Reduction Alberta is supporting the work needed to determine how this technology could be effectively used in Alberta.
"Small modular reactors have great potential to supply non-emitting energy in many different applications, including the oil sands. Further studies like this are needed to see if the technology is suitable for those industrial applications. If so, it could be transformational for the in-situ oil sands sector and other sectors in Alberta."
"This enabling study is a great example of the collaborative approach we'll need to help us reach our ambition of net-zero emissions from our operations by 2050. We're exploring multiple technologies that would help significantly reduce our emissions, and small modular reactors show potential. This study will help us understand if this possible solution is economical and technically viable."
Cenovus Energy's $26.7-million enabling study will look at whether small modular reactor technology could be applied to steam-assisted gravity drainage projects in the oil sands, which drill into the reservoir and inject steam to soften the oil. Alberta Innovates recently released a study on the feasibility of using small modular nuclear reactors in steam-assisted gravity drainage operations, which is an early step to see if this technology could be part of Alberta's long-term solutions to reducing emissions from industry operations. While there is currently no project being planned, this study frames the discussion around what is possible in the years ahead.
"Building off the work previously supported by Alberta Innovates, the success of Cenovus's small modular reactor ERA-funded enabling study could provide substantial economic and environmental advantages throughout Alberta's industrial sector, helping to advance a clean energy future for Canada."
Quick facts
Funding for this project comes from Emissions Reduction Alberta's Industrial Transformation Challenge.
Any future adoption of small modular reactor technology in Alberta would require an extensive regulatory and engagement process. The province is currently working to ensure the regulatory framework is in place and ready should private industry pursue this technology.
On Sept. 12, an Alberta-Ottawa working group on emissions reduction and energy development met for the first time. The working group agreed to commence the development of a regulatory framework for small modular reactor technology and continue work on federal and provincial incentives for CCUS, hydrogen and other emissions-reducing technologies.
Alberta, Saskatchewan, Ontario and New Brunswick released A Strategic Plan for the Development of Small Modular Reactors in 2022. The plan commits the Alberta Utilities Commission and Alberta Energy Regulator to deliver findings on areas of overlap, uncertainty and duplication between the federal and provincial regulatory systems to Alberta's government in 2023.
The Canadian Nuclear Safety Commission regulates all stages of life of nuclear power plants in Canada, starting from the initial environmental assessment to decommissioning. The approval process takes several years and offers opportunities for public participation.