'So proud': Memories shared by paramedic who unknowingly treated daughter in crash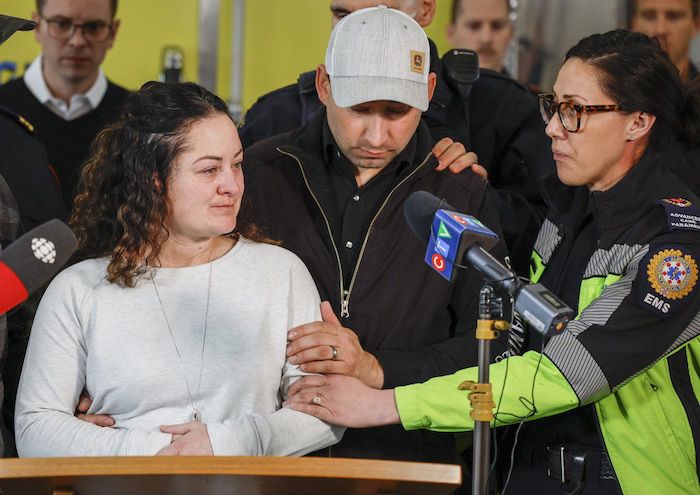 By Bill Graveland in Airdrie
An Alberta paramedic who unknowingly treated her own daughter after a fatal crash brushed away tears Tuesday as she remembered a beautiful girl who fought until the end.
Jayme Erickson was called to the crash north of Calgary on Nov. 15 and sat with a seriously injured girl who was was extricated from the vehicle and taken to hospital, where she died.
It wasn't until Erickson got home at the end of the day that she was met by RCMP officers, who told her the patient was her 17-year-old daughter, Montana.
Erickson shared her grief with reporters, describing her daughter as a success at everything she set her mind to, an avid swimmer who had aspirations of becoming a lawyer. Erickson expressed her wish that her daughter's name lives on.
"She was a fighter and she fought until the day that she died and she was beautiful. She was so beautiful. If she ever put an effort into anything she would always succeed at it," said Erickson at an Airdrie firehall with family, paramedics, police officers and firefighters standing behind her in a show of support.
"She was a very funny girl and we all loved her very much."
Richard Reed, a friend and flight paramedic, broke down a number of times as he recounted Erickson attending the scene where a car had lost control and was struck by an oncoming truck.
Reed said the driver was able to get out of the car but the female passenger was trapped with serious injuries. Erickson was the first person on the scene.
He said Erickson knew the girl was in trouble and sat there until she was extricated and transported to hospital by air ambulance, still unaware of who it was.
"On her way back she expressed her grief and frustration to her partner, knowing that later a family would likely lose their daughter, sister and grandchild. A short time after arriving home, there was a knock on the door. It was the RCMP," Reed said.
"On entering the room, to her horror, she found the girl that she had sat with in the back of the crumpled vehicle keeping alive, so the family could say goodbye, and due to the extent of her injuries was unrecognizable, was Jayme's own daughter," he added.
"Jayme unknowingly was keeping her own daughter alive. As both a parent and a first responder, I can tell you this is beyond a nightmare that any of us could have conceived."
Erickson said her daughter, who "loved fiercely," was able to accomplish one last selfless act.
"Montana was able to give one last gift. She was able to donate her organs and of her organs, two of them that were donated were life-saving," she said. "We're so happy that our baby girl is living on through others and she has in the wake of this tragedy saved other people.
"We know it's what she would have wanted and we are so proud of her and we're going to miss her very, very much."
Fellow paramedic Deana Davison spoke about the mental health challenges of the job. She said Erickson had suffered post-traumatic stress disorder after attending a horrific pediatric case, and became "fearful of every move her daughter made."
"Intense fear every day that the worst-case scenario would play out for Montana," said Davison.
"These things stay with you forever. We are all just one call away from never doing this job again. It brings to light, once again, that this horrific nightmare could happen to any one of us."
A GoFundMe page has been set up to help the Erickson family with their expenses.
This report by The Canadian Press was first published Nov. 22, 2022.
TC Energy shuts down Keystone pipeline system after leak in Nebraska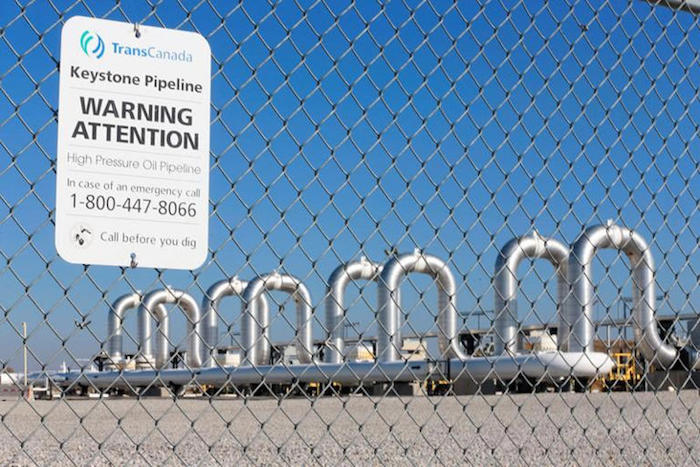 CALGARY — TC Energy Corp. says it has shut down its Keystone pipeline after a leak in Nebraska.
The company says it has mobilized people and equipment in response to a confirmed release of oil into a creek, about 32 kilometres south of Steele City, Neb.
TC Energy says an emergency shutdown and response was initiated Wednesday night after a pressure drop in the system was detected.
It says the affected segment of the pipeline has been isolated and booms have been deployed to prevent the leaked oil from moving downstream.
The Keystone pipeline system stretches 4,324 kilometres and helps move Canadian and U.S. crude oil to markets around North America.
TC Energy says the system remains shutdown as its crews respond and work to contain and recover the oil.
This report by The Canadian Press was first published Dec. 8, 2022.
Companies in this story: (TSX:TRP)
The Canadian Press
Two deputy chief medical officers resign from their positions with Alberta Health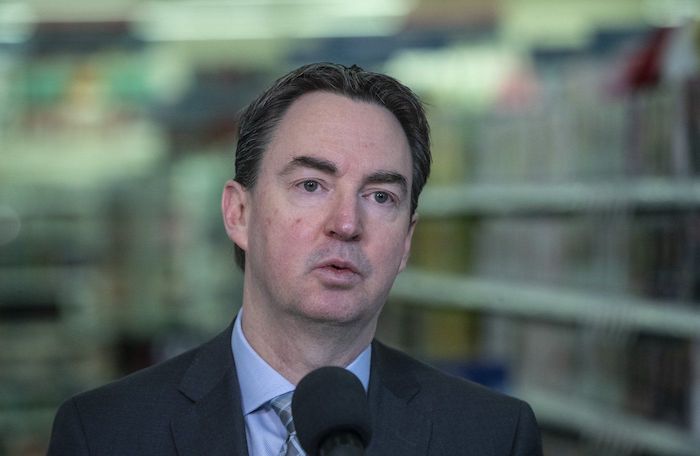 Edmonton – Alberta's two deputy chief medical officers of health are leaving their roles — less than a month after Dr. Deena Hinshaw was removed as the province's top doctor.
Health Minister Jason Copping confirmed during question period Wednesday that both of the doctors have submitted letters of resignation.
"They are still continuing to work at this point in time," he said in the legislature. "We are in the process of actually looking to fill those roles."
A statement from Alberta Health said Dr. Rosana Salvaterra and Dr. Jing Hu, who are listed as public health physicians on the department's website, have given notice.
When reached by her department email, Salvaterra responded: "Unfortunately, we are not able to comment."
She later added that she respects and admires both Dr. Hinshaw and Dr. Hu.
"They are brilliant, hard-working, and compassionate public health physicians and I consider myself fortunate to have had the opportunity to work alongside them for these past 14 months."
Salvaterra, who has extensive public health experience including as the medical officer of health for Peterborough, Ont., joined the office in October 2021.
Her career in public health includes work in "the COVID-19 response, mental health, the opioid response, women's health, poverty reduction, health equity, community food security and building stronger relationships with First Nations."
Hu's out-of-office message said her "last day at work with Alberta Health was Nov. 18, 2022," and noted she wouldn't have access to the department email after that date.
She got extensive training in China and at the University of Calgary before joining the health department in January 2020.
Their resignations came within a month of Hinshaw, who became the face of Alberta's public health response to the COVID-19 pandemic, being removed from her position.
Hinshaw was replaced by Dr. Mark Joffe, a senior executive member of Alberta Health Services, on an interim basis.
"Dr. Joffe will be supported by medical officers of health within AHS, by other staff in the Office of the Chief Medical Officer of Health, and by the Public Health Division," said the statement from Alberta Health late Wednesday.
"We expect these changes to have no impact on the department's and Dr. Joffe's ability to meet the requirements of the Public Health Act."
Hinshaw's dismissal didn't come as a surprise.
Premier Danielle Smith announced on her first day in office in October that she would be replaced.
Smith has made it clear that she blames both Hinshaw and Alberta Health Services for failing to deliver the best advice and care for Albertans as the hospital system came close to buckling in successive waves of the COVID-19 pandemic.
"A lot of the bad decisions were made by Alberta Health Services on the basis of bad advice from the chief medical officer of health," Smith told reporters on Oct. 22.
Smith has not placed the blame on front-line doctors and nurses but broadly on AHS senior management. Joffe, while serving as chief medical officer of health, retains his role in AHS senior management as a vice-president responsible for areas in cancer and clinical care.
Hinshaw, an Alberta-trained public health specialist, became a celebrity of sorts in the first wave of the pandemic in the spring of 2020, as she delivered regular, sometimes daily, updates to Albertans on the virus, its spread and methods to contain it.
This report by The Canadian Press was first published Dec. 7, 2022.
— By Colette Derworiz in Calgary.