Skate parks open in Red Deer. Tennis, basketball, pickle ball open May 15
From the City of Red Deer
City to open some outdoor amenities
Following the release of the provincial government's Relaunch Strategy, The City is opening some outdoor recreation amenities. A long-term, phased approach to opening additional outdoor and indoor amenities and resuming recreation activities is also underway.

"We know Red Deerians are anxious to resume their daily lives, including the use of outdoor and indoor recreation in our community," said Mayor Tara Veer. "We have developed a local phased approach that is in line with the provincial government's strategy, and ensures we remain unwavering in our diligence and vigilance to preventing the spread of COVID-19 in our community."

Following advice and recommendations in the provincial Relaunch Strategy, as well as guidelines from Alberta's Chief Medical Officer of Health, the following amenities will open in the coming weeks:
Skate parks and disc golf will open May 8.
Neighbourhood asphalt pads (tennis, basketball, neighbourhood pickleball) will open in phases starting May 15. They will be available for spontaneous, non-contact, unorganized sport only.
Community sport fields remain open for spontaneous use, as long as users comply with the restrictions on mass gatherings and requirement to maintain physical distancing. Sport fields remain closed for organized use and bookings.
The track near Lindsay Thurber High School remains open for spontaneous use.
Great Chief Park (including Setters Place) and Edgar Athletic Park remain closed, with the exception the Pitch 'n Putt at Great Chief Park which is open for use.
In alignment with Phase 1 of AB Relaunch strategy The City is working with community groups that operate some city amenities to re-open in the near future including: Red Deer Tennis Club, Red Deer Pickleball Club, Red Deer Remote Car Club and Red Deer BMX Club.
The Waskasoo Environmental Education Society will begin opening aspects of their operations, including a modified Green Deer program, as soon as May 15, more details can be found at https://www.waskasoopark.ca/.
The City is working with the OPC Chiropractic clinic at the Collicutt Centre to provide modified access.
Red Deer Museum and Art Gallery is exploring options for their reopening.
The ability to keep facilities open will depend on the public's compliance with provincial public health orders. Users are reminded of the following restrictions and guidelines when using these amenities:
Maintain physical distance of 2 metres/6 feet between participants (unless from the same household).
Only non-contact, unorganized sport is permitted.
Limit participants to 15 people or less.
Bring your own equipment and avoid activities that require shared equipment.
Wash/sanitize your hands often.
In the coming weeks, staff will perform inspections and maintenance on playgrounds in preparation for a phased re-opening. The exact timing for the opening of playgrounds is still under review, and will depend on provincial guidelines.
We continue to plan for the phased opening of other outdoor and indoor amenities, and will share information and updates as timelines are confirmed. The opening of amenities will be based on guidelines and recommendations from the Chief Medical Officer of Health, as well as our own risk analysis. We thank residents for their ongoing support and cooperation in following all public health orders while we evaluate and open amenities when it is safe to do so.
"We are working very closely with the provincial government to understand how to re-open the amenities that we know citizens are eager to return to," said Allan Seabrooke, City Manager. "We know playgrounds are top of mind for many citizens, and we are working hard to develop a plan to allow for the opening of playgrounds; however, with frequent touch points, limited access to hand hygiene options, and cleaning/sanitizing requirements, a careful, methodical plan is needed."
More detailed information about the overall municipal strategy for reactivating recreation amenities in Red Deer will be available in the coming weeks. As always, the strategy is entirely dependent on the evolving situation, which can change quickly.
For more information, visit reddeer.ca.
Free Farewell party for Red Deer's Kinex Arena Saturday, April 1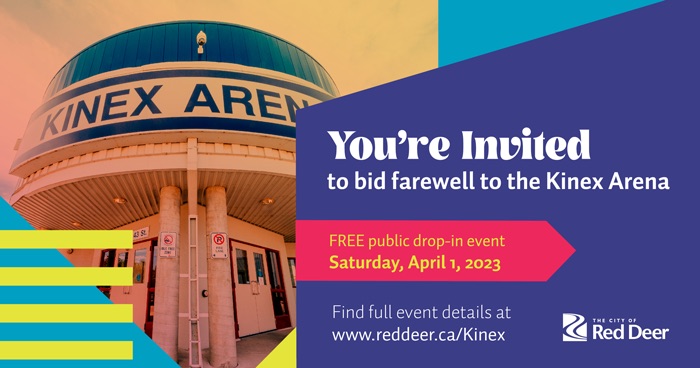 City to host Kinex Arena farewell event
With the twin arenas now open at the G.H. Dawe Community Centre, The City will continue with it's plan to decommission the Kinex Arena. The facility will no longer serve as a recreation amenity for the community."We understand the distinct history the Kinex Arena has to sport, recreation and community life here in our city," says Curtis Martinek, Facilities & Asset Management Superintendent. He continues, "we would like to invite Red Deerians to bid farewell to this amenity which has served our community for over 50 years."

The Kinex Arena was originally built in 1967 and has provided over 5 decades of fun, sport and recreation. As a farewell, The City is hosting a free public drop-in event.

Free Kinex Arena Farwell Event
Saturday, April 1
10:00 a.m. – 3:00 p.m.
4725 A – 43 Street

Behind the Servus Arena (map)

Join us for our free skating times with themed music:
10 – 11 a.m. – preschool/family skate with preschool songs
11:15 a.m. – 12:15 p.m. – 60's & 70's public skate
12:30 – 1:30 p.m. – 80's & 90's public skate
1:45 – 2:45 p.m. – 00's & 10's public skate
Pre-registration is not required, drop-in when your schedule allows!
Skate with us through the ages as we host themed drop-in skating times with refreshments in the upper mezzanine. The refreshments are free and so are the memories! Walk back in time while reminiscing with historic pictures of the Kinex Arena over the last 55+ years.
Kinex Farewell Event FAQs
Kinex Arena Decommission FAQs
City of Red Deer puts out call to private owners interested in selling or leasing property for integrated homeless shelter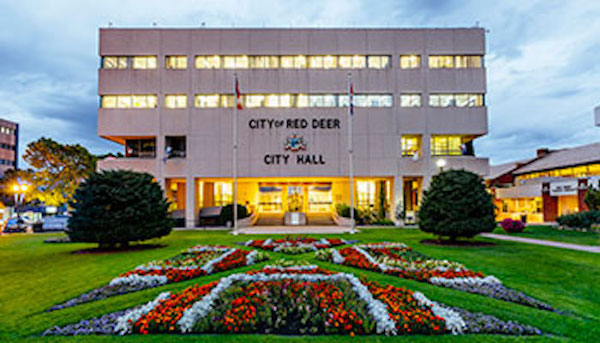 Call for privately owned properties for consideration during shelter site selection process
Private property owners who are interested in selling or leasing their site for the purposes of an integrated shelter are invited to submit their information until Friday, March 31. Currently, The City is developing a high-level property listing for technical review, but if there are any properties that are not currently on the market, they can be submitted by the property owner through an online form on The City's website.

Administration will assess the privately-owned properties submitted, sites that are currently on the market, and municipally or provincially owned properties using Council's criteria:
Ability to acquire site: Acquiring the optimum site can be done in a timely manner. Acquisition options and costs are important considerations.
Adequate size: The size of the site considers the potential need to adjust service delivery at any given time. It will accommodate proposed integrated amenities and services. It considers the land size needed to accommodate outdoor gathering spaces and activities. The site already has a building or can accommodate a building that meets the Province's minimum requirement of 10,000 square feet.
Broad community impact: The site aligns with The City's vision for the community. Community impact includes considerations such as, impacts on economic and business development, and municipal operations. It includes potential reputational impacts and financial impacts (both capital and operating). It also includes impacts to those accessing shelter services in our community. The site considers impacts to our community as a whole, including health, and safety for all in our valued places and spaces that are enjoyed by our citizens.
Impacts to surrounding area: Impacts to businesses, residences, parks, trails, and schools are a priority consideration in selecting site. The city's reputation is considered. A preferred site can accommodate and foster development of a safe, secure shelter.
Access to services & supports: Safety and basic needs for all is a priority. Regularly utilized services and supports that would not be co-located are taken into consideration. Sites where co-located services can operationalize are preferred.
Once the technical assessments are complete, administration will present options to Council for consideration to recommend to the province.
If you are a property owner and would like to submit a site for consideration, please fill out and submit the online form here.
For information on the future shelter site selection process, please visit www.reddeer.ca/shelter.
---
Background
Back on February 3, City Council provided a "community update" on the status of 2 properties which were thoroughly vetted but failed in the end to get the go ahead. Here is video from that announcement and the following q and a with media.