Sick dolphin calf improves with tube-fed milk, helping hands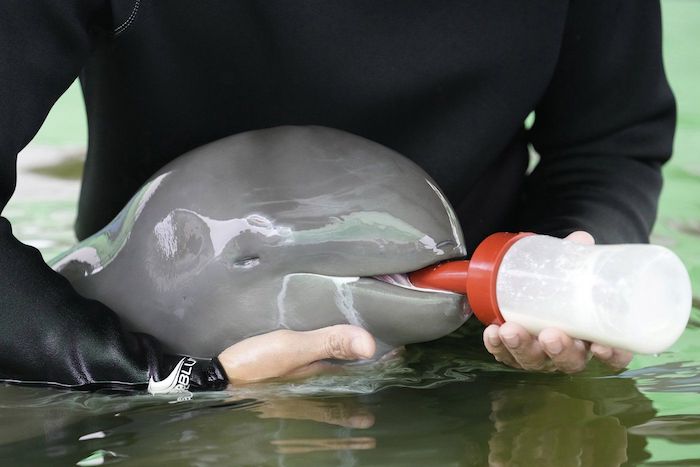 By Tassanee Vejpongsa in Rayong
RAYONG, Thailand (AP) — The Irrawaddy dolphin calf — sick and too weak to swim — was drowning in a tidal pool on Thailand's shore when fishermen found him.
The fishermen quickly alerted marine conservationists, who advised them how to provide emergency care until a rescue team could transport the baby to Thailand's Marine and Coastal Resources Research and Development Center for veterinary attention.
The baby was nicknamed Paradon, roughly translated as "brotherly burden," because those involved knew from day one that saving his life would be no easy task.
Irrawaddy dolphins, considered a vulnerable species by International Union for Conservation of Nature, are found in the shallow coastal waters of South and Southeast Asia and in three rivers in Myanmar, Cambodia and Indonesia. Their survival is threatened by habitat loss, pollution and illegal fishing.
Officials from the marine research center believe around 400 Irrawaddy dolphins remain along the country's eastern coast, bordering Cambodia.
Since Paradon was found by the fishermen July 22, dozens of veterinarians and volunteers have helped care for him at the center in Rayong on the Gulf of Thailand.
"We said among ourselves that the chance of him surviving was quite low, judging from his condition," Thanaphan Chomchuen, a veterinarian at the center, said Friday. "Normally, dolphins found stranded on the shore are usually in such a terrible condition. The chances that these dolphins would survive are normally very, very slim. But we gave him our best try on that day."
Workers placed him in a seawater pool, treated the lung infection that made him so sick and weak, and enlisted volunteers to watch him round the clock. They have to hold him up in his tank to prevent him from drowning and feed him milk, initially done by tube, and later by bottle when he had recovered a bit of strength.
A staff veterinarian and one or two volunteers stay for each eight-hour shift, and other workers during the day handle the water pump and filter and making milk for the calf.
After a month, Paradon's condition is improving. The calf believed to be between 4 and 6 months old can swim now and has no signs of infection. But the dolphin that was 138 centimeters long (4.5 feet) and around 27 kilograms (59 pounds) on July 22 is still weak and doesn't take enough milk despite the team's efforts to feed him every 20 minutes or so.
Thippunyar Thipjuntar, a 32-year-old financial adviser, is one of the many volunteers who come for a babysitting shift with Paradon.
Thippunya said with Paradon's round baby face and curved mouth that looks like a smile, she couldn't help but grow attached to him and be concerned about his development.
"He does not eat enough but rather just wants to play. I am worried that he does not receive enough nutrition," she told The Associated Press on Friday as she fed the sleepy Paradon, cradled in her arm. "When you invest your time, physical effort, mental attention, and money to come here to be a volunteer, of course you wish that he would grow strong and survive."
Sumana Kajonwattanakul, director of the marine center, said Paradon will need long-term care, perhaps as much as a year, until he is weaned from milk and is able to hunt for his own food.
"If we just release him when he gets better, the problem is that he he won't be able to have milk. We will have to take care of him until he has his teeth, then we must train him to eat fish, and be part of a pod. This will take quite some time," Sumana said.
Paradon's caregivers believe the extended tender loving care is worth it.
"If we can save one dolphin, this will help our knowledge, as there have not been many successful cases in treating this type of animal," said veterinarian Thanaphan. "If we can save him and he survives, we will have learned so much from this."
"Secondly, I think by saving him, giving him a chance to live, we also raise awareness about the conservation of this species of animal, which are rare, with not many left."
Daughters without moms find support in each other's grief
This image provided by Hope Edelman, shows a motherless group being led by Edelman and Claire Bidwell Smith. There are many kinds of support today for children who have lost their parents. (Hope Edelman via AP)
By Tracee M. Herbaugh
When my mother died suddenly 30 years ago, I was 13. I'd spend the next 20 years attempting to understand what it means not to have a mother.
And I did this basically alone.
Mostly, this was because my mother's parents, who raised me, were old-fashioned folks who lived through the Dust Bowl. They didn't discuss feelings, good or bad. I never once saw my grandfather shed a tear after his daughter died. Plus, our town was in the rural plains of Colorado, hours away from any city with services like a grief therapist, even if my grandparents had been open to that.
But the silence around grief also was a product of the times. I am encouraged to see that now a mom's death is generally not handled the same way it was in 1993.
There are many kinds of support today, from the organized to the grassroots. Grief can be talked about and shared more publicly, experts say, and is acknowledged to last a long time.
Motherless children can attend special summer camps, for instance, or Mother's Day retreats like those hosted by the Massachusetts-based non-profit EmpowerHer, which works with girls whose mothers have died. They also link girls with mentors so they can see an older version of themselves. The group recently started working with boys and nonbinary children, too, who have lost either parent.
"There isn't a perfect ending," said Cara Belvin, who founded EmpowerHer. "You can cry and scream but you can't give up, and we hold space for a kid who is grieving."
Podcasts on the topic of parent loss, and support groups both virtual and in-person, have proliferated.
"It really grew exponentially over COVID," said Hope Edelman, author of several grief books, including the bestseller "Motherless Daughters: The Legacy of Loss," published in 1994.
Edelman has led motherless daughters' groups, and her books have helped usher in a new way to live with loss. "The death of a mother affects a daughter profoundly, but what comes after can affect her as much or more," she said.
Edelman was 17 when her mother died in 1981, a time she has called the "dark ages" of grief, when mourning often wasn't discussed much outside the stale office of a therapist.
The prevailing wisdom today tends to be the "continuing bonds" theory, which says grief is to be carried, and relationships continue and change with a loved one, even after their death.
This more engaged approach to grief has been furthered by the internet and social media.
Ontario native Janet Gwilliam-Wright, 46, started "The Motherlove Project," a blog and corresponding Instagram account, in 2020 to honor the 25th anniversary of her mother's death. It has since become a place where women from around the world share stories about their late mothers; nearly 300 people have shared so far.
"I didn't have anywhere to grieve her — she didn't have a grave — so I decided to make a place on the internet," Gwilliam-Wright explained.
"I have enormous gratitude for every woman who reaches out to me. It helps me in my grieving and has brought me a community of people I feel so connected to."
Mother's Day can feel particularly isolating, said Julia Morin, 36, of Nashua, New Hampshire, who created her Instagram account "Girl_meets_grief" on Mother's Day 2021 to connect with others who felt the same way.
Before the internet, even though the prevailing attitude toward grief might have been less supportive, still there was often more community and family around than there is now, when many Americans lack built-in support networks.
"And so the widespread online support gives people a broader space to share in that grief and meet people with similar experiences," said Megan Kelleher, a historian who has studied grief and bereavement practices.
Writing is another way motherless daughters are connecting.
Sasha Brown-Worsham of Acton, Massachusetts, has written about losing her mom as a teenager. She penned a viral essay and followed it up with a memoir, "Namaste the Hard Way." When Brown-Worsham turned 45, the same age her mother was when she died of breast cancer, she sought out a virtual support group of mothers without moms.
"My daughter turned 16 at the same time, and that's how old I was when my mom died," she said.
The group is a collaboration between Edelman's Motherless Daughters and the Twin Cities-based non-profit She Climbs Mountains.
"There's this sense of being seen for possibly the first time in my whole life," Brown-Worsham said.
Life's milestones — such as getting married or having a baby — can trigger grief. By the time I was 30, I had tricked myself into believing I was adept at ignoring my mother's loss. That was, of course, far from true.
It was when I had my first baby that I felt grief rise to the surface. Jealousy cropped up in unexpected ways, particularly when I saw my new mom friends with their mothers.
It turns out, this is normal.
"Having kids ripped me open" emotionally, said Katie Paradis, 42, of Rockport, Massachusetts, who has two girls and no mother.
Susanna Gilbertson's mom died a year before her daughter was born.
"I looked around and didn't see any support I could access," said Gilbertson, 47, of Philadelphia.
Along with another motherless mom, she posted fliers for a book group, reading Edelman's "Motherless Daughters." After the initial meeting, the women in the group wanted to keep going. They ended up meeting for seven years.
"You get to experience, rather than be told, that you're not alone," said Gilbertson, now a full-time grief coach.
Huge, deconsecrated Roman Catholic church in N.S. Acadian community now up for sale
An aerial photo of St. Bernard Roman Catholic Church in St. Bernard, N.S., on the province's southwestern coast, is seen in an undated handout photo. The deconsecrated church is being sold for an asking price of $250,000, though it will require extensive repairs, says the former church treasurer, Suzanne Lefort. THE CANADIAN PRESS/HO-Travis Baker
By Michael Tutton in Halifax
A huge, deconsecrated Roman Catholic church that has been a landmark to the Acadian community in southwestern Nova Scotia is up for sale.
St. Bernard Church officially closed last summer as the number of people attending mass in the 1,300-square-metre building had fallen to about 30 to 40 people.
It was listed on Thursday for private sale with an asking price of $250,000.
The listing says during the church's 32-year construction over 8,000 blocks of granite were transported by railroad and oxen from Shelburne, N.S., to the small community 35 kilometres north of Digby. The church officially was completed in 1942.
Its interior is coated in plaster and framed by religious statues, with Douglas fir plywood from British Columbia used in the pews and wall panels.
However, Suzanne Lefort, a former treasurer of the parish council, said in an interview that it's been estimated last year that thorough repairs would cost over a million dollars for improvements to the roof, water system and the 28,000 cubic metre interior.
"One part of the roof should be shingled, but because of the height you'd need cranes. So what would be a normal shingling job for a roof gets to be much more expensive," she explained.
"Whoever takes it over will have to put some money into it now."
Lefort, 72, said she hopes an investor purchases the building and gives it a fresh purpose that benefits the community.
She said she and some other parishioners now attend another Roman Catholic church in the Parish of Notre Dame d'Acadie in Clare, N.S., which is an amalgamation of six parishes.
Jean Le Blanc, the president of the Heritage Society of St. Bernard, said in an interview Saturday he's hoping that the church will be converted into apartment units that address the shortage of housing in the rural area.
"Hopefully, if somebody does buy it we (the community) will have some input as to what they will actually do with it," he said.
Le Blanc said a study by an architect had indicated that the building would be viable as a housing development with about 28 units, if the provincial government or donors assisted.
Le Blanc said he's also hoping that artifacts from the church will find homes within the area, rather than being sold or disposed of.
Lefort said it's expected that items such as religious statues and a crucifix that was behind the altar will be stored in another parish.
A spokeswoman for the diocese of Halifax-Yarmouth was not immediately available for comment on Saturday evening.
This report by The Canadian Press was first published March 25, 2023.