Shopify posts Q2 loss of US$1.2 billion, a day after laying off 10% of staff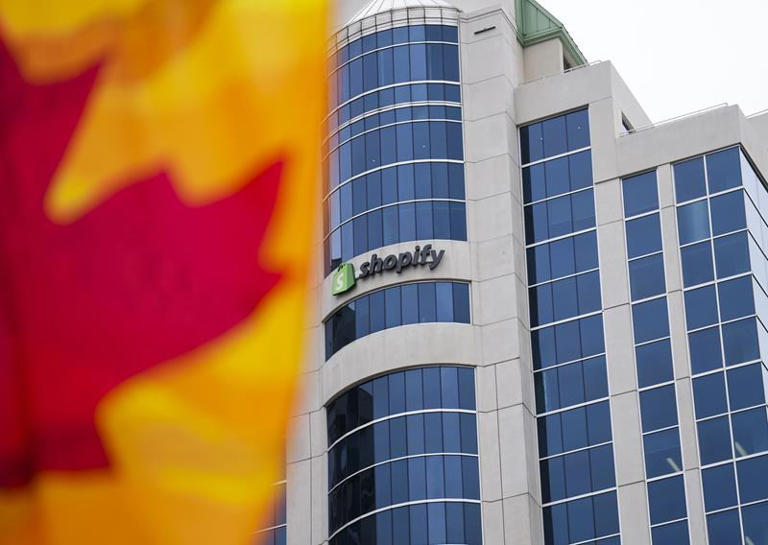 Shopify Inc.'s president is arguing the company is in an "enviable" position, even as it continues to express regret over misjudging the growth of the e-commerce market — a move that forced a dramatic number of job cuts Tuesday.
Harley Finkelstein detailed on Wednesday how his Ottawa software company has been facing a reckoning after it anticipated the amount of shopping people carry out online, instead of at brick-and-mortar retailers, would permanently leap ahead by five or 10 years from pre-pandemic predictions and hired to meet those expectations.
"We couldn't know for sure at the time, but we did know that if the prediction came true, we would have to rapidly scale the company to meet that future," he said, on a call with analysts.
"Fast forward to now, as things have turned out differently."
Shopify has found the rate of spend its merchants see online is higher than in 2018, before COVID-19 struck the globe, but is lower than what the company planned for and resulted in a US$1.2 billion loss in its most recent quarter.
"In short, we overshot our prediction," Finkelstein said.
"Recalibrating our investments and spending, we are making sure we do not sacrifice the components we feel are critical for Shopify."
His remarks come a day after Shopify laid off 10 per cent of staff – roughly 1,000 employees based on the company's 2021 head count of 10,000.
The layoff, which CEO and founder Tobi Lütke took responsibility for, was blamed on Shopify's miscalculation and heavily weighed on its already depressed share price, which dropped 14 per cent by Tuesday's market close.
Amid a broad market sell-off that has most affected the tech sector, the price of Shopify's stock has fallen by more than 78 per cent since its late 2021 peak of $222.87.
But Shopify is confident it can turn things around, despite its chief financial officer warning on the same call as Finkelstein that inflation is at a near 40-year high and shifting shopping habits.
Consumers are now favouring discount retailers and reducing their spending on many categories, a trend expected to persist throughout 2022, Amy Shapero said.
"Our teams are mindful of the macro environment and have been rigorously evaluating and adjusting our spending priorities," she said.
That process began with a workforce review that slowed hiring between Shopify's first and second quarter, while also identifying areas where Shopify could "improve our operations and team" and thus carry out layoffs.
The company will continue slowing hiring in 2022 and end the year with a "modest" head count, Shapero said.
It's hard to say what the natural size of the company's workforce should be, but Shopify is not interested in linear head count growth, Lütke added.
He conceded the layoff had taught him about why many company leaders are careful around making big bets like Shopify has hinged its business on.
"Mathematically, they make a lot of sense," he said. "Obviously, you ought to take a 20 per cent chance at a 10 x increase, but when they don't work, they have to be a somewhat public thing."
Lutke's concessions came as Shopify revealed it lost US$1.2 billion or 95 cents per diluted share in its second quarter, compared with a profit of US$879.1 million and 69 cents per diluted share a year earlier.
The company said the loss for the period ended June 30 includes a US$1 billion net unrealized loss on equity and other investments and a roughly US$800 million net unrealized gain from equity and other investments.
Shopify, which reports in U.S. dollars, says its adjusted net loss for the second quarter was US$38.5 million, or three cents per diluted share, compared with a profit of $284.6 million, or 22 cents per diluted share in 2021.
Revenue increased 16 per cent to US$1.3 billion, up from US$1.12 billion in the prior year quarter.
This report by The Canadian Press was first published July 27, 2022.
Companies in this story: (TSX:SHOP)
Tara Deschamps, The Canadian Press
Smith says despite difficulty with Ottawa, Alberta has allies in Trudeau cabinet
Alberta Premier Danielle Smith speaks to business leaders at the Global Business Forum in Banff, Alta., Friday, Sept. 22, 2023. Smith told the conference that despite her concerns with the federal Liberal government there was some cabinet ministers she can work with. THE CANADIAN PRESS/Jeff McIntosh
By Bill Graveland in Banff
Alberta Premier Danielle Smith told a business conference on Friday that despite her concerns with the federal Liberal government, there are some cabinet ministers she can work with.
Smith has been at odds with federal Environment Minister Steven Guilbeault and Natural Resources Minister Jonathan Wilkinson amid concerns over Ottawa's climate-change policies and transition plan for a net-zero emissions economy.
Guilbeault intends to publish draft regulations this fall to cap emissions from oil and gas, then force them downward overtime. Ottawa has also set a target to have the electricity grid be net-zero by 2035, but Alberta says it's unrealistic.
Smith says Alberta won't implement the emissions cap, nor will it follow the 2035 target.
The premier told delegates at the Global Business Forum in Banff, Alta., that Wilkinson needs to answer for comments he made earlier this week at the World Petroleum Congress in Calgary.
Wilkinson's call for the industry to work aggressively to get to net-zero was basically telling them to "pack it up, because the oil and gas industry is winding down," said Smith.
"You could just feel the energy leave the room and you could just feel the investment dollars leave the room."
Smith said energy producing provinces such as Alberta, Saskatchewan and Newfoundland and Labrador, can't trust the Trudeau government to look out for their interests at international conferences.
"After hearing how the natural resources minister talks about our industry, after hearing how the federal environment minister talks about our industry, we can't afford to let them carry our message," Smith said.
"We can't afford not to be there."
Smith said she has been in discussions with Saskatchewan Premier Scott Moe and intends to talk to Newfoundland and Labrador Premier Andrew Furey about joint presentations at conferences in the future.
Despite her disappointment with Wilkinson and Guilbeault, Smith said it's not all bad.
Finance Minister Chrystia Freeland among the top allies, she said.
"Let's give her credit for shepherding through all of the constant need to give more debt financing to Trans Mountain pipeline to get that to the finish line. That has not been easy," Smith said.
She also praised Innovation Minister Francois-Philippe Champagne, Public Safety Minister Dominic LeBlanc, Labour Minister Seamus O'Regan and Employment Minister Randy Boissonnault.
"I would say it's not uniformly negative in the Liberal caucus. But for some reason they're allowing Stephen Guilbeault to be a maverick and a renegade and quite offensive to those of who are trying to be reasonable and adult about this," Smith said.
Smith said it's time for the federal government to back away from setting "aggressive targets" in dealing with the provinces.
"Aggressive targets are not helpful. They're not helpful to us. They're not helpful to investors."
This report by The Canadian Press was first published Sept. 22, 2023.
Amazon Prime Video will soon come with ads, or a $2.99 monthly charge to dodge them
Amazon's Prime Video streaming app on an iPad is seen in Baltimore on March 19, 2018. Amazon says that it will now start charging $2.99 per month in order for users in the U.S. to watch Prime Video ad free. (AP Photo/Patrick Semansky, File)
By Michelle Chapman in Seattle
Amazon Prime Video will include advertising during shows and movies starting early next year, joining other streaming services that have added different tiers of subscriptions.
Members of Amazon Prime can pay $2.99 per month in the U.S. to keep their service ad-free, the company said Friday.
Streaming services are in a heated tug-of-war over viewers and users are growing more adept at jumping in and out of those services, often depending on price. The platforms risk losing customers with price hikes, but they could lose them if they don't generate new content that wins over users.
Disney will begin charging $13.99 a month in the U.S. for ad-free Disney+ in mid-October, 75% more than the ad-supported service. Netflix already charges $15.49 per month for its ad-free plan, more than twice the monthly subscription for Netflix with ads.
Amazon said limited advertisements will be aired during shows and movies starting early next year so that it can "continue investing in compelling content and keep increasing that investment over a long period of time."
Live events on Amazon Prime, like sports, already include advertising.
Ads in Prime Video content will start in the U.S., U.K., Germany, and Canada in early 2024, followed by France, Italy, Spain, Mexico, and Australia later in the year.
Amazon said that it's not making changes to the price of Prime membership next year. It plans to announce pricing for ad-free programming for countries other than the U.S. at a later time.
For U.S. users, Amazon said it will send out an email to Prime members several weeks before ads are introduced into its programs with information on how to sign up for the ad-free option if they choose to do so.
Amazon's Prime Video is part of a much bigger slate of perks that come with Amazon Prime membership. Members also get free shipping for goods bought on Amazon.com, groceries, online music and more.
In June Amazon was accused by the Federal Trade Commission for allegedly engaging in a yearslong effort to enroll consumers without consent into Amazon Prime and making it difficult for them to cancel their subscriptions. An Amazon spokesperson said at the time that the FTC's claims were false.