Shanghai reaffirms 'zero-COVID'; WHO says not sustainable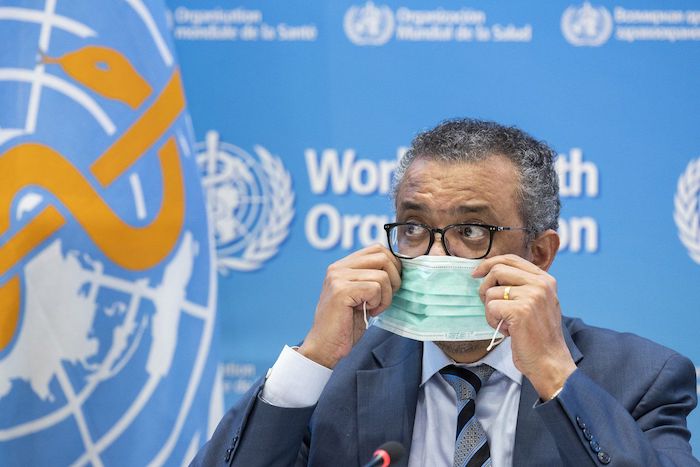 BEIJING (AP) — Shanghai reaffirmed China's strict "zero-COVID" approach to pandemic control Wednesday, a day after the head of the World Health Organization said that was not sustainable and urged China to change strategies.
While China's largest city has seen progress in controlling the COVID-19 outbreak, any relaxation in prevention and control measures could allow it to rebound, deputy director of Shanghai's Center for Disease Control Wu Huanyu told reporters.
"At the same time, now is also the most difficult and critical moment for our city to achieve zero-COVID," Wu said at a daily briefing.
"Should we relax our vigilance, the epidemic may rebound, so it is necessary to persistently implement the prevention and control work without relaxing," he said.
Wu gave no indication he was aware of the comments by WHO Director-General Tedros Adhanom Ghebreyesus, who said he had been holding discussions with Chinese experts on the need to transition to a new approach in light of new knowledge about the virus.
"When we talk about the 'zero-COVID,' we don't think that it's sustainable, considering the behavior of the virus now and what we anticipate in the future," Tedros said at a news briefing Tuesday.
"And especially when we have now a good knowledge, understanding of the virus and when we have good tools to use, transitioning to another strategy will be very important," he said.
Tedros was joined by Mike Ryan, the WHO's emergencies chief, who said all pandemic control actions should "show due respect to individual and human rights."
Countries need to "balance the control measures, the impact on society, the impact on the economy. That is not always an easy calibration to make," Ryan said.
China's ruling Communist Party has strictly controlled all discussion about its controversial approach, which aims to totally stamp out outbreaks, and said it would tolerate no criticism. The entirely state-controlled media did not report on the comments by Tedros and Ryan and references to them on the Chinese internet appeared to have been removed by censors.
The ruthless and often chaotic implementation of zero-COVID has stirred considerable resentment in Shanghai, where some residents have been under lockdown for more than a month. As of Wednesday, more than 2 million people in the city remained confined to their residential compounds, while restrictions had been slightly relaxed for most of the other 23 million.
However, the easing appears to now be on hold, even as the number of new cases falls in the city that is home to China's busiest port, main stock market and thousands of Chinese and foreign firms.
Teams in white protective suits have begun entering the homes of infected people to spray disinfectant, prompting worries about damage to property. Residents have in some cases been ordered to leave their keys with a community volunteer when they are taken to quarantine so disinfectant workers can get in, a new requirement that has no apparent legal basis.
People in some areas have been ordered to stay home again after having been let out for limited shopping in recent weeks. On Tuesday, service was suspended on the last two subway lines that were still operating.
Complaints have centered on shortages of food and other daily necessities and the forced removal of thousands of people to quarantine centers after having tested positive or having been in contact with an infected person, standard procedure in China's zero-COVID approach.
Along with the human cost, the adherence to "zero-COVID" as many other countries loosen restrictions and try to live with the virus is exacting a growing economic toll.
However, the party under leader Xi Jinping shows no sign of backing off amid efforts to ensure stability and shore up its authority ahead of a major party congress this fall.
Chinese experts such as Wu have been careful to toe the party line, saying the strategy has been effective in limiting the official death toll to slightly over 5,000 over the course of the entire pandemic, according to the government's National Health Commission, and that any let-up risks sparking a major new surge.
Ryan gave China's death toll as just over 15,000 and the Johns Hopkins University of Medicine Coronavirus Resource center offers a figure of 14,538.
The daily number of new cases in Shanghai reported on Wednesday had fallen to less than 1,500, down from a peak of 26,000 in mid-April. Seven more COVID-19-related deaths were reported, raising the toll from the outbreak to 560.
While China says more than 88% of its population is fully vaccinated, the rate is considerably lower among the vulnerable elderly. Questions have also been raised about the efficacy of Chinese-produced vaccines compared to those from Europe and the United States.
In the capital Beijing, residents have been ordered to undergo mass testing in a bid to prevent a major outbreak like that in Shanghai. The city, which reported 37 new cases on Wednesday, has locked down individual buildings and residential compounds, shut about 60 subway stations and banned dining at restaurants, allowing only takeout and delivery.
Judge decides 'Freedom Convoy' organizer Tamara Lich stays out on bail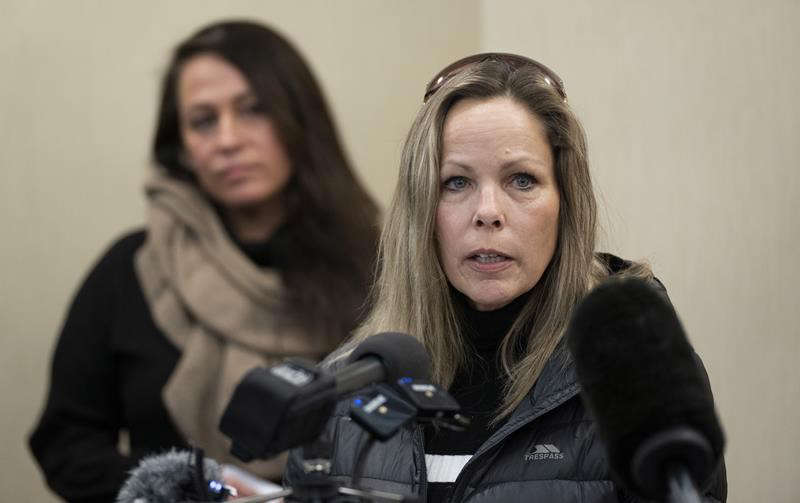 OTTAWA — Tamara Lich, a key organizer of the "Freedom Convoy" protest that gridlocked Ottawa for weeks, will remain released on bail while awaiting trial, a judge ruled Wednesday.
Ontario Superior Court Justice Kevin Phillips said he made his decision because she has followed her bail conditions, her surety has supervised her well and she's already had a "taste of jail," which he said lowered her risk to reoffend.
The judge said he does not accept that Lich breached her release conditions by agreeing to receive an award, and added Lich can be trusted to respect the conditions of her release.
She was released in March with a long list of conditions, including a ban from all social media and an order not to "support anything related to the Freedom Convoy."
The terms of Lich's release were intended to prevent a similar protest from happening in the national capital, the judge said, adding the court does not seek to control people's political views.
"The courts are not a thought police. We seek only to control conduct to the extent that certain behaviour will violate or likely lead to violation of the law," he said.
The protest is over and has left Ottawa, he said, adding it would be "practically impossible" to mount a similar protest in the city again.
Lich's lawyer, Lawrence Greenspon, said in an interview Wednesday that he was pleased with the decision.
"She'll be able to conduct her life in a lot more normal fashion as a result of the judge's ruling," said Greenspon.
Moiz Karimjee, a Crown prosecutor, said last week that Lich violated one of her bail conditions by agreeing to accept an award for her leadership during the Ottawa protest, and should be sent back behind bars to wait for her trial.
Greenspon argued last week her bail conditions should be loosened to allow her to come to Ontario and use social media.
He told the court that the social media ban imposed on Lich was unnecessarily broad and has had a huge impact on her life while she's been out of custody.
However, Phillips said Wednesday the ban on Lich's access to social media is warranted.
"Social media can be a problematic feedback loop where people get egged on and caught up in group activity they would never perform on their own," he said.
Social media "undoubtedly contributed to and even drove" Lich's conduct related to the protest, and her separation from it is necessary to lower her risk of reoffending, said Phillips.
Noting that Lich is in her late 40s, Phillips said she should be able to remember "how to use the social skills she surely built up before the advent of the internet."
Lich is able to communicate by many other means, including email, phone or meeting in person, he said.
Greenspon said while he would have liked to see the social media ban reversed, "the most important thing was the rejection of the Crown's efforts to to put her back in jail for agreeing to accept an award."
The judge did amend her release conditions to allow her to visit Ottawa.
Lich's motivation for coming to the city cannot be disclosed because it is under a court-ordered publication ban.
Phillips reiterated the high unlikelihood that Lich could organize an event resembling the convoy protest.
While she's permitted to come to Ottawa, Lich is not allowed to visit the downtown core so as not "to walk around the very neighbourhoods she is alleged to have traumatized," he said, except to attend court or meet with legal counsel.
Lich and fellow protest organizer Chris Barber are jointly accused of mischief, obstructing police, counselling others to commit mischief and intimidation.
The "Freedom Convoy" protest evolved into a weeks-long demonstration that congested the streets of Ottawa in February.
This report by The Canadian Press was first published May 25, 2022.
———
This story was produced with the financial assistance of the Meta and Canadian Press News Fellowship.
Erika Ibrahim, The Canadian Press
Jail 'Freedom Convoy' organizer Tamara Lich again, Crown argues in Ottawa court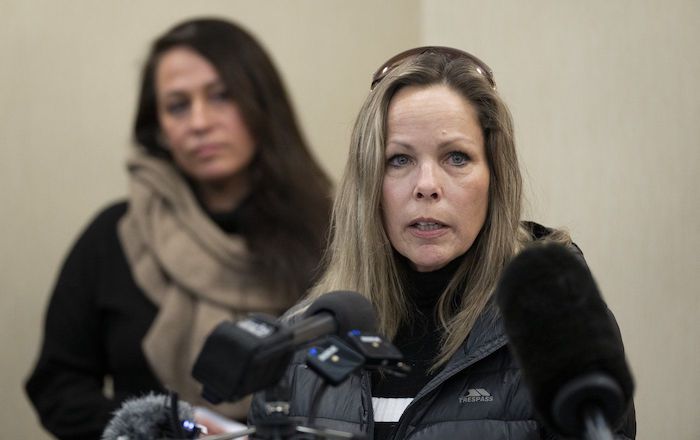 By Laura Osman in Ottawa
The Crown is accusing "Freedom Convoy" organizer Tamara Lich of breaching her bail conditions and prosecutors argue she should go back to jail until her trial.
A judge initially denied Lich bail after her arrest during the massive protest that overtook downtown Ottawa for more than three weeks in February, but she was released in March after a review of the court decision.
She appeared virtually on Thursday in Ontario Superior Court, where lawyers wrangled over how the bail hearing should proceed.
Lich and fellow protest organizer Chris Barber are jointly accused of mischief, obstructing police, counselling others to commit mischief and intimidation.
She was released with a long list of conditions, including a ban from all social media and an order not to "support anything related to the Freedom Convoy."
The Crown says Lich has violated one of her bail conditions by agreeing to accept a "freedom award" from the Justice Centre for Constitutional Freedoms, a legal advocacy group that supported the protest.
The organization planned to honour her at a gala celebration for inspiring "Canadians to exercise their Charter rights and freedoms by participating actively in the democratic process," and leading the "Freedom Convoy" protest in Ottawa.
That protest evolved into a weeks-long demonstration that gridlocked the streets of Ottawa and eventually led the federal government to invoke the Emergencies Act in an effort to dislodge the participants.
"Ms. Lich has suffered for the cause of freedom by spending 18 days unjustly jailed, and exemplifies courage, determination and perseverance," the organization wrote in a statement on its website, which the Crown included in its notice of application.
The website said Lich would attend the award dinner in Toronto on June 16, if a review of her bail conditions would allow her to attend, as well as events in Vancouver and Calgary.
The Toronto event is expected to include a keynote address by columnist Rex Murphy.
During the protest, Keith Wilson, a Justice Centre for Constitutional Freedoms lawyer, spoke on behalf of the convoy protesters at a news conference and described Lich as a client.
"Tamara Lich ought to be detained," the Crown's notice of application concludes.
Meanwhile, Lich's lawyers plan to argue that her bail conditions are too restrictive and should be reconsidered.
Her lawyer, Lawrence Greenspon, told the court Thursday that the social media ban imposed on Lich was unnecessarily broad and has had a huge impact on her life while she's been out of custody.
He said she wishes to be in contact with her 94-year-old grandmother by social media and communicate with her friends and family.
The hearing is expected to last two days.
This report by The Canadian Press was first published May 19, 2022.