Setting of trial dates for men accused in Alberta border blockade delayed a month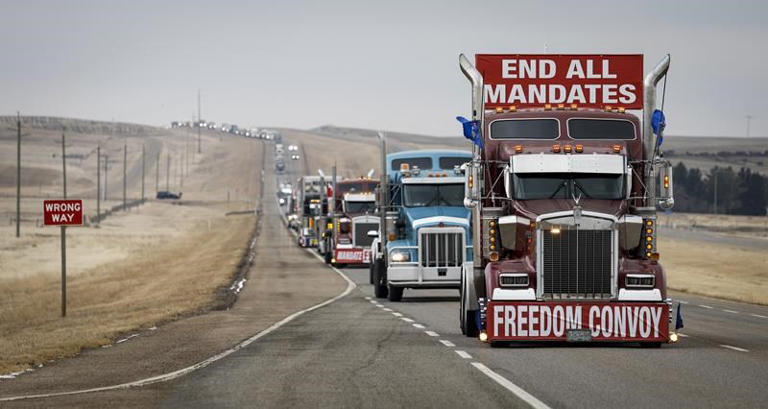 LETHBRIDGE, Alta. — Setting of trial dates for four men charged with conspiracy to commit murder at a border blockade in southern Alberta has been delayed another month after one of the accused fired his lawyer.
Court in Lethbridge, Alta., was told Monday that Chris Carbert dismissed his lawyer, so the case was adjourned until July 11.
Carbert — along with Chris Lysak, Anthony Olienick and Jerry Morin — and were among 14 people charged in February after RCMP found a cache of long guns, handguns, body armour, large amounts of ammunition and high-capacity magazines in three trailers at a protest near Coutts, Alta.
The protest against COVID-19 vaccine mandates and other pandemic restrictions began in late January and lasted for almost three weeks. Police allege a group at the protest was willing to use force if the blockade was disrupted and described the threat as "very serious."
Prosecutor Steve Johnston confirmed that he plans to go ahead with direct indictments for all four men who will be tried together. Direct indictment eliminates the need for a preliminary hearing before trial.
"This is the first appearance on the direct indictment," said Johnston.
Carbert, who had retained Calgary defence lawyer Balfour Der, has replaced him with Clayton Rice.
"We had a tentative date for case management set and obviously Mr. Carbert discharged his counsel, so we're in a little bit of limbo here," Johnston said.
'Court of Queen's Bench Justice Dallas Miller agreed to adjourn the matter but ordered that the two separate trial dates that had been discussed be kept available.
"I put it on the defence to confirm whether there's any possibility of a re-election and whether the Crown is agreeable to that," said Miller, referring to the decision by the accused to be tried before a judge and jury.
"If there is … we're quite certain we can get an earlier trial date."
A re-election could shorten the timing if it was before a judge alone.
Alias Sanders, appearing on behalf of Lysak's lawyer Jim Lutz, said that's likely not going to happen.
"He's been anxious to get this matter moving and in the past two months … it hasn't moved from Mr. Lysak's perspective at all," Sanders said.
"Mr. Lysak was the first to have a bail hearing, he was the first to make an election and he has just been sitting in custody. His hands have been tied by what's been happening with the remainder of the co-accused. He's been trying to get a date for two months."
Lysak is also charged with uttering threats, possession of a weapon and mischief to property over $5,000.
Johnston also said the Crown received volumes of new evidence last week which will be shared with the defence.
Three of the four accused have already been denied bail and will remain in custody until their trial.
This report by The Canadian Press was first published June 13, 2022.
Bill Graveland, The Canadian Press
Alberta extends electricity rebate program until December at a cost of about $600M
Edmonton – The Alberta government says it will extend its electricity rebates until the end of the year as the cost of living continues to rise.
Dale Nally, who's the associate minister of natural gas and electricity, says the United Conservative government is doubling the rebate to help reduce the financial burden on Albertans.
The government says the electricity rebate program will now offer about $600 million in relief through 2022.
It says the program will provide nearly two million homes, farms and small businesses with a monthly $50 bill credit each month from July until December.
The government says it will also provide a natural gas rebate to millions of Albertans starting in October, which will continue until March 2023 if prices remain high.
Last week, Finance Minister Jason Nixon announced a $3.9-billion surplus for the 2021-22 fiscal year ending March 31.
This report by The Canadian Press was first published July 6, 2022.
Telus Corp. marks opening of Telus Sky in downtown Calgary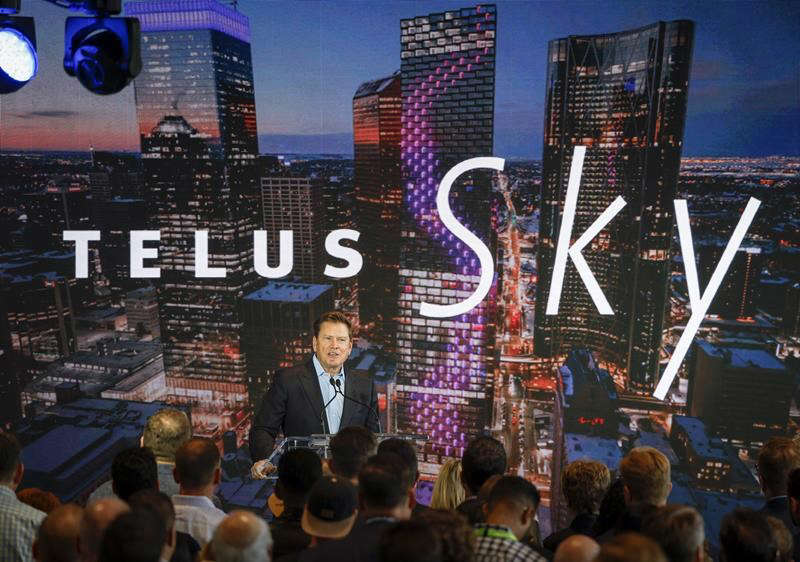 CALGARY — Telus Corp. marked the opening of its new 60-storey Calgary headquarters on Wednesday.
The new $400-million skyscraper, Telus Sky, has been in development for nine years and is now the third-tallest building in downtown Calgary. It features 750,000 square feet of office and retail space as well as 326 rental homes.
The building's eye-catching design, by architects Bjarke Ingels Group (BIG) and Dialog, along with developer partner Westbank and Allied, starts with a rectangular floorplate and then gradually twists as it rises.
Integrated into the facade of Telus Sky is Canada's largest public art display. "Northern Lights" by Canadian author and artist, Douglas Coupland, creates a light show across the building's exterior.
Telus Sky will be home to more than 1,600 Telus employees. It joins TELUS Garden in Vancouver, TELUS Harbour Toronto, TELUS House Ottawa, and Place TELUS Québec as one of the company's LEED (Leadership in Energy and Environmental Design) Platinum-certified buildings.
Among the building's environmental features is a storm water management system that recycles rainwater for use in washroom toilets, reducing the building's municipal water demand by 70 per cent.
This report by The Canadian Press was first published July 6, 2022.
Companies in this story: (TSX:T)
Amanda Stephenson, The Canadian Press