Senate report recommends Canada develop targeted suicide prevention strategies
Senators sit in Senate of Canada Building in Ottawa, on Wednesday, Sept. 23, 2020. A Senate report released today says that if Canadian governments at all levels targeted their suicide prevention strategies towards men and Indigenous people, who die most by suicide, the landscape of the issue can transform. THE CANADIAN PRESS/Justin Tang
By Fakiha Baig
A Senate report released Thursday says Canada can make major strides in suicide prevention if all levels of government develop strategies tailored towards men and Indigenous people, the groups facing the highest suicide rates.
The Senate Committee on Social Affairs, Science and Technology also says the Federal Framework for Suicide Prevention Act has done little to bring down the rate of suicides across Canada since it was adopted in 2016 because it does not prioritize evidence-based interventions for suicide prevention and does a poor job at tracking the issue.
Sen. Patrick Brazeau, a member of the Algonquin community of Kitigan Zibi and a committee member, says he pushed for a study of suicide in Canada after he tried to take his own life twice almost a decade ago.
"I was hurting," the senator says in the report.
"Some people have lost cherished ones to this and just can't handle it, but for those who can handle it, it is very important they share their voices and stories … There are many people having problems in Canada today."
The report found that men account for 75 per cent of suicides in Canada. Indigenous leaders told the committee that "Inuit experience suicide at roughly 6 to 25 times the national rates, depending upon region and also demographics."
The report said men die more by suicide because "men choose more lethal means of suicide, like firearms."
Brazeau says Canada needs to conduct a gender-based analysis of the programs available because the report has found there are more prevention efforts available for women than for men.
Brazeau says this could be because, historically, men have also been taught to hide their emotions which makes taking care of their mental well-being more difficult.
"(We think) men are strong, men are supposed to be tough, and men don't have to get help, and they'll sort it out on their own," Brazeau said. "I'm living proof that's not the case."
The report said various evidence-based approaches can reduce suicide among the overrepresented groups, including "means restrictions."
"Means restriction aims to make the most common and lethal methods of suicide more difficult to access" the report says, recommending Canada limit gun ownership and strengthen border surveillance on firearms trafficking.
The reports states multiple factors, including the effects of colonialism, have hurt Indigenous well-being and the 2016 framework needs to acknowledge this.
"Realities differ quite a bit from First Nations, to Métis, to Inuit and; from urban Indigenous peoples to those on reserves, or in rural areas," the report says.
"Witnesses emphasized the importance of providing accessible care and intervention to all Indigenous peoples, whether they live in urban, rural, or remote environments."
It also emphasized programming for suicide prevention should involve Indigenous care.
The Senate report says primary care physicians can also greatly benefit from suicide prevention efforts.
The federal Minister of Mental Health and Addictions Carolyn Bennett has told the Senate "the College of Family Physicians is currently planning to extend the two-year residency to three years to accommodate additional training in mental health, addictions and pain," the report says.
Bennett did not immediately respond to a request for comment on the report but the Senate says the minister has informed the committee work is being done to update the 2016 framework.
The report also calls for Canada to create a national suicide data collection system that is consistent from province to territory and urged the existing 2016 framework to formally acknowledge the disproportionately high suicide rates among Indigenous people, as well as men and boys.
Brazeau says the Senate's next step is to discuss the report with the federal government, which will then prepare a response to its findings.
"It's important that future governments take those recommendations and focus on the target populations," Brazeau said.
If you or someone you know is thinking about suicide, support is available 24/7 by calling Talk Suicide Canada (1-833-456-4566) or, for residents of Quebec, 1 866 APPELLE (1-866-277-3553).
This report by The Canadian Press was first published June 8, 2023.
Food insecurity among Indigenous kids is a 'public health crisis,' doctors say
Fresh produce is shown at a market in Toronto on Wednesday Feb. 2, 2022. THE CANADIAN PRESS/Frank Gunn
By Nicole Ireland
Family physician Dr. Rebekah Eatmon sees parents in tears, frustrated that they can't provide enough healthy food for their children.
"I've never met an Indigenous parent that doesn't want to do the best for their kids," said Eatmon, who works at an Indigenous clinic in Vancouver and in two remote First Nations in B.C.
Rising food prices have put "an even bigger burden on families who were struggling before," said the doctor, who is a member of Lax Kw'alaams First Nation on her father's side and Métis on her mother's side.
As families across Canada grapple with the increasing cost of groceries, a new study says First Nations, Métis and Inuit children and youth have been disproportionately affected by food insecurity for years — to the point that it's an "urgent public health crisis."
"The seriousness of this in Indigenous communities is unlike any other population," said Dr. Anna Banerji, an associate professor of pediatrics at the University of Toronto and lead author of the study, which was recently published in the journal PLOS Global Public Health.
Banerji and her co-authors looked at dozens of peer-reviewed research studies, as well as reports from First Nations, Métis and Inuit organizations, to determine the extent of food insecurity among Indigenous children in Canada.
"Moderate" food insecurity is defined by Statistics Canada as a "compromise in quality and/or quantity of food consumed."
"Severe" food insecurity is defined as "reduced food intake and disrupted eating patterns."
The data show a disproportionately higher rate of moderate to severe food insecurity among Indigenous people living both on and off reserve, the study said, although people living in rural and remote Indigenous communities in the North were at especially high risk, partly because of extremely high food costs.
"(In) some of these Indigenous communities, it is to the point where some children don't have food to eat all day long," said Banerji.
One study of Inuit children in Nunavik, the northernmost region of Quebec, found that children from food-insecure homes were an average of two centimetres shorter than those from food-secure homes.
"It's incomprehensible that in a country as rich as Canada that we have kids who are stunted and children who are starving," she said.
Moderate to severe food insecurity can lead to malnutrition, which affects the "physical, intellectual, emotional (and) social development of the child," said Dr. Véronique Pelletier, a pediatrician at CHU Sainte-Justine in Montreal and a co-author of the study.
Malnutrition can be caused not only by a lack of food, but by a lack of high-quality, nutritious food, she said.
For example, many Indigenous families who live in remote areas can't get healthy food, including meats, fish, fruits and vegetables, because they are perishable and won't last long after being transported long distances, the study said.
Those types of food are also out of reach for many Indigenous people because they can't afford to buy them.
That means that many Indigenous children have obesity but are nutrient-starved, because their diets consist largely of more affordable carbohydrate or fat-heavy food, the study said.
Eatmon, who was not involved in the study, said its findings ring true.
"Families know what the best things are for their kids. I've never chatted with a family that wants to give their kids Eggos over blueberries," she said.
"But the reality is the blueberries will spoil in a couple days and the Eggos will stay for months inside their freezer."
The long-lasting effects of colonization are driving factors behind much of the food insecurity Indigenous people face, the study said, because they disrupted sources of healthy food such as traditional hunting, fishing and gathering.
"Over thousands of years, Indigenous populations have adapted to a diet suitable to their environment," the study said. That diet included animals and plants harvested locally.
"Some cultural sharing practices involving feasts and ceremonies were outlawed, resulting in loss of intergenerational knowledge of traditional food procurement and preparation," it said.
In addition, trauma from residential schools and discrimination has fuelled "underemployment and poverty for some individuals and communities" — which in turn leads to a lack of ability to afford nutritious food.
Combating food insecurity requires Indigenous-led solutions that are specific to each community's needs, said Deyowidron't Teri Morrow, a dietitian at Six Nations of the Grand River in southwestern Ontario.
Morrow, who was not involved in the study, pointed to food shortages in grocery stores during the COVID-19 pandemic lockdown as an example of how her First Nation was able to create their own food security.
"We could still go out and hunt and fish," she said, adding that they also picked wild leeks and fiddleheads.
"We were shipping them within the community here because people couldn't get to the grocery store," said Morrow, who also chairs the Dietitians of Canada Indigenous Nutrition Knowledge Information Network.
Programs that re-establish traditional foods within Indigenous communities are one way of fighting food insecurity, Banerji said. Other examples of success stories include community greenhouses and community freezers.
Banerji and her co-authors are calling for more government support for these types of initiatives, as well as school-based nutrition programs in all Indigenous communities to ensure kids get at least one healthy meal a day.
"Indigenous Peoples must have access to healthy and affordable food and our government is taking the steps necessary to close long-standing socioeconomic gaps," said an emailed response from Zeus Eden, press secretary to Minister of Indigenous Services Patty Hajdu, on Thursday.
"We know that affordability is a top concern for all Canadians, especially those in remote, rural and Indigenous communities who face a higher cost of living," Eden said.
He pointed to recently announced funding of $120 million for 24 regional Indigenous governments "to further support traditional hunting, harvesting, and food sharing activities," as well as income assistance of "approximately $300 per month to address urgent financial needs" for more than 100,000 people in First Nations communities.
The federal government is also working on developing a national school food policy "over the next few years," the statement said.
"We will continue to work with all levels of government and across departments to address food insecurity, reduce poverty, and promote economic reconciliation," it said.
This report by The Canadian Press was first published Sept. 28, 2023.
Mental Health, MAID, and Governance in Trudeau's Canada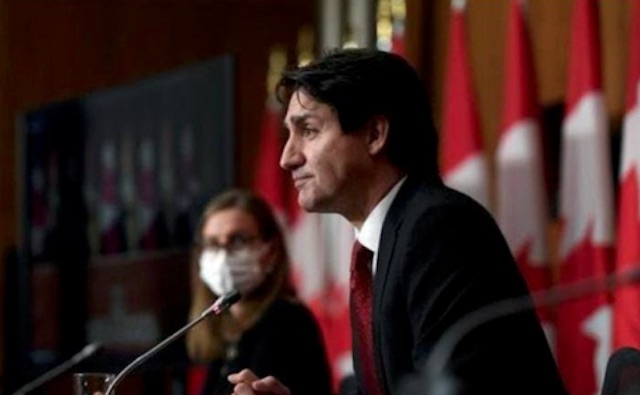 A Critical Examination of Governance, Ethical Implications, and the Search for Compassionate Solutions in a Nation in Crisis
The mental health crisis in Canada, deepened and exacerbated under Prime Minister Justin Trudeau's leadership, has laid bare the stark realities and the fundamental cracks in our national mental health support structures. The haunting statistics released by the Angus Reid Institute have catapulted this crisis to the forefront of national discourse, but it seems that the ramifications extend far beyond mere numbers. Approximately 80% of Canadians are grappling with the inadequate availability of mental health resources, and the governmental response, or lack thereof, has amplified this concern.
Under Trudeau's regime, the pervasive decline in mental health has not only been met with superficial commitments but has also seen the advancement of policies that many argue are an affront to the sanctity of life and individual liberty, namely, the Medical Assistance in Dying (MAID) legislation.
The Trudeau administration, amidst the throes of a profound mental health crisis, had pledged a seemingly substantial $4.5 billion over five years to address mental health care during the 2021 federal election. However, the tangible execution of this commitment remains elusive, with the funds ostensibly being absorbed into broader health care allocations. A dire need, once seemingly acknowledged, now seemingly diluted in priorities.
It's in this same disconcerting timeframe that the contentious discussions around MAID have intensified. The proposed legislative modifications seek to expand the eligibility criteria to include individuals whose sole medical condition is a mental illness. This proposition has resulted in a fierce national debate and has amplified concerns over the values and the ethical compass guiding our nation's leadership.
While the inception of MAID in 2016 found support among 64% of Canadians, the broadening of its scope to include mental illnesses has sparked widespread hesitation and reflection on its ethical implications. A mere 28% of Canadians support allowing those with only a mental illness to seek MAID. This shift in public sentiment is indicative of a collective realization of the complex moral, ethical, and societal implications of such a policy in a nation already strained by a lack of mental health support.
There's an unsettling correlation between the difficulties in accessing mental health care and the support for the expansion of MAID. Two in five Canadians who've encountered barriers in accessing mental health care express support for the inclusion of mental illnesses in MAID eligibility. This correlation rings alarm bells about the level of desperation and despair fueled by inadequate mental health resources and support.
The MAID legislation, particularly its proposed expansion, is symptomatic of a deeper, more entrenched disregard for life and liberty. The policies and legislation emanating from Trudeau's administration seem to foster an environment where the value of life is underplayed, and individual freedoms are undervalued. Rather than addressing the root causes and formulating holistic, compassionate solutions for mental health struggles, the government seems poised to offer an expedited escape route, overlooking the sanctity of life and the intrinsic rights of the individuals.
The urgency to address mental health challenges, especially those disproportionately affecting women, young adults, and lower-income households, is paramount. It requires genuine, sustained commitments and actions, far removed from mere electoral promises and rhetoric. The dialogue surrounding MAID, although crucial, risks overshadowing the fundamental issues at hand – the acute need for enhanced, accessible mental health care resources and a governmental ethos that values and preserves life and liberty.
In light of these pivotal concerns, this beckons a grave question to us all: Is this truly the Canada we desire? A Canada where, when faced with life's vicissitudes, the solution provided by the government is simply to opt for MAID? Or do we yearn for a Canada that embodies hope, a belief that circumstances can, and will, improve? When 2025 arrives, the bell will indeed toll for Justin Trudeau and his Liberal compatriots, and we, as staunch Canadians, will need to rise to the occasion and answer this question. It's a query not merely about policies or governance but about the very soul and essence of our great nation.
Subscribe to The Opposition with Dan Knight
I'm an independent Canadian journalist exposing corruption, delivering unfiltered truths and untold stories. Join me on Substack for fearless reporting that goes beyond headlines