Sell regulated heroin to drug users to reduce overdose deaths: B.C. group
VANCOUVER — The BC Centre on Substance Use is proposing a policy to sell legally regulated heroin as part of an urgent response to reduce opioid overdose deaths from a toxic drug supply that is profiting organized crime groups.
It is recommending the use of so-called heroin compassion clubs and buyers clubs, similar to those that emerged in the 1980s and 90s to allow access to medical cannabis in response to the AIDS epidemic.
"Then as now, compassion clubs functioned to provide a safe place for people to access medical cannabis and connect with a range of health services, while buyers clubs procured life-saving treatment for people living with HIV and AIDS when government inaction limited access to these medicines," a report from the centre says.
It also highlights independent reports that say organized crime groups have used Vancouver-area casinos to launder billions of dollars in cash from their proceeds of crime, including fentanyl trafficking, which Attorney General David Eby has said is troubling and could lead to a public inquiry.
Dr. Evan Wood, executive director of the centre, said an innovative approach to the overdose crisis is needed during a public health emergency declared in British Columbia nearly three years ago and to wage "economic war" on organized criminals benefiting from drug prohibition.
The compassion clubs would involve a co-operative model through which powdered heroin would be restricted to members who have been assessed by a health-care provider as having an opioid addiction, provided education about not using alone and connected to treatment as part of a program involving rigorous evaluation, Wood said.
"One of the big benefits of this model is that there's just a massive chasm between where people buy their drugs and public health and treatment services and that's the gap that so far in the opioid response has been very, very difficult to bridge with people using at home alone and dying of fentanyl overdoses."
Mental Health and Addictions Minister Judy Darcy said she has had a briefing on the idea but has not yet read the report, adding she plans to "study it very carefully."
"Our focus has been on safe prescription alternatives to the poisoned drug supply so this is a very new concept."
The BC Coroners Service has said nearly 3,000 people fatally overdosed in the province in 2017 and 2018 alone, with illicit fentanyl detected in 85 per cent of the deaths last year.
The heroin compassion-club model would require the approval of Health Canada, which could either provide an exemption to the Controlled Drugs and Substances Act for research or public health reasons or through another regulation that has allowed B.C. to import injectable pharmaceutical-grade heroin from Switzerland.
That heroin has been in use since 2014 for a limited number of drug users being treated at Vancouver's Crosstown Clinic, the only such facility in North America.
Wood said the idea for the compassion clubs came from a small group of people who banded together to buy heroin from dealers and test it to determine if it had been contaminated with fentanyl.
"I've seen and talked to these individuals," he said. "I've had a patient who had a transformative experience with using heroin instead of fentanyl and so it's led us to sit around a room and say, 'OK, maybe we need to have this conversation on regulating the heroin market.' "
Providing users with a regulated and legal supply of heroin would also ensure they get other supports including public health experts, treatment and pharmacy services, Wood said.
Dean Wilson, a former heroin addict and peer-support worker for the BC Centre on Substance Use, said he started using heroin at age 13.
"Not a day goes by that I don't wish I hadn't touched the stuff," said Wilson, who's been on treatment using the opioid methadone for over a decade.
Wilson, 63, an author of the centre's report, said he sold drugs and spent time in jail, including for property crimes, to feed his drug habit.
A gram of heroin on the street costs between $140 to $200 and can last a couple of days, versus about $3.80 that users would pay for powdered heroin imported from Switzerland, he said.
"That's the thing people don't realize, that if you had the same gram of heroin from the street you're looking at about $6,000 a month. But everybody has to steal or generate almost $50,000 of stolen property to get that $6,000."
Erica Thomson, a peer support worker for Fraser Health who also contributed to the report, said she began using heroin at age 15 while growing up as a national competitive swimmer.
She went through several treatment programs but repeatedly relapsed before starting her recovery eight years ago.
"I think this is another way that we're starting to stay alive because we're not getting anything practical that reflects our realities available to us," she said.
Thomson said drug users don't want to navigate organized crime groups to find a safe supply of heroin that compassion clubs would provide.
"You can upscale addiction treatment all you want but addiction treatment isn't the answer to a poisoned, unregulated, illicit drug market. Right now it's really about stopping the bleed."
— Follow @CamilleBains1 on Twitter.
Camille Bains, The Canadian Press
CP NewsAlert: City of Iqaluit declares emergency due to water shortage
IQALUIT, Nunavut — The City of Iqaluit has declared a state of emergency due to a water shortage.
More coming.
The Canadian Press
Liberals planning temporary solution to dental care promise: sources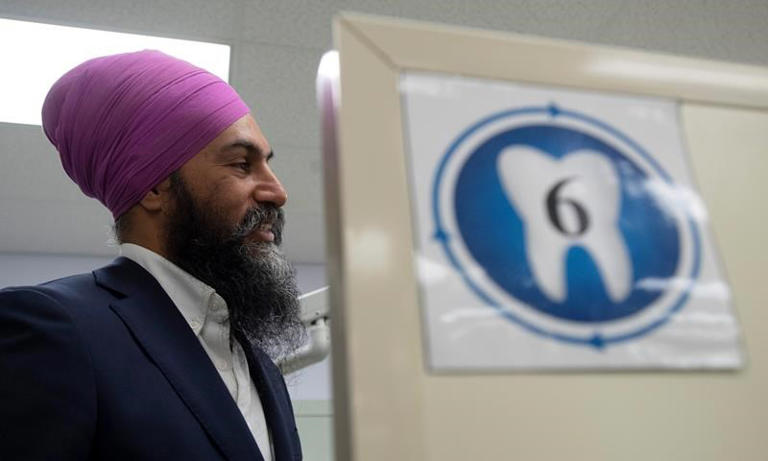 Ottawa – Sources close to the government's proposed $5.3-billion dental-care program say the Liberals are planning a temporary solution that involves giving money directly to patients in order to keep their promise to the NDP while they work on a permanent answer.
The Liberals promised the NDP a new dental-care program for low- and middle-income families in March as part of a supply and confidence agreement to prevent an election before 2025.
The government has until the end of the year to provide some kind of coverage for children under the age of 12 with an annual household income of less than $90,000.
The NDP have vowed to walk away from the deal if the deadline isn't met.
Four sources with knowledge of the government's plan, but who are not authorized to speak publicly, say the government is unlikely to meet its deadline, and is planning a stopgap solution until a permanent incarnation of the program is put in place.
Though details are scarce, the sources say the temporary solution would involve giving qualifying families the money directly to fund their dental health services while the government works on a more permanent, expanded program.
In a statement, the health minister's staff did not confirm or deny the temporary plan but say they are on track to deliver on the dental-care commitment as outlined in the agreement with the New Democrats.
NDP health critic Don Davies did not directly address the temporary plan either, but said in a statement the party has "identified several ways to ensure the target groups can access dental care on the identified timelines."
The NDP are now focused on pushing the Liberals to introduce dental-care legislation when Parliament resumes in the fall, Davies said.
"That legislation will deliver the resources needed to help children under 12 see a dentist and care for their teeth this year," he said.
NDP Leader Jagmeet Singh echoed the health minister's faith about meeting the deadline last week.
"We're very confident we can achieve that before the end of the year, as our agreement outlines," Singh said at a news conference last Thursday.
The agreement isn't prescriptive about how the coverage should be achieved, and the government hasn't committed to any particular means of administering the program yet.
Health Minister Jean-Yves Duclos's office has said repeatedly the department is looking at several options to meet its commitment and its end-of-year deadline.
The NDP originally envisioned a federal program that functions similarly to the federal health-benefits program run for uninsured First Nations and Inuit people.
The federal government could also offer money to provinces and territories to take it over, since many already offer similar programs and dental care has traditionally fallen within their jurisdiction.
Meanwhile, the Liberals put out a formal request for information (RFI) to members of the insurance industry two weeks ago to explore what role private companies could play in administering the program.
In that RFI, the government says if a contract is awarded the winning company would be given six months to get ready before processing claims. That timeline would be impossible to achieve before the end of December.
According to the statement from Duclos's staff, they're still consulting on the best way forward.
The Liberals have promised to extend the program to qualifying teens, seniors and persons living with disabilities next year and everyone else in the qualifying family-income bracket by the end of the supply and confidence agreement in 2025.
"It comes as no surprise that the Trudeau government is not living up to a commitment it made to buy the NDP's support," Conservative health critic Michael Barrett said in a statement.
Barrett said Canadians should be concerned that the government is not committed to maintaining the current health system, "much less adding a new complex and expensive program to it."
The government set aside $5.3 billion over five years for the program, but the parliamentary budget officer's estimate is nearly double that at $9 billion.
Once the program is fully implemented, the Liberals' 2022 budget predicts it will cost about $1.7 billion per year to run, which is in line with the PBO's estimate.
This report by The Canadian Press was first published Aug. 8, 2022.