Secondary runway at Red Deer Regional Airport to be refurbished
From Red Deer Regional Airport
Airport Awards Runway Refurbishment
The Red Deer Regional Airport is pleased to announce that they are ready to begin the refurbishment of their secondary runway (#12/30) at the beginning of June.  The tender has been awarded to locally owned and operated Border Paving, who are set so support nearly 50 jobs with the project, keeping funds within Central Alberta, creating local jobs and supporting the businesses who call YQF home are all important factors to consider when planning any projects at the Red Deer Regional Airport.
"Runway 12/30 is a vital part of our existing infrastructure and currently supports more than 12,000 takeoffs and landings annually."  says Red Deer Regional Airport's CEO Graham Ingham.  This project, like all other airport projects is being completed per the airport's 10-year capital plan, which is updated annually.  The runway refurbishment project comes with a 1.8 million dollar price tag and will take approximately 8 weeks to complete.  The project will be staged to alleviate to the greatest extent possible any impact on our local and transient businesses.
The Red Deer Regional Airport continues to see growth and success as they plan to the future.  As an affordable alternative to Calgary and Edmonton, YQF remains a cost-effective solution to many aviation and aviation-related businesses looking to gain that strategic business advantage.  "With key partnership agreements in place with the likes of the Rice Group, EFC Developments and Tucana Aviation, the future of the airport has never looked so bright and it's only a matter of when, not if, the airport will enter its next phase of rapid and sustained growth." says the Airport's Director, Business Development, Communications and Marketing Nicole Holinarty.
Downtown Business Spotlight : Barbershop on Gaetz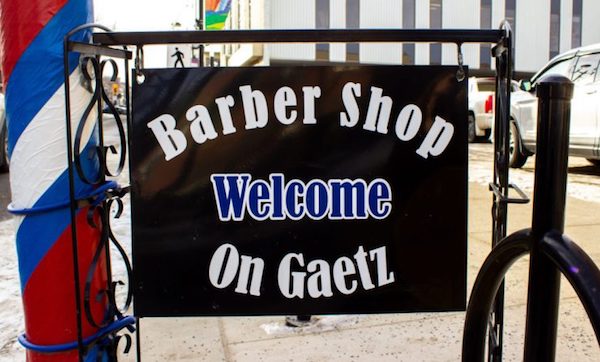 This week, we shine our 'Business Spotlight' on Barber Shop on Gaetz. Did you know Barber Shop on Gaetz holds the title of being the longest-running barbershop in Red Deer? Originally opening in 1947, this unique shop has been operating under Selene Fraser for the past 11 years and has a very loyal clientele who have supported the Shop even through a temporary relocation following a fire. You can find them in the basement of Evergreen Massage right next to the Club Café until they are able to return to their regular location. Selene would like her clients to know that she's happy to go mobile for any clients that are unable to access the basement. Read on to learn more!
What is your business?
We are Barber Shop on Gaetz.
When did your business open?
The business originally opened in 1947 and I am the 8th owner, operating for 11 years now.
What makes your business unique?
The customers! We have the best customers and I'm not kidding – I say that every time. I've worked in so many shops in my career, I've been doing hair for 35 + years and I've had the most fun here. Not because I own the place, it's the people that make it great.
What are some products/services that you offer?  
We offer full services for men including hot shaves, colors, and highlights although we don't do a lot of those. We do a lot of hot shaves. As for products, we offer the Maverick line, Crew line, Carina Organics line, beard oils, anything to do with shaving we supply. Ladies and children's cuts are also available.
Why did you choose Downtown Red Deer as the location for your business?
I knew a lady who worked here years before. It was a busy little shop with old-timers and farmers. The entire rural community knew about it because 50th Ave was the main road through town. This building has always been a barbershop. The history of it was one of the main reasons I chose the location. I like the downtown core, it's diverse.
What do you think makes Downtown vibrant?  
The people! The small businesses, the 'mom & pop' owned places and the cultural aspect. 
I love Downtown Red Deer because…  It's central and it's community. I like the little shops, businesses, and the friendly, non-judgemental, awesome community.
Barber Shop on Gaetz brings a definite charm to Downtown Red Deer. Its unique, friendly atmosphere is a real reason people keep returning! Selene and her team are leaders in their craft and care greatly for their Downtown community. Make sure to stop in for your next hair or beard service!
If you would like to see your Downtown business spotlighted, please contact us at 403-340-8696 or [email protected].
Downtown Business Spotlight: Ross Street Ice Cream Co.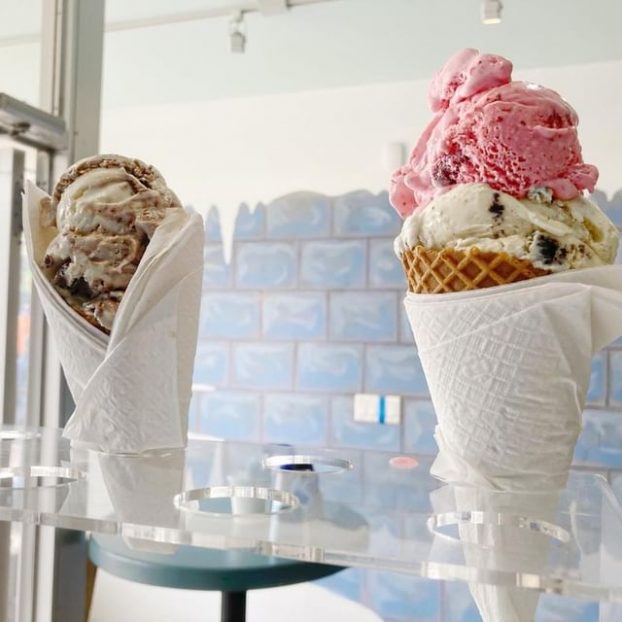 This week's Business Spotlight shines on Ross Street Ice Cream Co., located at 4924 50 St on the Ross Street Patio. We caught up with Michael Ubbing during the heat wave to learn more!
What is your business?
Ross Street Ice Cream Co.!
When did you open?
When it was a lot cooler than this! A week before May long.
What would you say makes your business unique?
We have lots of dietary options! Lots of dairy free, gluten free cones, we have no sugar added ice cream, we have a special cooler to prevent any cross contamination and then we make what we call "Super Allergy Ice Cream", which, if you are allergic to everything in the world, you're probably not allergic to that ice cream!
What are some products/services that you offer?
We offer ice cream and ice cream accessories. Some of those accessories keep expanding including gourmet cotton candy, Saskatoon lemonade, soda floats with Mexican Jarritos pop, and we do banana splits now!
Why did you choose Downtown Red Deer as the location for your business?
We chose Downtown Red Deer because its cheap! 
What do you think makes Downtown vibrant?
Me, of course! I think Taco Loft makes it vibrant. The music scene makes it vibrant.
 Finish this sentence: I love Downtown Red Deer because…
It's the center to everything and accessible to everyone.
Ross Street Ice Cream Co. is the place to check out if you're looking for a cool treat on a hot day! Follow them for updates:
Instagram: https://www.instagram.com/rossstreeticecream/
Facebook: https://www.facebook.com/RossStreeticecream