Search for victims done, Florida coast aims for Ian recovery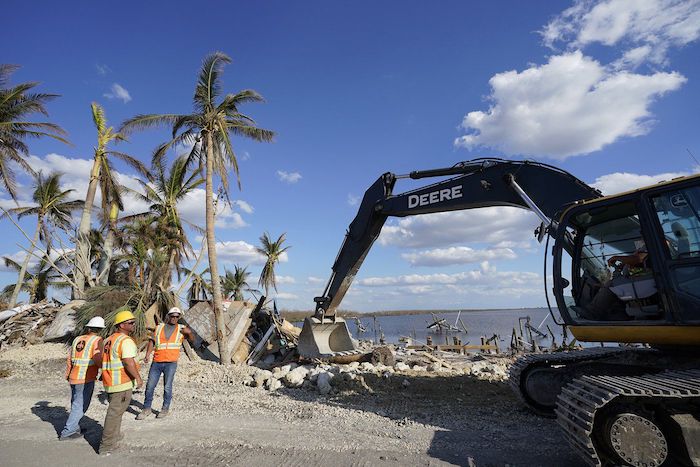 By Jay Reeves in Fort Myers
FORT MYERS, Fla. (AP) — An army of 42,000 utility workers has restored electricity to more than 2.5 million businesses and homes in Florida since Hurricane Ian's onslaught, and Brenda Palmer's place is among them. By the government's count, she and her husband Ralph are part of a success story.
Yet turning on the lights in a wrecked mobile home that's likely beyond repair and reeks of dried river mud and mold isn't much solace to people who lost a lifetime of work in a few hours of wind, rain and rising seawater. Sorting through soggy old photos of her kids in the shaded ruins of her carport, Palmer couldn't help but cry.
"Everybody says, 'You can't save everything, mom,'" she said. "You know, it's my life. It's MY life. It's gone."
With the major search for victims over and a large swath of Florida's southwest coast settling in for the long slog of recovering from its first direct hit from a major hurricane in a century, residents are bracing for what will be months, if not years, of work. Mourning lost heirlooms will be hard; so will fights with insurance companies and decisions about what to do next.
Around the corner from the Palmers in Coach Light Manor, a retirement community of 179 mobile homes that was flooded by two creeks and a canal, a sad realization hit Susan Colby sometime between the first time she saw her soggy home after Ian and Sunday, when she was picking through its remains.
"I'm 86 years old and I'm homeless," she said. "It's just crazy. I mean, never in my life did I dream that I wouldn't have a home. But it's gone."
Officials have blamed more than 100 deaths, most of them in southwest Florida, on Ian, a powerful Category 4 storm with 155 mph (249 kph) winds. It was the third-deadliest storm to hit the U.S. mainland this century behind Hurricane Katrina, which left about 1,400 people dead, and Hurricane Sandy, which killed 233 despite weakening to a tropical storm just before landfall.
While Gov. Ron DeSantis has heaped lavish praise on his administration for the early phases of the recovery, including getting running water and lights back on and erecting a temporary bridge to Pine Island, much more remains to be done. There are still mountains of debris to remove; it's hard to find a road that isn't lined with waterlogged carpet, ruined furniture, moldy mattresses and pieces of homes.
On the road to Estero Island, scene of the worst damage to Fort Myers Beach, workers are using heavy machines with huge grapples to snatch debris out of swampy areas and deposit it into trucks. Boats of all sizes, from dinghies to huge shrimpers and charter fishing vessels, block roads and sit atop buildings.
DeSantis said at least some of the roadmap for the coming months in southwest Florida may come from the Florida Panhandle, where Category 5 Hurricane Michael wiped out Mexico Beach and much of Panama City in 2018. Panama City leaders will be brought in to offer advice on the cleanup, DeSantis told a weekend news conference.
"They're going to come down on the ground, they're going to inspect, and then they've going to offer some advice to the local officials here in Lee County, Fort Myers Beach and other places," DeSantis said. "You can do what you want, you don't have to accept their advice. But I tell you that was a major, major effort."
In a region full of retirees, many of whom moved South to get away from the chill of Northern winters, Luther Marth worries that it might be more difficult for some to recover from the psychological effects of Ian than the physical destruction. Two men in their 70s already have taken their own lives after seeing the destruction, officials said.
Fort Myers was sideswiped by Hurricane Irma in 2017, but Marth said that storm was nothing like Ian, and the emotional toll will be greater, especially for older folks.
"I'm 88 years old. People my age struggle," said Marth, who counts himself and his wife Jacqueline among the lucky despite losing a car and thousands of dollars worth of fishing gear, tools and more when their garage filled with more than 5 feet (1.52 meters) of water.
"If you got wiped out financially you don't want to start over again, you don't have the will to start again," Marth said. "So those are the people my heart breaks for."
Police find two more victims at site of fatal fire in Old Montreal, total now 4
MONTREAL — Police say two more bodies were recovered Wednesday from the wreckage of a building in Old Montreal that was destroyed by fire last week, bringing the total number of confirmed victims to four.
A Montreal police spokesman said the bodies of the third and fourth victims have been turned over to a pathologist for identification as the search for others continues.
Earlier Wednesday, one of the first two confirmed victims was identified and police said at least five others remained missing in the rubble of the historic building.
Police Insp. David Shane identified the victim as 76-year-old Camille Maheux.
Maheux's body was recovered from the fire on Sunday evening; a second body was removed from the rubble on Tuesday but has not yet been identified.
"The investigation and search for other victims are ongoing," Shane told reporters at the scene Wednesday after formally announcing Maheux's death.
Firefighters and police said a fire tore through the historic stone building early last Thursday.
Shane told a briefing earlier in the day that searchers were targeting areas of the building where the missing people were likely located when the fire started. Searchers used a crane, specialized camera equipment and drones, he said.
Authorities have said identities of victims will only be released after confirmation from two separate methods, including a DNA test or dental records.
Martin Guilbault, a Montreal fire operations chief, said a plan to dismantle the upper floors of the three-storey building was on hold while authorities conducted a more "methodical" search. Authorities, he said Wednesday, would concentrate efforts inside the building.
Shane said the discovery of the body on Tuesday evening "confirms that the cross-referencing of the information collected by investigators allows us to effectively orient the search in the building."
Police did not provide further details about the second victim pending identification by the coroner's office and out of respect for families, Shane said. Investigators, he added, have not ruled out the possibility there could be more than five people missing.
"We are well aware that the wait is currently very hard and painful for the families, especially each time we announce the discovery of a new victim in the rubble," Shane said.
Family and friends have identified some of the missing, including Saniya Khan and her childhood friend Dania Zafar, who were in Montreal for a trip.
An Wu, 31, a neuroscientist doing post-doctoral work at the University of California San Diego who was in Montreal for a conference, has also been reported missing by friends.
Charlie Lacroix, an 18-year-old from the Montreal suburb of Terrebonne, was identified by her father as one of the missing. She had rented a unit in the building on Airbnb with a friend, and Lacroix's father said his daughter told 911 operators that she was trapped in a unit with no fire escape or windows.
Authorities have not confirmed how many of the missing people were tourists but said they were from Quebec, Ontario and the United States.
The fatal fire has raised concerns over unlicensed Airbnb-type rentals in Montreal. Police have said the building built in 1890 included units that were rented on Airbnb, the United States-based online rental marketplace, which is outlawed in that area by the city.
Montreal's mayor this week called for Airbnb to stop listing units that don't have a provincial permit.
This report by The Canadian Press was first published March 22, 2023.
— With files from Mathieu Paquette in Montreal.
Sidhartha Banerjee, The Canadian Press
Veterans testify of 'catastrophic' impact of Afghan collapse
Marine Sgt. Tyler Vargas-Andrews, who was gravely injured, losing an arm and a leg in a suicide attack at Hamid Karzai International Airport in Kabul, becomes emotional as he recounts his story during a House Committee on Foreign Affairs hearing on the United States evacuation from Afghanistan on Capitol Hill in Washington, Wednesday, March 8, 2023. (AP Photo/Andrew Harnik)
By Farnoush Amiri And Ellen Knickmeyer in Washington
WASHINGTON (AP) — Active-service members and veterans provided first-hand testimony Wednesday about the chaotic U.S. withdrawal from Afghanistan, describing in harrowing detail the carnage and death they witnessed on the ground while imploring Congress to help the allies left behind.
Former Marine Sgt. Tyler Vargas-Andrews testified to Congress about the stench of human flesh under a large plume of smoke as the screams of children, women and men filled the space around Kabul's airport after two suicide bombers attacked crowds of Afghans.
"I see the faces of all of those we could not save, those we left behind," said Vargas-Andrews, who wore a prosthetic arm and scars of his own grave wounds from the bombing. "The withdrawal was a catastrophe in my opinion. And there was an inexcusable lack of accountability …"
The initial hearing of a long-promised investigation by House Republicans displayed the open wounds from the end of America's longest war in August 2021, with witnesses recalling how they saw mothers carrying dead babies and the Taliban shooting and brutally beating people.
It was the first of what is expected to be a series of Republican-led hearings examining the Biden administration's handling of the withdrawal. Taliban forces seized the Afghan capital, Kabul, far more rapidly than U.S. intelligence had foreseen as American forces pulled out. Kabul's fall turned the West's withdrawal into a rout, with Kabul's airport the center of a desperate air evacuation guarded by U.S. forces temporarily deployed for the task.
The majority of witnesses argued to Congress that the fall of Kabul was an American failure with blame touching every presidential administration from George W. Bush to Joe Biden. Testimony focused not on the decision to withdraw, but on what witnesses depicted as a desperate attempt to rescue American citizens and Afghan allies with little U.S. planning and inadequate U.S. support.
"America is building a nasty reputation for multi-generational systemic abandonment of our allies where we leave a smoldering human refuge from the mountain yards of Vietnam to the Kurds in Syria," retired Lt. Col. Scott Mann testified before the House Foreign Affairs Committee.
He added, "Our veterans know something else that this committee might do well to consider: We might be done with Afghanistan, but it's not done with us."
Vargas-Andrews sobbed as he told lawmakers of being thwarted in an attempt to stop the single deadliest moment in the U.S. evacuation — a suicide bombing that killed 170 Afghans and 13 U.S. servicemen and women.
Vargas-Andrews said Marines and others aiding in the evacuation operation were given descriptions of men believed to be plotting an attack before it occurred. He said he and others spotted two men matching the descriptions and behaving suspiciously, and eventually had them in their rifle scopes, but never received a response about whether to take action.
"No one was held accountable," Vargas-Andrew told Rep. Mike McCaul, R-Texas, the chairman of the committee. "No one was, and no one is, to this day."
U.S. Central Command's investigation concluded in October 2021 that given the worsening security situation at Abbey Gate as Afghans became increasingly desperate to flee, "the attack was not preventable at the tactical level without degrading the mission to maximize the number of evacuees." However, that investigation did not look into whether the bomber could have been stopped or whether Marines on the ground had the appropriate authorities to engage.
McCaul has been deeply critical of the Biden administration's handling of the withdrawal. "What happened in Afghanistan was a systemic breakdown of the federal government at every level, and a stunning failure of leadership by the Biden administration," he said.
Last month, U.S. Inspector-General for Afghanistan John Sopko concluded again that actions taken by both the Trump and Biden administrations were key to the sudden collapse of the Afghan government and military, even before U.S. forces completed their withdrawal in August 2021.
That includes President Donald Trump's one-sided withdrawal deal with the Taliban, and the abruptness of Biden's withdrawal of both U.S. contractors and troops from Afghanistan, stranding an Afghan air force that previous administrations had failed to make self-supporting.
The report blamed each U.S. administration since American forces invaded in 2001 for constantly changing, inconsistent policies that strived for quick fixes and withdrawal from Afghanistan rather than a steady effort to build a capable, sustainable Afghan military.
The witnesses testifying Wednesday urged action to help the hundreds of thousands of Afghan allies who worked alongside U.S. soldiers and who are now in limbo in the U.S. and back in Afghanistan.
"If I leave this committee with only one thought it's this: It's not too late," said Peter Lucier, a Marine veteran who now works at Team America Relief, which has assisted thousands of Afghans in relocating. "We're going to talk a lot today about all the mistakes that were made, leading up to that day, but urgent action right now will save so many lives."
One of those solutions discussed Wednesday would be creating a pathway to citizenship for the nearly 76,000 Afghans who worked with American soldiers since 2001 as translators, interpreters and partners. Those people arrived in the U.S. on military planes after the withdrawal and the government admitted the refugees on a temporary parole status as part of Operation Allies Welcome, the largest resettlement effort in the country in decades, with the promise of a path to a life in the U.S. for their service.
Congress began a bipartisan effort to pass the Afghan Adjustment Act, which would have prevented Afghans from becoming stranded without legal residency status when their two years of humanitarian parole expire in August. The proposal would have enabled qualified Afghans to apply for U.S. citizenship, as was done for refugees in the past, including those from Cuba, Vietnam and Iraq.
But that effort stalled in the Senate late last year due to opposition from Republicans.
"If we don't set politics aside and pursue accountability and lessons learned to address this grievous moral injury on our military community and right the wrongs that have been inflicted on our most at-risk Afghan allies, this colossal foreign policy will follow us home and ultimately draw us right back into the graveyard of empires where it all started," Mann, the retired green beret, said to lawmakers.
___
Associated Press reporter Tara Copp contributed to this report.