Scott Moe says he feels disenfranchised by Ottawa but Saskatchewan 'not backing down'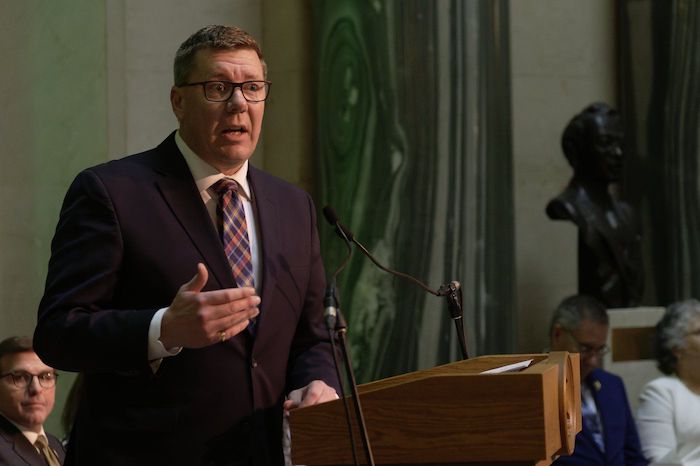 By Kelly Geraldine Malone in Saskatoon
Scott Moe's target was the federal government Thursday as he gathered with supporters for the first in-person Saskatoon Premier's Dinner in three years.
The premier's speech promoted the province's booming resource sector, which has seen surging investment and increased market prices since the last dinner gathering.
Moe said growth has always been and will continue to be the Saskatchewan Party government's "North Star."
He told the crowd he has felt disenfranchised, disillusioned, disturbed and even dumbfounded at times with Ottawa's decision-making.
"But we are not discouraged, and we are not backing down," Moe said during the fundraiser dinner at Prairieland Park.
The premier pointed to a policy paper highlighting his government's plan to flex its autonomy, as well as a bill introduced this fall to address federalism.
Moe has long pushed against Prime Minister Justin Trudeau and the Liberal government's environmental policies in the name of Saskatchewan's resource sector. He cautioned that Canada could be moving too quickly into renewable energy without a proper backup plan.
"You can ignore reality, but you can't ignore the consequences of reality," he said to applause.
Moe pointed to Saskatchewan's role in responding to global food and energy shortages caused by Russia's war in Ukraine. The resulting worldwide demand has brought increased production in Saskatchewan's potash, uranium and agriculture industries.
Moe said there's also investment in rare earth elements and critical minerals.
The boon has had a positive effect on the provincial finances, Moe said, and his government expects to balance the budget ahead of schedule and retire $1 billion in debt.
Moe also acknowledged the next provincial election is under two years away. The Saskatchewan Party won its fourth majority government in 2020 and holds 48 of the province's 61 seats.
He said his government is best positioned to defend and build on the province's economic prosperity.
The Opposition New Democrats have criticized Moe for bragging about how well the provincial coffers are doing without responding to inflation or challenges in the health-care system.
Moe also took time in his speech to acknowledge the leadership of Chief Wally Burns of James Smith Cree Nation, who was in attendance.
He said the community and province faced an unimaginable tragedy in September after a mass stabbing left 11 dead and 18 others injured on the First Nation and in the nearby village of Weldon.
"Chief Wally Burns has had to dig deep and provided excellent leadership, not only for his community but all of us in the province."
This report by The Canadian Press was first published Dec. 1, 2022.
Liberals table bill delaying medically assisted dying expansion to March 2024
OTTAWA — The federal government is seeking to delay the extension of assisted dying eligibility to people whose sole condition is a mental disorder until March 17, 2024.
Justice Minister David Lametti introduced a bill seeking the extension in the House of Commons on Thursday.
The Liberal government agreed to expand eligibility in its 2021 update to assisted dying law after senators amended the bill, arguing that excluding people with mental illness would violate their rights.
That law put a two-year clock on the expansion that is set to expire on March 17. The Liberals now have six weeks to pass the new legislation, which would add another year to the delay.
Lametti said earlier that he is expecting agreement among other parties and senators to pass the bill in that short time frame.
Helen Long, CEO of advocacy organization Dying With Dignity Canada, said in a statement that keeping people with mental disorders from accessing assisted dying is "discriminatory and perpetuates the stigma that they do not have the capacity to make decisions about their own health care."
Before Lametti tabled the bill, the group had urged the federal government to make the delay "short and effective."
But Conservative MP Michael Cooper said on Twitter that the delay is not enough and the "dangerous expansion" needs to be scrapped altogether.
Tories have argued that it is difficult for doctors to tell when a person's suffering due to a mental disorder is past the point of treatment, so the policy could lead to avoidable deaths.
"One year won't resolve the problems. Experts are clear that irremediability cannot be determined for mental illness," Cooper said.
Mental Health and Addictions Minister Carolyn Bennett was expected to join Lametti at a news conference about the delay later on Thursday.
This report by The Canadian Press was first published Feb. 2, 2023.
Feds to lay out 'sustainable jobs' plan for energy transition ahead of legislation
By Mia Rabson in Ottawa
The federal government will show Canadians its plan to protect jobs during the clean energy transition no later than early spring, Natural Resources Minister Jonathan Wilkinson said Wednesday.
Legislation to guide how that plan is implemented, however, won't come for some time after that.
The Liberals have promised a "just transition act" since at least 2019, and Wilkinson has been saying it will finally happen this year.
That prospect prompted outcry in Alberta, where the energy transition will have the biggest impact and provincial politicians are headed for a tightly contested election this spring.
Alberta Premier Danielle Smith has asked for a meeting with Prime Minister Justin Trudeau to help shape that legislation. Her chief opponent, NDP Leader Rachel Notley, asked the federal Liberals to delay the whole thing at least until after the election, which is scheduled for the end of May.
But Wilkinson said the bill, for which he didn't offer a timeline, will in some ways be secondary to the action plan listing what the government intends to do. He said that plan will hopefully be revealed by the end of March, though it may "slip into the next quarter."
"The legislation will guide future efforts and will create a governance structure, but it's the policy statement that I think is going to be the most impactful," he said. "And, as I say, we will be releasing that in the coming few months."
He said the plan is based on lengthy consultations with provinces, labour organizations, business and Indigenous communities. Ultimately, he said, it will contain no surprises.
The concept of a "just transition" has existed for several decades, but it took on new meaning after the 2015 Paris climate agreement committed most of the world to transitioning to cleaner energy sources in a bid to slow climate change.
The idea is that any efforts to adjust reliance on fossil fuels must ensure that people who work in energy industries can move to new sectors and will not be left out in the cold.
The "just transition" debate exploded last month when Smith lambasted the federal government for a briefing document that listed the number of jobs that could be affected by the ongoing global transition away from fossil fuels and towards renewable energy.
Smith misread the total number of jobs in the affected sectors to mean the number of jobs the federal government expected would be lost, and pledged to "fight this just transition idea" with everything she had.
A week later, the premier wrote to Trudeau warning him that the Ottawa-Alberta relationship was "at a crossroads," and demanding that Alberta be included in all discussions on a "just transition" going forward.
She also said the legislation shouldn't be labelled as a "just transition" bill, but one about "sustainable jobs."
That request hit the federal government with interest and even amusement, since several federal ministers had already signalled their intention to use the term.
"I think I've been pretty clear I don't like the term 'just transition,'" Wilkinson said Wednesday.
"I prefer 'sustainable jobs.' I think it speaks to a future where we're looking to build economic opportunity for all regions of this country, very much including Alberta and Saskatchewan."
Smith will be in Ottawa next week as part of a first ministers meeting on health care, but there is no sign she will get a one-on-one meeting with Trudeau on sustainable jobs.
This report by The Canadian Press was first published Feb. 1, 2023.