Scheer calls on Trudeau to resign, Singh for inquiry over SNC-Lavalin affair
OTTAWA — Conservative Leader Andrew Scheer called on Justin Trudeau to resign Wednesday, saying former attorney general Jody Wilson-Raybould's troubling testimony about SNC-Lavalin proved the prime minister has lost the moral authority to govern.
Scheer threw down the gauntlet immediately after a three-hour Commons' justice committee meeting in which Wilson-Raybould said she felt pressure from Trudeau and others to head off a criminal prosecution of Montreal engineering firm SNC-Lavalin.
"Justin Trudeau simply cannot continue to govern this country now that Canadians know what he has done," Scheer said. "And that is why I am calling on Mr. Trudeau to do the right thing and to resign."
But Trudeau quickly rebuffed Scheer's demand as he touted his government's record defending jobs and "the independence of our judiciary," adding Canadians will decide later this year whether to re-elect the Liberals or hand power to the Conservatives.
The back-and-forth marked the latest escalation in what has already been the most explosive political challenge facing the Trudeau government during its more than three years in power. The Official Opposition very rarely calls on a prime minister to resign.
NDP Leader Jagmeet Singh said Wilson-Raybould's testimony underscored his party's calls for an independent inquiry to find out the truth of what happened between the former attorney general and members of Trudeau's inner circle.
During her testimony, Wilson-Raybould told the committee that she withstood four months of relentless pressure to reverse a decision not to make a plea-bargain-type deal with SNC-Lavalin. She said the pressure came from Trudeau and other senior Liberal officials.
Wilson-Raybould told the committee that she believed the pressure, which also included "veiled threats" from the country's top civil servant, Privy Council clerk Michael Wernick, was inappropriate. But she added she did not think it was illegal.
Scheer nonetheless demanded Trudeau's resignation and called for the RCMP to launch a criminal investigation into what the Liberal government did to help SNC-Lavalin, which is facing criminal charges related to allegedly corrupt dealings in Libya.
"Jody Wilson-Raybould tells the story of a prime minister who has lost the moral authority to govern," Scheer said.
"A prime minister who allows his partisan, political motivations to overrule his duty to uphold the rule of law. A prime minister who doesn't know where the Liberal Party ends and where the government of Canada begins."
The Conservative leader also called for Wernick to resign and encouraged the Liberal cabinet, which is scheduled to present a federal budget next month, to find a way to govern the country in a non-partisan way without the prime minister.
Scheer did not say what he would do if Trudeau refused to resign, such as calling a non-confidence vote.
For his part, Singh said Wilson-Raybould's testimony painted a picture of a prime minister and other members of government who were willing to disregard the rule of law and were more interested in helping powerful friends than average Canadians.
While the NDP leader said Trudeau and others may eventually have to step down, he said that determination should come after a public inquiry is held to get the bottom of what really happened.
Trudeau, however, indicated during a Liberal party event in Montreal a short time later that he had no intention of resigning. He rejected Wilson-Raybould's version of events, saying he and his staff "always acted appropriately and professionally."
He said Canadians will have "a very clear choice in a few months" in the October election about who they want to form government.
"There will be a clear choice to be made between the Liberal Party, this government that … has consistently stood up for Canadian jobs, consistently defended Canadian jobs while defending our institutions and the independence of our judiciary," he said.
"And on the other hand there is a choice of the party that is still very much the party of Stephen Harper. That continues to attack, to divide, to play politics with big issues and (thinks) the best way to create economic growth is still to give advantages to the wealthiest."
— Follow @leeberthiaume on Twitter.
Lee Berthiaume, The Canadian Press
Loss of Brother to Addiction and Mental Illness Inspires Sister to Raise Money by Selling Face Masks.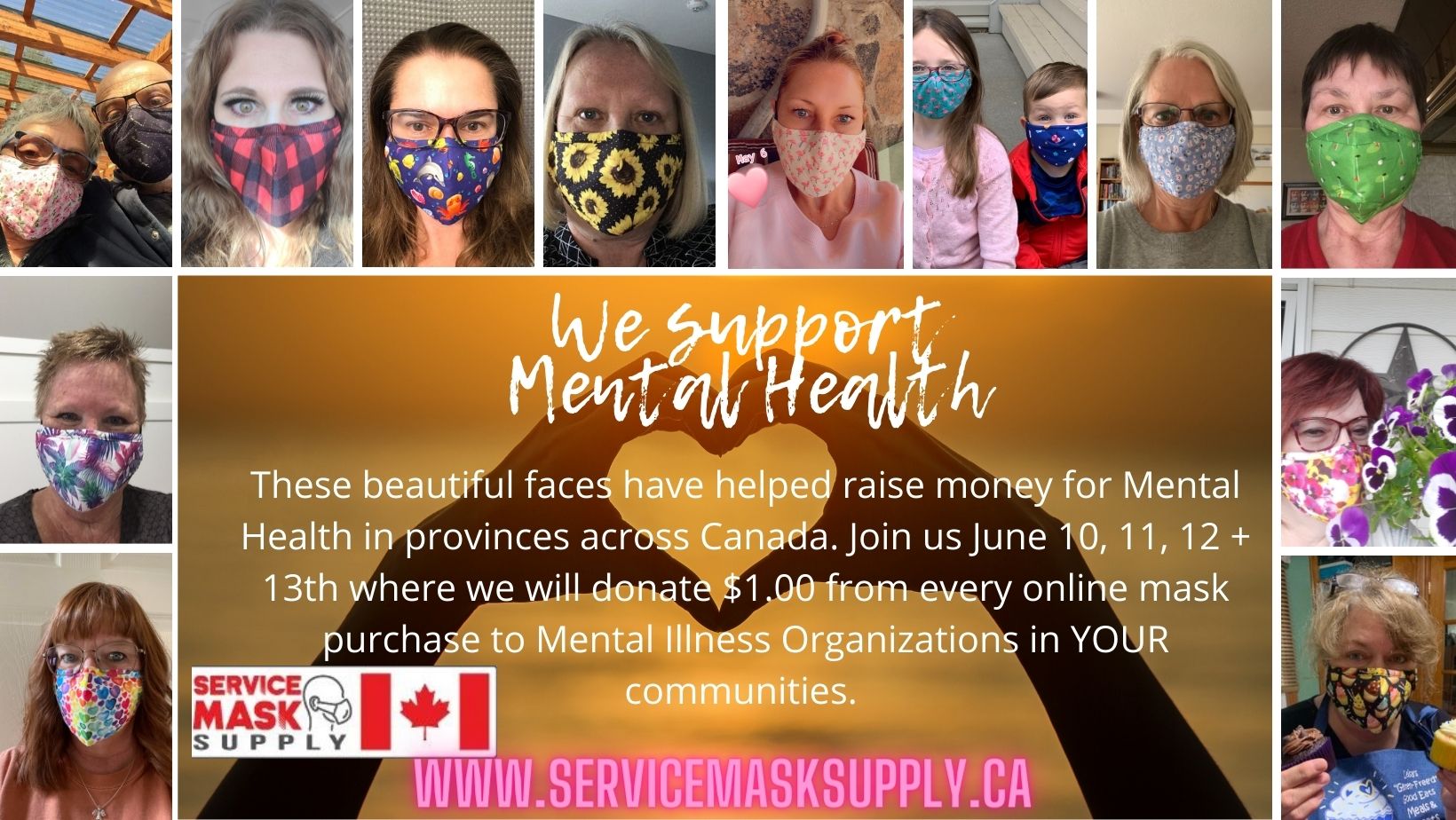 Starting June 10th, until midnight Sunday, June 13th customers across Canada can help raise funds for Mental Health Organizations in their own provinces by purchasing much needed luxury cotton face masks.
Jodee Prouse, from Sylvan Lake, Alberta, co-owner of Service Mask Supply (SMS) is the provider of one of Canada's best-selling luxury 3-layer Cotton Face Masks. She announced today that they will be donating $1.00 from every mask purchase on June 10, 11, 12 and 13th to Mental Illness Programs and Organizations in communities across Canada. "We all look forward to when we no longer need to wear face masks," says Jodee, "and we are getting really close. I am proud that we can provide a much-needed product and at the same time allow others the opportunity to come together to raise money for Mental Health in their own communities."
SMS is excited to announce that for 4 days this week, $1.00 from every mask will be donated to different Mental Health Organizations across Canada. Customers can place their order online, each mask is $5.00, and will ship directly to their homes or businesses. Jodee is proud of her team and orders quickly ship the next business day, leaving from their warehouse in Alberta. All monies collected will go back into each province to where the order was shipped. As an example, Alberta portion will go back to Canadian Mental Health Association Alberta Division, Manitoba to Rainbow Resource Centre and so on. This allows every Canadian the opportunity to make a difference and take part.
From the beginning, SMS had an amazingly simple business model, originally supplying schools and oilfield companies: provide comfortable and affordable masks (each is only $5.00) with patterns that make people smile. Smile. It is what Jodee and her business partner son Ryan believes we need more of right now during these unprecedented times. "My son and I, at different times in our lives, have both struggled with anxiety and depression. We lost a much-loved member of our family when our brother/uncle lost his battle with mental illness and alcoholism when he took his own life in March of 2012. He was only 39. This helped solidify our commitment to helping to eliminate the shame and stigma surrounding mental health."
Now more than ever we want to bring communities together. And remind people they are not alone.
SMS is proud to be celebrating over 17,000 customers across Canada this week. They know that much of their success has been driven by their passionate customers, repeat business and recommendations to family, friends, and co-workers. "It fills my heart to receive not only Facebook messages and emails daily on how much they love our masks," says Jodee, "but also the heartfelt words where strangers feel comfortable and safe enough to share some of their own mental health or addiction challenges."
SMS has over 150 unique colors and patterns with such unique designs as sunflowers, flamingo's, tie dye, dog lover, pretty kitties, fishing lures, butterflies, hearts, breast cancer, yoga, fine wine, pride, cupcakes and many more. Great for work, play, indoors and outdoors too with sizes for the whole family.
Learn more visit: www.servicemasksupply.ca
For more information you can email [email protected]
Gerry Feehan Receives the Legendary Invitation, A World Famous Newfoundland Tradition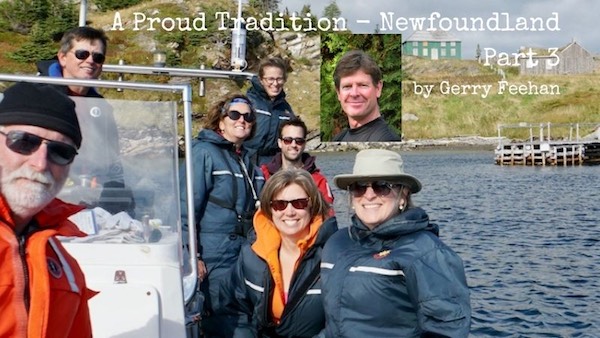 11By Gerry Feehan
This is the third of four parts in the Newfoundland series. Scroll down to find Part 1, Gros Morne, and part 2 North America's Oldest European Settlement
If Newfoundlanders weren't so damn friendly we'd have been on time for our Jiggs dinner.
Terra Nova National Park is situated in eastern Newfoundland, 399 sq km of rugged rock, trees and wetland, wrapped around idyllic fingers of Bonavista Bay. The Trans-Canada highway bisects the park, then continues southeast toward Come by Chance and eventually the capital, St. John's, on the Avalon Peninsula. It was early October. Terra Nova was still open for business, but quiet, so we had our choice of primo campsites. As we checked in I grabbed a bag of firewood. It was going to be a cold night, with frost expected. The ranger stopped me, "No sense you paying for wood. The folks in site 17 just bought a big load. Just go over and join them when the fire starts."
And so we did. And that's how we met Burkey and Bev. Even before we reached their roaring fire, Burkey spotted us timidly approaching from the shadows, and without a word, pulled out spare chairs and began pouring drinks. It was Thursday before Thanksgiving. The Burkes were setting up camp, preparing for the arrival of friends and family, and prepping for the big occasion: Sunday's Jiggs dinner. After a fun evening of chatter (interspersed with a few tunes from my ever-present ukulele) we rose to bid adieu. "You'll come for dinner Sunday?" asked Barb. I did some quick calculating. We had a week left on The Rock but had yet to visit St. John's. Plus there was the Irish Loop and Bonavista Peninsula to explore. And we had a long drive back west to Port Aux Basque, almost 1000km, in order to catch the ferry on Tuesday.
"Sure," I said.
On Sunday we awoke to a gorgeous morning at the Cabot Highway RV Park, a few kilometers from the town of Trinity, on Bonavista Peninsula. (The intervening 3 days and our St John's/Avalon/Irish Loop drive will be recounted in the fourth and final yarn of this series.) When we reached Trinity I headed straight through town, bound for the local pier, as I am wont to do. Preoccupied by the brightly painted clapboard homes, 19th century church spires and scenic fishing stages (houses hanging over the water used for cleaning cod), I failed to observe that the roadway was becoming dangerously narrow.
We ended up trapped on the town boat ramp, pointed seaward. There was no way to turn the motorhome around. Florence was starting in on my (justly-deserved) beratement when a boat pulled up to the wharf. "What are you after doing down there, b'y?" asked the operator with an amused look. With his guidance I was able to slowly reverse position and get the RV pointed away from the slippery slope and safely back toward land. I offered my thanks. "No trouble," said he, bobbing in his boat. "I'm taking friends out for a tour of the bay this lovely morning. Would you and your wife like to join us?" I did some more calculating. It was a two-hour drive back to Terra Nova. Jiggs dinner was at 3pm. "We'd need to be back to shore by 1pm," I said. "No worries," he replied, "I'll have you at the dock by noon at the latest."
It was a fantastic outing. Skipper Bob and his partner Bonnie run www.trinityecotours.com. The tourist season was almost over and the day's trip was just for fun. Although the usual fare is $90 a person, they refused to take our money. We followed the rugged coastline, where the remains of the ancient Appalachian Mountains slip into the sea. In Trinity Bay, while a whale spouted to starboard, we came alongside a fisherman hauling up net and cleaning cod. He offered us a bag overflowing with fillets and, with the waive of a hand, made it clear he wouldn't accept payment.
As we motored into a protected, hidden bay, the remains of a long-abandoned village came into view. Bonnie told us, "This place is known as Ireland's Eye. On the other side of the island is a spot called Black Duck Cove. That's where my dad lived until he was 11years old.  In the mid 50's the government began a resettlement program to get people who lived on remote islands to move to the mainland where there would be better access to services like hospitals and schools."
In some respects it was forced relocation. Many people, rather than abandon their homes, floated their lodgings to the mainland communities. "The old place on Ireland's Eye was left behind but my grandfather floated a house from Pope's Harbour to New Bonaventure in August 1965. It was a saltbox style, with the porch and bathroom added later."
Life was hard on The Rock 50 years ago.
Time flies when you're playing on the ocean. It was after 2pm when Bob idled the boat back into the marina. We bid a hasty thank-you and adieu and raced for Terra Nova. When we arrived at the campground it was getting dark. All sites were vacant save one. Bev and Burkey were just breaking camp, headed back to Clarenville.
"We are so sorry," I apologized. "No problem," said Bev. "You said you were coming for scoff so I knew you'd be here. I did up a couple of plates. They're still warm."
A traditional Newfoundland Jiggs dinner consists of turkey, dressing, gravy, bread pudding, carrots, turnip, cabbage, mashed potatoes, pease pudding, figgy duff – and boiled salt beef. For dessert Barb likes to do blueberry crumble and partridgeberry cake topped with hot vanilla sauce. Simple really. And easy to whip up, especially from the cramped confines of your trailer, in a campground, in the cold. Each platter held enough food for three Jiggs dinners. Burkey laughed and told us that a Newfoundlander's idea of fine dining is a full plate. I offered him two fresh cod fillets and, although it was a little like carrying coals to Newcastle, he graciously accepted.
Florence and I were the only campers in Terra Nova that night. As they drove away Burkey said, "No sense you buying firewood, there's plenty left." Bev waived goodbye and they rolled out of our lives.
I looked at the overflowing feast, loosed my belt and dug in.
Next time: St John's and the Irish Loop
Gerry Feehan is an award-winning travel writer and photographer. He lives in Kimberley, BC.
Gerry Feehan is an award-winning travel writer and photographer. He and his wife Florence live in Kimberley, BC!
Thanks to Kennedy Wealth Management for sponsoring this series.  Click on the ads and learn more about this long-term local business.
Gerry Feehan takes us to North America's Oldest European Settlement
Click to read more travel stories.