S. Korea in shock, grief as 151 die in Halloween crowd surge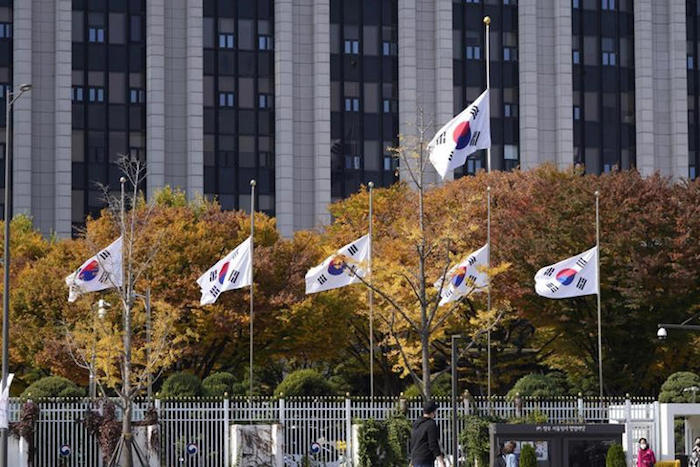 SEOUL, South Korea (AP) — Concerned relatives raced to hospitals in search of their loved ones Sunday as South Korea mourned the deaths of at least 151 people, mostly in their teens and 20s, who got trapped and crushed after a huge Halloween party crowd surged into a narrow alley in a nightlife district in Seoul.
Tens of thousands of people were believed to have gathered in Itaewon for festivities on Saturday night. Witnesses say the streets were so densely clogged with people and slow-moving vehicles that it was practically impossible for emergency workers and ambulances to reach the alley near Hamilton Hotel, as the situation quickly developed into one of the country's worst disasters in years.
There were concerns the death toll could grow as 24 people among the 104 being treated for injuries are in critical condition, according to Seoul City's disaster headquarters.
The city government said more than 2,600 people have called or visited a city office in nearby Hannam-dong as of Saturday afternoon, reporting their relatives as out of contact and asking officials to confirm whether they were among those injured or dead after the crush.
The dead included 19 foreigners, said Choi Seong-beom, chief of Seoul's Yongsan fire department. South Korea's Foreign Ministry did not confirm the nationalities of those victims, but it said that they alerted their countries' embassies in Seoul. The Chinese state news agency Xinhua said at least three Chinese nationals were killed.
The bodies of the dead were being kept at 42 hospitals in the capital, Seoul, and nearby Gyeonggi Province, according to Seoul City, which said it will instruct crematories to burn more bodies per day as part of plans to support funeral proceedings.
Around 100 businesses in the Hamilton Hotel area have agreed to shut down their shops through Monday to reduce the number of partygoers who would come to the streets through Halloween Day.
An estimated 100,000 people had gathered in Itaewon for the country's biggest outdoor Halloween festivities since the pandemic began and strict rules on gatherings were enforced. The South Korean government eased COVID-19 restrictions in recent months and this was the first big chance to get out and party for many young people.
While Halloween isn't a traditional holiday in South Korea, where children rarely go trick-or-treating, it's still a major attraction for young adults, and costume parties at bars and clubs have become hugely popular in recent years.
Itaewon, near where the former headquarters of U.S. military forces in South Korea operated before moving out of the capital in 2018, is an expat-friendly district known for its trendy bars, clubs and restaurants and it's the city's marquee Halloween destination.
Officials initially said 150 people were injured as of Sunday morning before later lowering their tally. National Fire Agency officials didn't immediately explain why the tally was reduced but said emergency workers would have had a more accurate idea of the casualties as rescue operations proceeded and that some of the injured would have been converted to deaths. It was also possible that some of those who were lightly injured had returned home overnight and were no longer counted.
South Korean President Yoon Suk Yeol declared a national mourning period on Sunday and ordered flags at government buildings and public offices to fly at half-staff. During a televised speech, Yoon said supporting the families of the victims, including their funeral preparations, and the treatment of the injured would be a top priority for his government.
He also called for officials to thoroughly investigate the cause of the accident and review the safety of other large cultural and entertainment events, including regional festivals, to ensure they proceed safely.
"This is really devastating. The tragedy and disaster that need not have happened took place in the heart of Seoul amid Halloween (celebrations)," Yoon said during the speech. "I feel heavy hearted and cannot contain my sadness as a president responsible for the people's lives and safety."
After the speech, Yoon visited the Itaewon alley where the disaster occurred. Local TV footage showed Yoon inspecting the alley filled with trash and being briefed by emergency officials.
It was not immediately clear what led the crowd to surge into the narrow downhill alley near the Hamilton Hotel, a major party spot in Seoul. One survivor said many people fell and toppled one another "like dominos" after they were pushed by others. The survivor, surnamed Kim, said they were trapped for about an hour and a half before being rescued, as some people shouted "Help me!" and others were short of breath, according to the Seoul-based Hankyoreh newspaper.
Another survivor, Lee Chang-kyu, said he saw about five or six men push others before one or two began falling, according to the newspaper.
In an interview with news channel YTN, Hwang Min-hyeok, a visitor to Itaewon, said it was shocking to see rows of bodies near the hotel. He said emergency workers were initially overwhelmed, leaving pedestrians struggling to administer CPR to the injured lying on the streets. People wailed beside the bodies of their friends, he said.
Another survivor in his 20s said he avoided being trampled by managing to get into a bar whose door was open in the alley, Yonhap news agency reported. A woman in her 20s surnamed Park told Yonhap that she and others were standing along the side of the alley while others caught in the middle of the alley had no escape.
Choi, the fire department chief, said that bodies were being sent to hospitals or a gym, where bereaved family members could identify them. He said most of the dead and injured are in their 20s.
"Horrific news from Seoul tonight," British Prime Minister Rishi Sunak tweeted. "All our thoughts are with those currently responding and all South Koreans at this very distressing time."
Jake Sullivan, the U.S. national security adviser, tweeted that reports of the disaster were "heartbreaking" and said Washington "stands ready to provide the Republic of Korea with any support it needs."
The last South Korean disaster this deadly also hit young people the hardest. In April 2014, 304 people, mostly high school students, died in a ferry sinking. The sinking exposed lax safety rules and regulatory failures. It was partially blamed on excessive and poorly fastened cargo and a crew poorly trained for emergency situations. Saturday's deaths will likely draw public scrutiny of what government officials have done to improve public safety standards since the ferry disaster.
It was also Asia's second major crushing disaster in a month. On Oct. 1, police in Indonesia fired tear gas at a soccer match, causing a crush that killed 132 people as spectators attempted to flee.
More than 1,700 response personnel from across the country were deployed to the streets to help the wounded, including about 520 firefighters, 1,100 police officers and 70 government workers. The National Fire Agency separately said in a statement that officials were still trying to determine the exact number of emergency patients.
This was the deadliest crushing disaster in South Korean history. In 2005, 11 people were killed and around 60 others were injured at a pop concert in the southern city of Sangju.
In 1960, 31 people died after being crushed on the stairs of a train station as large crowds rushed to board a train during the Lunar New Year holidays.
Kim Tong-hyung And Hyung-jin Kim, The Associated Press
UN food agency: Afghan malnutrition rates at record high
By Ebrahim Noroozi in Kabul
KABUL, Afghanistan (AP) — Malnutrition rates in Afghanistan are at record highs with half the country enduring severe hunger throughout the year, a spokesman for the World Food Program said Thursday.
The Taliban takeover in August 2021 drove millions into poverty and hunger after foreign aid stopped almost overnight. Sanctions on Taliban rulers, a halt on bank transfers and frozen billions in Afghanistan's currency reserves restricted access to global institutions and the outside money that supported the country's aid-dependent economy before the withdrawal of U.S. and NATO forces.
"Half of Afghanistan endures severe hunger throughout the year, regardless of the season, and malnutrition rates are at a record high for Afghanistan," said Phillipe Kropf, a spokesman for the U.N. food agency in Kabul.
"There are seven million children (under the age of 5) and mothers who are malnourished, in a country with a population of 40 million."
Afghans are not starving to death, he said, but they have no resources left to stave off the humanitarian crisis.
Aid agencies have been providing food, education and healthcare support to Afghans, including heating, cash for fuel and warm clothes. But distribution has been severely impacted by a Taliban edict banning women from working at national and international nongovernmental groups.
"The ban has come at the worst possible moment," said Kropf. "Families and communities don't know where their next meal is coming from."
The WFP scaled up its delivery and distribution of aid in anticipation of a tough winter before the ban came in, planning to reach 15 million this month with emergency food assistance and nutrition support. While it is not directly affected by the ban, 19 of its NGO partners suspended operations in Afghanistan following the Dec. 24 edict.
The NGO ban on women workers has seen the suspension of 115 of 437 mobile health clinics, affecting 82,000 children, and pregnant and lactating women. The suspension of a training project is hurting 39,300 people, mostly women, while the pause of a school snack program has hit 616,000 students.
At a nutrition clinic in Kabul, 32-year-old nurse Anisa Samadi said most children and mothers will die without support from agencies like the WFP and World Health Organization. Their help is needed now more than ever, she told The Associated Press on Thursday.
"In the last five months I have seen the number of patients increasing. Three months ago we had 48 patients. Last month, we had 76 and this month so far we have 69 or 70, mostly we have twins who are so weak, while their mothers are also weak."
Shortages of medicine alongside poverty and a lack of food means even a small illness can turn into a huge problem for many Afghans, she said.
Her colleague, 30-year-old nutrition adviser Sheba Hussanzada, said children at the clinic receive therapeutic food. But the children return with pneumonia, causing unhealthy weight loss. "Mothers are saying that they don't have wood or any other way to keep their children warm at home. They don't have enough food to feed them," she said.
First-time mother Fereshta, 24, visited the clinic because she doesn't have enough milk to feed her child. Her husband used to have a job, but now there is no work for him.
"Since the Taliban have come, the economic condition is so bad and people don't have food to eat. People don't have three meals. If there weren't such a center to support us, I might lose my child," the young mother said.
The NGO ban has followed in a slew of measures restricting the rights and freedoms of women and girls in Afghanistan, and has drawn international condemnation and weeks of campaigning to get it lifted.
The highest-ranking woman at the U.N. Amina Mohammed said Wednesday she used everything in her "toolbox" during meetings with Taliban ministers in Afghanistan to try to reverse their crackdown on women and girls, urging Muslim countries to help the Taliban move from the "13th century to the 21st" century.
___
Associated Press writer Riazat Butt contributed to this report from Islamabad.
68 confirmed dead after plane crashes in Nepal resort town
By Upendra Man Singh, Sheikh Saaliq And Anish Bhattarai in Pokhara
POKHARA, Nepal (AP) — A plane crash has killed at least 68 people, according to Nepal's Civil Aviation Authority. A regional passenger plane with 72 aboard crashed into a gorge while landing at a newly opened airport in the resort town of Pokhara Sunday, in the country's deadliest airplane accident in three decades.
Scores of rescue workers and onlookers crowded near a steep gorge Sunday afternoon, as rescuers combed the wreckage on the edge of the cliff and in the ravine below.
Local resident Bishnu Tiwari, who rushed to the crash site near the Seti River to help search search for bodies, said the rescue efforts were hampered by thick smoke and a raging fire.
"The flames were so hot that we couldn't go near the wreckage. I heard a man crying for help, but because of the flames and smoke we couldn't help him," Tiwari said.
It was not immediately clear what caused the accident.
A witness said he saw the aircraft spinning violently in the air after it began landing, watching from the terrace of his house. Finally, Gaurav Gurung said, the plane fell nose-first towards its left and crashed into the gorge.
The aviation authority said the aircraft last made contact with the airport from near Seti Gorge at 10:50 a.m. before crashing.
At the crash site, about 1.6 kilometers (nearly a mile) away from Pokhara International Airport, the search continued Sunday evening. Some bodies, burned beyond recognition, were carried by firefighters to hospitals, where grief-stricken relatives had assembled. At Kathmandu airport, where the flight began, family members appeared distraught as they were escorted in and at times exchange heated words with officials as they waited for information.
The twin-engine ATR 72 aircraft, operated by Nepal's Yeti Airlines, was flying from the capital, Kathmandu, to Pokhara, a 27-minute flight. It was carrying 68 passengers including 15 foreign nationals, as well as four crew members, Nepal's Civil Aviation Authority said in a statement. The foreigners included five Indians, four Russians, two South Koreans, and one each from Ireland, Australia, Argentina and France. No survivors have been found yet.
Tek Bahadur K. C., a senior administrative officer in the Kaski district, said he expected rescue workers to find more bodies at the bottom of the gorge.
Images and videos shared on Twitter showed plumes of smoke billowing from the crash site as rescue workers, Nepali soldiers, and crowds of people gathered around the wreckage of the aircraft to find survivors. The aircraft's fuselage was split into multiple parts that were scattered down the gorge.
Prime Minister Pushpa Kamal Dahal, who rushed to the airport after the crash, set up a panel to investigate the accident.
"The incident was tragic. The full force of the Nepali army, police has been deployed for rescue," he said.
South Korea's Foreign Ministry said in a statement that it's still trying to confirm the fate of two South Korean passengers and has sent staff to the scene. The Russian Ambassador to Nepal, Alexei Novikov, confirmed the death of four Russian citizens who were on board the plane.
Pokhara, located 200 kilometers (125 miles) west of Kathmandu, is the gateway to the Annapurna Circuit, a popular hiking trail in the Himalayas. The city's new international airport began operations only two weeks ago.
The type of plane involved, the ATR 72, has been used by airlines around the world for short regional flights. Introduced in the late 1980s by a French and Italian partnership, the aircraft model has been involved in several deadly accidents over the years.
In Taiwan two earlier accidents involving ATR 72-500 and ATR 72-600 aircrafts happened just months apart.
In July 2014, a TransAsia ATR 72-500 flight crashed while trying to land on the scenic Penghu archipelago between Taiwan and China, killing 48 people onboard. An ATR 72-600 operated by the same Taiwanese airline crashed shortly after takeoff in Taipei in February 2015 after one of its engines failed and the second was shut down, apparently by mistake.
The 2015 crash, captured in dramatic footage that showed the plane striking a taxi as it hurtled out of control, killed 43, and prompted authorities to ground all Taiwanese-registered ATR 72s for some time. TransAsia ceased all flights in 2016 and later went out of business.
ATR identified the plane involved in Sunday's crash as an ATR 72-500 in a tweet. According to plane tracking data from flightradar24.com, the aircraft was 15 years old and "equipped with an old transponder with unreliable data." It was previously flown by India's Kingfisher Airlines and Thailand's Nok Air before Yeti took it over in 2019, according to records on Airfleets.net.
Yeti Airlines has a fleet of six ATR72-500 planes, company spokesperson Sudarshan Bartaula said.
Nepal, home to eight of the world's 14 highest mountains, including Mount Everest, has a history of air crashes. According to the Flight Safety Foundation's Aviation Safety database, there have been 42 fatal plane crashes in Nepal since 1946.
Sunday's crash is Nepal's deadliest since 1992, when all 167 people aboard a Pakistan International Airlines plane were killed when it plowed into a hill as it tried to land in Kathmandu.
The European Union has banned airlines from Nepal from flying into the 27-nation bloc since 2013, citing weak safety standards. In 2017, the International Civil Aviation Organization cited improvements in Nepal's aviation sector, but the EU continues to demand administrative reforms.
___
Saaliq reported from New Delhi. Elise Morton in London, Kim Tong-hyung in Seoul, South Korea, and Adam Schreck in Bangkok contributed reporting.