Russian, Ukrainian militaries discuss freeing grain exports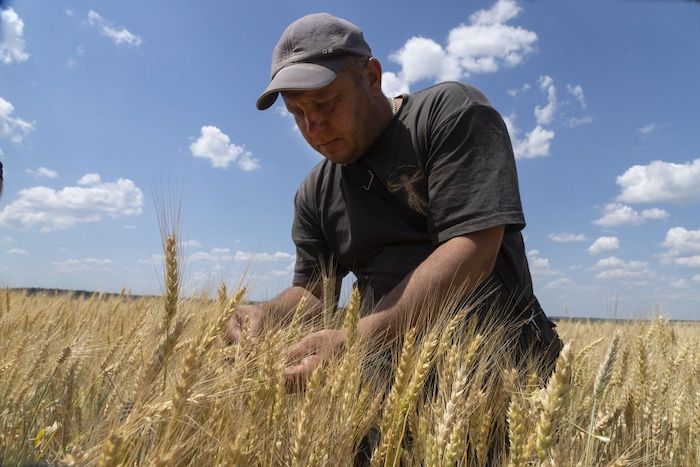 By Ayse Wieting And Suzan Fraser in Istanbul
ISTANBUL (AP) — Military delegations from Russia and Ukraine held their governments' first face-to-face talks in months Wednesday as they tried to reach an agreement on a United Nations plan to export blocked Ukrainian grain to world markets through the Black Sea.
Turkish military officials and U.N. representatives were also taking part in the meeting in Istanbul focused on finding a way to get millions of tons of grain sitting in silos amid the war in Ukraine shipped out of the country's ports toward the Mediterranean.
The Russian and Ukrainian officials, dressed in civilian clothes, faced each other as the delegations were seated around a large square table, photographs of the meeting showed.
Ukraine is one of the world's largest exporters of wheat, corn and sunflower oil, but Russia's invasion and war disrupted production and halted shipments, endangering food supplies in many developing countries, especially in Africa, and contributing to higher prices.
Turkey has offered to provide safe Black Sea corridors and worked with the U.N., Russia and Ukraine to reach an agreement. The U.N. would establish a center in Istanbul to control the shipments, Turkish officials have said.
Russian and Ukrainian officials have traded accusations over the stuck grain shipments, Moscow has said Ukraine's heavily mined ports are causing the delay. Russian President Vladimir Putin has pledged that Moscow wouldn't use the corridors to launch an attack, if the sea mines were removed.
Ukrainian officials have blamed a Russian naval blockade for holding up exports and causing a global food crisis. They remained skeptical of Putin's pledge not to take advantage of cleared Black Sea corridors to mount an attack, noting that he insisted at the beginning of the year he had no plans to invade Ukraine.
Ahead of the talks in Istanbul, a senior Russian diplomat said Moscow was willing to ensure safe navigation for ships to carry grain from Ukrainian ports but would press for its right to check the vessels for weapons.
Pyotr Ilyichev, the head of the Russian Foreign Ministry's department for ties with international organizations, said Russia's military had repeatedly declared its willingness to allow for safe shipping corridors in the Black Sea.
Seventy vessels from 16 countries have remained stuck in Ukrainian ports, Ilyichev said, alleging that Ukrainian authorities had barred them from departing.
"Our conditions are clear: We need to have a possibility to control and check the ships to prevent any attempts to smuggle weapons in, and Kyiv must refrain from any provocations," Russia's Interfax news agency quoted Ilyichev as saying.
U.N. Secretary-General Antonio Guterres has worked for months to secure a deal that would allow Ukraine to export wheat and other commodities from Odesa, the country's largest port, and also enable Russia to export grain and fertilizer to global markets.
Asked about Wednesday's talks, Guterres said Tuesday: "We are working hard, indeed, but there is still a way to go."
The war has trapped about 22 million tons of grain inside Ukraine, according to Ukrainian President Volodymyr Zelenskyy. U.N., Turkish and other officials are scrambling for a solution that would empty the silos in time for upcoming harvest in Ukraine.
The U.N. Food and Agriculture Organization says the war is endangering food supplies for many developing nations and could worsen hunger for up to 181 million people.
Some grain is being transported through Europe by rail, road and river, but the amount is small compared with sea routes.
Russia isn't able to transport its grain either. Moscow argues that Western sanctions on its banking and shipping industries make it impossible for Russia to export food and fertilizer and are scaring off foreign shipping companies from carrying it.
Complicating the negotiations are accusations that Russia is shipping grain that was stolen from Ukraine.
Ukraine's Foreign Ministry summoned the Turkish ambassador last week after Turkish authorities briefly detained a Russian ship suspected of transporting stolen grain but allowed it to leave and return to a Russian port. A Turkish official said authorities were not able to determine the ship carried stolen grain.
NATO-member Turkey has retained its close ties to both Moscow and Ukraine. Since the war started, it has hosted a meeting between the Russian and Ukrainian foreign ministers, as well as talks between the two countries' negotiating teams.
Canada under pressure to produce more food, protect agricultural land: report
A field of wheat is pictured near Cremona, Alta., Tuesday, Sept. 6, 2022. Canada's agricultural land is under increasing pressure as demand for food grows domestically and internationally while the industry grapples with limited resources and environmental constraints, a new report found. THE CANADIAN PRESS/Jeff McIntosh
By Rosa Saba
Canada's agricultural land is under increasing pressure to produce more food as demand grows domestically and internationally, while the industry grapples with limited resources and environmental constraints, a new report found.
"We need to grow more food on less land and in a volatile climate," said Tyler McCann, managing director of the Canadian Agri-Food Policy Institute.
The report by the institute released Thursday looks at the pressures on Canada's agricultural land to produce more food while also mitigating and adapting to the effects of climate change, said McCann.
Despite Canada being a big country, it doesn't have as much agricultural land as people might think, said McCann, with the report noting that agricultural land makes up only around seven per cent of the country.
Because of that, we can't take what we do have for granted, he said. "We need to be really thoughtful about how we are using our agricultural land."
In 2020, Canada was the eighth largest country in terms of cropland area, the report said, with that cropland decreasing by seven per cent over the previous two decades.
Canada is a major producer and net exporter of agriculture and agri-food products, the report said, exporting $91 billion in products in 2022, and one of the top 10 exporters of wheat, canola, pulses, pork and beef.
In the coming years, Canada will face increased demand from countries whose populations are growing, the report said.
"With population growth on one side and climate change on the other, Canada will be amongst an increasingly smaller number of countries that is a net exporter," said McCann, noting that Canada's own population is growing, and farmland also needs to be protected against urban sprawl.
The wildfires clouding Canadian skies this week are a "vivid reminder" of the pressure that extreme weather and the changing climate are putting on the agricultural sector, said McCann.
"We need to clearly mitigate … agriculture's impact on climate change. But we also need to make sure agriculture is adapting to climate change's impacts," he said.
One of the ways the world has responded to demand for increased agricultural production over time is to create more agricultural land, in some cases by cutting down forests, said McCann. But that's not a viable option for Canada, which doesn't have a lot of land that can be sustainably converted into farmland — and even if it could, doing so could have a variety of adverse environmental effects, he said.
Some of the practices used to reduce emissions and sequester carbon in agriculture can also improve production output on existing farmland, the report found, such as precision agriculture and no-till practices.
However, intensifying the production of current agricultural land also comes with potential environmental downsides, the report said.
For example, McCann said fertilizer is an important part of sustainable agriculture, but there's a balance to be struck because excessive use of fertilizer can quickly turn food production unsustainable.
"We need to be a lot more thoughtful about the inputs that we're using," he said, adding the same can be said about the use of technology in agriculture and the policies and programs put in place to encourage sustainable intensification of Canadian agriculture.
The report recommends that Canada adopt policies that provide financial incentives and technical assistance to farmers and develop regulatory frameworks promoting sustainable land use, as well as promoting education and awareness campaigns, so that the country can "ensure the long-term sustainability of its agricultural sector while protecting the environment."
This report by The Canadian Press was first published June 8, 2023.
ALBERTA WILDFIRE – FUNDING ANNOUNCEMENTS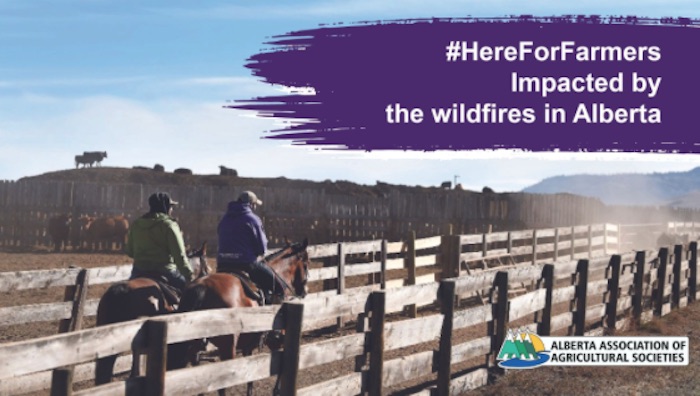 We understand the significant impact that these wildfires have had on our agricultural communities, and we are committed to providing assistance where it is needed the most.
We have two grants that we can apply for in order to secure funding for wildfires. The application deadline for both grants is June 15th.
If your organization has incurred expenses related to aiding your community during this crisis, we encourage you to apply for funding.
Applications for funding must be submitted no later than June 15th, 2023.

We're proud to offer support for agricultural producers affected by recent wildfires,
provided by TELUS Agriculture & Consumer Goods.
CLICK HERE FOR MORE INFORMATION
Applications for relief must be submitted by JUNE 15, 2023.