Russian oil price cap, EU ban aim to limit Kremlin war chest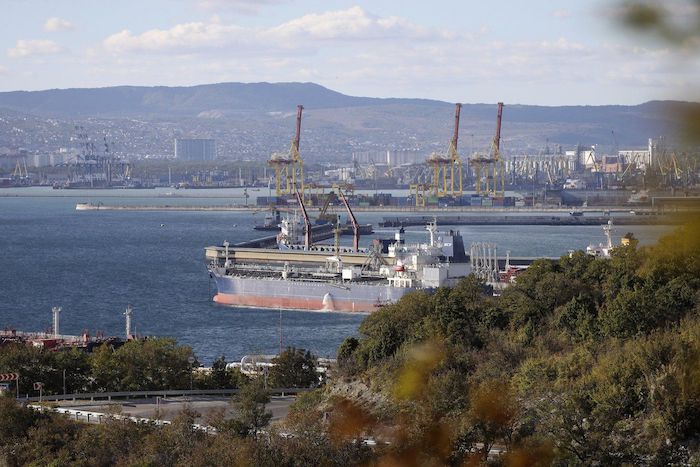 By David Mchugh in Frankfurt
FRANKFURT, Germany (AP) — Major Western measures to limit Russia's oil profits over the war in Ukraine took effect Monday, bringing with them uncertainty about how much crude could be lost to the world and whether they will unleash the hoped-for hit to a Russian economy that has held up better than many expected under sanctions.
In the most far-reaching efforts so far to target one of Moscow's main sources of income, the European Union is banning most Russian oil and the Group of Seven democracies has imposed a price cap of $60 per barrel on Russian exports to other countries.
The impact of both measures, however, may be blunted because the world's No. 2 oil producer has so far been able reroute much of its European seaborne shipments to China, India and Turkey, although at steep discounts, and the price cap is near what Russian oil already cost.
As it stands, Russia will likely have enough money to not only fund its military but support key industries and social programs, said Chris Weafer, CEO and Russian economy analyst at consulting firm Macro-Advisory.
"At this price level, that outlook really doesn't change much. But what is key is how much volume Russia would be able to sell," he said. "And that depends not only on the willingness of Asian buyers to continue buying Russian oil, but also what is the physical ability of Russia to shift that oil."
Western leaders are walking a fine line between trying to cut Russia's oil income and preventing an oil shortage that would cause a price spike and worsen the inflation plaguing economiesand hurting consumers worldwide. They could later agree to lower the price cap to increase pressure on Russia, which says it will not sell to countries that observe the limit.
That could take oil off global markets and raise energy costs, including for gasoline at the pump. International benchmark Brent crude rose before falling 2.5% to $83.40 a barrel Monday.
To seriously cut Russian revenue, the cap must be lowered "quickly and progressively," said Lauri Myllyvirta, lead analyst at the Finland-based Centre for Research on Energy and Clean Air.
Even the $60 cap, if enforced, would already push Russia to lower per-barrel tax, he said, calling it "by far the biggest step to date to cut off the fossil fuel export revenue that is funding and enabling Russia's barbaric invasion of Ukraine."
Russia has been living off the huge windfall from higher oil pricesearlier this year and will be more vulnerable in the next several months when that money is spent, Myllyvirta said.
Kremlin spokesman Dmitry Peskov, asked in a conference call how the oil price cap might affect the war, said, "The economy of the Russian Federation has the necessary potential to fully meet all needs and requirements within the framework of the special military operation, and such measures will not affect this."
The U.S., EU and allied countries have hit Russia with a slew of sanctions aimed at bank and financial transactions, technology imports and regime-connected individuals. But until now, those sanctions have for the most part not directly gone after the Kremlin's biggest moneymaker, oil and natural gas.
Europe was heavily dependent on Russian oil and natural gasbefore the war and has had to scramble to find new supplies. Previously, the EU banned imports of Russian coal, and the U.S. and the U.K. halted their limited imports of Russian oil, but those steps had a much smaller economic impact.
Even as Western customers shunned Russian oil, the higher prices driven by fears of energy shortages helped offset lost oil sales, and Russian exporters have shipped more oil to Asian countries and Turkey in a major reshuffling of global oil flows. Russia's economy has shrunk — but not by as much as many expected at the start of the war almost 10 months ago.
One unknown is how much of the oil formerly sold to Europe can be rerouted. Analysts think many, but not all, of the roughly 1 million barrels covered by the embargo will find new homes, tightening supply and raising prices in coming months.
The Biden administration doesn't expect that Russia's threats to cut off countries observing the cap and slow production would "have any impact long term on global oil prices," National Security Council spokesman John Kirby said.
He said "this cap will lock in the discount on Russian oil" and countries like China and India would be able to bargain for steep price reductions.
Indian Foreign Minister Subrahmanyam Jaishankar indicated Monday that the country would keep buying oil from Russia to prioritize its energy needs. India so far hasn't committed to the price cap.
The cap has a grace period for oil that was loaded before Monday and arrives at its destination before Jan. 19 to minimize disruption on oil markets.
The measure bars insurers or ship owners — most of them located in the EU or U.K. — from helping move Russian oil to non-Western countries unless that oil was priced at or below the cap.
The idea is to keep Russian oil flowing while reducing the Kremlin's income. The U.S. and Europe leaned more toward preventing a price spike than provoking financial distress in Russia.
French Finance Minister Bruno Le Maire said the cap was "worth trying," adding that "we will make an assessment of the efficiency of the old cap at the beginning of 2023."
Ukraine's President Volodymyr Zelenskyy had called for a price ceiling of around $30 per barrel. That would be near Russia's cost of production, letting Russian oil companies earn enough only to avoid capping wells that can be hard to restart. Russia needs some $60 to $70 per barrel to balance its budget.
Russia could use methods to evade the sanctions such as those employed by Iran and Venezuela, including using "dark fleet" tankers with obscure ownership and ship-to-ship transfers of oil to tankers with oil of similar quality to hide its origin. Russia or China could also organize their own insurance. Sanctions experts say that those steps will impose higher costs on Russia.
The new EU sanctions led the Italian government to take temporary control of the Russian-owned ISAB refinery in Sicily last week. The government stopped short of nationalization but put the facility, where about 20% of Italy's oil is refined, under receivership to protect 10,000 jobs linked to the refinery and its suppliers.
___
AP reporters Raf Casert in Brussels, Aamer Madhani in Washington, Sheikh Saaliq in New Delhi and Colleen Barry in Milan contributed
House GOP approves broad bill to 'unleash' American energy
House Majority Leader Steve Scalise, R-La., is flanked by Speaker of the House Kevin McCarthy, R-Calif., left, and Rep. Virginia Foxx, R-N.C., as he talks to reporters at the Capitol in Washington, March 24, 2023. House Republicans are set to approve a sprawling energy package that counters virtually all of President Joe Biden's agenda to address climate change. (AP Photo/J. Scott Applewhite, File)
By Matthew Daly in Washington
WASHINGTON (AP) — House Republicans on Thursday approved a sprawling energy package that seeks to undo virtually all of President Joe Biden's agenda to address climate change.
The legislation would sharply increase domestic production of oil, natural gas and coal, and ease permitting restrictions that delay pipelines, refineries and other projects. It would boost production of critical minerals such as lithium, nickel and cobalt that are used in electric vehicles, computers, cellphones and other products.
By a 225-204 vote, the House sent the measure to the Senate, where Majority Leader Chuck Schumer, D-N.Y., called it "dead on arrival." Four Democrats joined with all but one Republican to support the bill.
Biden has threatened to veto the bill, saying it would replace "pro-consumer policies" adopted in the landmark climate law approved last year "with a thinly veiled license to pollute." The bill would roll back Democratic investments in clean energy and "pad oil and gas company profits," the White House said.
Republicans call the bill the "Lower Energy Costs Act" and gave it the symbolic label H.R. 1 — the top legislative priority of the new GOP majority, which took control of the House in January.
The measure combines dozens of separate proposals and represents more than two years of work by Republicans who have chafed at Biden's environmental agenda. They say Biden's efforts have thwarted U.S. energy production and increased costs at the gas pump and grocery store.
"Families are struggling because of President Biden's war on American energy," said House Majority Leader Steve Scalise, R-La., one of the bill's main authors.
The GOP bill will "unleash" abundant U.S. natural resources "so we can produce energy in America," Scalise said. "We don't have to be addicted to foreign countries that don't like us."
Democrats called the bill a giveaway to big oil companies.
"Republicans refuse to hold polluters accountable for the damage they cause to our air, our water, our communities and our climate," said New Jersey Rep. Frank Pallone, the top Democrat on the House Energy and Commerce Committee.
"While Democrats delivered historic wins for the American people by passing historic climate legislation, Republicans are actively working to undermine that progress and do the bidding of their polluter friends,″ Pallone said.
House Speaker Kevin McCarthy, R-Calif., said the bill "restores American energy leadership by repealing unnecessary taxes and overregulation on American energy producers," and "makes it easier to build things in America" by placing a two-year time limit on environmental reviews that now take an average of seven years.
"Every time we need a pipeline, a road or a dam, it gets held up five to seven years and adds millions of dollars in costs for the project to comply with Washington's permitting process," McCarthy said in speech on the House floor. "It's too long, it's unaffordable, it's not based on science and it's holding us back."
He pointed to a project to modify and improve Lake Isabella Dam in his central California district that has lasted 18 years and still is not completed.
"Permitting reform isn't for everyone," McCarthy added. "If you like paying more at the pump, you don't want to make it faster for American workers to build more pipelines. If you're China, you'd rather America sit back and let others lead. And if you're a bureaucrat, maybe you really do enjoy reading the 600-page environmental impact studies."
Most Americans want lower prices and more U.S. energy production, McCarthy said — results he said the bill will deliver.
Democrats called that misleading and said the GOP plan was a thinly disguised effort to reward oil companies and other energy producers that have contributed millions of dollars to GOP campaigns.
Arizona Rep. Raul Grijalva, the top Democrat on the House Natural Resources Committee, derided the bill as the "Polluters Over People Act" and "a nearly 200-page love letter to polluting industries."
Instead of reining in "Big Oil" companies that have reported record profits while "hoarding thousands of unused leases" on public lands and waters, the GOP bill lowers royalty rates paid by energy producers and reinstates noncompetitive leasing of public lands, Grijalva said.
The bill also gives mining companies "a veritable free-for-all on our public lands" and "makes mockery of tribal consultation" required under federal law, he said.
Under the GOP plan, mining companies will "destroy sacred and special places" throughout the West, "ruin the landscape and leave behind a toxic mess that pollutes our water and hurts our health — all without paying a cent to the American people," Grijalva said.
Schumer called the measure "a giveaway to Big Oil pretending to be an energy package."
The House energy package "would gut important environmental safeguards on fossil fuel projects," locking America "into expensive, erratic and dirty energy sources while setting us back more than a decade on our transition to clean energy," Schumer said.
Schumer said he supports streamlining the nation's cumbersome permitting process for energy projects, especially those that will deliver "clean energy" such as wind, solar and geothermal power. "But the Republican plan falls woefully short on this front as well," he said, calling on Republicans to back reforms that would help ease the transition to renewable energy and accelerate construction of transmission lines to bolster the nation's aging power grid.
The Republican bill would repeal a new $27 billion Greenhouse Gas Reduction Fund and other parts of the climate and health care law passed by Democrats last year. The fund, also known as a "green bank," is set to provide low-cost financing for projects intended to cut planet-warming greenhouse gas emissions.
The House bill also would eliminate a new tax on methane pollution that would charge companies for methane leaks from oil and gas wells.
Four Democrats voted in favor of the bill: Reps. Henry Cuellar and Vicente Gonzales of Texas, Jared Golden of Maine and Marie Gluesenkamp Perez of Washington state. Rep. Brian Fitzpatrick, R-Pa., opposed the bill.
Budget measures unlikely enough to spur major carbon capture investments: Experts
Deputy Prime Minister and Minister of Finance Chrystia Freeland delivers the federal budget in the House of Commons on Parliament Hill in Ottawa, Tuesday, March 28, 2023. Industry watchers say Tuesday's federal budget likely won't be enough to convince Canadian oil and gas companies to pull the trigger on expensive, emissions-reducing carbon capture and storage projects. THE CANADIAN PRESS/Sean Kilpatrick
By Amanda Stephenson in Calgary
A question mark continues to hang over the future of carbon capture and storage projects in Canada, in spite of a pledge in Tuesday's federal budget to deliver more investment certainty for major emissions-reducing projects.
"Look, we have set some very aggressive climate targets in Canada. You can't kick the can down the road," said carbon capture advocate James Millar, arguing that's exactly what the federal government did Tuesday when it provided no additional details around its previously stated intention to reduce the risk of investing in pricey emissions-reduction projects by essentially guaranteeing the future price of carbon.
"The difference comes down to investment certainty in the U.S., versus the promise of investment certainty in Canada."
As president and CEO of the International CCS (carbon capture and storage) Knowledge Centre, a non-profit organization based in Regina, Millar had been closely watching Tuesday's budget in hopes of obtaining more federal support for the expensive technology that can be used to trap harmful greenhouse gas emissions from industrial processes and store them safely underground.
Heavy emitters — in particular, the oil and gas sector — have identified carbon capture and storage technology as key to helping the sector meet its emissions reduction targets and have been looking for government incentives akin to what is being offered south of the border, where the U.S. Inflation Reduction Act promises to pay companies a guaranteed US$85 price for each tonne of injected carbon.
While Canada has already announced an investment tax credit that will help to offset some of the up-front capital costs of carbon capture projects, companies have so far been hesitant to pull the trigger and go ahead with proposed large-scale projects.
The Pathways Alliance, for example, a consortium of oilsands companies, has proposed building a $16.5-billion carbon capture and storage transportation line to combat emissions from existing oilsands infrastructure in northern Alberta.
But the group has not yet made a final investment decision, saying it needs to know its project will be competitive with those in the U.S. before proceeding.
One thing the oil and gas sector has said will help with that is some kind of mechanism that would reduce the risk to companies that the federal price on carbon could be lowered or eliminated. If a new government were to be elected and remove or change Canada's carbon pricing system, investing in expensive carbon-reducing technology could suddenly become uneconomical.
On Tuesday, the federal government reiterated that it intends to create such a mechanism through a so-called carbon contracts for difference system — but disappointed many who were hoping for details. Instead, the government announced it plans to begin consultations around the development of such a program.
Millar said while he doesn't doubt the government's good intentions, companies that have proposed large-scale projects need to get moving now if they have any hope of meeting Canada's goal to reduce this country's overall emissions by 40 per cent below 2005 levels by 2030 looms.
"We're already in 2023, we're seven years out. The consultations that were announced yesterday will take months," he said. "I think it will take at least a year because it's going to take time to set up the process."
The Pathways Alliance itself took a diplomatic tone Tuesday, issuing a statement after the tabling of the budget saying it was "encouraged" by the signal that more policy certainty is coming, and adding it looks forward to a "better understanding" of the government's intentions.
But Greg Pardy of RBC Capital said in a research note that in spite of some enhancements to the previously announced investment tax credit, budgetary support for carbon capture and storage was "somewhat limited — perhaps even disappointing."
"In our view, Canada's federal government needs to shift into much higher gear when it comes to incentivizing decarbonization investment if it is to achieve its bold climate change ambitions," Pardy said.
A report from BMO Capital Markets published just before the release of Tuesday's budget said Canada's policy framework for large-scale deployment of carbon capture and storage disadvantages producers here compared to the U.S., "despite claims to the contrary from some proponents of the environmental lobby."
Environmentalists have been critical of any additional federal support for carbon capture, calling it akin to a subsidy for oil and gas companies that enables them to increase production when the world should be scaling down fossil fuel usage.
But the BMO report said carbon capture is an essential part of the energy transition, and without offering improved incentives to keep up with the U.S., Canada risks not meeting its 2030 emissions reduction targets.
"Canada's market-based carbon price systems are much too uncertain to act as 'incentive' for industry to invest in major decarbonization projects," the BMO report stated.
"Emitters need financial supports that are tangible and recognized by financial institutions to underwrite bank financing."
This report by The Canadian Press was first published March 29, 2023.