Russian offensive widens as US imposes new trade sanctions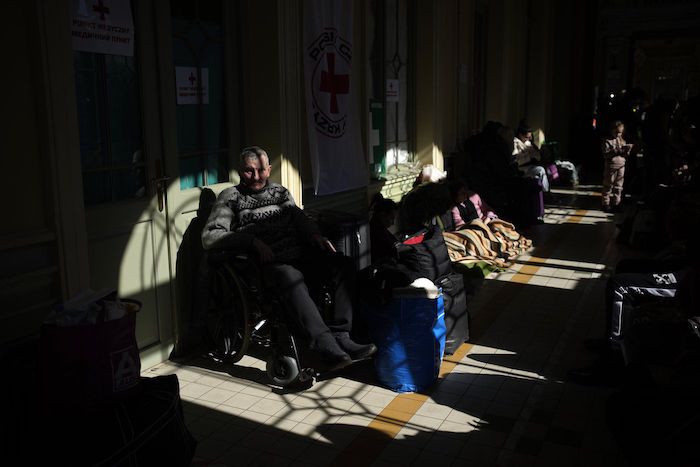 By Yuras Karmanau in Lviv
LVIV, Ukraine (AP) — Russia widened its offensive in Ukraine on Friday, striking airfields in the west and a major industrial city in the east, while the huge armored column that had been stalled for over a week outside Kyiv was on the move again, spreading out into forests and towns near the capital.
On the economic and political front, the U.S. and its allies moved to further isolate and sanction Russia by revoking its most favored trading status, while on the ground, the Kremlin's forces appeared to be trying to regroup and regain momentum after encountering heavier losses and stiffer resistance than anticipated.
"It's ugly already, but it's going to get worse," said Nick Reynolds, a land warfare analyst at Royal United Services Institute, a British think tank.
With the invasion in its 16th day, Russian President Vladimir Putin said there had been "certain positive developments" in Russia-Ukraine talks, but gave no details.
For his part, Ukrainian President Volodymyr Zelenskyy said Ukrainian forces had "reached a strategic turning point," though he did not elaborate.
"It's impossible to say how many days we will still need to free our land, but it is possible to say that we will do it," he said via video from Kyiv.
He also said authorities were working on establishing 12 humanitarian corridors and trying to ensure food, medicine and other basics get to people across the country. Thousands of civilians and soldiers on both sides are believed to have been killed in the invasion.
So far, the Russians have made the biggest advances on cities in the east and south — including in Mariupol, the heavily bombarded seaport where civilians scrounged for food and fuel amid a harrowing 10-day-old siege — while struggling in the north and around Kyiv.
On Friday, they continued to launch airstrikes in urban areas such as Kyiv, Kharkiv and Mariupol, while also pounding targets away from the main battle zones.
Russian Defense Ministry spokesman Igor Konashenkov said Russia used high-precision long-range weapons to put military airfields in Lutsk and Ivano-Frankivsk in the west "out of action."
The Lutsk strikes killed four Ukrainian servicemen and wounded six, Lutsk Mayor Ihor Polishchuk said. In Ivano-Frankivsk, residents were ordered into shelters in an air raid alert
Russian airstrikes also targeted for the first time the eastern city of Dnipro, a major industrial hub and Ukraine's fourth-largest city, situated on the Dnieper River. Three strikes hit, killing at least one person, according to Ukrainian Interior Ministry adviser Anton Heraschenko.
In images of the aftermath released by Ukraine's emergency agency, firefighters doused a flaming building, and ash fell on bloodied rubble. Smoke billowed over shattered concrete where buildings once stood.
In another potentially ominous development, new satellite photos appeared to show the massive Russian convoy outside the Ukrainian capital had split up and fanned out.
Howitzers were towed into position to open fire, and armored units were seen in towns near the Antonov Airport north of the city, according to Maxar Technologies, the company that produced the images.
The 40-mile (64-kilometer) line of tanks and other vehicles had massed outside Kyiv early last week. But its advance had appeared to stall amid reports of food and fuel shortages, muddy roads and attacks by Ukrainian troops with anti-tank missiles.
The purpose of the latest move was unclear, though Russia is widely expected eventually to try to encircle the capital.
Britain's Ministry of Defense said that after making "limited progress," Russian forces were trying to "re-set and re-posture" their troops, gearing up for operations against Kyiv.
But Reynolds, the defense analyst, said the move, in part, looked like an attempt by the troops to better protect themselves by dispersing. He said it may indicate the Russians are not ready to surround the city just yet.
Repeated rounds of negotiations between Russia and Ukraine have taken place along the Belarus border, and the two countries' foreign ministers held talks on Thursday with no apparent progress, while various third countries have also made attempts to broker a stop to the fighting.
A Western official, speaking on condition of anonymity to discuss intelligence matters, said the fact that negotiations are taking place so early in the fighting "might speak to Russian concerns" about the progress of the war.
On Wednesday, Ukrainian soldiers traversed snow-dusted fields and woods near Kyiv, rifles and rocket-propelled grenade launchers slung over their shoulders, in a video recorded by Radio Free Europe. One of them vowed to kill their enemies over the bombing of Mariupol.
Gunfire and explosions could be heard, and at one point, shots split the air nearby, and the soldiers dropped to the ground and returned fire.
In Washington, President Joe Biden announced the U.S. will dramatically downgrade its trade status with Russia as punishment for its invasion and also ban imports of Russian seafood, alcohol and diamonds. The move to revoke to revoke "most favored nation" status for Russia was taken in coordination with the European Union and Group of Seven countries.
"The free world is coming together to confront Putin," Biden said.
Stripping most favored nation status from Russia would allow the U.S. and allies to impose higher tariffs on some Russian imports. Other Western sanctions have already dealt a severe blow to Russia, causing the ruble to plunge, foreign businesses to flee and prices to rise sharply. Putin has insisted Russia can endure sanctions.
The United Nations' political chief said the U.N. has received credible reports that Russian forces are using cluster bombs in Ukraine, including in populated areas. Cluster bombs scatter "bomblets" over wide areas. Their use against civilians is prohibited under international law.
In Syria, Russia backed the government in imposing long, brutal sieges of opposition-held cities, wreaking heavy destruction and causing widespread civilian casualties. That history, along with the siege of Mariupol, has raised fears of similar bloodshed in Ukraine.
Temperatures sank below freezing across most of Ukraine and were forecast to hit -13 degrees Celsius (8 Fahrenheit) in the eastern city of Kharkiv, which has come under heavy bombardment.
About 400 apartment buildings in Kharkiv lost heat, and Mayor Ihor Terekhov appealed to remaining residents to descend into the subway or other underground shelters where blankets and hot food were being distributed.
The bombardment continued in Mariupol, where a deadly strike on a maternity hospital this week sparked international outrage and war-crime allegations. Repeated attempts to send in food and medicine and evacuate civilians from the city of 430,000 have been thwarted by continued attacks, and Ukrainian Deputy Prime Minister Iryna Vereshchuk put the number of dead there at more than 1,300.
Some 2.5 million people have fled Ukraine since the invasion began, according to the United Nations.
___
Associated Press journalists Felipe Dana and Andrew Drake in Kyiv, Ukraine, along with other reporters around the world contributed.
___
Follow the AP's coverage of the Ukraine crisis at https://apnews.com/hub/russia-ukraine
Ukraine demands emergency UN meeting over Putin nuclear plan
Ukrainian servicemen fold the national flag over the coffin of their comrade Andrii Neshodovskiy during the funeral ceremony in Kyiv, Ukraine, Saturday, March 25, 2023. (AP Photo/Evgeniy Maloletka)
By Karl Ritter in Kyiv
KYIV, Ukraine (AP) — Ukraine's government on Sunday called for an emergency meeting of the U.N. Security Council to "counter the Kremlin's nuclear blackmail" after Russian President Vladimir Putin revealed plans to station tactical atomic weaponsin Belarus.
One Ukrainian official said that Russia "took Belarus as a nuclear hostage."
But Moscow said it was making the move in response to the West's increasing military support for Ukraine. Putin announced the plan in a television interview that aired on Saturday, saying it was triggered by a U.K. decision this past week to provide Ukraine with armor-piercing rounds containing depleted uranium.
Putin argued that by deploying its tactical nuclear weapons in Belarus, Russia was following the lead of the United States. He noted that Washington has nuclear weapons based in Belgium, Germany, Italy, the Netherlands and Turkey.
"We are doing what they have been doing for decades, stationing them in certain allied countries, preparing the launch platforms and training their crews," he said.
Ukraine's Foreign Ministry condemned the move in a statement Sunday and demanded an emergency meeting of the U.N. Security Council.
"Ukraine expects effective action to counter the Kremlin's nuclear blackmail by the U.K., China, the U.S. and France, including as permanent members of the U.N. Security Council, which have a special responsibility to prevent threats of aggression using nuclear weapons," the statement read. "The world must be united against someone who endangers the future of human civilization."
Oleksiy Danilov, the secretary of Ukraine's National Security and Defense Council, tweeted Sunday that Putin's announcement was "a step towards internal destabilization" of Belarus that maximized "the level of negative perception and public rejection" of Russia and Putin in Belarusian society. The Kremlin, Danilov added, "took Belarus as a nuclear hostage."
In Russia, authorities said three people were injured when a Ukrainian drone caused an explosion Sunday in a town far from the two countries' border. The state-run news agency Tass reported authorities identified the drone as a Ukrainian Tu-141.
The explosion damaged residential buildings in the town of Kireyevsk in the Tula region, about 300 kilometers (180 miles) from the border with Ukraine and 175 kilometers (110 miles) south of Moscow. It left a crater about 15 meters (50 feet) in diameter and five meters (16 feet) deep, according to media reports.
The Russian state-run news agency Tass reported authorities identified the drone as a Ukrainian Tu-141. The Tu-141 went into service in the Soviet army in the 1970s. It reportedly was retired from service in 1989, then reintroduced in Ukraine in 2014. It has a range of about 1,000 kilometers (620 miles)
Ukraine has not yet commented on the incident.
On Saturday, Putin argued that Belarusian President Alexander Lukashenko has long asked to have nuclear weapons in his country again to counter NATO. Belarus shares borders with three NATO members — Latvia, Lithuania and Poland — and Russia used Belarusian territory as a staging ground to send troops into neighboring Ukraine on Feb. 24, 2022.
Both Lukashenko's support of the war and Putin's plans to station tactical nuclear weapons in Belarus has been denounced by the Belarusian opposition.
Tactical nuclear weapons are intended for use on the battlefield and have a short range and a low yield compared with much more powerful nuclear warheads fitted to long-range missiles. Russia plans to maintain control over the ones it sends to Belarus, and construction of storage facilities for them will be completed by July 1, Putin said.
Russia has stored its tactical nuclear weapons at dedicated depots on its territory, and moving part of the arsenal to a storage facility in Belarus would up the ante in the Ukrainian conflict by placing them closer to Russian aircraft and missiles already stationed there.
The U.S. said it would "monitor the implications" of Putin's announcement. So far, Washington hasn't seen "any indications Russia is preparing to use a nuclear weapon," National Security Council spokesperson Adrienne Watson said.
In Germany, the foreign ministry called it a "further attempt at nuclear intimidation," German news agency dpa reported late Saturday. The ministry went on to say that "the comparison drawn by President Putin to NATO's nuclear participation is misleading and cannot be used to justify the step announced by Russia."
___
Kirsten Grieshaber contributed to this report from Berlin.
'On tour in hell': Wounded Ukrainian soldiers evacuated
An injured Ukrainian soldier lies on a bed inside a special medical bus during an evacuation by volunteers from the Hospitallers paramedic organisation in Donetsk region, Ukraine, Wednesday, March 22, 2023. (AP Photo/Evgeniy Maloletka)
By Elena Becatoros in Donetsk Region
DONETSK REGION, Ukraine (AP) — Their hands are blackened and grimy from the fight. Some are still wearing their combat boots, small flecks of black soil from the battlefield clinging to their torsos, bare under the emergency blanket.
With bandaged heads and splinted limbs, the wounded soldiers are stretchered into the waiting medical evacuation bus by members of the Hospitallers, a Ukrainian organization of volunteer paramedics who work on the front lines in the war in Ukraine.
The soldiers were all wounded recently in fierce fighting in Ukraine's eastern Donetsk region, where Russian forces have been pressing advances. The battle in Bakhmut, a city now encircled on three sides by Russian troops, has been particularly bloody, with soldiers describing endless days of combat, often at close quarters.
"We've been on tour in hell," said Yura, who like all the soldiers would give only his first name for safety reasons. He lay on a bed in a specially equipped medical bus, with his arm and leg badly wounded.
Blood stained the heavy bandages around his right forearm, which metal rods held together to stabilize the shattered bone. His bicep bore a deepening purple bruise left by the tourniquet applied to staunch the blood and save his life. The time it was put on was scrawled in pen across his right cheek: 19:45.
"They tried to get me with grenades," he said.
Unlike most of the wounded, Yura is not Ukrainian. He is Russian, but fought on the side of Ukraine in Bakhmut since November. The Moscow native said he moved to Ukraine before the war, as did a friend of his who is also fighting for Ukraine and had spent 2 1/2 years in prison in Russia for reposting a social media post saying Crimea — annexed by Russia in 2014 — was Ukrainian.
It was his own countrymen who wounded him.
He was in Bakhmut for "eight days of almost uninterrupted combat." But he and his unit managed to repel all the assaults on their position, he said.
"On the fifth day without sleep, I had thoughts that I would go crazy," he said. "In fact, it's impossible to sleep there. They shell it in such a way that the earth trembles."
He showed a video on his mobile phone shot inside Bakhmut: the interior of a devastated building, holes punched through the walls by artillery, rubble strewn across the floor. Beyond the twisted metal remnants of a window, a glimpse of an urban hellscape of shattered buildings and splintered trees.
Yaroslav, 37, was also wounded in Bakhmut. The battle was so close that Russian and Ukrainian forces fought room to room inside buildings, he said.
Pale and with an almost imperceptible tremor, his lips nearly white, he propped himself up on an elbow as he waited to be carried on a stretcher from an ambulance onto the bus for the trip to a better equipped hospital in a city further west.
An explosion had sent shrapnel through his leg, piercing it below the knee.
"I came to my senses and saw that there is nobody around me, and then I understood that there is blood oozing into my shoe, blood squelching in my shoe," he said, quietly drawing on a cigarette. "It was totally dark."
As his unit had attempted to move from its position, the Russian forces began shelling.
"When I left, everything was on fire," he recalled. There were dead Russians lying on the ground, and dead Ukrainians, too. "People were running in the road and falling down, because mines were exploding, drones were flying."
He finished his cigarette and lay back on the stretcher. His eyes fixed on some invisible point before him, and he slowly closed his eyelids. The Hospitallers lifted his stretcher and carried it to the waiting bus.
The medically equipped bus — named "Austrian," the nickname of a Hospitaller paramedic who was killed in a crash of another medical evacuation bus — can carry six severely wounded patients on stretchers, and several more walking wounded.
"We're doing evacuations as necessary. It could be twice or three times per day," chief paramedic Kateryna Seliverstova said.
Bought with money from donations, the bus is better equipped medically than even some state hospitals, Seliverstova said. It is stocked with monitors, electrocardiographs, ventilators and oxygen tanks and can care for severely ill patients while they are transported to a major hospital.
"This project is really important, because it helps to economize resources," Seliverstova said. "We can transport six injured people who are in serious or moderate condition," whereas a normal ambulance can only transport one.
All six places were taken on the trip evacuating Yura and Yaroslav. Across the aisle from Yura, another soldier slipped in and out of consciousness, a brown bandage wrapped around his head. A paramedic checked his vital signs on a monitor, and helped him sip water from a syringe.
Behind him, a man coughed deeply. Only the blackened tip of his nose was visible from his heavily bandaged head. He had suffered extensive burns to his face.
Yura spoke softly to one of the paramedics. Without his expression changing, tears began rolling down the side of his face. The paramedic leaned over and gently wiped them away.
___
Vasilisa Stepanenko and Evgeniy Maloletka contributed from Donetsk region, Ukraine.