Ruling threatens US power as world's high-seas drug police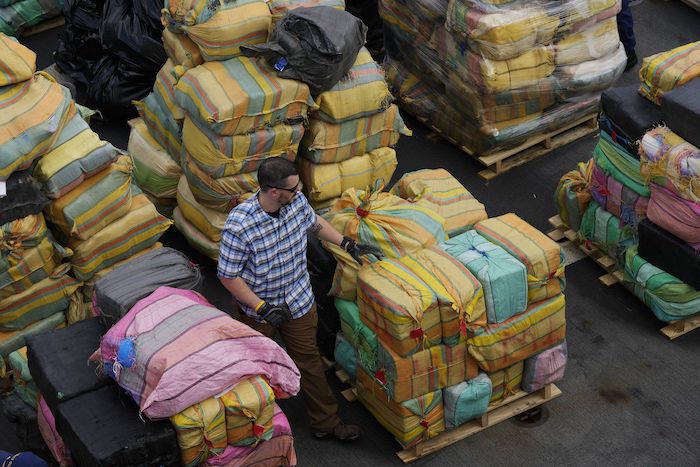 By Joshua Goodman in Miami
MIAMI (AP) — A little-noticed federal appeals court ruling this year threatens a key weapon in the United States' war on drugs: A decades-old law that gives the U.S. broad authority to make high-seas arrests anywhere in the world, even if the drugs aren't bound for American shores.
It's a law that's used to round up and imprison hundreds of foreigners every year, mostly poor, semi-literate fishermen from Central and South America who make up the drug trade's lowest rungs.
"It is a waste of U.S. taxpayer dollars to have these costly misadventures as we play drug police to the world," said Eric Vos, head of the public defender's office in Puerto Rico that brought the court challenge.
At issue is the Maritime Drug Law Enforcement Act, which defines drug smuggling in international waters as a crime against the United States and gives the U.S. unique arrest powers anywhere on the seas — whenever it determines a vessel is "without nationality."
But how a vessel is deemed stateless sometimes gets messy.
The was the case for the Costa Rican plaintiff Jeffri Dávila-Reyes, whose appeal prompted the ruling. The Coast Guard chased down his speedboat in the western Caribbean in 2015 as he and two cousins were allegedly transporting five to 15 kilos of cocaine.
They identified their vessel as hailing from Costa Rica, according to the FBI's summary of the investigation, but they lacked any documentation. When the U.S. asked the Costa Rican government to confirm the vessel's registry, it responded 12 weeks after the bust that it could neither confirm nor refute the claim.
A few weeks later the men were charged and eventually pleaded guilty to possessing narcotics "on board a vessel subject to the jurisdiction of the United States."
But a three-judge panel of the First Circuit Court of Appeals in Boston ruled in January that one of the law's provisions — disavowing a captain's claim of nationality — were an unconstitutional extension of U.S. policing powers beyond America's borders.
Tellingly, almost none of those arrested under the law had ever set foot in the U.S. nor were they charged with trying to import cocaine. In Dávila-Reyes' case, the cocaine he was accused of transporting was purportedly headed to Jamaica.
Despite the ruling that threw out his conviction, Dávila-Reyes remains behind bars seven years into a 10-year sentence as the Justice Department seeks reconsideration by all of the First Circuit's nine judges.
In a series of recent letters to The Associated Press from federal prison, Davila-Reyes reflected on how he only got involved in smuggling as a way to escape poverty in his homeland after years of hand-blistering construction work for $10 a day. He said taking a chance on smuggling offered him $6,000.
"Nobody can be blamed for being born poor," he wrote.
From the moment President Richard Nixon declared "war on drugs" in 1971, the U.S. Coast Guard has been at the forefront of the campaign to stop illegal narcotics from entering the U.S. Today, it spends more than $2 billion annually as part of that effort.
But, almost from the start, that goal has proven elusive.
Cocaine prices, a gauge of supply, have been hovering at historical lows for more than a decade as cocaine production from Colombia has soared to record highs. In a good year, barely 10% of cocaine shipments in the waters off Central and South America — where the bulk of the world's cocaine is trafficked — are actually seized or destroyed, according to the U.S. government's own estimates.
Despite that poor record, U.S. officials continue to tout their success at sea. A 2020 Coast Guard report said at-sea interdictions are the most effective way to combat cartels and criminal networks. Since 2017, the amount of cocaine it has seized or destroyed exceeds 959 metric tons.
Prosecutions under the Maritime Drug Law Enforcement Act exploded last year to 296 — nearly five times the number a decade ago, according to Syracuse University's Transactional Records Access Clearinghouse, which collects Justice Department data. But since each case involves multiple defendants, the actual number of foreigners detained at sea last year was 635 — the highest tally since 2017.
Critics of U.S. drug policy say most such smugglers fell into the job because of poverty and are hardly worth locking up for so long when legions of their poor compatriots stand ready to take their place.
"These are not masterminds like Pablo Escobar or Chapo Guzman," said Kendra McSweeney, an Ohio State University geographer who has spent years researching U.S. drug policies.
Neither the Coast Guard nor Justice Department would comment on Dávila-Reyes' appeal but experts say it's too early to judge the fallout from the landmark ruling.
Currently Vos' office in Puerto Rico is preparing 14 motions for dismissal in other boat cases on behalf of jailed defendants from Colombia, Venezuela and the Dominican Republic. The ruling has also been cited in at least five proceedings outside the First Circuit.
"It's definitely a chink in the armor," said Roger Cabrera, a court-appointed attorney in Miami seeking who has filed one of the appeals. "But like most chinks, I'm sure the federal government is already looking for a workaround."
For now, U.S. law enforcement continues to conduct regular search and seizures on the high seas with little indication of concern.
In court filings, attorneys for the U.S. government have argued in part that holding up interdictions to wait for an unequivocal denial of registry from a foreign nation before declaring a vessel stateless would be impractical.
"Anyone involved with bringing dangerous drugs into the United States will be held accountable, no matter their position in the drug-distribution network," said Justice Department spokeswoman Nicole Navas Oxman.
___
Contact AP's global investigative team at [email protected] or https://www.ap.org/tips/
'Elaborate ruse': Prosecutor says Saskatoon mother in custody dispute faked deaths
Federal prosecutors in the United States have accused a Saskatoon woman of faking her own death and that of her son in what they describe as an elaborate scheme to illegally enter the country.
Kevin Sonoff, a spokesman for the U.S. Attorney's Office in Oregon, says 48-year-old # is being detained as a flight risk as she faces two charges related to identity theft.
Walker was reported missing with her seven-year-old son last month. Police discovered them "safe and well" in a rental unit in Oregon City on Friday, following two weeks of search-and-rescue efforts that included scouring the South Saskatchewan River and its banks, where her pickup truck was abandoned.
Court documents filed Monday in Oregon allege Walker "went through extreme efforts to steal identities for her and her son that allowed them to unlawfully enter the United States and hide."
The documents allege she "thoughtfully planned and engaged in an elaborate ruse in which she faked her death and that of her son."
The U.S. Department of Homeland Security has charged her with the felony offence of knowingly producing a passport of another person and a misdemeanour charge of possessing identification that was stolen or produced illegally.
The felony charge carries a mandatory minimum sentence of two years in prison if found guilty, while the misdemeanour charge carries up to six months' imprisonment, the U.S. Attorney's Office said.
Saskatoon police said they have charged Walker with public mischief and parental abduction in contravention of a custody order, and are looking to extradite her back to Canada.
The boy was returned to Canada on Sunday after a legal guardian picked him up, police said.
Saskatoon police said they began searching for Walker and her son on July 24 after friends reported them missing.
Her red Ford F-150 truck had been found at Chief Whitecap Park, just south of Saskatoon, along with some of her belongings.
The court documents allege Walker took the identities of a colleague and that colleague's child to open a bank account, and she bought an SUV and drove across the border on July 23. Saskatoon police said she crossed the border south of Lethbridge, Alta., into Montana.
An affidavit from Clinton Lindsly, a special agent with Homeland Security, says Walker and her son's biological father had been engaged in a lengthy custody dispute and she was supposed to return the boy on July 25.
Lindsly says in the document he told Walker, after her arrest, that "people presumed that she and her son died in the river, to which she spontaneously stated, 'He doesn't want to be with his father.'"
The court documents further allege Walker "put a lot of time and effort in planning her crime."
The documents say officers found a series of notebooks and handwritten notes in Walker's SUV that included a checklist: dye hair, cover tattoo, pack car, get toys, throw phone in water, ditch car by bridge, possibly buy fishing rod and find the nearest border.
The documents say Walker has no ties to the U.S. and allege she funded her scheme through hidden financial accounts and assets totalling over $100,000.
"The defendant's kidnapping of her child is extremely serious. While the child has been safely rescued there are no assurances that if the defendant were released she would not try once again to kidnap her child," say the court documents.
Walker, who remains in custody, is to next appear in court in Oregon on Sept. 7. A defence lawyer believed to be representing Walker could not be reached for comment.
"As the criminal investigation progresses, there may be further charges that Ms. Walker will face as a result," Saskatoon police Deputy Chief Randy Huisman said Monday.
"Investigators are looking at several different charges, and in relation to the false identity documents that were alluded to, and how she was able to prepare those documents."
The Federation of Sovereign Indigenous Nations, where Walker worked as its chief executive officer, had organized a vigil and walks through the park to raise awareness about the disappearance of the woman and her son.
The federation also issued its own Amber Alert for the pair, and asked police to do the same. Police said there wasn't evidence to suggest they were in imminent danger.
The boy's family said in a statement Saturday that "over the past two weeks of hell," all they had wished for was the safe return of Walker and the boy.
"When we found out they were both safe, there was sobbing, laughing, dancing, shouting, throwing of shoes and hugging."
Walker, who is from Okanese First Nation, is also a well-known author. Her recent book "The Prairie Chicken Dance Tour," published under the name Dawn Dumont, was named last week as a finalist for the Stephen Leacock Memorial Medal for Humour.
This report by The Canadian Press was first published on Aug. 8, 2022.
Mickey Djuric, The Canadian Press
High court won't hear case involving estate of dismembered multimillionaire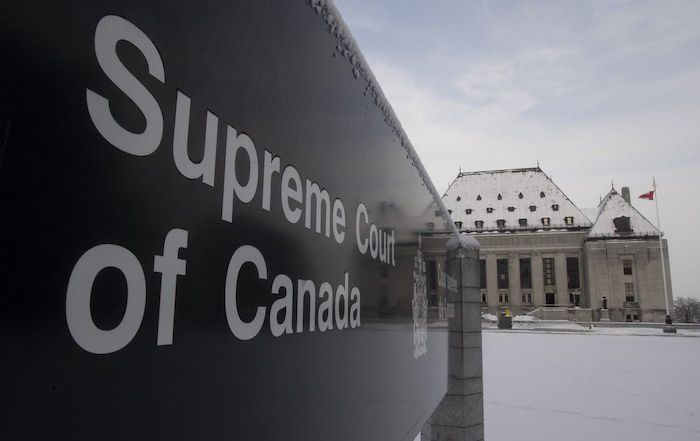 OTTAWA – When Chinese-born, West Vancouver-based multimillionaire Gang Yuan was beaten with a hammer, shot twice and his body chopped into 108 pieces in 2015, the simplest part of the story ended with a manslaughter conviction, but the fate of Yuan's fortune remained very unclear.
Now the Supreme Court of Canada has refused to hear an appeal from the woman whose identity is protected by a ban but who is described as Mother 1, the first of five women who had a child with Yuan and who claims to be his spouse.
Thursday's dismissal of the leave to appeal application ends Mother 1's lengthy legal battle to be declared his spouse which, because Yuan died without a will, would have entitled her to half of his $7 to $21 million estate while Canadian law would have split the rest among his five children.
The B.C. Court of Appeal upheld a lower-court ruling and dismissed Mother 1's spousal claim last December, finding no "marriage-like relationship" between her and Yuan, even though the two met before Yuan came to Canada and he supported her in China, where she lived with and cared for his parents.
As is customary, Canada's highest court did not give reasons for its decision on Mother 1's application.
The dispute over the estate was brushed with notoriety because of Yuan's untimely and gory death at the hands of once-favoured business partner, Li Zhao.
Court documents from Zhao's B.C. Supreme Court trial in 2020 trial show he disapproved of Yuan's playboy lifestyle and treatment of women but Yuan, Zhao and Zhao's family shared a large West Vancouver home and got along well enough.
That was until May 2, 2015, when the two fought viciously after Zhao believed Yuan first made disparaging remarks about an invention of Zhao's and then compounded the offence by offering to marry Zhao's beloved and only daughter as part of the price of financing the invention.
The documents detail a brutal and prolonged fight between the two men that only ended in the driveway of their home when Zhao, who told investigators he feared "life was at risk," fired twice at close range from a rifle mainly used for shooting rabbits.
Yuan was hit in the neck and died in the driveway.
In finding Zhao guilty of manslaughter, B.C. Supreme Court Justice Terence Schultes, in his oral ruling delivered in October 2020, said that's when things became "unquestionably bizarre."
Zhao attempted to dispose of the body by using power tools to cut it into what the ruling described as "108 discrete fragments."
The 55-year-old even explained his grisly work in the garage of the home by agreeing with the family nanny, as she passed by, that he had been out hunting and had "hunted a bear."
Zhao had earlier ordered his wife and elderly mother-in-law away from the scene but they eventually asked a family friend to help them call police and Zhao was arrested at his home the following morning and charged with second-degree murder.
Schultes ruled the Crown failed to prove the necessary intent to convict on that charge and found Zhao guilty of manslaughter and interfering with human remains, sentencing him to 10 years and six months on the two counts.
Because Zhao had never asked for bail while awaiting trial and the case was prolonged by delays related to the COVID-19 pandemic, the sentence handed down almost two years ago was reduced to reflect credit for pretrial custody, leaving a total remaining term of two years, four months and eight days to be served for Yuan's killing.
.If Zhao did not seek early release, he will have completed his entire sentence by early 2023.
This report by The Canadian Press was first published Aug. 4, 2022.