Ruling threatens US power as world's high-seas drug police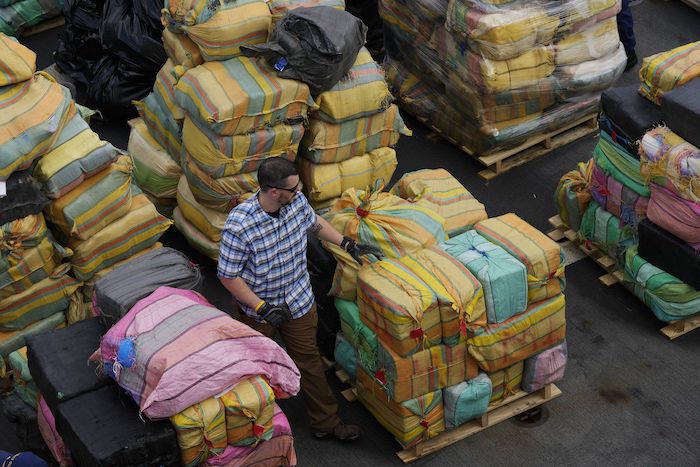 By Joshua Goodman in Miami
MIAMI (AP) — A little-noticed federal appeals court ruling this year threatens a key weapon in the United States' war on drugs: A decades-old law that gives the U.S. broad authority to make high-seas arrests anywhere in the world, even if the drugs aren't bound for American shores.
It's a law that's used to round up and imprison hundreds of foreigners every year, mostly poor, semi-literate fishermen from Central and South America who make up the drug trade's lowest rungs.
"It is a waste of U.S. taxpayer dollars to have these costly misadventures as we play drug police to the world," said Eric Vos, head of the public defender's office in Puerto Rico that brought the court challenge.
At issue is the Maritime Drug Law Enforcement Act, which defines drug smuggling in international waters as a crime against the United States and gives the U.S. unique arrest powers anywhere on the seas — whenever it determines a vessel is "without nationality."
But how a vessel is deemed stateless sometimes gets messy.
The was the case for the Costa Rican plaintiff Jeffri Dávila-Reyes, whose appeal prompted the ruling. The Coast Guard chased down his speedboat in the western Caribbean in 2015 as he and two cousins were allegedly transporting five to 15 kilos of cocaine.
They identified their vessel as hailing from Costa Rica, according to the FBI's summary of the investigation, but they lacked any documentation. When the U.S. asked the Costa Rican government to confirm the vessel's registry, it responded 12 weeks after the bust that it could neither confirm nor refute the claim.
A few weeks later the men were charged and eventually pleaded guilty to possessing narcotics "on board a vessel subject to the jurisdiction of the United States."
But a three-judge panel of the First Circuit Court of Appeals in Boston ruled in January that one of the law's provisions — disavowing a captain's claim of nationality — were an unconstitutional extension of U.S. policing powers beyond America's borders.
Tellingly, almost none of those arrested under the law had ever set foot in the U.S. nor were they charged with trying to import cocaine. In Dávila-Reyes' case, the cocaine he was accused of transporting was purportedly headed to Jamaica.
Despite the ruling that threw out his conviction, Dávila-Reyes remains behind bars seven years into a 10-year sentence as the Justice Department seeks reconsideration by all of the First Circuit's nine judges.
In a series of recent letters to The Associated Press from federal prison, Davila-Reyes reflected on how he only got involved in smuggling as a way to escape poverty in his homeland after years of hand-blistering construction work for $10 a day. He said taking a chance on smuggling offered him $6,000.
"Nobody can be blamed for being born poor," he wrote.
From the moment President Richard Nixon declared "war on drugs" in 1971, the U.S. Coast Guard has been at the forefront of the campaign to stop illegal narcotics from entering the U.S. Today, it spends more than $2 billion annually as part of that effort.
But, almost from the start, that goal has proven elusive.
Cocaine prices, a gauge of supply, have been hovering at historical lows for more than a decade as cocaine production from Colombia has soared to record highs. In a good year, barely 10% of cocaine shipments in the waters off Central and South America — where the bulk of the world's cocaine is trafficked — are actually seized or destroyed, according to the U.S. government's own estimates.
Despite that poor record, U.S. officials continue to tout their success at sea. A 2020 Coast Guard report said at-sea interdictions are the most effective way to combat cartels and criminal networks. Since 2017, the amount of cocaine it has seized or destroyed exceeds 959 metric tons.
Prosecutions under the Maritime Drug Law Enforcement Act exploded last year to 296 — nearly five times the number a decade ago, according to Syracuse University's Transactional Records Access Clearinghouse, which collects Justice Department data. But since each case involves multiple defendants, the actual number of foreigners detained at sea last year was 635 — the highest tally since 2017.
Critics of U.S. drug policy say most such smugglers fell into the job because of poverty and are hardly worth locking up for so long when legions of their poor compatriots stand ready to take their place.
"These are not masterminds like Pablo Escobar or Chapo Guzman," said Kendra McSweeney, an Ohio State University geographer who has spent years researching U.S. drug policies.
Neither the Coast Guard nor Justice Department would comment on Dávila-Reyes' appeal but experts say it's too early to judge the fallout from the landmark ruling.
Currently Vos' office in Puerto Rico is preparing 14 motions for dismissal in other boat cases on behalf of jailed defendants from Colombia, Venezuela and the Dominican Republic. The ruling has also been cited in at least five proceedings outside the First Circuit.
"It's definitely a chink in the armor," said Roger Cabrera, a court-appointed attorney in Miami seeking who has filed one of the appeals. "But like most chinks, I'm sure the federal government is already looking for a workaround."
For now, U.S. law enforcement continues to conduct regular search and seizures on the high seas with little indication of concern.
In court filings, attorneys for the U.S. government have argued in part that holding up interdictions to wait for an unequivocal denial of registry from a foreign nation before declaring a vessel stateless would be impractical.
"Anyone involved with bringing dangerous drugs into the United States will be held accountable, no matter their position in the drug-distribution network," said Justice Department spokeswoman Nicole Navas Oxman.
___
Contact AP's global investigative team at [email protected] or https://www.ap.org/tips/
New report details missed chances to stop Uvalde shooting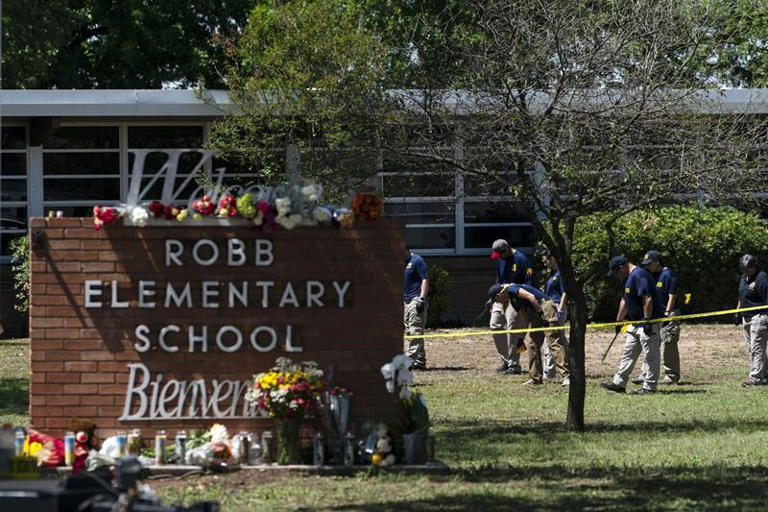 AUSTIN, Texas (AP) — A police officer armed with a rifle watched the gunman in the Uvalde elementary school massacre walk toward the campus but did not fire while waiting for permission from a supervisor to shoot, according to a sweeping critique released Wednesday on the tactical response to the May tragedy.
Some of the 21 victims at Robb Elementary School, including 19 children, possibly "could have been saved" on May 24 had they received medical attention sooner while police waited more than an hour before breaching the fourth-grade classroom, a review by a training center at Texas State University for active shooter situations found.
The report is yet another damning assessment of how police failed to act on opportunities that might have saved lives in what became the deadliest school shooting in the U.S. since the slaughter at Sandy Hook Elementary School in 2012.
"A reasonable officer would have considered this an active situation and devised a plan to address the suspect," read the report published by the university's Advanced Law Enforcement Rapid Response Training program.
Authors of the 26-page report said their findings were based off video taken from the school, police body cameras, testimony from officers on the scene and statements from investigators. Among their findings:
— It appeared that no officer waiting in the hallway during the shooting ever tested to see if the door to the classroom was locked. The head of Texas' state police agency has also faulted officers on the scene for not checking the doors.
— The officers had "weapons (including rifles), body armor (which may or may not have been rated to stop rifle rounds), training, and backup. The victims in the classrooms had none of these things."
— When officers finally entered the classroom at 12:50 p.m. — more than an hour after the shooting began — they were no better equipped to confront the gunman than they had been up to that point.
—"Effective incident command" never appears to have been established among the multiple law enforcement agencies that responded to the shooting.
The gunman, an 18-year-old with an AR-15-style semi-automatic rifle, entered the building at 11:33 a.m. Before that a Uvalde police officer, who the report did not identify, saw the gunman carrying a rife toward the west hall entrance. The officer asked a supervisor for permission to open fire, but the supervisor "either did not hear or responded too late," the report said.
When the officer turned back toward the gunman, he already gone inside "unabated," according to the report.
The report is one of multiple fact-finding reviews launched in the aftermath of the worst school shooting in Texas history. A committee formed by Texas legislators has also interviewed more than 20 people, including officers who were on the scene, behind closed doors for several weeks. It is unclear when they will release their findings.
It follows testimony last month in which Col. Steven McCraw, director of the Texas Department of Public Safety, told the state Senate that the police response was an "abject failure." He pinned particular blame on Chief Pete Arredondo, saying that as on-scene commander the Uvalde schools police chief made "terrible decisions" and stopped officers from confronting the gunman earlier.
Arredondo has tried to defend his actions, telling the Texas Tribune that he didn't consider himself the commander in charge of operations and that he assumed someone else had taken control of the law enforcement response. He said he didn't have his police and campus radios but that he used his cellphone to call for tactical gear, a sniper and the classroom keys.
According to he report released Wednesday, Arredondo and another Uvalde police officer spent 13 minutes in the school hallway during the shooting discussing tactical options, whether to use snipers and how to get into the classroom windows.
"They also discussed who has the keys, testing keys, the probability of the door being locked, and if kids and teachers are dying or dead," the report read.
McCraw said police had enough officers and firepower on the scene of the Uvalde school massacre to have stopped the gunman three minutes after he entered the building, and they would have found the door to the classroom where he was holed up unlocked if they had bothered to check it.
A lawyer for Arredondo and a spokeswoman for the Uvalde city police department did not immediately respond to requests for comment. Arredondo is on leave from his job with the Uvalde Consolidated Independent School District and resigned from his position as a city councilor last week.
Public leaders, including Texas Gov. Greg Abbott, initially praised the police response in Uvalde. Abbott said officers reacted quickly and ran toward the gunfire with "amazing courage" to take out the killer, thereby saving lives. He later said he was misled. In the days and weeks after the shooting, authorities gave conflicting and incorrect accounts of what happened. The fallout has driven recriminations and rifts between local at state authorities. On Tuesday, Uvalde Mayor Don McLaughlin and state Sen. Roland Gutierrez released a letter asking Abbott to move administration of a victims relief fund from the local prosecutor's office to the Texas Department of Emergency Management. They wrote that they've received numerous complaints about District Attorney Christina Mitchell Busbee, "including the failure to timely deliver victim's compensation resources to those in need.″
Busbee's office declined to comment Wednesday.
___
Bleiberg reported from Dallas.
___
Find more AP coverage of the Uvalde school shooting: https://apnews.com/hub/uvalde-school-shooting
Paul J. Weber And Jake Bleiberg, The Associated Press
In the midst of chaotic shooting, strangers save a young boy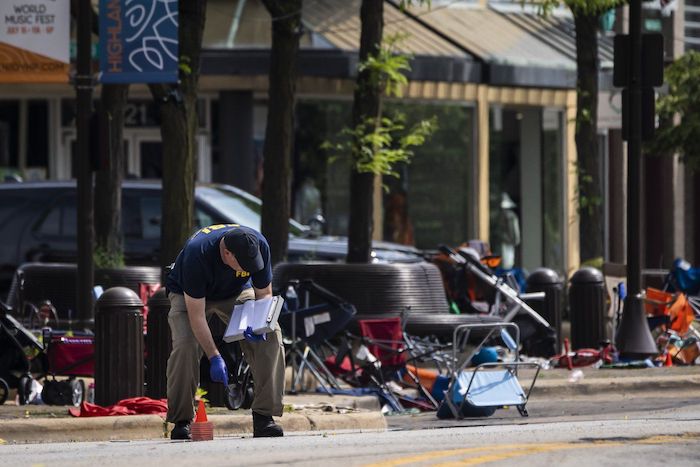 By Martha Irvine in Chicago
CHICAGO (AP) — A woman — stunned and speechless in the chaos of a July 4 parade massacre — walked up to Greg Ring and handed him a 2-year-old boy, covered in blood.
Ring had fled the scene in the Chicago suburb of Highland Park with his wife and three children to an area behind a popular pancake house.
"We kind of met eyes and didn't say anything…. I put my arms out, and she gave him to me," Ring said Thursday, when describing the exchange with the unidentified woman, who then laid down in front of their car in shock.
The boy pointed in the direction of the parade route, saying "Mommy, Daddy, Mommy, Daddy."
Ring's wish to help the boy carried him back to the scene. He tucked the boy's face in his chest, so he couldn't see the carnage. But Ring quickly realized it was too dangerous.
"Active shooter! Get back down!" a police officer shouted. Ring fled again.
He and his family got to their car and took the boy to a Highland Park fire station. "I have a boy. He's not ours," he told the department staff, who asked him to keep the boy as authorities searched for the shooter and helped the wounded.
"They were getting ready for war," Ring said.
The family drove to Ring's in-laws, where they hunkered down. There, the boy sat with Ring's 4-year-old, watching a Mickey Mouse show.
"He asked my wife to wipe him off because he had blood on him that wasn't his," said Ring, an insurance broker from Highland Park.
They were later able to identify the boy and reunite him with his grandparents.
Aiden McCarthy's parents, Kevin and Irina, both died in the shooting, which left five others dead and more than two dozen wounded.
Friends of the McCarthys said Irina's parents would care for the boy going forward.
"Aiden … will have a long road ahead to heal, find stability, and ultimately navigate life as an orphan. He is surrounded by a community of friends and extended family that will embrace him with love, and any means available to ensure he has everything he needs as he grows," Irina Colon, a family friend, wrote on a GoFundMe account she created for the family and Aiden. The account has raised more than $2 million.
On Thursday, Ring was still trying to process what happened at the July 4 parade. He said he's not a hero and just did what anyone would have done in the situation.
"I'm just filled with immense gratitude. I'm really sad. I don't know, I don't know how I feel. I have not slept for a minute the last two nights," he said.
"What could've happened — it is nothing short of a miracle that the five of us — me, my wife and my three kids — one of us or all of us isn't dead. I do not understand. Everybody around us was hit or got shot."
Four of others who were killed were identified Tuesday as Katherine Goldstein, 64; Jacquelyn Sundheim, 63; Stephen Straus, 88; and Nicolas Toledo-Zaragoza, 78, and Eduardo Uvaldo, 69.