Roughriders end slump by edging Elks 34-23 in Edmonton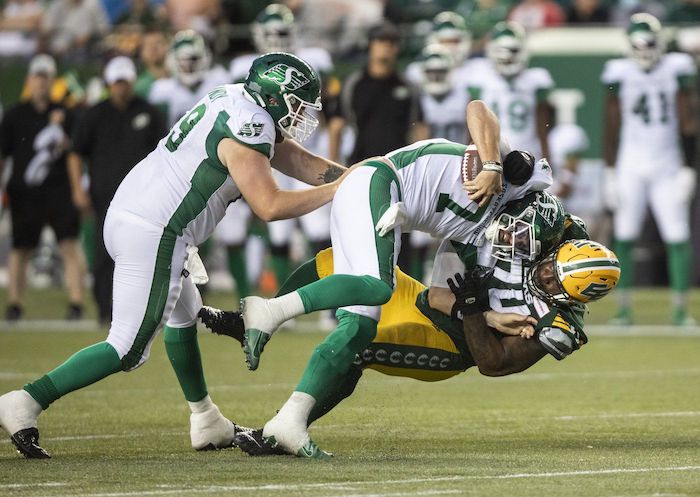 By Shane Jones in Edmonton
Having a break definitely seemed to serve Saskatchewan well.
Quarterback Cody Fajardo ran for a pair of touchdowns and passed for another as the Saskatchewan Roughriders emerged with a 34-23 CFL victory over the Edmonton Elks on Saturday.
The Roughriders (5-4) had lost three consecutive games before having a bye week and coming back with a win over Edmonton.
"Any win is a good win," said Saskatchewan linebacker Darnell Sankey. "We come out here and get a win on the road, it's an accomplishment.
"We understand that we can't underestimate any team, especially right now. We came in 4-4 and it is nice to get a win. We know we were the better team and that's why we came out here and got the win. This definitely has our morale up."
Fajardo felt like the break helped soothe his injured knee, as he actually led his team in rushing yards on the night with 51.
"I took a few shots on it and didn't feel anything," he said. "I was able to run fairly well and move around in the pocket.
"To be able to feel like myself again and have my legs back makes it a little bit easier for the guys up front and creates some big plays downfield. I'm feeling pretty good right now."
The Elks (2-7) have now lost 12 straight home games at Commonwealth Stadium, a frustrating stretch extending back to Oct. 12, 2019.
After Saskatchewan recorded a punt single on its opening drive, Edmonton came roaring back with quarterback Taylor Cornelius opting to run himself on a broken play for a 10-yard touchdown.
Fajardo responded in kind late in the opening quarter with a one-yard plunge to put the Riders back in front.
Roughriders kicker Brett Lauther kicked a 34-yard field goal to start the second frame.
Edmonton looked poised to regain the lead, but Cornelius fumbled the ball on the Saskatchewan five-yard line, with Rider Charleston Hughes recovering the ball.
The teams then traded field goals, with Elk Sergio Castillo making one from 38 yards and Lauther connecting from 46.
The Elks surged back ahead when Cornelius took another ball into the end zone himself, scrambling in from 26 yards with 31 seconds left in the opening half.
However, Saskatchewan would regain the lead before the halftime break on the ensuing kickoff as Mario Alford blazed 98 yards for the touchdown to give his team a 21-17 lead.
The halftime break was extended because of nearby lightning strikes.
Edmonton conceded another punt single, the only point in the third.
Castillo started the fourth quarter with a 44-yard field goal, and got another 46-yarder shortly after on the heels of an interception by Nafees Lyon to give them a one-point advantage.
"I threw an interception, but guys stayed positive on the sideline and pulled through after that and we found a way to score two more touchdowns after that," Fajardo said. "It means a lot when you make a mistake and your teammates have your back like that."
The Riders regained the lead with four minutes left as Fajardo found Duke Williams in the end zone with a 24-yard TD pass. The two-point convert attempt failed.
Edmonton attempted to trade blows, but Cornelius was picked off by Rolan Milligan, leading to a six-yard QB keeper for a touchdown by Fajardo.
Both teams return to action next Friday as the Elks travel to Ottawa and the Roughriders host the B.C. Lions.
FOOT NOTES: Saskatchewan won the previous encounter between the two teams by a 26-26 score in Week 2. … The Elks came into the game with an 0-6 record against West Division opponents while being outscored by an astonishing 234-84 margin. … In their first eight games, the Elks had a league-high 79 players playing in at least one game. The Riders had the second-most at 68. … It was the Wall of Honour night in Edmonton with three players from the five in a row Grey Cup champion teams from 1978 to 1982 — Jim Germany, Joe Hollimon and Ed Jones — recognized in ceremony following the game, after the original halftime proceedings were scrubbed due to nearby lightning strikes.
This report by The Canadian Press was first published Aug. 13, 2022.
'Ludicrous': Prosecutor questions testimony of teen in Calgary hit-and-run cop death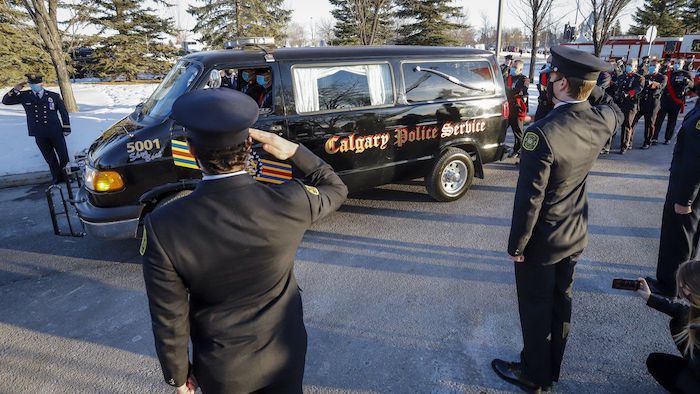 By Bill Graveland in Calgary
A prosecutor suggested Wednesday a teen charged with first-degree murder in the hit-and-run death of a Calgary Police Service officer had no reason to believe he was in danger.
Sgt. Andrew Harnett died in hospital on Dec. 31, 2020, after being dragged by a fleeing SUV and falling into the path of an oncoming car.
The alleged driver, who cannot be identified because he was 17 at the time, has testified he was scared when Harnett and another officer approached the vehicle during a traffic stop and he saw Harnett put his hand on his gun.
But during cross-examination, Crown prosecutor Mike Ewenson played the body-camera footage of the stop. He asked the accused, who is now 19, if there was any proof Harnett was being threatening or insulting during the routine traffic stop.
"You brought up George Floyd in your direct examination. Do you remember what happened to George Floyd?" Ewenson asked.
The accused replied: "He got pulled out of the vehicle and I think they stepped on his neck … and he said he couldn't breathe."
Floyd was a Black man who was killed during an arrest by Minnesota police on May 25, 2020.
During testimony Tuesday, the teen testified he and his friends had discussed the Floyd case on social media.
"Let's talk about what we just saw with Sgt. Harnett if we could, because you're bringing this up at a trial that involves his death," said Ewenson. "Any abusive language from him?"
"No," the teen replied.
"Anything that was insulting to your age, your race, your ethnic background or religion," Ewenson asked.
"Not necessarily, no. Actually, I felt like I was being racialized, right? Just the fact that the door opened and the fact that he asked for my phone number. I've never been asked for my phone number."
Ewenson said any talk of the traffic stop being racist was just something the teen wanted the court to "take his word for" and there's nothing that would be considered racist from Harnett's behaviour.
"That's how I felt," the accused replied.
The teen repeatedly told Ewenson that he wasn't sure how he ended up in the neighbourhood. He said he was following his GPS to get to a party. He also said he didn't know who the third person in the back seat of the vehicle was, who had come with a friend.
Ewenson said it's unlikely there would be memory lapses after an event that was the "most traumatic, powerful" and "consequential" night of the teen's life.
"So looking back on it, you realize the story is ludicrous? The story doesn't make sense, does it?" Ewenson asked. "Everything for you is a mindless reaction."
The suspect said at the time he panicked and just decided to take off because he was afraid. The teen said looking back, he wishes his decision had been different.
"Look, to be frank to you, I've sat for two years in jail and I've thought about this over and over and over again," he said. "It's different when I think about it now and what I was going through at the moment."
Ewenson suggested it was more likely something illegal was inside the suspect vehicle that made fleeing a simple traffic stop worth the risk.
Closing arguments in the trial are scheduled for Thursday.
This report by The Canadian Press was first published Sept. 28, 2022.
Incredible luxury homes and vehicles seized in massive international $55 million drug bust with Alberta roots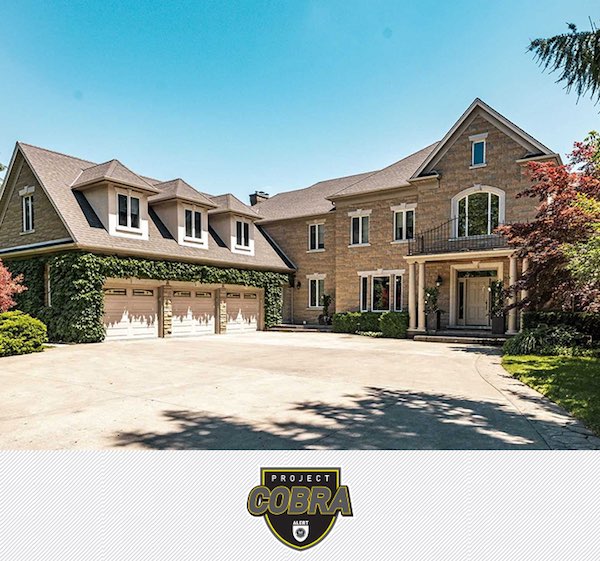 Niagara-On-The-Lake home seized by police in Project Cobra operation
News release from the Alberta Law Enforcement Response Team (ALERT)
Project Cobra intercepts $55 million worth of drugs
More than an estimated $55 million worth of methamphetamine and cocaine has been seized following a cross-border investigation by ALERT, RCMP Federal Serious and Organized Crime, and the U.S. Drug Enforcement Administration.
Project Cobra is a nearly three-year organized crime investigation into transnational drug importation, drug trafficking, and money laundering.
As the result of enforcement initiatives on both sides of the border, 928 kilograms of methamphetamine and 6 kilograms of cocaine were intercepted. In addition, approximately $7 million worth of assets have been seized or placed under criminal restraint.
Project Cobra relied on the assistance of a number of police agencies and specialized units, including: Calgary Police Service, Edmonton Police Service, U.S. Homeland Security Investigations, U.S. Customs and Border Protection, Canada Border Services Agency (CBSA), Niagara Regional Police, Canada Revenue Agency, Financial Transactions and Reports Analysis Centre of Canada (FINTRAC), and RCMP units in Ontario, Nova Scotia, Saskatoon, North Battleford, Sask., and Osoyoos, B.C.
Police agencies collaborated to make numerous large-scale drug seizures during the course of Project Cobra. These were shipments destined for Alberta, and included the following seizures:
342 kg of meth in Wyoming;
308 kg of meth in Los Angeles;
137 kg of meth in Calgary;
84 kg of meth in Los Angeles;
50 kg of meth at Lake Koocanusa, B.C.;
7 kg of meth and 1 kg of cocaine in Calgary; and
5 kg of cocaine in North Battleford, Sask.

Nineteen firearms were also seized, which included handguns, rifles, submachine guns, and suppressors.
Seven million dollars' worth of property, bank accounts, luxury vehicles, and other suspected proceeds of crime has been seized or placed under criminal restraint. This includes a $3.5 million home in Niagara-on-the-Lake, two Lamborghinis, a Porsche, classic cars, and $200,000 cash.
Project Cobra began in 2020 and a series of 11 coordinated search warrants were executed in December 2021. Homes, vehicles, businesses, and storage locations were searched in Calgary, Bedford, Nova Scotia, Niagara-on-the-Lake, Ont., and Leduc County, Alta.
Fifteen people and one business have been charged with 80 criminal offences ranging from participation in a criminal organization, to importation of a controlled substance, to laundering proceeds of crime, to drug trafficking.
The suspects were arrested and charged between May 2022 and August 2022:
Elias Ade, 38-year -old from Calgary, charged with 12 offences;
Abdul Akbar, 37-year-old from Calgary, charged with 8 offences;
Tianna Bull, 25-year-old from North Battleford, charged with 1 offence;
Lina El-Chammoury, 50-year-old from Calgary, charged with 2 offences;
Russell Ens, 39-year-old from North Battleford, charged with 2 offences;
Talal Fouani, 46-year-old from Calgary, charged with 3 offences;
Belal Fouani, 44-year-old from Calgary, charged with 3 offences;
Kari-Lynn Grant, 51-year-old from Calgary, charged with 4 offences;
Scott Hunt, 33-year-old from Calgary, charged with 3 offences;
Ricco King, 50-year-old from Bedford, N.S., charged with 5 offences;
Jarett Mackenzie, 32-year-old from Calgary, charged with 6 offences;
Jesse Marshall, 52-year-old from Calgary, charged with 4 offences;
Daniel Menzul, 32-year-old from Calgary, charged with 4 offences;
Sean Nesbitt, 44-year-old from Calgary, charged with 3 offences;
William Whiteford, 39-year-old from Leduc County, charged with 20 offences; and
Fouani Equity Funds Ltd. charged with 1 offence.
Fouani Equity Funds Ltd. is a Calgary-based investment company and was charged with laundering proceeds for an organized crime group.
Members of the public who suspect drug or gang activity in their community can call local police, or contact Crime Stoppers at 1-800-222-TIPS (8477). Crime Stoppers is always anonymous.
ALERT was established and is funded by the Alberta Government and is a compilation of the province's most sophisticated law enforcement resources committed to tackling serious and organized crime.