Ron MacLean apologizes for comment on Hockey Night in Canada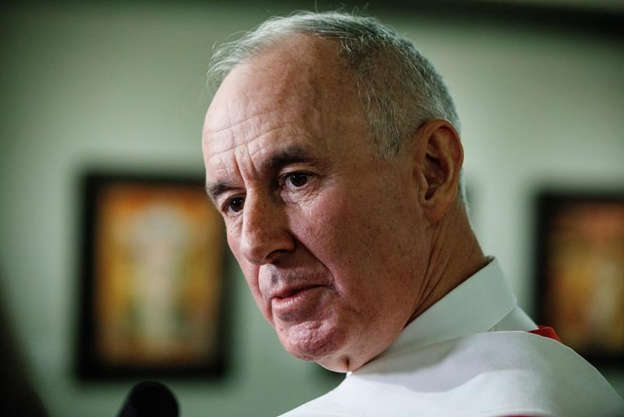 TORONTO — "Hockey Night in Canada" host Ron MacLean apologized Wednesday for a comment he made during a playoff game a night earlier.
In a statement posted on Twitter, MacLean said he is "deeply sorry" and that he regrets what happened on the broadcast. The comment was made in an intermission segment during Sportsnet's coverage of a Toronto Maple Leafs-Montreal Canadiens game.
MacLean said that earlier in the show, they had a fun moment with a photograph of Sportsnet analyst Anthony Stewart enjoying a rum party. That photo was on a shelf in the background of analyst Kevin Bieksa's set for the rest of the night.
During the segment, Bieksa said he was the most positive member of the four-person panel that also featured MacLean, Jennifer Botterill and Kelly Hrudey. Appearing to make a joke in response to Bieksa, MacLean said: "You have a photo of a guy with his tarp off, you're definitely positive for something."
In his statement, MacLean said the 'tarp off' comment was a reference to being shirtless, to specify the picture of the rum bottle.
As for the quip about being 'positive,' MacLean said he meant testing positive for rum.
"I understand that when others are within 'earshot' of a two-way conversation, the potential for a misunderstanding exists," he said in the statement. "If you only heard that last line in isolation, I completely understand how that misunderstanding occurred. I am deeply sorry."
A member of the executive board of an organization that pushes for inclusion in sports said he had a "good discussion" with MacLean about the comment.
David Pulombo, the vice-chair of the executive board of the You Can Play Project, said they "discussed language going beyond two-way communication and (how) others hearing language without context may think differently than intended."
Pulombo said MacLean's comment "is something we should move on from."
In the aftermath of the comment, MacLean became a trending topic on Twitter with some posters calling his words homophobic and others saying he was referring to drugs and partying.
Pulombo said MacLean "has always been a great ally to the LGBTQ community and I don't expect that to change."
MacLean did not immediately respond to an interview request from The Canadian Press.
A Sportsnet spokeswoman said MacLean would be back on the air for Wednesday night's studio show. The network also released a statement in the afternoon.
"Ron MacLean has a strong history of being an outspoken ally and continues to advocate for all equity-seeking communities. Sportsnet supports Ron in his acknowledgment and apology for the comment made during last night's broadcast."
Brock McGillis, who played in the Ontario Hockey League and the semi-pro level before becoming a voice in sports for the LGBTQ community after he came out in 2016, said the incident shows how language can affect people.
"Regardless of intent, the way it was worded is going to upset some people, because it feels like a comment directed towards gay men," he said. "And even if intent was not that, which I kind of find it hard to believe that Ron MacLean would go on national television and overtly intend to make a homophobic joke, but regardless, it's still homo-negative language, and there has to be ownership and accountability for that, and recognizing the importance of language and how it impacts people.
"I wasn't bullied in hockey, but the use of homo-negative language, homophobic language, etc., led me to severe depression, constant injuries, suicide attempts, and I struggled a lot and it jeopardized my career. And if we want to grow the game and make it inclusive for all, we need to become aware of what we say and the importance of it."
In his statement, MacLean said he has seen the concepts of language of intention and personal responsibility used as broad exoneration, adding "it's not enough."
"We have a contract with you the viewer, that in us you see yourself," he said in the statement. "I've reached out to several guiding lights in the equity seeking arena, my allies in the LGBTQ2S+ Community and to my co-workers to receive their wisdom, and continue our joint effort to tend to the hearts of us all.
"I appreciate the power of the voices who spoke to me last night and this morning. It provides a sense of possibility. It's how change works."
McGillis said he hopes the sport can learn from the comment.
"I really hope that Ron, that hockey people in general use this as a teaching moment and recognize that it's not people being reactionary for the sake of wanting to be upset about something … Men's hockey (is) an unsafe space for queer people," he said.
"And while I don't think the intent was malice or homophobia, it's time that the culture has an overhaul, and we fix the culture so that when somebody does have a comment that is misinterpreted or poorly worded, that our first reaction isn't that it's malicious.
"This is how we are treated within this culture, so why wouldn't we assume?"
The 61-year-old MacLean, who grew up in Alberta, first joined "Hockey Night in Canada" in 1986 when it was produced by CBC.
MacLean was the longtime sidekick for Don Cherry on the Coach's Corner segment before the latter was fired in 2019 following on-air comments which many felt were critical of immigrants for not wearing Remembrance Day poppies.
After the segment, MacLean issued an apology for not challenging Cherry's remarks.
MacLean moved to Rogers Media when it acquired "Hockey Night in Canada" rights in 2014. He was out of the host's chair for two years, but returned in 2016 after the departure of George Stroumboulopoulos.
— With files from Lori Ewing and Gregory Strong.
This report by The Canadian Press was first published May 26, 2021.
The Canadian Press
Children lost in shooting were 'feisty,' a 'shining light'
This undated photo shows Evelyn Dieckhaus a student at The Covenant School in Nashville, Tenn. Dieckhaus was one of six people killed on Monday, March 27, 2023, in the shooting at the school. (AP Photo)
By Adrian Sainz, Kristin M. Hall, Holly Meyer And Ben Finley in Nashville
NASHVILLE (AP) — Details from the rich, full lives of the three adults killed Monday at a Nashville elementary school have emerged quickly in the aftermath, but information on the three 9-year-old children — whose lives ended tragically young — has been slower to publicly surface from a community buried in grief.
The children slain at The Covenant School were Hallie Scruggs, described by an aunt as "always on the go"; Evelyn Dieckhaus, her family's "shining light"; and William Kinney, whose family has said little publicly so far.
A woman who identified herself as Hallie's aunt, Kara Scruggs Arnold, wrote on Facebook that Hallie was "incredibly smart, feisty enough to keep up with her 3 brothers and my 4 boys."
Hallie had a "love for life that kept her smiling and running and jumping and playing and always on the go," Arnold added in her post.
Hallie's father Chad Scruggs is the lead pastor of Covenant Presbyterian Church, which is associated with The Covenant School. The private Christian school has about 200 students from preschool through sixth grade, as well as roughly 50 staff members, according to its website.
Evelyn was described as the Dieckhaus family's "shining light" on a GoFundMe page that has been set up for them. But her family, too, was reluctant to talk about her or the enormity of their loss.
The adults who were killed were Katherine Koonce, 60, the head of the school, Mike Hill, 61, a custodian, and Cynthia Peak, 61, a substitute teacher.
In a video statement released Tuesday evening, Tennessee Gov. Bill Lee said Peak was supposed to have dinner with his wife, Maria, after filling in as a substitute teacher at Covenant.
"Maria woke up this morning without one of her best friends," Lee said, adding that Peak, Koonce and his wife had once taught together and "have been family friends for decades."
Sandra McCalla, a former administrator at the high school Peak attended in Shreveport, Louisiana, said Peak served as the statistician at girls' basketball games and track meets before graduating in 1979.
"She was busy in the background making good things happen," said McCalla, who served as the principal of Captain Shreve High School for 30 years.
Chuck Owen, who knew Peak from childhood, said Peak's father was a well-known doctor in Leesville, Louisiana, where the family lived before moving to Shreveport.
He said, "everyone knew her, knew her family" and that she was "just a sweet person from a sweet family."
Owen added that Peak was a devout follower of God, and it did not surprise him that she was working at a Christian school.
"She told me that she got saved in college and that God's love changed her life," he said.
Nashville songwriter Natalie Hemby posted on Instagram that Peak "taught me how to swim. Keep my head above water… which is what we're all trying to do right now."
Peak's family issued a statement saying their "hearts are broken," and called Peak "a pillar of the community, and a teacher beloved by all her students."
"She never wavered in her faith and we know she is wrapped in the arms of Jesus," the statement said.
Koonce, the head of The Covenant School, was a woman of deep faith who saw educating kids as her mission.
"It's what God called her to do," close friend Jackie Bailey said.
"We're in such shock," Bailey added. "I was looking around my house, and every piece of cross stitch that I have on the wall, she did – she gave to me."
One of them said: "A friend loveth at all times."
"That's Proverb 17:17," Bailey said. "That's the kind of person she was. She loved at all times."
Bailey added: "If there was any trouble in that school, she would run to it, not from it. She was trying to protect those kids … That's just what I believe."
Koonce's family said in a statement Wednesday that she "gave her life to protect the students she loved."
"We are devastated by our loss but depending on our God for comfort and healing," the family said. "It is our privilege to honor Katherine's legacy and to celebrate her remarkable spirit."
Before Koonce took the top role with Covenant, Anna Caudill, a former art teacher, worked with her for almost a decade at Christ Presbyterian Academy, another Christian school in the area connected to a Presbyterian Church in America congregation.
"She was an absolute dynamo and one of the smartest women I'll ever know," said Caudill, recalling how Koonce excelled at her day job while parenting her children, pursuing her masters and then her PhD, and writing a book.
Caudill, who grew up in several male-led Christian denominations, said Koonce was the first woman in such a setting to encourage her to keep learning and pursuing her life goals.
"She wasn't Wonder Woman, but I never saw the two in the same place," Caudill said.
Friends of Hill, the custodian, said they believed he would have died protecting the school's children.
Pastor Tim Dunavant, of the Hartsville First United Methodist Church, said in a Facebook post that he hired Hill to work at Covenant more than a decade ago.
"I don't know the details yet. But I have a feeling, when it all comes out, Mike's sacrifice saved lives," Dunavant wrote.
Hill's family issued a statement saying, "We pray for the Covenant School and are so grateful that Michael was beloved by the faculty and students who filled him with joy for 14 years. He was a father of seven children … and 14 grandchildren. He liked to cook and spend time with family."
Another pastor, Jim Bachmann, said Hill was "one of those people you cannot not like" and that he made a point of learning the names of all the students and talking to them.
Bachmann was the founding pastor of Covenant Presbyterian Church, which runs the school, and is the current pastor of Stephens Valley Church, where Hill was a member and sometimes served as a greeter.
On those occasions, Hill would "dress up like he was going to meet the president of the United States," Bachmann said. He added, "Everybody loved Mike, and he loved them back."
___
Associated Press reporters Travis Loller in Nashville and Beatrice Dupuy in New York contributed to this story. Sainz reported from Memphis. Finley reported from Norfolk, Virginia.
Budget measures unlikely enough to spur major carbon capture investments: Experts
Deputy Prime Minister and Minister of Finance Chrystia Freeland delivers the federal budget in the House of Commons on Parliament Hill in Ottawa, Tuesday, March 28, 2023. Industry watchers say Tuesday's federal budget likely won't be enough to convince Canadian oil and gas companies to pull the trigger on expensive, emissions-reducing carbon capture and storage projects. THE CANADIAN PRESS/Sean Kilpatrick
By Amanda Stephenson in Calgary
A question mark continues to hang over the future of carbon capture and storage projects in Canada, in spite of a pledge in Tuesday's federal budget to deliver more investment certainty for major emissions-reducing projects.
"Look, we have set some very aggressive climate targets in Canada. You can't kick the can down the road," said carbon capture advocate James Millar, arguing that's exactly what the federal government did Tuesday when it provided no additional details around its previously stated intention to reduce the risk of investing in pricey emissions-reduction projects by essentially guaranteeing the future price of carbon.
"The difference comes down to investment certainty in the U.S., versus the promise of investment certainty in Canada."
As president and CEO of the International CCS (carbon capture and storage) Knowledge Centre, a non-profit organization based in Regina, Millar had been closely watching Tuesday's budget in hopes of obtaining more federal support for the expensive technology that can be used to trap harmful greenhouse gas emissions from industrial processes and store them safely underground.
Heavy emitters — in particular, the oil and gas sector — have identified carbon capture and storage technology as key to helping the sector meet its emissions reduction targets and have been looking for government incentives akin to what is being offered south of the border, where the U.S. Inflation Reduction Act promises to pay companies a guaranteed US$85 price for each tonne of injected carbon.
While Canada has already announced an investment tax credit that will help to offset some of the up-front capital costs of carbon capture projects, companies have so far been hesitant to pull the trigger and go ahead with proposed large-scale projects.
The Pathways Alliance, for example, a consortium of oilsands companies, has proposed building a $16.5-billion carbon capture and storage transportation line to combat emissions from existing oilsands infrastructure in northern Alberta.
But the group has not yet made a final investment decision, saying it needs to know its project will be competitive with those in the U.S. before proceeding.
One thing the oil and gas sector has said will help with that is some kind of mechanism that would reduce the risk to companies that the federal price on carbon could be lowered or eliminated. If a new government were to be elected and remove or change Canada's carbon pricing system, investing in expensive carbon-reducing technology could suddenly become uneconomical.
On Tuesday, the federal government reiterated that it intends to create such a mechanism through a so-called carbon contracts for difference system — but disappointed many who were hoping for details. Instead, the government announced it plans to begin consultations around the development of such a program.
Millar said while he doesn't doubt the government's good intentions, companies that have proposed large-scale projects need to get moving now if they have any hope of meeting Canada's goal to reduce this country's overall emissions by 40 per cent below 2005 levels by 2030 looms.
"We're already in 2023, we're seven years out. The consultations that were announced yesterday will take months," he said. "I think it will take at least a year because it's going to take time to set up the process."
The Pathways Alliance itself took a diplomatic tone Tuesday, issuing a statement after the tabling of the budget saying it was "encouraged" by the signal that more policy certainty is coming, and adding it looks forward to a "better understanding" of the government's intentions.
But Greg Pardy of RBC Capital said in a research note that in spite of some enhancements to the previously announced investment tax credit, budgetary support for carbon capture and storage was "somewhat limited — perhaps even disappointing."
"In our view, Canada's federal government needs to shift into much higher gear when it comes to incentivizing decarbonization investment if it is to achieve its bold climate change ambitions," Pardy said.
A report from BMO Capital Markets published just before the release of Tuesday's budget said Canada's policy framework for large-scale deployment of carbon capture and storage disadvantages producers here compared to the U.S., "despite claims to the contrary from some proponents of the environmental lobby."
Environmentalists have been critical of any additional federal support for carbon capture, calling it akin to a subsidy for oil and gas companies that enables them to increase production when the world should be scaling down fossil fuel usage.
But the BMO report said carbon capture is an essential part of the energy transition, and without offering improved incentives to keep up with the U.S., Canada risks not meeting its 2030 emissions reduction targets.
"Canada's market-based carbon price systems are much too uncertain to act as 'incentive' for industry to invest in major decarbonization projects," the BMO report stated.
"Emitters need financial supports that are tangible and recognized by financial institutions to underwrite bank financing."
This report by The Canadian Press was first published March 29, 2023.