Rising food, rent costs eat into young professionals' disposable income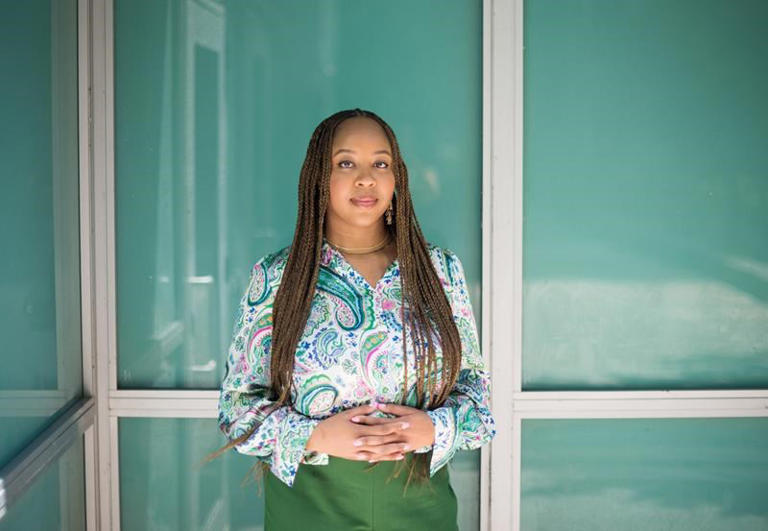 With inflation at a nearly 40-year high, Canadians are feeling the financial strain. In a six-part series this summer, The Canadian Press is speaking to people at different stages of life to see where they're being hit the hardest. This story details the experiences of young professionals.
———
Every time Afua Deborah fills her grocery basket, it's a shock to the system.
"It's insane seeing the price of, say, broccoli double, or something really menial, like green onions double or triple," she said.
Like many Canadians right now, groceries are putting a big strain on 28-year-old Deborah's pocketbook, especially now that she is no longer living with her parents.
The inflation rate for food, which reached 8.8 per cent in June compared to the same time last year, continues to outpace the broader rate of 8.1 per cent.
Deborah, who lives in Toronto and has been working as a front-end developer for the last two years, said rent is the other major variable eating away at her income and ability to save for big goals like buying a house. That's after she has scaled back on a lot.
A July report by real estate market research firm Urbanation Inc. found that rents in the Greater Toronto Area are rising fast, with dropping vacancy rates in the second quarter pushing up the average rent to $2,533, a 5.9 per cent increase compared to the first quarter.
Housing costs are rising in other cities too. The average rent for all Canadian properties was $1,885 in June, an increase of 9.5 per cent annually, according to Rentals.ca.
As for easing discretionary spending, Deborah is scaling back on outings to restaurants and bars, and not even bothering with concerts, noting how often they're getting cancelled.
"Instead of 'Let's go here, here, here, here,' it's more like 'OK, let's go here and let's share something.' Maybe I won't buy a second drink," she said.
"Or, you know, I might have friends over and we'll split Uber Eats or something like that just seems a little more conscientious."
Travel is one activity she was hoping to get back into, but is holding off because plane tickets and accommodations have gotten pricier. The ongoing delays at airports is another factor influencing her decision.
Day-to-day transportation has also become increasingly tricky.
"It's sad. It's sad grappling with the fact that this city that you were born and raised in, is now becoming like less and less habitable," she said.
It seems like regardless of how careful professionals in the 22 to 34 cohort are with their money, many are still finding it difficult to navigate the current economic climate, especially while trying to enjoy the pleasures of life as a young person and prepare for the future.
"People are finding it impossible to balance it all — it costs significantly more to simply exist," personal finance expert Danica Nelson said. "People are trying to figure out how to do more with less."
Inflationary pressures have even pushed some young professionals out of the country altogether, especially as wages lag.
Average hourly wages rose 5.2 per cent on a year-over-year basis in June, up from 3.9 per cent in May and 3.3 per cent in April, according to the most recent jobs data from Statistics Canada. That's still well below the pace of inflation.
Jen Chae, who grew up in Toronto, is a marketing professional in the fintech industry and has been working and living abroad for the past several months. She now lives in Switzerland, where she said she is making significantly more money and has been able to save more than she did while working in the city she was raised in.
"Not to mention, the work-life-balance and overall working culture feels more relaxed than what I experienced on Bay Street, despite still staying in the same industry of financial services."
Chad said she couldn't have maintained the lifestyle she had without her parents' help when she was in Toronto, as her salary wasn't keeping up with the cost of living.
"If salaries were higher and cost of living cooled in Toronto, I probably would have stayed there happily instead of moving to work abroad," Chae said.
To get through inflationary periods like this one, Nelson said budgeting is imperative.
She also advises young professionals to set up "sinking funds," which are reserves of money set aside for different expenses, and oftentimes bigger expenses. Every month you put money in one or multiple funds to be used for a later date.
Additionally, she suggests going back to some of the low-cost activities from the early days of the pandemic, whether it be picnics, walks or bike rides, in order to save some cash while maintaining a social life.
With the potential of a recession looming, Nelson is encouraging young professionals to bulk up their emergency savings accounts or create one if they haven't already.
Despite all of the economic uneasiness right now, there is a segment of young professionals who aren't overly worried.
Toronto-based portfolio manager Charlie Digalakis said the current economic climate has certainly "caught (his) attention," especially the high gas prices, but he feels confident in the decisions he's been making amid the trifecta of soaring inflation, high housing prices and rising interest rates.
"I think I've been budgeting really well during this time. And, you know, if I have to continue to draw back on some of my expenses that aren't necessities, then I'll continue to do that," he said.
This report by The Canadian Press was first published July27, 2022.
Adena Ali, The Canadian Press
OPEC+ weighs large oil cutback to boost sagging prices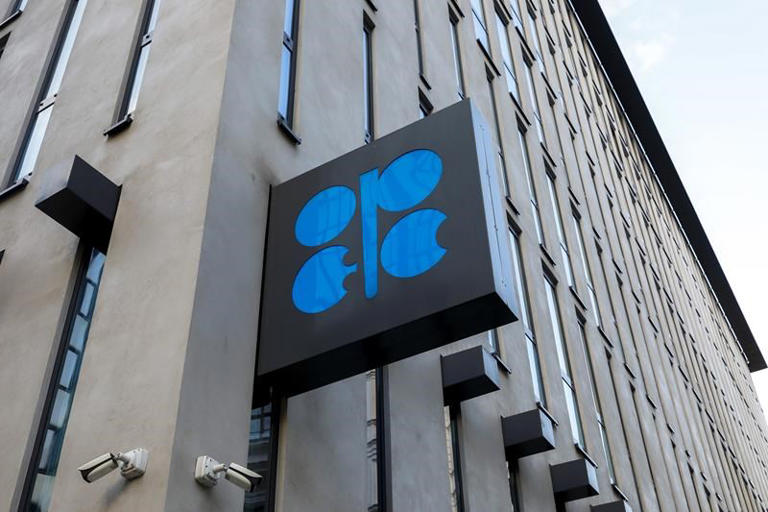 FRANKFURT, Germany (AP) — The OPEC+ alliance of oil-exporting countries on Wednesday will debate a potentially large cut in the amount of crude it ships to the global economy — a move that could help Russia weather a looming European ban on oil imports and raise gasoline prices for U.S. drivers just ahead of national midterm elections.
Energy ministers from the OPEC cartel, whose leading member is Saudi Arabia, and allied non-members including Russia are meeting in person at the group's Vienna headquarters for the first time since early 2020 at the start of the COVID-19 pandemic. Russian Deputy Prime Minister Alexander Novak, who has been sanctioned by the U.S., was attending the meeting in Austria's capital.
A production cut could benefit Russia by establishing higher prices ahead of a European Union ban on most Russian oil imports, a sanction over the invasion of Ukraine that takes effect at the end of the year, analysts at Commerzbank say.
Russia "will need to find new buyers for its oil when the EU embargo comes into force in early December and will presumably have to make further price concessions to do so," the analysts wrote in a note. "Higher prices beforehand — boosted by production cuts elsewhere — would therefore doubtless be very welcome."
Moscow also faces a separate push by the U.S. and the other Group of Seven wealthy democracies to impose a price cap on Russian oil by Dec. 5. The EU agreed Wednesday on new sanctions that are expected to include a price cap on Russian oil, an EU official said.
Oil prices surged this summer as markets worried about the loss of Russian supplies from sanctions over the war in Ukraine, but they slipped as fears about recessions in major economies and China's COVID-19 restrictions weighed on demand for crude.
The fall in oil prices has been a boon to U.S. drivers, who saw lower gasoline prices at the pump before costs recently started ticking up, and for U.S. President Joe Biden as his Democratic Party gears up for congressional elections next month.
It's unclear how much impact a production cut would have on oil prices — and thus gasoline prices — because members are already unable to meet the quotas set by OPEC+. Yet Saudi Arabia may be unwilling to strain its relationship with Russia even if the world's largest oil exporter had any reservations about cutbacks and has recently has drawn leaders from Biden to German Chancellor Olaf Scholz to talk about energy supplies.
The Commerzbank analysts said a small trim would likely see oil prices fall further, while the group would need to remove at least 500,000 barrels day from the market to bolster prices.
Such a production cut "would undoubtedly signal to the market the determination and resolve of the cartel to support oil prices," said UniCredit economist Edoardo Campanella. But supply would drop by less than announced.
"If the group cuts target production by 1 million barrels per day, actual output would likely drop by about 550,000 barrels per day — as countries like Russia or Nigeria that are producing below quota would see their formal target decline but remaining above what they can currently produce," Campanella said.
At its last meeting in September, the group reduced the amount of oil it produces by 100,000 barrels a day in October. That token cut didn't do much to boost lower oil prices, but it put markets on notice that OPEC+ was willing to act if prices kept falling.
International benchmark Brent has sagged as low as $84 in recent days after spending most of the summer months over $100 per barrel. U.S. oil prices fell below $80 per barrel Friday. Ahead of the meeting, U.S. crude traded at $86.38 and Brent at $91.66.
The White House declined to comment before OPEC leaders made a final decision on oil production, but press secretary Karine Jean-Pierre told reporters Tuesday that the U.S. would not extend releases from its strategic reserve to increase global supplies.
"We're not considering new releases," Jean-Pierre said.
Biden has tried to receive credit for gasoline prices falling from their average June peak of $5.02 — with administration officials highlighting a late March announcement that a million barrels a day would be released from the strategic reserve for six months. High inflation is a fundamental drag on Biden's approval and has dampened Democrats' chances in the midterm elections.
Gasoline prices recently turned up because of refinery outages in California and Ohio, and vary widely, from over $6 per gallon in California to under $3 in some parts of Texas and the Gulf Coast, according to motoring club federation AAA. The national average of $3.80 is up slightly but down from a record high on June 14.
One major factor weighing on oil prices has been fears of recessions in places like the U.S. and Europe and slowdowns due to China's strict COVID-19 measures.
Higher inflation is sapping consumer purchasing power, while central banks are raising interest rates to cool off overheating prices, a step that could slow economic growth. Oil prices at their summer highs, and higher natural gas prices boosted by Russian cutbacks to Europe, helped fuel inflation.
___
Associated Press reporter Josh Boak contributed from Washington.
David Mchugh, The Associated Press
Prairie premiers, governors urge Canada, U.S. to keep border crossings open longer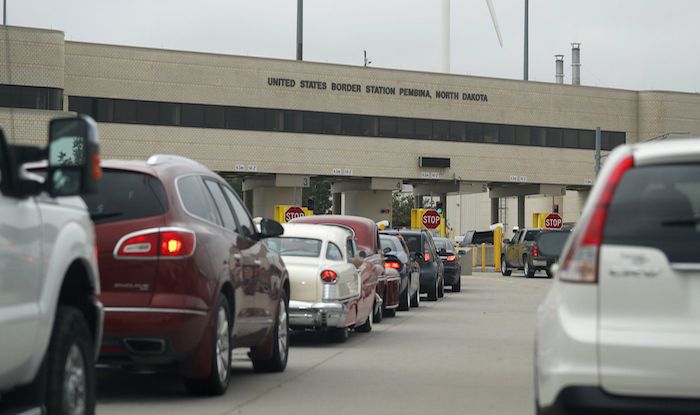 Washington – Canada's Prairie premiers and two U.S. governors want their respective countries to restore pre-pandemic operating hours at entry points along their shared land border.
The group of provincial and state leaders have written to Prime Minister Justin Trudeau and President Joe Biden to argue that curtailed hours at border crossings are hurting the economy.
The letter is signed by Alberta Premier Jason Kenney, Saskatchewan Premier Scott Moe and Manitoba Premier Heather Stefanson, as well as Montana Gov. Greg Gianforte and North Dakota Gov. Doug Burgum.
It says travellers and businesses are being forced to go out of their way to find entry points with longer hours, driving up fuel and labour costs.
The leaders say that's also hurting smaller border communities along the Canada-U.S. border that depend on international traffic for their economic livelihoods.
The letter does not mention that the U.S. still requires visiting foreign nationals to be vaccinated against COVID-19, a requirement Canada lifted over the weekend.
"Residents and businesses on both sides of the border have expressed concern that the reduced hours of operation will become permanent," the letter reads.
It also argues that the supply chain problems that have persisted since the onset of COVID-19 in 2020 will only linger so long as cross-border trade and travel remains curtailed by limited hours at border crossings.
"Resuming pre-pandemic operating hours will ensure the efficient and steady flow of people and goods, which will only improve trade activity and reduce inflationary pressure on both sides of the border."
A notice on the Canada Border Services Agency website warns of limited operating hours at nearly 40 land ports of entry, mostly in the Prairie provinces, along with Quebec, New Brunswick and B.C.
This report by The Canadian Press was first published Oct. 3, 2022.