'Revolutionary' high court term on abortion, guns and more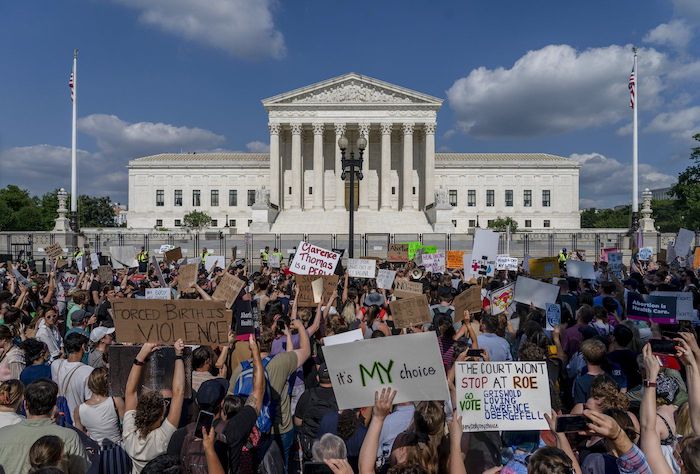 By Mark Sherman in Washington
WASHINGTON (AP) — Abortion, guns and religion — a major change in the law in any one of these areas would have made for a fateful Supreme Court term. In its first full term together, the court's conservative majority ruled in all three and issued other significant decisions limiting the government's regulatory powers.
And it has signaled no plans to slow down.
With three appointees of former President Donald Trump in their 50s, the six-justice conservative majority seems poised to keep control of the court for years to come, if not decades.
"This has been a revolutionary term in so many respects," said Tara Leigh Grove, a law professor at the University of Texas. "The court has massively changed constitutional law in really big ways."
Its remaining opinions issued, the court began its summer recess Thursday, and the justices will next return to the courtroom in October.
Overturning Roe v. Wade and ending a nearly half-century guarantee of abortion rights had the most immediate impact, shutting down or severely restricting abortions in roughly a dozen states within days of the decision.
In expanding gun rights and finding religious discrimination in two cases, the justices also made it harder to sustain gun control laws and lowered barriers to religion in public life.
Setting important new limits on regulatory authority, they reined in the government's ability to fight climate change and blocked a Biden administration effort to get workers at large companies vaccinated against COVID-19.
The remarkable week at the end of June in which the guns, abortion, religion and environmental cases were decided at least partially obscured other notable events, some of them troubling.
New Justice Ketanji Brown Jackson was sworn in Thursday as the first Black woman on the court. She replaced the retiring Justice Stephen Breyer, who served nearly 28 years, a switch that won't change the balance between liberals and conservatives on the court.
In early May, the court had to deal with the unprecedented leak of a draft opinion in the abortion case. Chief Justice John Roberts almost immediately ordered an investigation, about which the court has been mum ever since. Soon after, workers encircled the court with 8-foot-high fencing in response to security concerns. In June, police made a late-night arrest of an armed man near Justice Brett Kavanaugh's Maryland home, and charged him with attempted murder of the justice.
Kavanaugh is one of three Trump appointees along with Justices Neil Gorsuch and Amy Coney Barrett who fortified the right side of the court. Greg Garre, who served as former President George W. Bush's top Supreme Court lawyer, said when the court began its term in October "the biggest question was not so much which direction the court was headed in, but how fast it was going. The term answers that question pretty resoundingly, which is fast."
The speed also revealed that the chief justice no longer has the control over the court he held when he was one of five, not six, conservatives, Garre said.
Roberts, who favors a more incremental approach that might bolster perceptions of the court as a nonpolitical institution, broke most notably with the other conservatives in the abortion case, writing that it was unnecessary to overturn Roe, which he called a "serious jolt" to the legal system. On the other hand, he was part of every other ideologically divided majority.
If the past year revealed limits on the chief justice's influence, it also showcased the sway of Justice Clarence Thomas, the longest-serving member of the court. He wrote the decision expanding gun rights and the abortion case marked the culmination of his 30-year effort on the Supreme Court to get rid of Roe, which had stood since 1973.
Abortion is just one of several areas in which Thomas is prepared to jettison court precedents. The justices interred a second of their decisions, Lemon v. Kurtzman, in ruling for a high school football coach's right pray on the 50-yard line following games. It's not clear, though, that other justices are as comfortable as Thomas in overturning past decisions.
The abortion and guns cases also seemed contradictory to some critics in that the court handed states authority over the most personal decisions, but limited state power in regulating guns. One distinction the majorities in those cases drew, though, is that the Constitution explicitly mentions guns, but not abortion.
Those decisions do not seem especially popular with the public, according to opinion polls. Polls show a sharp drop in the court's approval rating and in people's confidence in the court as an institution.
Justices on courts past have acknowledged a concern about public perception. As recently as last September, Justice Amy Coney Barrett said, "My goal today is to convince you that this court is not comprised of a bunch of partisan hacks." Barrett spoke in at a center named for Senate Republican leader Mitch McConnell of Kentucky, who engineered her rapid confirmation in 2020 and was sitting on the stage near the justice.
But the conservatives, minus Roberts, rejected any concern about perception in the abortion case, said Grove, the University of Texas professor.
Justice Samuel Alito wrote in his majority opinion that "not only are we not going to focus on that, we should not focus on that," she said. "I'm sympathetic as an academic, but I was surprised to see that coming from that many real-world justices."
The liberal justices, though, wrote repeatedly that the court's aggressiveness in this epic term was doing damage to the institution. Justice Sonia Sotomayor described her fellow justices as "a restless and newly constituted Court." Justice Elena Kagan, in her abortion dissent, wrote: "The Court reverses course today for one reason and one reason only: because the composition of this Court has changed."
In 18 decisions, at least five conservative justices joined to form a majority and all three liberals were in dissent, roughly 30% of all the cases the court heard in its term that began last October.
Among these, the court also:
— Made it harder for people to sue state and federal authorities for violations of constitutional rights.
— Raised the bar for defendants asserting their rights were violated, ruling against a Michigan man who was shackled at trial.
— Limited how some death row inmates and others sentenced to lengthy prison terms can pursue claims that their lawyers did a poor job representing them.
In emergency appeals, also called the court's "shadow" docket because the justices often provide little or no explanation for their actions, the conservatives ordered the use of congressional districts for this year's elections in Alabama and Louisiana even though lower federal courts have found they likely violated the federal Voting Rights Act by diluting the power of Black voters.
The justices will hear arguments in the Alabama case in October, among several high-profile cases involving race or elections, or both.
Also when the justices resume hearing arguments the use of race as a factor in college admissions is on the table, just six years after the court reaffirmed its permissibility. And the court will consider a controversial Republican-led appeal that would vastly increase the power of state lawmakers over federal elections, at the expense of state courts.
These and cases on the intersection of LGBTQ and religious rights and another major environmental case involving development and water pollution also are likely to result in ideologically split decisions.
Khiara Bridges, a professor at the University of California, Berkeley, law school, drew a link between the voting rights and abortion cases. In the latter, Alito wrote in Dobbs v. Jackson Women's Health Organization that abortion should be decided by elected officials, not judges.
"I find it to be incredibly disingenuous for Alito to suggest that all that Dobbs is doing is returning this question to the states and that people can battle in the state about whether to protect fetal life or the interest of the pregnant person," Bridges said. "But that same court is actively involved in insuring that states can disenfranchise people."
Bridges also said the outcomes aligned almost perfectly with the political aims of Republicans. "Whatever the Republican party wants, the Republican party is going to get out of the currently constituted court," she said.
Defenders of the court's decisions said the criticism misses the mark because it confuses policy with law. "Supreme Court decisions are often not about what the policy should be, but rather about who (or which level of government, or which institution) should make the policy," Princeton University political scientist Robert George wrote on Twitter.
For now, there is no sign that either the justices or Republican and conservative interests that have brought so many of the high-profile cases to the court intend to trim their sails, Grove said.
That's in part because there's no realistic prospect of court reforms that would limit the cases the justices could hear, impose term limits or increase the size of the Supreme Court, said Grove, who served on President Joe Biden's bipartisan Supreme Court commission on court reforms.
___
Associated Press writer Jessica Gresko contributed to this report.
Indonesian leader calls for unity, braces for global crises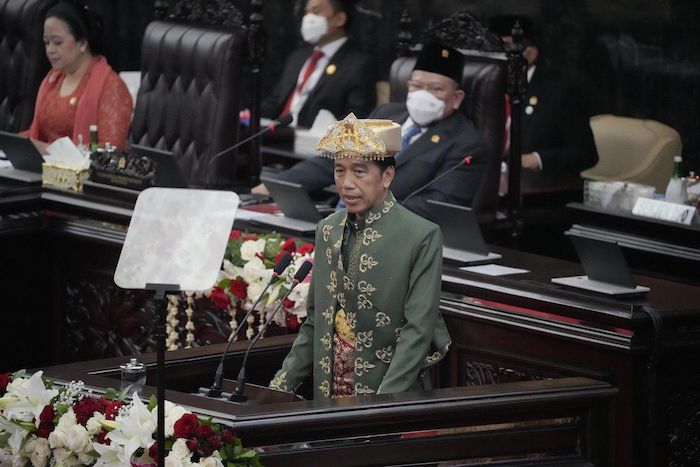 By Niniek Karmini in Jakarta
JAKARTA, Indonesia (AP) — Indonesia's president called on all citizens to remain united, vigilant and alert as they face crises fueled by the war in Ukraine and coronavirus pandemic in his State of the Nation address Tuesday.
After two years of remote meetings amid pandemic restrictions, more than half of Indonesia's Parliament was in attendance as President Joko Widodo told them and top officials on the eve of Independence Day that regional tensions are threatening security.
"We must always remain vigilant, cautious and alert," Widodo said. "Crisis after crisis still haunts the world."
He noted that when war broke out in Ukraine causing energy and food crises, the world was still grappling with the health and economic impacts of COVID-19. Some countries are predicted to go bankrupt, while over 550 million people face extreme poverty and 345 million others face food shortages and famine, Widodo said.
"The challenges are not easy for the world and for Indonesia. We must face those challenges with prudence and vigilance," he said.
Russia's war in Ukraine has exacerbated rising prices in Indonesia amid ongoing supply chain disruptions from the pandemic, causing cooking oil prices to soar while the interruptions in wheat, soybeans and corn have affected the cost of several foods.
In April, Indonesia banned all exports of crude palm oil, a key ingredient in cooking oils, for a month amid a series of student protests against skyrocketing food prices. Indonesia and Malaysia are the world's largest exporters of palm oil, accounting for 85% of global production.
As the host of the Group of 20 richest and biggest economies this year, Indonesia has sought to bridge divisions between members over Russia's invasion. Widodo has been guarded in his comments about the war in Ukraine in an attempt to remain neutral.
Widodo was the first Asian leader to visit the warring countries. Ukraine is not a G-20 member, but Widodo has invited Ukrainian President Volodymyr Zelenskyy to the November summit along with Russian President Vladimir Putin, hoping to appease all sides and limit any distractions from the forum's agenda. Zelenskyy has said he won't attend if the war is continuing then and has opted to follow the discussions by video link.
The inflation rate in Indonesia has been relatively modest with the shock being mostly absorbed through a budget bolstered by energy subsidies.
Widodo said the state budget recorded a surplus of 106 trillion rupiah ($7.2 billion), allowing the government to provide fuel, gas and electricity subsidies of 502 trillion rupiah ($34 billion) this year to cushion fuel prices.
However, he said the administration must recalculate its energy subsidies to reduce the burden on the budget.
Southeast Asia's largest economy served as a key exporter of coal, palm oil and minerals amid a global shortage in commodities after Russia's invasion of Ukraine. Coal exports increased to record levels in March after a brief ban on its shipments early this year to secure domestic supplies.
Thousands of Afghans who helped Canada trapped in Afghanistan, struggling to leave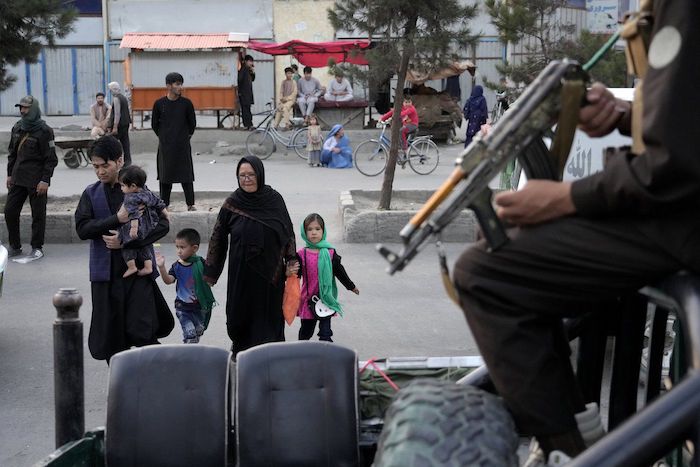 By Marie Woolf in Ottawa
MPs and veteran-led aid groups are urging ministers to do more to help thousands of Afghans who assisted Canadian Forces but remain trapped in Afghanistan a year after the Taliban seized Kabul.
They warn that 8,000 Afghans approved to come to Canada have not yet been able to escape. Many do not have a passport or visa and applying to the Taliban for documents could put them in danger.
Another 3,000 Afghans who helped Canada's Armed Forces and government have not been approved to come to Canada, according to Aman Lara, a veteran-led non-governmental organization working to help interpreters and other Canadian government employees on the ground.
Brian Macdonald, Aman Lara's executive director, urged Canada to extend the special immigration program, set up to settle 18,000 former local employees of the Canadian Armed Forces or government, which is being effectively wound down after reaching capacity.
"There are 8,000 people in Afghanistan who have been approved to come to Canada under the special immigration program who can't get out," he said.
"We are asking the government of Canada to keep the special immigration program open and unlimited in numbers until everybody who helped Canada gets out."
A spokeswoman for Immigration Minister Sean Fraser said in June the department has received over 15,000 applications for the program, as well as referrals for the remaining 3,000 spaces.
Official figures show Canada's resettlement efforts have lagged behind federal targets and efforts to help those fleeing the war in Ukraine.
More than 17,300 Afghans have arrived in Canada since last August compared to 71,800 Ukrainians who have come to Canada in 2022 alone, according to government statistics. The federal government has promised to resettle 40,000 Afghans.
Fraser predicted in December that it could take two years to fulfil the government's promise to bring 40,000 Afghan refugees to Canada.
Canadian activists and opposition MPs accused the Liberals of not doing enough and say some families are in hiding from the Taliban as they await approval of their immigration applications.
NDP immigration critic Jenny Kwan, who has been in contact with many Afghan refugees who worked with Canadian Forces, said there is a "stark difference" between the government's treatment of those fleeing the Taliban and those fleeing the Russian invasion.
She said the situation for Afghans who helped Canada is "grave," with many unable to escape the country and facing persecution by the Taliban.
Kwan said some received no reply to their applications from the Immigration Department other than an automated response. Others seeking visas from the Taliban authorities to escape their regime were put in peril if they identified themselves.
"Their lives are in danger. They told me what the Taliban are calling them: they are called 'the Western dogs,'" Kwan said.
"We owe them a debt of gratitude. We cannot abandon them."
Amanda Moddejonge, a military veteran and activist, said she has witnessed families being split up, with only some members making it to Canada. She also warned that Afghans who worked for Canadian Forces "are being hunted" by the Taliban.
"Nobody should face death for working for the Government of Canada, especially when this government can identify those who worked for them and is able to provide them life-saving assistance," she said.
Macdonald said safe houses set up by Aman Lara for Afghan interpreters and their families, and others who helped Canada, have closed because the exodus to Canada has taken so long and it could not afford to keep them open.
He said the Pakistan government had agreed to a 60-day window in June to allow Afghans without full documentation to leave the country to fly to Canada, but not all Afghan and Pakistani officials at borders and airports were aware.
He called on the Canadian government to negotiate to keep that window open until all Afghans approved to come to Canada are able to get here.
His plea came as aid agencies working in Afghanistan raise alarms that the country is in a dire humanitarian crisis, with 18.9 million people facing acute hunger.
Asuntha Charles, national director of World Vision Afghanistan, said aid workers have encountered acute poverty and malnutrition, including among children.
"At least one million children are on the brink of starvation, and at least 36 per cent of Afghan children suffer from stunting — being small for their age — a common and largely irreversible effect of malnutrition," she said.
"In the four areas we work, we've found that families live on less than a dollar a day. This has forced seven out of 10 boys and half of all girls to work to help their families instead of going to school."
Vincent Hughes, a spokesman for Fraser, said the Afghan and Ukrainian immigration programs are very different.
He said Afghan refugees who arrive through programs set up to bring them to Canada have a right to stay permanently, whereas it's believed many Ukrainians who have fled to Canada intend eventually to return to Ukraine.
Helping get people out of Afghanistan and to Canada was very challenging, he added, as Canada has no diplomatic presence there and does not recognize the Taliban government.
"Our commitment of bringing at least 40,000 vulnerable Afghans to Canada has not wavered, and it remains one of the largest programs around the world," he said.
Afghanistan's ambassador to Canada, who has no contact with the Taliban regime, said "the experience of the past one year in Afghanistan has been very painful and disturbing."
Hassan Soroosh said the Taliban had swiftly reintroduced "repressive policies" including restrictions "on almost every aspect of girls' and women's lives and rights."
"The Taliban's forced takeover has caused a huge disruption to constitutional order, socio-economic development, public services and civil society activities," he said.
The ambassador called for the international community to take a unified approach toward the Taliban and put greater pressure on them "as they continue to insist on their uncompromising approach and repressive rule."
"We remain grateful to Canada for maintaining a principled position on the current tragic situation in Afghanistan and for a sustained commitment in support of the people of Afghanistan including women, girls and those who need resettlement support," he said.
In a joint statement on Sunday, Canada's ministers of foreign affairs, immigration, international development and national defence said "we have witnessed the hardships endured by the Afghan people, with some having undergone harrowing journeys to flee the country and countless others living in fear of persecution and retribution."
"Faced with a heart-wrenching situation in Afghanistan, Canadians opened their hearts to help people rebuild their lives and more than 17,300 Afghans have arrived in Canada over the past year."
This report by The Canadian Press was first published Aug. 15, 2022.