Remarkable year at Red Deer College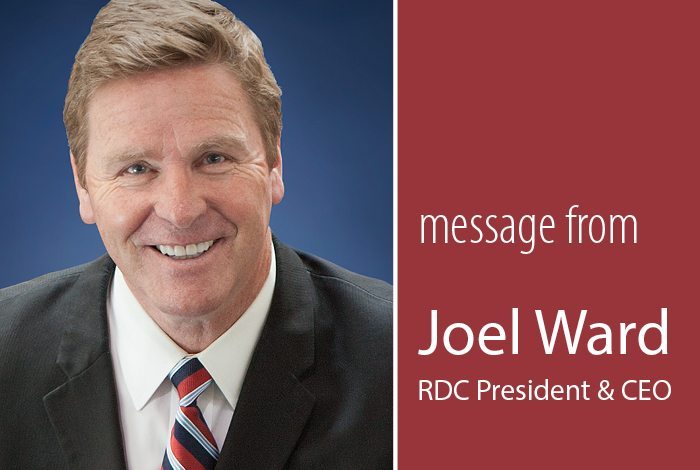 From RDC President Joel Ward
RDC's journey through 2018
Of all the important days we celebrated throughout the past year, March 1, 2018, was the single-most historic day for Red Deer College. With 600 people packing our Arts Centre and many more watching through livestream, Premier Rachel Notley shared the long-awaited news that Red Deer College will become a recognized university.
That was the start of our university journey, and this incredible accomplishment was only possible because of the perseverance and commitment of countless people – our senior leaders, staff, faculty, students, partners and community members. This diverse and dedicated group believes in what Red Deer College is and what it can become. As a comprehensive regional teaching university, we will offer the full range of credentials we do now, with the addition of our own degrees. This will benefit our students and strengthen our entire region.
To this end, 2018 saw us achieve many successes in new programming. In May, Minister of Advanced Education, Marlin Schmidt, announced RDC had approval to launch our first four-year degree, a Bachelor of Applied Arts in Animation and Visual Effects. Over several months, we announced other new programs across a range of credentials: a collaborative degree, a diploma, a certificate and three post-diploma certificates. In September, the Minister came to RDC again, when we received approval to launch our second four-year degree, a Bachelor of Applied Arts in Theatre, Film, and Live Entertainment.
This demonstrates our commitment to offering diverse programs across a range of disciplines – programs that our region needs, with courses that have been developed in collaboration with industry professionals. This is exactly the type of university we will become, and I am so proud of the strides we have already made and continue to make as our institution evolves.
Another significant part of our evolution is easy to see with the physical changes on main campus. In August, we celebrated the opening of the Gary W. Harris Canada Games Centre. Since then, students, our RDC Athletics teams, and athletes of all ages from central Alberta and beyond have learned and competed in this building. Community members and organizations have also benefitted from the Fitness Centre and the wealth of opportunities within the facility.
Opportunities for alternative energy learning and research are happening in our new Alternative Energy Lab, which is part of our larger Alternative Energy Initiative. Through this Initiative, we had originally planned on reducing our energy costs by 20%, but we've already far surpassed that goal.
We now have almost 4,200 solar panels across campus, which makes RDC an institutional leader across Canada. We've also installed a combined heat and power unit, and we're pursuing other alternative technologies that can convert organic waste into fuel for a boiler system.
Alternative energy technology has also been integrated into our new Residence building, which is in its final stages of construction and will be complete for the 2019 Canada Winter Games.
Throughout all of our initiatives and milestone achievements from the past year, the common thread is the meaningful collaboration with our partners from all areas of this region and beyond. A few highlights that demonstrate this important work include the creation of RDC's Indigenous Education Strategic Plan, which was led by our Indigenous Student Services team, after extensive consultation with Indigenous communities and Elders, as well as faculty, staff and Indigenous students at RDC.
Another powerful example of collaboration was recently achieved with the Central Alberta Child Advocacy Centre, an important partner with RDC. In December, RDC received Government of Alberta approval for CACAC to build its Centre for Excellence on our campus. This will allow them to expand their services, helping to assist even more children and families in our region, and it will provide many learning opportunities for our students.
2018 has been an incredible year of milestones, and these have had very meaningful impacts for those who learn and work here, as well as those who are connected with our College through partnerships and community support. As we look ahead to 2019, we have an exciting year ahead with RDC's role in the Canada Winter Games and with the upcoming renaming of our institution. Thank you to our community members, Board of Governors, faculty, staff, students and partners for your support and for working with us to shape RDC's future.
Joel Ward is President & CEO of Red Deer College.
Mayor invites everyone to the annual Garden Party
Please join Mayor Tara Veer and members of City Council for an enjoyable and entertaining afternoon featuring musical entertainment and refreshments in beautiful City Hall Park. Guests are encouraged to dress for "high tea".
Accessible parking is available on Ross Street, north of City Hall Park, for specialized transit, handicap accessibility and load in/out zones.
For additional information, please contact Culture Services at 403-406-8820 or culturemailbox@reddeer.ca.
*In the event of inclement weather, the event will be relocated to the Collicutt Centre Field House (3031 30 Ave).
Everyone's invited to World Refugee Day Community Dinner
Please join us at our World Refugee Day Event on June 22nd from 4pm – 7pm. Speakers, entertainment, community dinner. Children's activities. Come and welcome some of the people who came here under refugee status and make new friends.
We are commemorating the day on June 22 at Gaetz United Church – Pioneer Hall.
Please join us in giving a warm welcome to the refugees in our community. World Refugee Day offers an opportunity for everyone to show support for people forced to flee.
The event is free.