Red Deer's Boer War Soldiers
As Honorary Lieutenant Colonel of 41 Signal Regiment, I think it's important that we learn about our military history, especially one as rich and meaningful as our local military history.  Here in the 2nd of 3 local stories, Michael Dawe tells us about the soldiers from our region who made the ultimate sacrifice in the Boer War.
When the Red Deer Hospital opened in 1904, it was dedicated to the memory of three young men from the Balmoral District east of Red Deer who had been killed in the Boer War. They were Angus Jenkins, Archibald McNicoll and Charles Cruickshank.
Angus Jenkins was born in Fredericton New Brunswick in 1877. He moved with his parents, brother and sister to a homestead about three miles east of Red Deer.  A big strapping man, more than 6 feet in height, he became a "cow puncher".
In February 1900, he went down to Pincher Creek with his friend Charles Cruickshank and enlisted in the Lord Strathcona Horse. He then departed for South African and the Boer War.
On July 1 (Dominion Day) 1900, he was proceeding with an advance party near Waterval, South Africa. They encountered a group of Boers flying a white flag in a farm house.  When the Canadians proceeded closer, they were ambushed by unseen enemies who were hiding in a small orchard. Trooper Jenkins was killed instantly when a Mauser bullet hit his bandolier and two cartridges exploded.
Angus Jenkins was the first member of the Lord Strathcona Horse to be killed in action. He was buried in a garden at Wuuchaut Spruit. The Earl of Dundonald and Colonel Sam Steele attended the funeral.
Charles Cruickshank was born in 1877 in Pembroke Ontario. In 1891, he moved with his family to Red Deer, homesteading in Balmoral.  Charles originally worked in the construction business with his father, but later became a cowboy. In February 1900, he enlisted in the Lord Strathcona Horse with Angus Jenkins.
On September 4th, 1900, near Badfontein, South Africa, he was part of a small group of soldiers sent to assist an observation post which was coming under enemy attack. Trooper Cruickshank and Sergeant Brothers were in the front of the relieving party. When their company was forced to withdraw, they were found to be missing. Later that night, when the observation post was recaptured, the bodies of the two men were found.
Charles Cruickshank was buried by Rev. Webb Peploe, formerly of Calgary, in a grave at the headwaters of the Crocodile River.
Archibald McNicoll was born in 1876 in Bruce County Ontario. He moved with his family to the Balmoral district in the spring of 1891. The McNicolls started Red Deer's first market garden. Archibald later became a cowboy, In February 1900, he responded to the call to serve "King and Empire" and enlisted in the Lord Strathcona Horse in Calgary.
In June 1900, he became severely ill with enteric (typhoid) fever. He died at Newcastle, South Africa on June 19th. He is buried near the site of the army hospital.
There was a large plaque at the Red Deer Regional Hospital which commemorated the fact that the Red Deer Hospital was originally dedicated to these three young men who lost their lives while serving their country. When Alberta Health Services took over the management of the Regional Hospital, it was taken down. It now resides at the Red Deer Museum.
Grant's story: Amazing Improvement with Hard Work & Support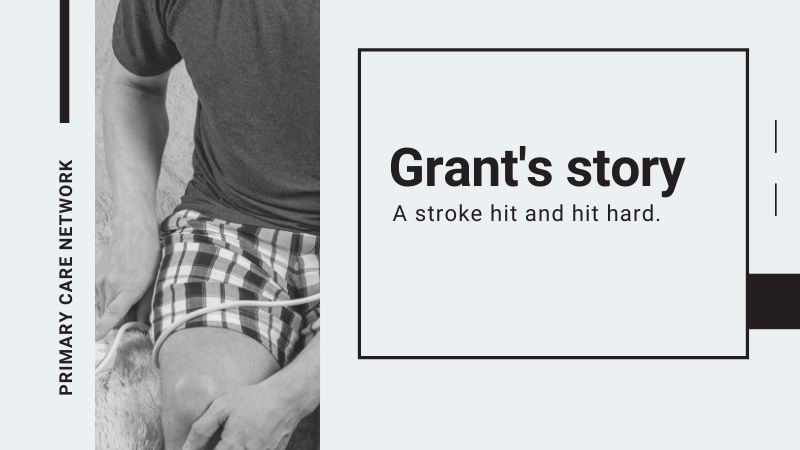 Grant was in his mid-fifties – maybe a bit overweight but with no other cardiovascular risk factors. However, a stroke hit and hit hard. His right side was very compromised, he had little use of his hands, he was unable to walk or lift his right arm. He was hospitalized in Red Deer for 4 months and then went to the Centennial Centre in Ponoka for rehab for 6 months. His doctor had told him that he would be bound to a wheelchair for the rest of his life and would never walk again or be able to recover from this stroke. This made Grant angry as he didn't want this prognosis.
Since that time, he has put a lot of work and effort into getting better. The physios and rehab team helped him make progress, but he kept asking them how he could get more training. They were able to refer him to Recreation Therapy at RDPCN. His therapist arranged to work with him at the Gary W Harris Canada Games Centre three times per week. He is doing a lot better now. He can walk with a cane and he can lift 30 pounds on the machines at the gym. He can now clap hands. He has gained strength and control, his gait has improved along with his endurance, and he has an increased range of motion and strength in his upper extremities. He can now do many more tasks of daily living such as carry groceries, cook and barbeque.
Grant states that his doctor can't believe his progress. Other people he knows have said very similar things. Working with the Rec Therapist has been very encouraging and supportive. The Rec Therapist has really helped me to stay motivated. Having a plan for myself also helps the attendants at the Gary Harris Centre to work with me to move forward. I have highly recommended this program to others I know who have had a stroke.
My work is not done but I am proud of the progress I have made and thankful for everything I can do for myself.
To learn more about the RDPCN programs, visit www.reddeerpcn.com
Keep cool with the firefighters this Thursday!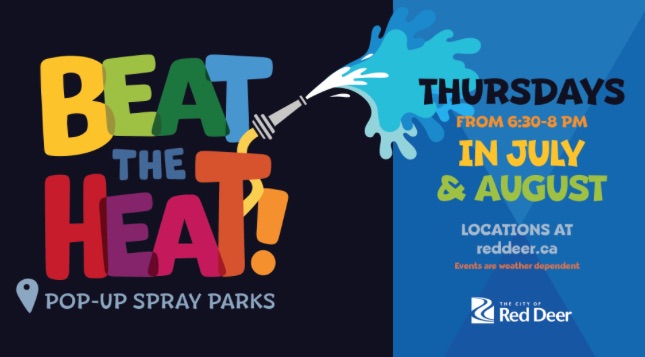 Pop-up Spray Parks
Members of Red Deer Emergency Services, RCMP and Municipal Enforcement blasted the hoses to keep you cool Thursdays in July and August.
Pop-up spray parks are popping up across Red Deer this summer. Beat the heat with Red Deer Emergency Services, Municipal Policing Services and RCMP in a neighbourhood near you.
Participants are reminded to not attend if they are feeling unwell or are currently required to quarantine.
Thursdays from 6:30 – 8 p.m.
| Date | Location | Address |
| --- | --- | --- |
| | | |
| July 22 | Highland Green Community Centre | 65 Halladay Avenue |
| July 29 | Deer Park Community Association | 181 Dowler Street |
| August 5 | To Be Confirmed | —– |
| August 12 | Riverside Meadows Community Centre | 6021 57 Avenue |
| August 19 | Joseph Welsh Elementary School | 4401 37 Avenue |
*Events are weather dependent.