Red Deer Vipers Fall To Stettler
By Sheldon Spackman
Just two games in the Heritage Junior Hockey League on Tuesday evening including the Red Deer Vipers in Stettler to play the Lightning.
The Vipers lost 5-3 at the Stettler Recreation Centre, dropping their record now to 17-8-1 with 35 points and third place in the HJHL's North Division. The Lightning improve to 12-12-1 with 25 points and fifth place in the North Division.
The Vipers next game is in Stettler again this Friday, December 16th at 7:30pm.
Elsewhere in the HJHL on Tuesday night, the Blackfalds Wranglers pulled out a big 10-2 win over the Banff Academy Bears in Blackfalds. The Wranglers dominated on the score board and on the shot clock, outshooting the Bears 56-30.
Landon Siegle scored five times for Blackfalds, while other goals came from Austin Wilson, Loclyn Kabatoff, Brody Bolton, Shawn Rowe and Ryan Chambers.
The win is the Wranglers third in a row and improves their record to 16-8-0 with 32 points and fourth place in the HJHL's North Division. Banff drops to 5-16-2 with 12 points and seventh place or last in the South Division.
Blackfalds next game is Saturday, December 17th at 8:00pm at the Collicutt Centre in Red Deer against the Vipers.
One game in the HJHL Wednesday night features the Three Hills Thrashers in Didsbury to play the Mountainview Colts. The Thrashers are 5-18-1 with 11 points and are seventh place or last in the North Division, while Mountainview is 20-3-2 with 42 points and first place in the North Division. The Colts have won 7 in a row coming into this one, while the Thrashers have lost 11 straight.
It's an 8:00pm face-off.
End of an era for Red Deer Minor baseball Braves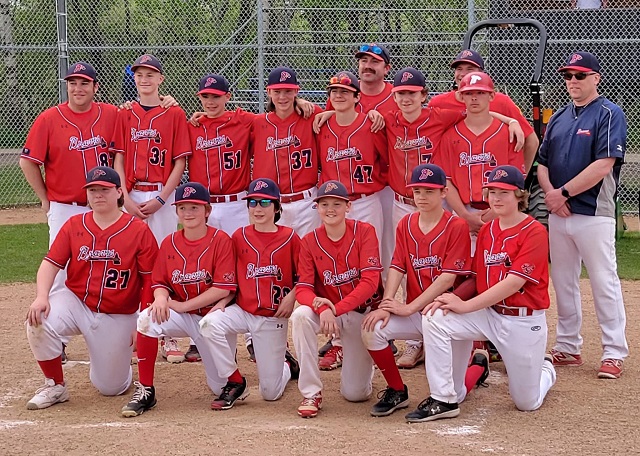 From Red Deer Minor Baseball Board of Directors
Following many discussions within the Red Deer community, the baseball community, our association members, as well as our board of directors we have made the decision to move forward with rebranding our teams, currently known as the Braves. For our association the Braves name symbolized warrior strength, bravery and resilience, all qualities we were proud to align with; and although the initial moniker of our teams was never intended to carry a derogatory or disrespectful connotation, for some, it has. The topic of our rebrand has been polarizing and arguments both for and against have been passionately presented. We have made the decision to move forward in the direction we feel is best for our association.
In alignment with the membership majority vote, the Red Deer Minor Baseball Board of Directors is excited to announce that we will now be known as the Red Deer Rangers.
The Red Deer Rangers will retain our current navy and crimson colors and will not adopt the colors or logo of the MLB, NHL, or any other Rangers franchise. We are looking forward to forging our own identity and embracing our own look.
As you can appreciate this is a complex initiative that will take time. We will remain the Braves for the 2024 season and aim to have our rebrand complete for the 2025 season.
All participants that submitted the Rangers name during our rebranding poll, will be entered into a draw to receive the first Red Deer Rangers jersey.
We hope you will join us in celebrating this positive endeavor as we create a new inclusive legacy for our association that all can be proud of.
RDMBA Board of Directors
Red Deer Minor Hockey is proud to announce our new General Manager Lane Moore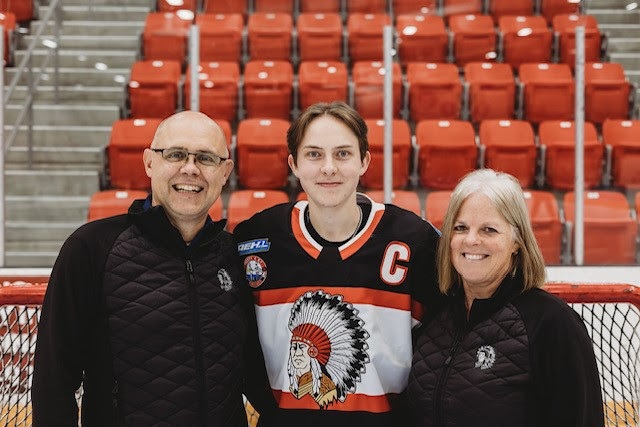 From Red Deer Minor Hockey
The Red Deer Minor Hockey Board of Directors is pleased & honored to announce, after an extensive search, that Lane Moore has accepted the position of General Manager of Red Deer Minor Hockey. Lane will start his new role early in the new year & is very excited about leading our organization into the future as we aim to provide a positive learning and maturing experience for all of our young athletes & coaches in a minor hockey setting.
Lane comes into the role of General Manager with an extensive resume, in both hockey and administration. Lane has led the Bentley school as principal for the last 17 years & was an educator prior to that. On the hockey side, Lane's passion for coaching & engaging with young athletes, dates back to 2002. His most recent involvement as a coach with Red Deer Minor Hockey saw Lane lead the U17AAA North Star Chiefs for 2 seasons (21-22, 22-23). Prior to his work with Red Deer Minor Hockey Lane served as President of Rimbey Minor Hockey for several seasons.
One of Lane's biggest strengths is his ability to create highly effective teams by building a common mission & vision & then executing on those through visionary leadership. These attributes shone through during this General Manager search and we are thrilled for Lane to lead this organization now & into the future as we aim to be one of the premier Minor Hockey Associations in the province.
Lane, his wife Kathleen & their three children Easton, Cooper & Lexi call Red Deer home. His son Cooper is the captain of Red Deer U18AAA Optimist Chiefs & his older son Easton is pursuing his hockey career and post-secondary studies in Massachusetts. Please join us in congratulating Lane Moore as the new General Manager of the Red Deer Minor Hockey Commission, welcome Lane!