Protests and marches sparked by RCMP arrest at B.C. pipeline protest camp
The arrest of 14 people at an Indigenous blockade in a remote area of northern British Columbia became a flash point Tuesday that sparked protests across the country.
Protesters delayed Prime Minister Justin Trudeau's speech in Ottawa, stopped traffic in Vancouver and Victoria and prompted a counter protest in front of the headquarters of the company building the pipeline at the centre of the dispute.
RCMP made the arrests Monday at a blockade southwest of Houston, B.C., where some members of the Gidimt'en clan of the Wet'suwet'en First Nation had set up a camp to control access to a pipeline project across their territory.
Police were enforcing a B.C. Supreme Court injunction granted to TransCanada Corp. subsidiary Coastal GasLink. It ordered the removal of obstructions in Wet'suwet'en territory as work gets underway on a $6.2-billion pipeline carrying natural gas from the Dawson Creek area to Kitimat.
Grand Chief Stewart Phillip of the Union of B.C. Indian Chiefs told a crowd at Victory Square in Vancouver that it would be a watershed year for Indigenous people in the fight against pipelines crossing their lands.
"We're starting off 2019 with a bang," he said to cheers and applause. "I want to say to Prime Minister Trudeau: Welcome to battle ground British Columbia."
About 60 people attended the rally in support of the First Nation outside the headquarters of TransCanada Corp. in downtown Calgary. They were greeted by about the same number of pipeline supporters who were encouraged to come out by Canada Action, a Calgary-based lobby group.
Chants of "Build that Pipe" drowned out the blockade supporters initially but the anti-pipeline group found its voice and were soon matching the volume with their own chant of "Consent. Sovereignty!"
There were no physical confrontations but angry words and hand gestures flew back and forth as at least a dozen Calgary police officers used their bodies and bicycles to separate the groups.
Stephen Buffalo, CEO of the Indian Resource Council of Canada, which represents oil and gas producing First Nations, took part in the pro-pipeline part of the rally.
"The big thing is we've got to be able to support our communities that said yes to this (project) because it's their community that needs that financial benefit," he said.
"It's about getting out of poverty and finding a way for our people."
Police concerns about a protest in Ottawa forced Trudeau to move to another building close to Parliament Hill to give a speech at a forum.
The company has said it has signed agreements with all First Nations along the route for LNG Canada's $40 billion liquefied natural gas project in Kitimat, but demonstrators argue Wet'suwet'en house chiefs, who are hereditary rather than elected, have not given consent.
In an open letter issued Tuesday, Coastal GasLink president Rick Gateman said the company took legal action as a last resort and while it respects the rights of people to peacefully express their points of view, safety is a key concern.
"It has been a long, and sometimes difficult, journey but we are proud of the relationships we've built, and the support of the communities and all 20 elected Indigenous bands along the route as well as the many hereditary chiefs who also support the project," he wrote.
He said the pipeline will meet rigorous environment standards and bring significant benefits, including an estimated 2,500 jobs, many with First Nations contractors.
The national chief of the Assembly of First Nations said the use of police force against people peacefully protesting the construction of the pipeline is a violation of their human and Aboriginal rights.
"Building consensus under duress will make the resolution of the situation in northern British Columbia very difficult," Perry Bellegarde said in a statement Tuesday. "Real consensus will be built when the parties, with very different views, come together in meaningful and productive dialogue. And I am confident that they can do this."
Bellegarde said the Canadian and B.C. governments have promised to implement UN Declaration on the Rights of Indigenous Peoples but in northern B.C. they are imposing their laws over those of the Wet'suwet'en.
Gidimt'en member Jen Wickham said hereditary chiefs had gathered near the site of the B.C. camp Tuesday.
The Gidimt'en set up a gate in December in support of an anti-pipeline camp that members of the Unist'ot'en, another Wet'suwet'en clan, established years ago.
Wickham, who has fielded calls from India and the United Kingdom about the pipeline resistance, said it's been "surreal" to see the international response.
She said she believes the issue is gaining attention now because the Gidimt'en have dispelled the myth that it's only individuals from one clan opposing the project.
"I think now that the Gidimt'en have stepped up and said, 'No, this is a nation-based issue, this is about sovereignty,' it's really sinking in," she said.
New Democrat MP Nathan Cullen, who represents the area, said the protest he witnessed on Monday was "determined" but "peaceful. He estimated about 200 police officers were used to enforce the court injunction.
Cpl. Madonna Saunderson would not say how many RCMP officers were involved in the operation.
The Mounties placed exclusion areas and road closures near the Morice River Bridge where the blockade was located that prevented Coastal GasLink from getting access to its pipeline right of way.
LNG Canada announced in October that it was moving ahead with its plans for the Kitimat export facility. Construction on the 670-kilometre natural gas pipeline is scheduled to begin this month.
In Halifax, about 150 protesters gathered on the steps of Halifax Regional Police headquarters, where the RCMP has a significant presence.
"I'm here to stand in solidarity with the folks on the front lines of Wet'suwet'en that are protecting their unceded territory and to express to the RCMP," Halifax resident Sadie Beaton said before the protest started with a sweetgrass ceremony.
Protesters marched through downtown Toronto, chanting "TransCanada has got to go" and brought afternoon traffic to a halt.
About 500 people gathered at the B.C. legislature in Victoria chanting and carrying placards.
Shelagh Bell-Irving attended the protest in support of the First Nation blockade.
"This is wrong and we have to stop it. We need to shut down Canada now and let the government know we the people are running the show and not them."
— With files from Dan Healing in Calgary, Dirk Meissner in Victoria, Mike MacDonald in Halifax, Kristy Kirkup in Ottawa, Hina Alam in Vancouver and Paola Loriggio in Toronto.
Companies in this story: (TSX:TRP)
Terri Theodore , The Canadian Press
Canada's Forestry Sector is World-Class. Here's Proof.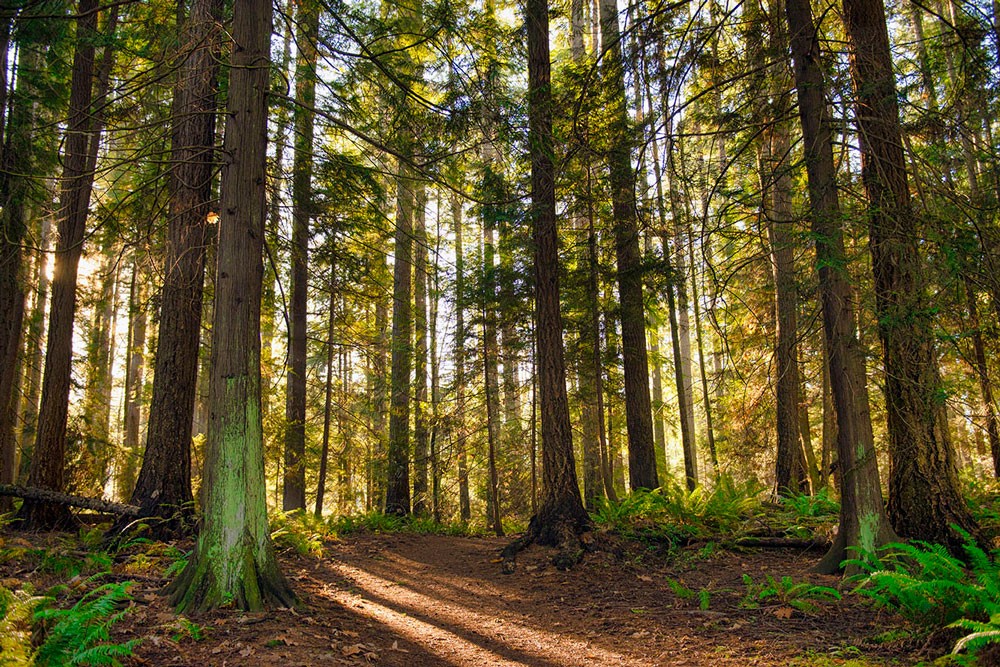 Most Canadians already understand that Canada's forest industry is world-class. Compared to most other nations with the largest forest industries, we go above and beyond the standard call to reduce the environmental impacts associated with harvesting trees.
Home to about a third of the boreal forest found globally, Canada currently has several sustainable initiatives in place to make sure our forested lands regenerate accordingly. Through continued research and development, these initiatives are ever-evolving to further advance Canada's global leadership in sustainable forest management practices.
Here are several facts showing just how Canada's forest sector is world-class, which should be excellent examples for other nations looking to up their game on sustainable forestry practices in the pursuit of a healthier global environment.
12 Facts on Sustainable Forestry Practices in Canada
#1 – Canada has one of the lowest deforestation rates in the world, with just 0.01% of total deforestation in 2018 – much lower than that seen in the Amazon.
#2 – Canada's boreal wetland habitats are well protected. In Ontario and Quebec, for example, at least 50% of the wetland-rich northern boreal regions are protected by the provincial government.
#3 – Canada's forestry sector is investing heavily into reforestation efforts, planting roughly 600 million new trees annually.
#4 – Canada's forestry sector has reduced its greenhouse gas (GHG) emissions substantially; From 2007 to 2017, the industry dropped energy use by 24% and total fossil GHG emissions by 40%.
#5 – Canadian law requires any disturbed forests by industry must be 100% reclaimed.
#6 – Canada's forestry sector has committed to help remove 30 megatonnes of CO2 per year by 2030, a substantial amount that will contribute to improving our country's emissions profile considerably.
#7 – More than 440 million seedlings were planted across Canada in 2018.
#8 – As of 2016, around 200 million of Canada's 348 million hectares of forests had a long-term forest management plan.
#9 – Today, roughly half of Canada's forests are certified to third-party standards of sustainable forest management.
#10 – Canada's boreal forest is largely undisturbed, with 80% of it being relatively untouched and free of industrial disturbance.
#11 – Since 1990, less than 0.5% of Canada's forested lands have been converted to a non-forest land use.
#12 – Canada will be the first nation in the world to launch a satellite that will specifically monitor wildfires – nothing else.
Sources: Natural Resources Canada, Forest Products Association of Canada
Canada is a Leader in Sustainable Forestry – We Should Be Proud!
The evidence is in, and it's clear that Canada is a global leader in sustainable forestry practices. Learn more about why this matters by joining our conversations on Facebook, Twitter, and Instagram today – hope to see you there!
Ethics prof at one of Canada's oldest universities on temporary paid leave for stance against forced vaccinations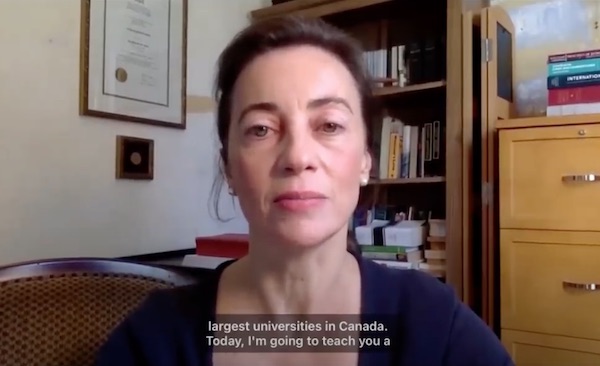 Huron University in London, Ontario, was incorporated way back in 1863 as one of the founding colleges of Western University.  Western is one of the largest universities in Canada.
On the University's website under academic objectives, Huron University strongly encourages "critical thinking through excellent teaching and research".  But it appears critical thinking may have landed a university ethics professor in a career ending dilemma. Dr. Julie Ponesse has been teaching Ethics at Huron for 20 years.  Dr. Ponesse says the University of Western Ontario has barred her from campus and put her on temporary paid leave for taking an ethical stance against the University's vaccine policy.
Here is the first measure of that policy as highlighted on the University website.
Mandatory Vaccination on Campus: Huron and its affiliate partners are implementing a vaccination policy which will require proof of vaccination or have an exemption in order to come on campus, including living in residence. Those with an exemption must be tested for COVID-19 twice weekly. There is no testing option for those who choose not to be vaccinated. Those without proof of vaccination or an exemption will not be permitted on campus.
Professor Ponesse says just a few days before the school year began, she was mandated by her employers to take the vaccine immediately.  As an Ethics educator she decided it was her job to teach her students it's ethically wrong to force people to take a vaccine.  Instead of lining up for the jab, Dr. Ponesse went to her office and recorded a video which has now been seen across Canada tens of thousands of times.  At the end of the video a statement appears indicating Professor Julie Ponesse was dismissed by her employers on September 7.
The video is being shared and commented on by Canadians from coast to coast, in various social media platforms.  It's a fascinating discussion on ethics in a terribly confusing and controversial time, by an experienced ethics professor who has courageously put her ethics ahead of her career.

The video has been taken down by both Facebook and Twitter for statements Ponesse makes about the effectiveness of vaccines.  This video was reloaded to Facebook.  Supporters of Dr. Ponesse have also posted it to Instagram.  We've posted two links in case one is taken down yet again.