Quebec's Olivier Rioux, world's tallest teen, chasing hoops dream at Canada Games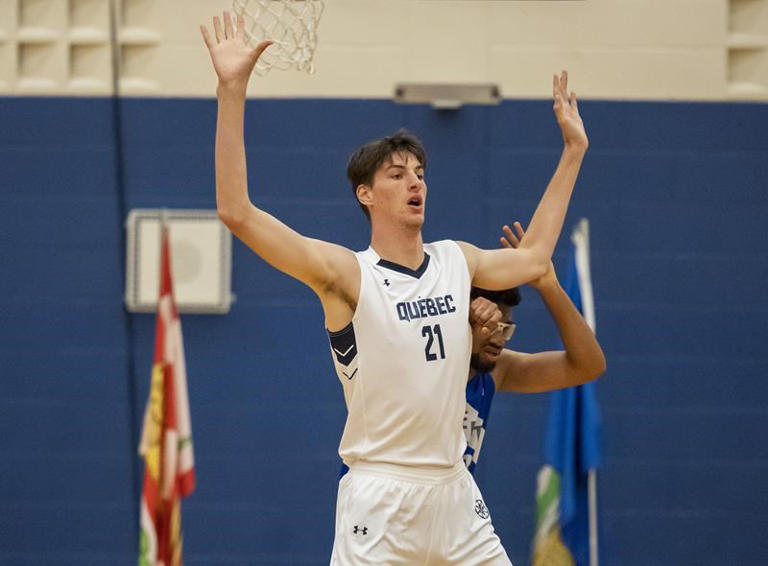 Olivier Rioux landed with a size-large exclamation point on Michael Meeks' radar when the Canada Basketball coach opened a photo in his inbox seven years ago.
Rioux was attending a kids basketball camp in Montreal, and posed for a photo alongside then-Detroit Pistons and Canadian team centre Joel Anthony, who stands a formidable six foot nine.
"Ron Yeung (Canada Basketball's manager of domestic development) sent me this photo of Olivier and Joel, and Olivier is about the same height, give or take an inch. Ron says, 'This kid is nine years old,'" said Meeks.
"I was immediately on the phones, finding out who he was and what was going on and what we can do to help."
In the years since, Rioux has sprouted to a full seven foot six. He can dunk on an NBA hoop while barely leaving his feet.
Guinness World Records recognized him as the world's tallest teenager when he was 15 and seven foot five. If he played in the NBA now, he'd be tied with Cleveland's Tacko Fall as the league's tallest player.
But Rioux is playing for Quebec at the Canada Summer Games this week in Ontario's Niagara Region with kids at least his own age, if nowhere near his size.
Quebec defeated Saskatchewan 115-78 in a consolation game on Friday after dropping a 72-70 decision to Alberta in Thursday night's quarterfinal.
Meeks, who's at the Games to keep an eye on Canada's young players, said he's seen improvement in Rioux even over the past few weeks, but cautions that like any super tall player, he's a long-term work in progress.
"People see his size and their expectations are pretty high," said Meeks. "For me, it's the little things like his mobility and agility, how he's moving, how he conceptualizes the game — how much fun is he having competing and playing?
"This is important because we're in uncharted territories with Olivier, there's never been anybody that big at that age before. So, we're kind of cautiously optimistic that he's definitely moving in the right direction."
Rioux, who's from Anjou, a borough in east Montreal, will begin Grade 10 in the fall in Bradenton, Fla. He moved there to attend IMG Academy — a school that counts superstar tennis sisters Serena and Venus Williams among its alumni — a year ago.
"It was nice," Rioux said of his first year away from home. "I was calling my parents almost every day, and the school year was good, my grades were up.
"Back in Montreal I used to go to school every day for at least eight hours. Now I go to school for three hours and practice in the afternoon, It's different," he added with a deep-voiced laugh.
He's having fun at the Games, he said, and has taken in some of the boxing competition.
Rioux was 5-2 in kindergarten. His dad Jean-Francois is 6-8, his mom Anne is 6-2.
He first became an unsuspecting internet star at age 12, while playing at a tournament in Spain. He stood out like a maypole among the other players on the court. It caught the eye of Golden State star Steph Curry, who tweeted: "So many questions … "
Jamal Murray posed for a photo alongside him that summer. He already towered over the Denver Nuggets star guard from Kitchener, Ont.
Joey Mckitterick, who's coached Rioux at Montreal's AAU program Brookwood Elite since he was 12, echoed Meeks in that he's seen huge improvement in Rioux this year, particularly as his growing has slowed and his co-ordination is catching up.
But perhaps most important is that Rioux is enjoying the game, which is key since huge expectations come with being super tall.
"I think this year you could see that he enjoyed everything about it, the basketball, the travelling, everything like that. He's definitely falling in love with it," Mckitterick said.
Mckitterick said part of his responsibility coaching Rioux was being a buffer between the teen and curious onlookers.
"When we travel, we could be sitting in a hotel lobby and random strangers will come up to him and ask him for a picture. It's challenging even getting through the airport to make a flight on time because people are constantly stopping him: 'Can I take your picture? Can you hold my baby?' Can you do this, can you do that?
"When I met with our players at the end of the year. I told him 'I can't imagine being you. But the best I can do is just kind of guide you and help you and be here for you for anything you need, because I can't put myself in your position.' Nobody could."
That uniqueness makes it difficult to gauge where basketball might take him.
"When you see Olivier, every three to six months he's doing things quicker, faster, stronger, more balanced, he's got more agility, his game is getting better, his understanding of how to impact the game is getting better," Meeks said. "This is important, because usually taller players are a little bit slower (to develop), and he's moving at the right rate in terms of a super tall player.
"Usually guys that stopped growing at about 6-3, 6-4, you could begin to see exactly what they're going to be by the time they're 16 years old. But these tall, tall players, it's 24, 25 before it all starts coming together."
Rioux, who likes to study the games of Giannis Antetokounmpo and Nikola Jokic, who are both 6-11, is well-proportioned for his size and hasn't had any major physical issues such as sore knees that can come with fast growth.
Among other NBA giants, Gheorghe Muresan is listed as the tallest ever at seven foot seven. Yao Ming and Shawn Bradley were 7-6. Canadian Sim Bhullar was 7-5, but his weight — he was listed at 360 pounds — was a limiting factor.
Canada at least has some experience with super tall players. Zach Edey, a 20-year-old from Toronto, is seven foot four. Edey made his debut with Canada's senior men's team in a World Cup qualifier in May. The IMG Academy product is heading into his junior season for the Purdue Boilermakers, who've also expressed early interest in Rioux.
"There are a lot of Division 1 schools that are very familiar with him already," Mckitterick said. "The schools that are really focusing in on him are ones that value the size and want to use it. Because basketball has kind of gone in the direction of smaller (multi-position players), but there's still a lot of programs that still value that size."
This report by The Canadian Press was first published Aug. 12, 2022.
Lori Ewing, The Canadian Press
Hot rental market makes search 'stressful' for many — and it won't get better soon
Marissa Giesinger is pictured in Calgary, Thursday, Sept. 21, 2023. On the hunt for a rental home in Calgary over the last six weeks, Giesinger and her boyfriend trawled through listings morning, noon and night, only to find most come along with dozens of applications and a steep price tag. THE CANADIAN PRESS/Jeff McIntosh
By Tara Deschamps in Toronto
On the hunt for a rental home in Calgary over the last six weeks, Marissa Giesinger and her boyfriend trawled through listings morning, noon and night, only to find most come along with dozens of applications and a steep price tag. As an added difficulty, many landlords are unwelcoming to the couple's brood — dogs Kado and Rosco and a cat named Jester.
"We made the tough decision recently to house our dogs with someone else until we can find a place that's affordable and we can take both of them," said Giesinger, a 23-year-old Mount Royal University student.
"It's definitely been stressful."
The competitive rental market Giesinger has encountered in Calgary is being seen across the country as multiple factors combine: high interest rates deter buyers and add to rental demand, still-high inflation is squeezing renter budgets, there's an undersupply of purpose-built rental units and population growth is fuelling demand.
These conditions have left prospective renters feeling even more frustrated than usual by sky-high rents, the frenzy of interest that surrounds any affordable listing and the litany of demands landlords can make when so many people are interested in their home.
Giacomo Ladas, communications director for Rentals.ca, calls it "almost a perfect storm" — and it isn't likely to ease up any time soon.
"What this does is create such a burden on this rental housing market that even though we're out of the (busy) summer rental season, there's so much demand that (these conditions are) going to continue like this until the fall and into the winter," he said.
Data crunched by his organization and research firm Urbanation.ca shows average asking rents for newly-listed units in Canada increased 1.8 per cent between July and August and 9.6 per cent from a year earlier to reach a record high of $2,117 last month.
Between May and August, asking rents in Canada increased by 5.1 per cent or an average of $103 per month.
When Giesinger rented a two-bedroom basement unit with a roommate a few years ago, the duo paid $1,000 per month, but now she routinely spots "super tiny," one-bedroom places for $1,350 a month.
"If you want a basement suite or an apartment, you're looking at minimum $1,200 and that doesn't include any utilities or anything like that unless it's a super rare listing," Giesinger said.
Rentals.ca data show newly listed one-bedroom properties in Calgary priced at an average $1,728 per month in August, up 21.6 per cent from a year earlier. Two-bedroom homes have climbed 17.4 per cent to $2,150 over the same period.
The picture in Vancouver and Toronto is far bleaker. Rentals.ca found the cities had the highest rents in the country.
Newly-listed one-bedroom properties in Vancouver averaged $2,988 in August, up 13.1 per cent from a year earlier, while two-bedroom units hit $3,879, an almost 10 per cent increase year-over-year.
Newly-listed Toronto one-bedroom homes averaged $2,620 in August, up almost 11 per cent from the year before, while two-bedroom properties had a 7.1 per cent rise over the same time frame to $3,413.
It's numbers like these that have convinced Kanishka Punjabi to abandon her hopes of moving in the near term.
"Two days ago, I gave up on my search because the rental market is that bad," she said.
The public relations worker has been living in Mississauga, Ont., but felt it was time to find a home in downtown or midtown Toronto, closer to where she works.
However, few of the two-bedroom homes she spotted in her two-month search were within her $2,800 budget.
For example, one apartment she liked at the intersection of Yonge and Eglinton streets had 25 offers in just over a week.
"Some people actually just sent in their offer without looking at the apartment too because there are so many people who are in desperate need of rental units," said Punjabi. "There's just not enough."
The Canada Mortgage and Housing Corp. has projected that the country needs to build 3.5 million additional homes beyond what's planned before the market reaches some semblance of affordability.
It also calculated that the annual pace of housing starts — when construction begins on a home — edged down one per cent in August to 252,787 units compared with 255,232 in July.
Despite the nudge down, Rishi Sondhi, an economist with TD Bank Group, said it has been a strong year for starts because the industry is responding to elevated prices by building at a robust pace.
But between population growth and rising interest rates, he said, "supply is struggling to keep up with demand" and that's bound to weigh on renters for quite some time.
"In the short term, it would be unrealistic to expect too much of a reprieve simply because population growth is likely to remain strong through the duration of this year — and that's really one of the big fundamental drivers," he said.
"In addition, it's unlikely to expect affordability in the ownership market to improve too much either because we think the Bank of Canada (key rate) is going to be on hold for the remainder of the year, but there is some risk that they take rates even higher, especially if inflation doesn't co-operate."
For renters like Giesinger that message puts even more pressure on her to settle on a place soon.
"Now I'm scrambling to find the money for a deposit and we're still never really sure like what kind of place we're going to get," she said.
"And when you're battling dozens of other people for a rental it can be super stressful."
This report by The Canadian Press was first published Sept. 24, 2023.
Man charged with first degree murder in shooting death of B.C. RCMP officer
A 25-year-old Coquitlam, B.C., man has been charged with first-degree murder in the shooting death of RCMP officer Rick O'Brien.
Police allege Nicholas Bellemare fatally shot the Ridge Meadows RCMP constable on Friday in Coquitlam during a drug investigation originating in Maple Ridge, B.C.
The Integrated Homicide Investigation Team and the Coquitlam and Ridge Meadows RCMP detachments issued a joint statement saying Mounties were executing a warrant when an altercation began between Bellemare and police at around 10 a.m.
Police said O'Brien and another officer were shot during the altercation and a third officer also sustained unspecified injuries.
O'Brien died at the scene, while the two other wounded officers were treated at hospital and have since been released.
"This is a profound loss and I understand it will have a lasting effect on Const. O'Brien's family, friends, colleagues and the community," said Mandeep Mooker, officer in charge of the integrated homicide team, in a written statement.
Bellemare, who police say was also shot and wounded in the altercation, has been charged with one count each of first-degree murder and attempted murder with a firearm.
O'Brien's death in Coquitlam comes less than a year after another RCMP officer, Const. Shaelyn Yang, was stabbed to death while accompanying a city worker to a campsite used by homeless residents in a Burnaby, B.C.
The latest tragedy has reverberated with law enforcement officials across the country.
Kevin Halwa, chair of the National Police Federation's Benevolent Foundation, has said calling the mood in the law enforcement community sombre "would be an understatement."
Halwa said the tragedy was a powerful reminder of the risks police officers take on in their daily work once they "step up to serve."
Condolences from a number of law enforcement officials and agencies have poured in on social media, including federal Justice Minister Arif Virani, the Manitoba Association of Chiefs of Police and Alberta Public Safety Minister Mike Ellis.
A GoFundMe campaign for O'Brien's family has raised more than $55,000 since launch, surpassing its original goal of raising $50,000.
Halwa said the funds cannot come close to replacing O'Brien's loss, but the Benevolent Foundation is hoping to take on as much of the financial pressures facing the family in the wake of his death.
"If we can take even just an ounce of pressure off of that family and Rick's loved ones, then that's why we're here," Halwa said.
O'Brien, who had a wife and children, worked with at-risk youth before joining the RCMP and spent his entire policing career at the Ridge Meadows detachment.
He was decorated for bravery in the rescue of victims during a home invasion within months of joining the RCMP in 2016.
Halwa said he hopes the tragedy reminds the public of the individuals behind the badge.
"You know, they are the mothers and fathers, the soccer coaches, and they're doing their damn best to do what they can to make the world better," he said. "Their hearts are all in the right place to make the world better."
This report by The Canadian Press was first published Sept. 23, 2023.