Quebec mosque disappointed with ruling allowing killer to seek parole after 25 years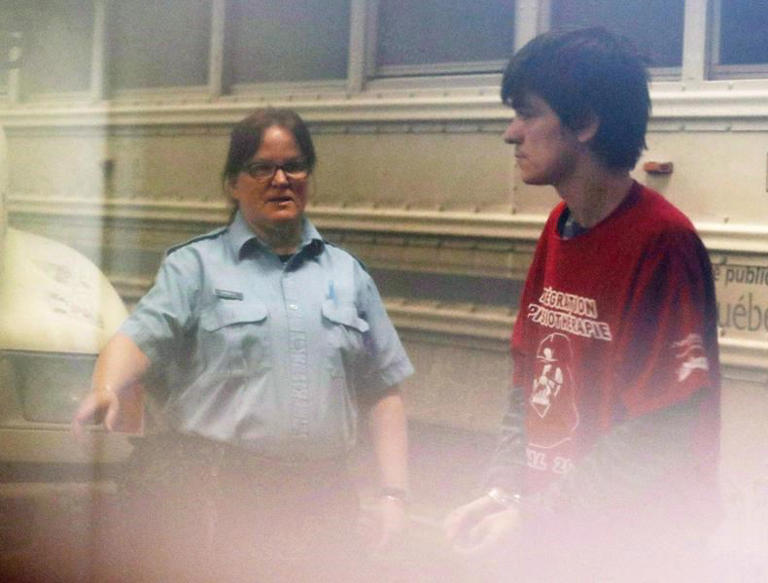 QUEBEC — Families of the victims of the Quebec City mosque shooter say they fear Friday's Supreme Court ruling means the 17 children who lost a father could one day meet the killer in the streets of Quebec's capital.
Canada's high court ruled that the killer who went on a deadly shooting spree at a Quebec City mosque in 2017 can apply for parole after 25 years behind bars. The court declared unconstitutional a 2011 Criminal Code provision that allowed a judge, in the event of multiple murders, to impose a life sentence and parole ineligibility periods of 25 years to be served consecutively for each murder.
Mohamed Labidi, president of the Islamic Cultural Centre of Quebec, where the killer shot dead six men on Jan. 29, 2017, said families of the victims expressed real concern the killer would be a free man within a relatively short period of time.
"Maybe parole (officials) will delay this release a bit (and) will take that into account, but that's our real fear," Labidi told a news conference.
The Islamic Cultural Centre of Quebec said in a statement Friday the high court decision did not give due consideration to "the atrocity and scourge of multiple murders" or to the hateful, Islamophobic, racist nature of the crime.
Members of the mosque said they were disappointed with the decision from the court, but they added it allows them to close the legal chapter and focus on the future.
"Philosophically, yes, we would like to turn the page and I, personally as an individual, want to turn the page," mosque co-founder Boufeldja Benabdallah told reporters. "I have been hurt enough and I have cried enough."
Benabdallah said the Supreme Court decision "breaks the balance" between a criminal's chance at reintegrating society and his or her victims' sense of justice.
"We take into account the rehabilitation of an individual … and to not give a punishment that is inadmissible, unusual or cruel," Benabdallah said. "But at the same time, the families who have been affected must also feel that they have won their case, that the killer is being punished for his crimes."
Alexandre Bissonnette pleaded guilty to six counts of first-degree murder and was sentenced to life in prison. Five others were seriously injured in the January 2017 attack, including one man who was left paraplegic and confined to a wheelchair. The six men who were shot dead left behind 17 children.
A trial judge found the 2011 parole ineligibility provision unconstitutional but did not declare it invalid, ultimately ruling Bissonnette must wait 40 years before applying for parole.
Quebec's Court of Appeal said the trial judge erred in making the ineligibility period 40 years and that the court must revert to the law as it stood before 2011, resulting in a total waiting period for Bissonnette of 25 years. The Crown appealed that decision.
The Supreme Court said the 2011 law violates the Charter of Rights and Freedoms and that in order to ensure respect for the inherent dignity of every individual, the Charter requires Parliament to leave a door open for rehabilitation, even in cases where this objective is of secondary importance.
One of Bissonnette's lawyers, Charles-Olivier Gosselin, said his client was relieved by the ruling.
"It's a second chance, a second life that Mr. Bissonnette can hope for to demonstrate to society that he can be an asset, that he can work on himself, move on and look forward," Gosselin said at the courthouse in Quebec City.
Daniel Bélanger, the chief prosecutor for Quebec City, said he would not comment on the decision out of deference to the high court, but he spoke of the victims and their families.
"This day marks for them the end of a long judicial process, but we are aware that it is not the end of their grieving and healing process," Bélanger said, reading from a prepared statement.
He said the Crown and police in Quebec City were diligent in their work all the way to the Supreme Court, demonstrating the capacity for the judicial system to conclude complex cases in the public's interest.
Bélanger reminded reporters in Quebec City that Bissonnette received a life sentence and it will be up to the parole board to decide whether he is released, which now won't come before 2042. The killer, he said, would be subject to strict conditions and surveillance by a parole officer for the rest of his life in the event he is freed from prison.
"Although this case has become a constitutional debate regarding the provisions of the Criminal Code, we need to remember, in closure, the six people murdered and the other victims of this attack on Jan. 29, 2017," Bélanger said.
"Our thoughts are now with the victims and their families and the community affected by this crime that has marked the collective consciousness. We praise their courage, their resilience and their dignity in this moment."
This report by The Canadian Press was first published May 27, 2022.
— By Sidhartha Banerjee in Montreal, with files from Caroline Plante in Quebec City.
The Canadian Press
Missing 13-year-old Edmonton girl found alive in Oregon, 41-year-old man arrested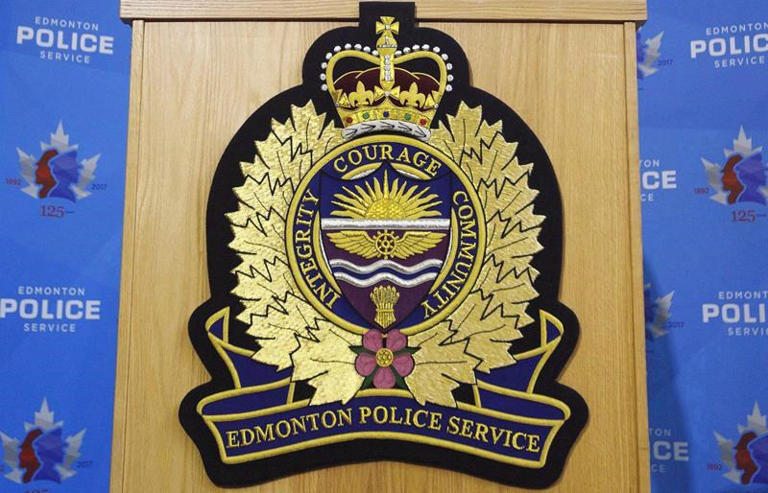 EDMONTON — Police say a 13-year-old Edmonton girl missing for more than a week has been found alive in the United States.
She was located following a week-long search that began when she was seen arriving at her junior high school but didn't show up for class.
Edmonton Police Insp. Brent Dahlseide says the girl, who was reported missing June 24, is currently in an Oregon hospital for a precautionary examination after being found safe in the state early Saturday morning.
Dahlseide says a 41-year-old Oregon man will be charged with child luring and is expected to face additional charges in Canada and the U.S.
He says Edmonton police received assistance from other agencies in Canada, as well as from the FBI and other police services in the U.S.
Dahlseide says it's believed the suspect came to Edmonton, but it's not yet clear how he initially made contact with the girl or how she crossed the U.S. border.
"We would be speculating to say they crossed the border together, but I do know that they were located together, again, in the U.S. once they gained entry," Dahlseide told reporters during an online news conference Saturday, noting he believed the two had been communicating online.
"I don't know how long they may have been in contact with one another. I do know that the reason we're going with a child-luring charge at this point is that it's one we can support because of some of the online history."
Photos of the girl have appeared on billboards and posters across Alberta this past week asking people to be on the lookout for her and contact police with tips.
Dahlseide said an Amber Alert was not issued because investigators lacked a description of a suspect or a suspect vehicle. He said police got that information on Friday and were drafting the alert that afternoon when they learned from Canada Border Services the suspect had crossed into the U.S.
At that point the suspect was no longer in Canadian jurisdiction, Dahlseide explained, which is another criteria for an Amber Alert. He said they made a deduction about where the suspect was going and alerted authorities on the U.S. side.
Dahlseide said he believed the arrest was made outside Gladstone, Oregon, just south of Portland, away from the suspect's residence. He said the suspect's name would not be released until charges are formally laid.
He said the girl's family were informed early Saturday she'd been found safe and they are making arrangements to bring her home.
"I'm sure we likely woke them up, showing up at their door so early," Dahlseide said.
Canadian investigators have not had a chance to speak with the girl or the suspect yet, Dahlseide said, and other questions remain.
He said investigators believe the suspect was in Mission, B.C. for three to four days, so they'll be asking RCMP there to speak to people who may have seen him or the girl during that time. The FBI will also be able to help supply bank or credit card information to piece together the suspect's movements, he said.
This report by The Canadian Press was first published July 2, 2022
Rob Drinkwater, The Canadian Press
B.C. RCMP identify twin brothers as B.C. bank shooting suspects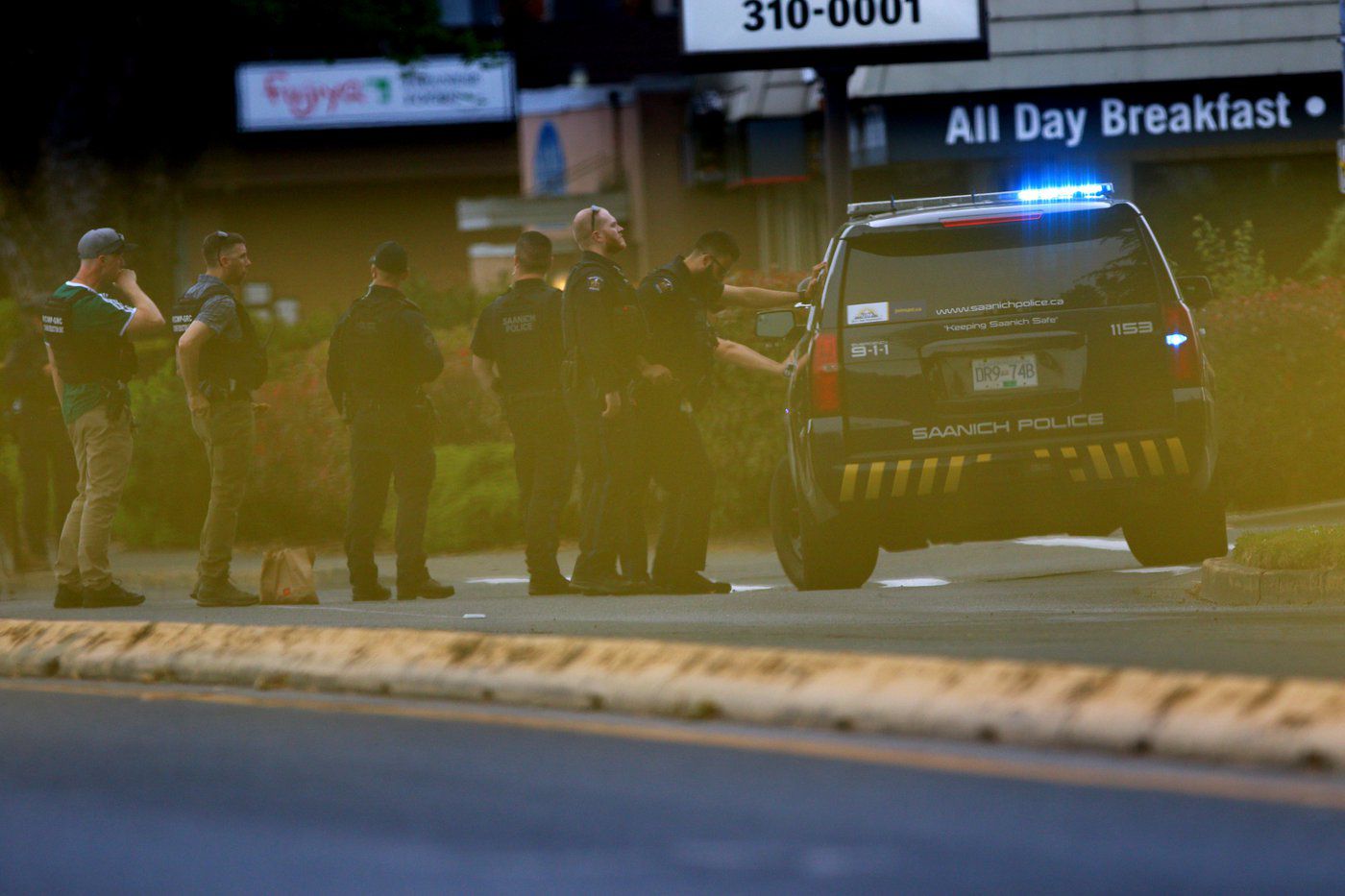 Victoria – Twin brothers in their early 20s were responsible for the shooting that injured numerous police officers at a bank in Saanich, B.C., earlier this week, RCMP alleged Saturday.
Mounties spokesman Cpl. Alex Bérubé named the men as 22-year-olds Mathew and Isaac Auchterlonie from Duncan, B.C.
Six officers were shot and the brothers were killed in the shootout with police on Tuesday outside the Bank of Montreal branch.
Bérubé said officers have spoken with the twins' relatives, who are co-operating with the investigation.
Investigators are looking into the suspects' backgrounds, and he said neither man had a criminal record or was known to police.
"We understand that the release of the names of the two deceased may answer the who, but there are still many outstanding questions and investigation efforts that need to take place in order to fully understand what took place and why," Bérubé told a news conference.
"The motive behind the armed robbery and subsequent exchange of gunfire with police has not yet been determined."
Police have also confirmed that the twins are associated with a white four-door 1992 Toyota Camry that has two black racing stripes over the hood and roof, Bérubé said.
The car was found with multiple explosives, which were removed and destroyed last week
Bérubé said the investigation has so far determined that there were only two suspects in the bank.
"However, we are continuing to look into whether anyone else was involved or associated to the events on Tuesday."
An update on the condition of the injured officers wasn't given.
Earlier, Saanich Chief Const. Dean Duthie had said three of the officers remain in hospital, including one who is in intensive care while another will require more surgeries.
This report by The Canadian Press was first published July 2, 2022.