Quebec legislature adopts Bill 96 language law, Legault calls reform 'moderate'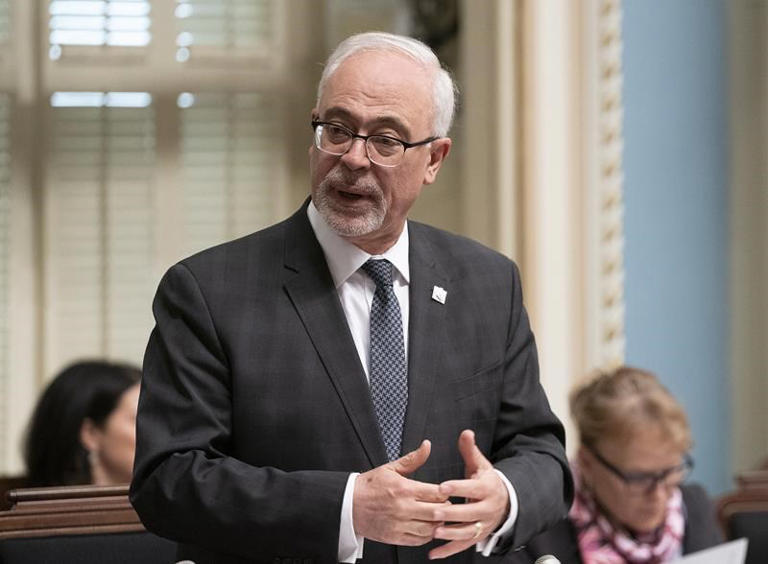 Quebec Premier François Legault sought to reassure anglophones that his government's language law reform, adopted on Tuesday, won't prevent people from accessing health care in English.
The law, known as Bill 96, passed by a vote of 78-29, with the Opposition Liberals opposing it on the grounds that it goes too far and the Parti Québécois opposing it on the grounds that it is too timid.
Legault told reporters after the vote that the law introduced by his Coalition Avenir Québec party is "moderate," striking a balance between the positions of the Liberals and the PQ. He accused critics of the law of "adding fuel to the fire" by saying health services could be threatened.
"We are committed to protecting your access to health care in English. It's a historical promise that we will keep," Legault said at the legislature. "I know of no linguistic minority that is better served in its own language than the English-speaking community in Quebec. We are proud of that, and we are also proud to be a francophone nation in North America, and it's our duty to protect our common language."
Legault said he believes most Quebecers support the law, and that while "a few people" want the province to become bilingual, the majority of anglophones accept that French is Quebec's common language.
"We're unique in North America, we speak French," Legault said. "Montreal is a place where people have fun in French, but the services are (available) in English in schools, in hospitals." Anglophones, he said, "have the best of both worlds."
Prime Minister Justin Trudeau said earlier in the day that he is concerned about the effect of the bill on Quebec's English-speaking minority and that he was waiting to see the final version of the bill before saying whether the federal government would support a court challenge.
"We have concerns about the latest version of Bill 96," Trudeau told reporters in Vancouver. "We continue to watch very, very carefully what final form it will take, and we'll make our decisions based on what we see is the need to keep minorities protected across this country."
The law proactively invokes the notwithstanding clause of the Canadian Constitution to shield it from charter challenges.
Constitutional lawyer Julius Grey said a legal challenge to the law is already being planned.
"There would never be a law of this importance and, I would say, this inequity that would not be challenged," he said in an interview Tuesday.
Among the elements that concern Grey is the powers it gives language law inspectors.
"It's very peculiar to know that Quebec is a jurisdiction in which the police, in investigating a murder, must follow the charter and they can't come in and grab your computer in your home, et cetera, but the Office de la langue française investigating the use of English, or another language, can come in and just grab," he said.
Grey said an ongoing legal challenge to Quebec's secularism law, which also proactively invoked the notwithstanding clause, could establish what elements of the language law can be contested.
Some elements of the bill are not covered by the notwithstanding clause and could be challenged regardless, Grey said, including elements that restrict the use of English in the courts and a change to the Canadian Constitution establishing that "Quebecers form a nation" and that French is Quebec's official language.
Quebec's second largest opposition party, Québec solidaire, voted in favour of the bill, despite expressing concerns about a provision that requires immigrants to communicate with the government in French after they've been in the province for at least six months.
Liberal Leader Dominique Anglade told reporters after the vote that her party opposed the bill for "many reasons," including concerns it will limit access to health care in English, cap enrolment at English-language junior colleges and circumvent the provincial and federal rights charters through use of the notwithstanding clause.
The PQ had called for the bill to prevent most immigrants and francophones from attending English-language junior colleges.
This report by The Canadian Press was first published on May 24, 2022.
— By Jacob Serebrin in Montreal, with files from Mia Rabson in Ottawa and Jocelyne Richer in Quebec City.
The Canadian Press
Feds open to cutting plastic production but global agreement will be hard: Guilbeault
Minister of Environment and Climate Change Steven Guilbeault responds to a question during a news conference following meetings Friday May 26, 2023 in Ottawa. Guilbeault says he is not opposed to cutting back on how many plastic products are made as the world works towards a global treaty to eliminate plastic pollution.THE CANADIAN PRESS/Adrian Wyld
OTTAWA — Canada is open to the idea of including a requirement to cut back on the production of plastic in a new global treaty to eliminate plastic pollution, Environment Minister Steven Guilbeault said Friday.
But he said that may become one of the biggest sticking points in the negotiations, which are supposed to conclude at the end of next year.
"The idea that we might have to commit to reducing the use of plastics will be something that's going to be difficult for some countries to agree to," said Guilbeault in an interview.
At the United Nations Environment Assembly in March 2022, 175 nations agreed to launch talks to create a global plastics treaty to eliminate plastic waste by the end of 2024.
The second round of those talks wrapped up in Paris Friday with an agreement to start drafting the treaty, which is supposed to be ready by the end of 2024.
There are three more rounds of talks guaranteed before then, and Guilbeault said Canada is going to host the next round about a year from now.
Plastic pollution has become a global scourge, choking marine life and contributing to biodiversity loss. Less than one-tenth of it is recycled, including in Canada, and scientists believe almost nine million tonnes ends up in the oceans each year. Canadians produce about 2.9 million tonnes of plastic waste each year that isn't recycled or incinerated.
Canada has set a domestic goal to eliminate plastic waste by 2030.
Environment groups say the only true way to eliminate plastic pollution is to make less plastic in the first place.
"We need significant cuts to production and we need to ultimately phase out virgin production," said Sarah King, the plastics campaign manager at Greenpeace Canada.
"And we need Canada to get to a place where they're willing to to support that publicly and to champion that in treaty negotiations."
French President Emmanuel Macron said at the outset of the Paris negotiations earlier this week that the talks should prioritize reducing the production of plastics.
King said Canada has been supportive of restraining production. But she said what the treaty needs is a direct cap on plastic production and a phase-down over time.
Guilbeault said he is "not opposed" to putting limits on production but is careful to say eliminating plastic pollution means using plastic more carefully, not eliminating its use altogether.
"So the idea of producing plastic and then using it for five minutes or an hour or a day or two weeks and then throwing it away will be something of the past," he said. "Will it mean that we will consume less plastic? It's hard to tell, but I think a reasonable answer would be yes."
NDP MP Gord Johns, who successfully pushed a motion in Parliament five years ago calling for a national strategy to address plastic pollution, said Canada needs to be more clear about its position.
"Right now we hear President Macron take leadership, committing to cutting upstream production," Johns said.
"And we need that same leadership from the prime minister here in Canada."
Johns said Canada also needs to show leadership by living up to promises to stop exporting its plastic waste problem.
Following the embarrassment when Canadian plastic garbage was found rotting in the Philippines in 2019, Canada said it would work with the Canada Border Services Agency to halt exports of contaminated plastic. It also agreed to amendments to the United Nations Basel Convention that meant after Jan. 1, 2021, Canada must export plastic waste only to other convention members with consent and confirmation of how the waste would be disposed.
In the two years since, Canada's exports of plastic garbage have increased — mainly to the United States, which is not part of the convention. That means Canada doesn't know what happens to its plastic waste and that it could be shipped to the very developing countries Canada has committed to protecting.
The Basel Action Network said Canada's plastic exports increased 13 per cent in 2021 to 170 million kilograms, and another eight per cent in 2022 to 183 million kilograms.
That's about the combined weight of 30,000 elephants.
More than 90 per cent in both years was destined initially for the United States.
Guilbeault had said he would direct his department to end that practice more than a year ago. He said Friday an announcement is coming soon.
He also said he intends to launch another update of the Canada Environmental Protection Act that will include stronger powers to tackle that problem. That bill, known as CEPA, is in the final stages of debate in the Senate before it's expected to pass.
This report by The Canadian Press was first published June 2, 2023.
Minister 'shocked' at reports of Paul Bernardo being moved to medium-security prison
Paul Bernardo sits in the back of a police cruiser as he leaves a hearing in St. Catharines, Ont., April 5, 1994. The federal public safety minister says reports of teen killer and serial rapist Paul Bernardo being transferred to a medium-security prison are "shocking and incomprehensible." THE CANADIAN PRESS/Frank Gunn
The federal public safety minister says reports of teen killer and serial rapist Paul Bernardo being transferred to a medium-security prison are "shocking and incomprehensible."
Citing prison union officials and the lawyer for the victims' families, multiple media outlets say Bernardo was quietly transferred earlier this week to the medium-security La Macaza Institution, about 190 kilometres northwest of Montreal.
He was initially incarcerated at the Kingston Penitentiary in Ontario and later spent about a decade at the Millhaven Institution, a maximum security prison just outside Kingston.
Bernardo has been serving a life sentence for kidnapping, torturing and killing 15-year-old Kristen French and 14-year-old Leslie Mahaffy in the early 1990s near St. Catharines, Ont.
Public Safety Minister Marco Mendicino says he expects the Correctional Service of Canada to take a victim-centred and trauma-informed approach in such cases, and that he plans to address the decision process for the reported transfer with the agency's commissioner.
The Canadian Press has reached out to the Correctional Service of Canada for comment but did not immediately receive a response.
This report by The Canadian Press was first published June 2, 2023.