Putin declares victory in embattled Donbas region of Luhansk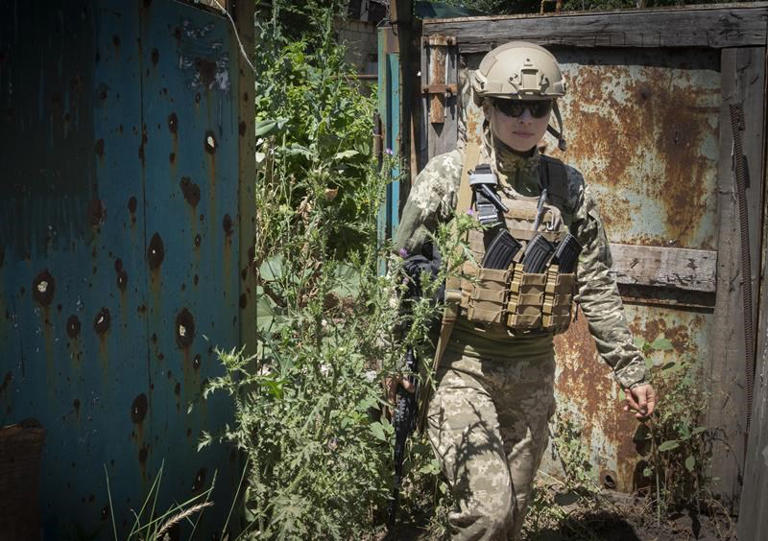 POKROVSK, Ukraine (AP) — Russian President Vladimir Putin on Monday declared victory in the eastern Ukrainian region of Luhansk, one day after Ukrainian forces withdrew from their last remaining bulwark of resistance in the province.
Russia's Defense Minister Sergei Shoigu reported to Putin in a televised meeting Monday that Russian forces had taken control of Luhansk, which together with the neighboring Donetsk province makes up Ukraine's industrial heartland of Donbas.
Shoigu told Putin that "the operation" was completed on Sunday after Russian troops overran the city of Lysychansk, the last stronghold of Ukrainian forces in Luhansk.
Putin, in turn, said that the military units "that took part in active hostilities and achieved success, victory" in Luhansk, "should rest, increase their combat capabilities."
Putin's declaration came as Russian forces tried to press their offensive deeper into eastern Ukraine after the Ukrainian military confirmed that its forces had withdrawn from Lysychansk on Sunday. Luhansk governor Serhii Haidai said on Monday that Ukrainian forces had retreated from the city to avoid being surrounded.
"There was a risk of Lysychansk encirclement," Haidai told the Associated Press, adding that Ukrainian troops could have held on for a few more weeks but would have potentially paid too high a price.
"We managed to do centralized withdrawal and evacuate all injured," Haidai said. "We took back all the equipment, so from this point withdrawal was organized well."
The Ukrainian General Staff said Russian forces were now focusing their efforts on pushing toward the line of Siversk, Fedorivka and Bakhmut in the Donetsk region, about half of which is controlled by Russia. The Russian army has also intensified its shelling of the key Ukrainian strongholds of Sloviansk and Kramatorsk, deeper in Donetsk.
On Sunday, six people, including a 9-year-old girl, were killed in the Russian shelling of Sloviansk and another 19 people were wounded, according to local authorities. Kramatorsk also came under fire on Sunday.
An intelligence briefing Monday from the British Defense Ministry supported the Ukrainian military's assessment, noting that Russian forces will "now almost certainly" switch to capturing Donetsk. The briefing said the conflict in Donbas has been "grinding and attritional," and is unlikely to change in the coming weeks.
While the Russian army has a massive advantage in firepower, military analysts say that it doesn't have any significant superiority in the number of troops. That means Moscow lacks resources for quick land gains and can only advance slowly, relying on heavy artillery and rocket barrages to soften Ukrainian defenses.
Russian President Vladimir Putin has made capturing the entire Donbas a key goal in his war in Ukraine, now in its fifth month. Moscow-backed separatists in Donbas have battled Ukrainian forces since 2014 when they declared independence from Kyiv after the Russian annexation of Ukraine's Crimea. Russia formally recognized the self-proclaimed republics days before its Feb. 24 invasion of Ukraine.
In his nightly video address, Ukrainian President Volodymyr Zelenskyy acknowledged the withdrawal, but vowed that Ukrainian forces will fight their way back.
"If the command of our army withdraws people from certain points of the front where the enemy has the greatest fire superiority, in particular this applies to Lysychansk, it means only one thing: We will return thanks to our tactics, thanks to the increase in the supply of modern weapons," Zelenskyy said.
Since failing to take Kyiv and other areas in Ukraine's northeast early in the war, Russia has focused on Donbas, unleashing fierce shelling and engaging in house-to-house combat that devastated cities in the region.
Russia's invasion has also devastated Ukraine's agricultural sector, disrupting supply chains of seed and fertilizer needed by Ukrainian farmers and blocking the export of grain, a key source of revenue for the country.
In its Monday intelligence report, Britain's defense ministry pointed to the Russian blockade of the key Ukrainian port of Odesa, which has severely restricted grain exports. They predicted that Ukraine's agricultural exports would reach only 35% of the 2021 total this year as a result.
As Moscow pushed its offensive across Ukraine's east, areas in western Russia came under attack Sunday in a revival of sporadic apparent Ukrainian strikes across the border. The governor of the Belgorod region in Western Russia said fragments of an intercepted Ukrainian missile killed four people Sunday. In the Russian city of Kursk, two Ukrainian drones were shot down, according to the Russian Defense Ministry.
In other developments:
— Ukrainian soldiers returning from the front lines in eastern Ukraine's Donbas region — where Russia is waging a fierce offensive — describe life during what has turned into a grueling war of attrition as apocalyptic.
— Two Russian airplanes departed Bulgaria on Sunday with scores of Russian diplomatic staff and their families amid a mass expulsion that has sent tensions soaring between the historically close nations, a Russian diplomat said.
___
Associated Press journalists Maria Grazia Murru and Oleksandr Stashevskyi contributed from Kyiv, Ukraine.
___
Follow AP's coverage of the Russia-Ukraine war at https://apnews.com/hub/russia-ukraine
Francesca Ebel, The Associated Press
Indonesian leader calls for unity, braces for global crises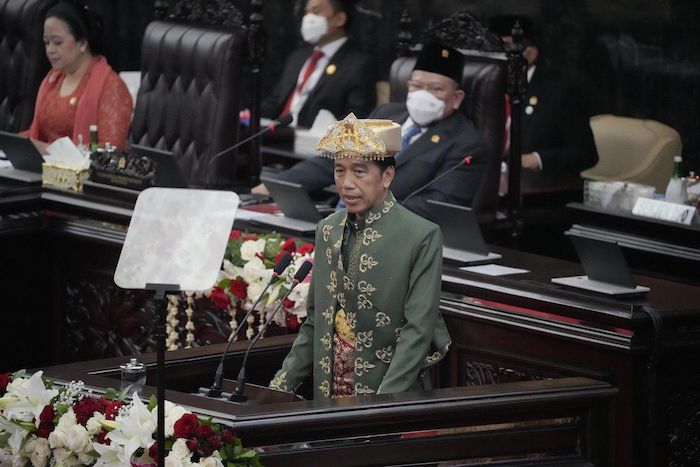 By Niniek Karmini in Jakarta
JAKARTA, Indonesia (AP) — Indonesia's president called on all citizens to remain united, vigilant and alert as they face crises fueled by the war in Ukraine and coronavirus pandemic in his State of the Nation address Tuesday.
After two years of remote meetings amid pandemic restrictions, more than half of Indonesia's Parliament was in attendance as President Joko Widodo told them and top officials on the eve of Independence Day that regional tensions are threatening security.
"We must always remain vigilant, cautious and alert," Widodo said. "Crisis after crisis still haunts the world."
He noted that when war broke out in Ukraine causing energy and food crises, the world was still grappling with the health and economic impacts of COVID-19. Some countries are predicted to go bankrupt, while over 550 million people face extreme poverty and 345 million others face food shortages and famine, Widodo said.
"The challenges are not easy for the world and for Indonesia. We must face those challenges with prudence and vigilance," he said.
Russia's war in Ukraine has exacerbated rising prices in Indonesia amid ongoing supply chain disruptions from the pandemic, causing cooking oil prices to soar while the interruptions in wheat, soybeans and corn have affected the cost of several foods.
In April, Indonesia banned all exports of crude palm oil, a key ingredient in cooking oils, for a month amid a series of student protests against skyrocketing food prices. Indonesia and Malaysia are the world's largest exporters of palm oil, accounting for 85% of global production.
As the host of the Group of 20 richest and biggest economies this year, Indonesia has sought to bridge divisions between members over Russia's invasion. Widodo has been guarded in his comments about the war in Ukraine in an attempt to remain neutral.
Widodo was the first Asian leader to visit the warring countries. Ukraine is not a G-20 member, but Widodo has invited Ukrainian President Volodymyr Zelenskyy to the November summit along with Russian President Vladimir Putin, hoping to appease all sides and limit any distractions from the forum's agenda. Zelenskyy has said he won't attend if the war is continuing then and has opted to follow the discussions by video link.
The inflation rate in Indonesia has been relatively modest with the shock being mostly absorbed through a budget bolstered by energy subsidies.
Widodo said the state budget recorded a surplus of 106 trillion rupiah ($7.2 billion), allowing the government to provide fuel, gas and electricity subsidies of 502 trillion rupiah ($34 billion) this year to cushion fuel prices.
However, he said the administration must recalculate its energy subsidies to reduce the burden on the budget.
Southeast Asia's largest economy served as a key exporter of coal, palm oil and minerals amid a global shortage in commodities after Russia's invasion of Ukraine. Coal exports increased to record levels in March after a brief ban on its shipments early this year to secure domestic supplies.
Thousands of Afghans who helped Canada trapped in Afghanistan, struggling to leave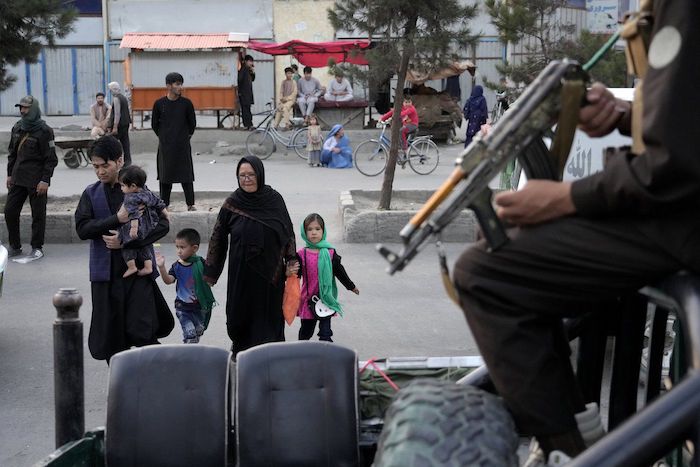 By Marie Woolf in Ottawa
MPs and veteran-led aid groups are urging ministers to do more to help thousands of Afghans who assisted Canadian Forces but remain trapped in Afghanistan a year after the Taliban seized Kabul.
They warn that 8,000 Afghans approved to come to Canada have not yet been able to escape. Many do not have a passport or visa and applying to the Taliban for documents could put them in danger.
Another 3,000 Afghans who helped Canada's Armed Forces and government have not been approved to come to Canada, according to Aman Lara, a veteran-led non-governmental organization working to help interpreters and other Canadian government employees on the ground.
Brian Macdonald, Aman Lara's executive director, urged Canada to extend the special immigration program, set up to settle 18,000 former local employees of the Canadian Armed Forces or government, which is being effectively wound down after reaching capacity.
"There are 8,000 people in Afghanistan who have been approved to come to Canada under the special immigration program who can't get out," he said.
"We are asking the government of Canada to keep the special immigration program open and unlimited in numbers until everybody who helped Canada gets out."
A spokeswoman for Immigration Minister Sean Fraser said in June the department has received over 15,000 applications for the program, as well as referrals for the remaining 3,000 spaces.
Official figures show Canada's resettlement efforts have lagged behind federal targets and efforts to help those fleeing the war in Ukraine.
More than 17,300 Afghans have arrived in Canada since last August compared to 71,800 Ukrainians who have come to Canada in 2022 alone, according to government statistics. The federal government has promised to resettle 40,000 Afghans.
Fraser predicted in December that it could take two years to fulfil the government's promise to bring 40,000 Afghan refugees to Canada.
Canadian activists and opposition MPs accused the Liberals of not doing enough and say some families are in hiding from the Taliban as they await approval of their immigration applications.
NDP immigration critic Jenny Kwan, who has been in contact with many Afghan refugees who worked with Canadian Forces, said there is a "stark difference" between the government's treatment of those fleeing the Taliban and those fleeing the Russian invasion.
She said the situation for Afghans who helped Canada is "grave," with many unable to escape the country and facing persecution by the Taliban.
Kwan said some received no reply to their applications from the Immigration Department other than an automated response. Others seeking visas from the Taliban authorities to escape their regime were put in peril if they identified themselves.
"Their lives are in danger. They told me what the Taliban are calling them: they are called 'the Western dogs,'" Kwan said.
"We owe them a debt of gratitude. We cannot abandon them."
Amanda Moddejonge, a military veteran and activist, said she has witnessed families being split up, with only some members making it to Canada. She also warned that Afghans who worked for Canadian Forces "are being hunted" by the Taliban.
"Nobody should face death for working for the Government of Canada, especially when this government can identify those who worked for them and is able to provide them life-saving assistance," she said.
Macdonald said safe houses set up by Aman Lara for Afghan interpreters and their families, and others who helped Canada, have closed because the exodus to Canada has taken so long and it could not afford to keep them open.
He said the Pakistan government had agreed to a 60-day window in June to allow Afghans without full documentation to leave the country to fly to Canada, but not all Afghan and Pakistani officials at borders and airports were aware.
He called on the Canadian government to negotiate to keep that window open until all Afghans approved to come to Canada are able to get here.
His plea came as aid agencies working in Afghanistan raise alarms that the country is in a dire humanitarian crisis, with 18.9 million people facing acute hunger.
Asuntha Charles, national director of World Vision Afghanistan, said aid workers have encountered acute poverty and malnutrition, including among children.
"At least one million children are on the brink of starvation, and at least 36 per cent of Afghan children suffer from stunting — being small for their age — a common and largely irreversible effect of malnutrition," she said.
"In the four areas we work, we've found that families live on less than a dollar a day. This has forced seven out of 10 boys and half of all girls to work to help their families instead of going to school."
Vincent Hughes, a spokesman for Fraser, said the Afghan and Ukrainian immigration programs are very different.
He said Afghan refugees who arrive through programs set up to bring them to Canada have a right to stay permanently, whereas it's believed many Ukrainians who have fled to Canada intend eventually to return to Ukraine.
Helping get people out of Afghanistan and to Canada was very challenging, he added, as Canada has no diplomatic presence there and does not recognize the Taliban government.
"Our commitment of bringing at least 40,000 vulnerable Afghans to Canada has not wavered, and it remains one of the largest programs around the world," he said.
Afghanistan's ambassador to Canada, who has no contact with the Taliban regime, said "the experience of the past one year in Afghanistan has been very painful and disturbing."
Hassan Soroosh said the Taliban had swiftly reintroduced "repressive policies" including restrictions "on almost every aspect of girls' and women's lives and rights."
"The Taliban's forced takeover has caused a huge disruption to constitutional order, socio-economic development, public services and civil society activities," he said.
The ambassador called for the international community to take a unified approach toward the Taliban and put greater pressure on them "as they continue to insist on their uncompromising approach and repressive rule."
"We remain grateful to Canada for maintaining a principled position on the current tragic situation in Afghanistan and for a sustained commitment in support of the people of Afghanistan including women, girls and those who need resettlement support," he said.
In a joint statement on Sunday, Canada's ministers of foreign affairs, immigration, international development and national defence said "we have witnessed the hardships endured by the Afghan people, with some having undergone harrowing journeys to flee the country and countless others living in fear of persecution and retribution."
"Faced with a heart-wrenching situation in Afghanistan, Canadians opened their hearts to help people rebuild their lives and more than 17,300 Afghans have arrived in Canada over the past year."
This report by The Canadian Press was first published Aug. 15, 2022.