Prospect of no jab, no visa for Australian Open tennis stars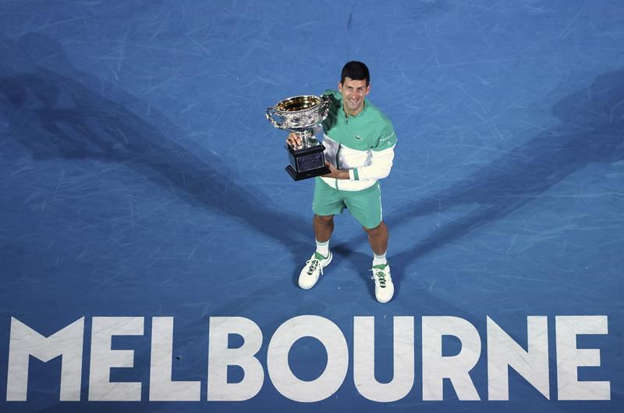 Elite tennis players are being urged to get a COVID-19 vaccination or risk missing the Australian Open next January.
Victoria Premier Daniel Andrews, whose state hosts the season-opening major at Melbourne Park, has already introduced a vaccine mandate for professional athletes competing in domestic sports leagues and people working in some industries.
On Tuesday, he increased the pressure on tennis players traveling from abroad.
"I don't think any unvaccinated tennis player is going to get a visa to come into this country," Andrews said. "If they did get a visa, they'd probably have to quarantine for a couple of weeks when no other players will have to."
Australia's federal Immigration Minister Alex Hawke said the policy for all incoming arrivals, including international athletes, will be the same.
"Our health advice is that when we open the borders everyone that comes to Australia will have to be double-vaccinated," Hawke told the Australian Broadcasting Corp. early Wednesday.
Australia is preparing to re-open its international borders for the first time in more than 18 months, but it'll be a gradual, state-by-state process starting next month and will depend on vaccination rates across the country. Fully vaccinated people will have fewer restrictions in Australia than those who are not.
The vaccination debate has been ongoing in tennis since international competition started re-emerging following a global shutdown last year.
Some players, including men's No. 1 Novak Djokovic, have advocated that the decision to get the vaccine should be a personal choice. Others, including Andy Murray, have said it should be mandated for the good of the majority.
Djokovic, who has won the Australian Open title a record nine times and shares the men's Grand Slam record of 20 titles with Roger Federer and Rafael Nadal, hasn't confirmed whether he has been vaccinated for COVID-19. If he doesn't get vaccinated, he risks missing the tournament he has won for the last three years.
Australia's immigration minister didn't think there'd be any exceptions, for anyone.
"I have a message to everyone who wishes to visit Australia, you'll need to be double vaccinated," Hawke told the ABC. "That's a universal application, not just to tennis players."
At the U.S. Open, which ended Sept. 12, spectators had to show proof of at least one dose of a COVID-19 vaccine to attend matches, although players weren't required to get a shot.
Victoria Azarenka, a two-time Australian Open champion and three-time runner-up at the U.S. Open, thought that sent a mixed message. She reached the U.S. Open final in 2020, when there were no fans allowed.
"To me that's a bit bizarre that fans have to be vaccinated and players are not," Azarenka said. "So I think that in my opinion, it's inevitable that it will be mandated at some point, like other leagues are doing."
Both the men's and the women's tours are recommending all players get vaccinated but so far have not enforced it. Just before the U.S. Open, roughly half of the elite male and female players were vaccinated.
Ahead of the Australian Open earlier this year, all players had to quarantine for two weeks and be regularly tested under Australia's strict regulations on COVID-19 measures.
Most were allowed a limited time to practice, but any who tested positive or we deemed to be close contacts of a positive case — which in some cases meant simply being on the same charter flight — had to do a hard lockdown. Those players weren't allowed to leave their hotel rooms.
Melbourne, which hosts season-opening Formula One Grand Prix races, the richest horse race in the southern hemisphere and the biggest football crowd in Australia, has either barred crowds or shifted sports events interstate during months of lockdown in recent months.
There are plans to have crowds at the Australian Open.
___
More AP tennis: https://apnews.com/hub/tennis and https://twitter.com/AP_Sports
John Pye, The Associated Press
Trudeau, Biden agree to end 'loophole' in Safe Third Country Agreement: sources
A family of asylum seekers from Colombia is met by RCMP officers after crossing the border at Roxham Road into Canada Thursday, Feb. 9, 2023, in Champlain, New York. Canada and the United States are on the cusp of agreeing to designate all 8,900 km of their shared border as an official crossing under the Safe Third Country Agreement.THE CANADIAN PRESS/Ryan Remiorz
By Mia Rabson and Laura Osman in Ottawa
Canada and the United States have agreed to have asylum seekers turned back at irregular border crossings across the border, including Roxham Road in Quebec.
The U.S. will agree to extend a bilateral treaty known as the Safe Third Country Agreement to apply along the 8,900 kilometres of the shared border, according to an official with the administration of President Joe Biden, who arrived in Ottawa Thursday evening.
In exchange, Canada will agree to welcome an additional 15,000 migrants from across the Western Hemisphere over the next year on a humanitarian basis, said the official, who spoke on condition of anonymity.
A Canadian government official with knowledge of the talks, granted anonymity to discuss matters not yet made public, also said Thursday that Prime Minister Justin Trudeau and Biden would discuss the issue during a bilateral meeting Friday.
The official said details were still being negotiated, but the leaders agreed in principle.
The agreement follows talks between Trudeau and Biden at the Summit of the Americas in Los Angeles last June, a migration-heavy meeting where Canada agreed to admit just 4,000 more migrants by 2028.
Such a deal would not physically close off the Roxham Road unofficial crossing in Quebec, where thousands of migrants have entered Canada so they can make an asylum claim.
But it would effectively end its time as a viable route to Canada, as migrants who continue to cross there, or at any other unofficial crossing, would be treated as if they crossed at an official border checkpoint and be returned to the United States to make an asylum claim there.
Those travelling into the U.S. from Canada at unofficial crossings would likewise be returned north of the border by American authorities.
Under the Safe Third Country Agreement, first signed between the U.S. and Canada in 2004, asylum seekers must make their claim in whichever country they arrive first. That currently applies only to official border crossings.
But increasing numbers of migrants are opting to get around that rule by crossing at unofficial locations, such as Roxham Road, 50 kilometres south of Montreal. Taking this route means they can stay in Canada while waiting for a hearing, or for their case to be decided.
Last year, 39,000 people claimed asylum after crossing the unofficial border point into Quebec.
A lawyer for Amnesty International called the move to expand the provisions of the agreement "unconscionable," from a human rights perspective.
"It'll just push people to more remote areas, more dangerous crossings," said Julia Sande, a lawyer for the organization.
"If they're not going to be offered protection in the United States, they'll do what they need to do to get here, and that will just push people into dangerous situations."
The organization is one of three that are challenging the constitutionality of the Safe Third Country Agreement in the Supreme Court, arguing that the United States can't be counted on to carry out Canada's obligations to refugees under international law.
Meanwhile, the mayor of Niagara Falls, Ont., expressed relief that Canada and the U.S. appear to have made a tentative decision on the border crossing.
The federal government began transferring asylum claimants to various cities in Ontario, including Niagara Falls, after the Quebec government voiced concerns the migrants were placing pressure on publicly funded services.
Mayor Jim Diodati said 2,000 hotel rooms have been booked by the federal government for the asylum seekers and he found out Thursday that 500 more rooms were reserved for another group arriving on buses from the country road.
"That's a lot of people in our community, considering (the) population is about 95,000 people," he said in a phone interview. "That's a huge, immediate impact to our community."
The federal immigration minister's office would not comment on the details and status of the Canada-U.S. negotiations on Thursday.
At a press conference Wednesday, Immigration Minister Sean Fraser would only say his department was working on a solution that would go beyond the politics of the president's visit and "provide an actual lasting solution" to irregular border crossings.
Fraser said there has been no need for "horse trading" in the negotiations with the U.S. on the issue.
"This is something that both Canada and the United States believe in, is having an orderly policy at all of our borders, but also welcoming immigration policies for those who are fleeing violence, war, or persecution," he said.
There are larger-scale issues that must also be addressed, he said, including capacity to address the root causes of migration from countries people are fleeing from in the first place.
Biden arrived in Canada Thursday night for a 27-hour state visit, his first formal trip to Canada since being sworn in as the U.S. president in January 2021. Trudeau and Biden are to meet for a formal bilateral discussion in Trudeau's Parliament Hill office Friday morning.
Canada and the United States have been discussing how to improve the Safe Third Country Agreement for nearly five years.
In Canada, there are political divisions about what to do, with Conservative Leader Pierre Poilievre calling for Canada to just "close" Roxham Road.
NDP Leader Jagmeet Singh, for his part, wants the Safe Third Country Agreement suspended, allowing any migrant to make a claim in Canada regardless of how they get here.
"We believe that would give dignity to people that are already fleeing serious threats to their lives," Singh told reporters Thursday, though he said he's open to other solutions.
This report by The Canadian Press was first published March 23, 2023.
— With files from Fakiha Baig in Toronto and James McCarten in Washington.
Boy who killed two officers previously apprehended under Mental Health Act: police
Deputy Chief Devin Laforce speaks about the details of the shooting that killed two police officers during a press conference in Edmonton, Friday, March 17, 2023. Edmonton police say a 16-year-old boy who shot and killed two officers on March 16 had been apprehended in November under the Mental Health Act and was taken to hospital for assessment. THE CANADIAN PRESS/Jason Franson
By Ritika Dubey in Edmonton
EDMONTON — A 16-year-old boy who fatally shot two officers at an apartment complex one week ago had been apprehended in November under the Mental Health Act and was taken to hospital for assessment, Edmonton police said Thursday.
Police also said the boy's gun was the same weapon used in another shooting days before at a nearby restaurant that left a man injured. Deputy Chief Devin Laforce said a bullet casing recovered from the Pizza Hut was forensically matched to the gun recovered from the apartment, and the teen is a suspect in both cases.
"Both events have been served by robust investigations that have followed all lines of inquiry," Laforce said. "All tips and other investigative avenues were pursued exhaustively by the investigating teams."
Investigators are working to trace the origins of the gun and how it came to be in the boy's possession, Laforce said. He said other people could face charges.
"Whoever he got that gun from probably faces some criminal jeopardy," he said.
The gun has not been linked to any other crimes, Laforce said, and police were not ready to confirm details about the firearm.
The Pizza Hut employee who was shot on March 12 remains in hospital in stable but critical condition, he added.
Constables Brett Ryan, 30, and Travis Jordan, 35, were responding to a family dispute at the apartment complex in the northwestern part of the city on March 16 when they were shot by the teen multiple times.
Police have said the boy also shot and wounded his mother during a struggle for the gun before shooting and killing himself. Laforce said multiple shots were fired at the woman. An autopsy conducted by the Edmonton Medical Examiner on Wednesday confirmed the shooter's cause of death was a single gunshot wound consistent with being self-inflicted. He said no one else fired shots.
The mother remains in hospital. She is unable to speak but has been able to communicate through writing, Laforce said, and police plan to interview her once she is released. He said all families affected by the shooting have been co-operating with police.
Laforce said investigators continue to believe the boy's parents, police dispatch and the responding officers were unaware there was a firearm in the home.
"There are many remaining questions about what took place last Thursday," he said.
Police said they are investigating the youth's phone and computer. They are also waiting on toxicology results.
Supt. Shane Perka said police could not provide details on the outcome of the youth's mental health assessment nor any other medical information.
"We don't have access to that information at this point but it's certainly things that in the coming days and weeks we will be following up on," he said.
A spokesperson with Alberta Health Services said any information about what care the boy may have received in hospital could not be publicly released due to privacy rules.
Perka added it is unclear whether Ryan and Jordan knew the teen had been apprehended under the Mental Health Act, although information that police had previously responded to a mental health complaint at the apartment would have been available to them.
Laforce and Perka said police are not releasing the youth's name at this time to maintain the integrity of ongoing investigations, including into the origins of the firearm.
"The premature release of information complicates our efforts," Perka said. "We also speak in the interests of multiple families whose lives have been irreparably altered by these events."
This report by The Canadian Press was first published March 23, 2023.
— With files from Emily Blake in Yellowknife.
This story was produced with the financial assistance of the Meta and Canadian Press News Fellowship.