Prosecutors request life sentence for 'Hotel Rwanda' hero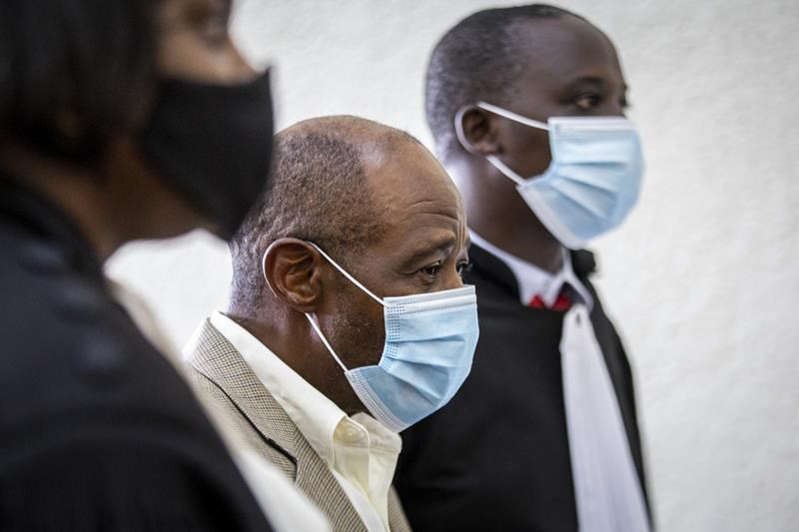 KIGALI, Rwanda (AP) — Rwandan prosecutors on Thursday requested a life sentence for the man who inspired the film "Hotel Rwanda" as he faces terrorism charges, while his family asserts that he faces mistreatment and an unfair trial.
Paul Rusesabagina, once praised for saving hundreds of ethnic Tutsis from Rwanda's 1994 genocide as a hotel manager, faces charges related to attacks by an armed group inside Rwanda in 2018 and 2019. The nine charges include the formation of an irregular armed group, membership in a terrorist group and financing terrorism. Prosecutors seek to link him to activities that killed at least nine people.
Rusesabagina, a Belgian citizen and U.S. resident, has denied the charges, arguing his case is politically motivated in response to his criticism of Rwanda's longtime President Paul Kagame.
Rusesabagina alleges that he was abducted last year while visiting Dubai and taken to Rwanda, where he was charged. But a court ruled that he was not kidnapped when he was tricked into boarding a chartered flight. Rwanda's government has asserted that Rusesabagina was going to Burundi to coordinate with armed groups based there and in neighboring Congo.
"My father Paul Rusesabagina is a political prisoner. He is accused of invented charges, and zero evidence against him has been presented in the Rwandan kangaroo court," daughter Carina Kanimba tweeted after the prosecution sought the life sentence.
The family also has said Rusesabagina was being denied access to food and water, but Rwanda's prison authority has denied it.
The case has received global attention. This month the Lantos Foundation for Human Rights and Justice said it had filed a formal submission in the U.S. recommending sanctions against Rwandan Justice Minister Johnston Busingye and the head of the Rwanda Investigation Bureau, Col. Jeannot Ruhunga, for their role in Rusesabagina's detention.
Rusesabagina stopped appearing in court in March, saying he doesn't expect justice after his request to postpone the trial to prepare his defense was rejected. His attorney, Felix Rudakemwa, has asserted that Rusesabagina's legal papers were confiscated by prison authorities.
Ignatius Ssuuna, The Associated Press
Canada's Jessica Klimkait wins bronze in under-57 kg judo event
TOKYO — Canada's Jessica Klimkait has won bronze in the women's under-57 kilogram category at the Tokyo Olympics.
The reigning world champion from Whitby, Ont., defeated Kaja Kajzer of Slovenia by waza-ari in a bronze-medal match.
Klimkait missed a chance to add a gold medal to her world championship title when she lost to Sarah Leonie Cysique of France in the semifinals.
Klimkait was defeated by ippon when she was assessed a shido in the golden score period for a false attack. It was Klimkait's third penalty of the bout, giving Cysique a berth on the gold-medal match.
Klimkait was in fine form before her semifinal loss. She defeated Poland's Julia Kowalczyk in their quarterfinal bout at the Nippon Budokan.
The victory, her second straight via ippon, came after she beat Bulgaria's Ivelina Ilieva in the round of 16 earlier in the day
This report by The Canadian Press was first published July 26, 2021.
The Canadian Press
Mac Neil finishes first in women's 100 butterfly to capture Canada's first gold medal
TOKYO — Swimmer Margaret Mac Neil has won Canada's first gold medal of the 2020 Tokyo Olympics.
Mac Neil was seventh at the halfway point of the women's 100-metre butterfly, but swam a strong second length to win in a time of 55.59 seconds.
Zhang Yufei of China was second and Emma McKeon of Australia finished third.
Mac Neil became Canada's first multi-medallist in Tokyo following a silver medal in the women's 4×100 freestyle relay in the first day of finals.
The 21-year-old from London, Ont., was a surprise winner of the 100-metre butterfly at the 2019 world championship in Gwangju, South Korea, where she bested reigning Olympic champion Sarah Sjoestroem of Sweden.
Mac Neil, a senior at the University of Michigan, is also a two-time NCAA champion in freestyle and butterfly. 
She'd posted the sixth-fastest semifinal time in the 100-metre butterfly an hour before swimming the second leg of the relay in Tokyo.
This report by The Canadian Press was first published July 25, 2021.
The Canadian Press