Prime minister signs historic land claim settlement with Alberta First Nation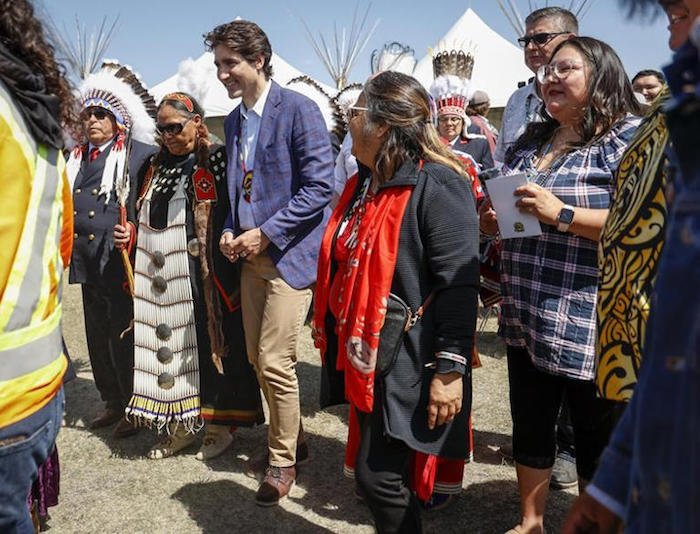 SIKSIKA, Alta. — Prime Minister Justin Trudeau and the chief of a southern Alberta First Nation have signed a historic land-claim settlement which the federal government says is one of the largest of its kind in Canada.
Trudeau and Marc Miller, minister of Crown-Indigenous relations, participated in a signing ceremony Thursday with Chief Ouray Crowfoot of Siksika First Nation, its council and community members 150 kilometres east of Calgary.
"We're gathered today to right a wrong from the past," Trudeau said during the ceremony held where the original treaty was signed 145 years ago.
"We're gathered to give ourselves a chance to start rebuilding trust between us, nation to nation."
The federal government said the settlement dates back more than a century to when Canada broke its Blackfoot Treaty promise and took almost half of Siksika's reserve land, including some of its agricultural lands, to sell to people who settled in the area.
The agreement provides $1.3 billion in compensation to the First Nation to resolve outstanding land claims, which include about 46,500 hectares of Siksika's reserve and certain mineral rights taken by Canada.
Miller drew applause when he addressed the crowd in Blackfoot in a speech that last nearly three minutes.
"We'll see if I can do better in English," Miller joked after he had finished.
"Today's a new day. It's time to move on."
Trudeau said it's important to move forward with Indigenous people as partners.
"This settlement will enable you to invest in your priorities like infrastructure, education and supports for elders and youth," he said. "It will create new economic, social and cultural opportunities."
Crowfoot said the settlement doesn't make up for past wrongs, but it will make a difference in people's lives.
"Canada needs to stop using the word reconciliation. You will never reconcile. You will never make it whole," he said.
"This land claim — $1.3 billion, that's a lot of money — it will never make it whole of what it was before. But we've got to move forward. What the $1.3 (billion) can do is provide opportunities, opportunities we didn't have before.
"I do see the tide turning for Siksika … I see us becoming a thriving nation."
Crowfoot said some of the money is to be spent on addressing issues that affect its members.
"We are the second-largest First Nation from a land perspective, yet we don't have policing on the reserve," he said. "We're working to get our policing back.
"We are working through the residential school searches and mental health."
The Siksika website indicates each member is also to receive $20,000 in July as part of the settlement.
In his initial speech during the signing ceremony, Crowfoot noted that he wasn't sure yet if he considered Trudeau to be a friend.
He explained at a media availability later that he knows Miller has proven to be a friend of the Siksika people.
"I have about three friends that I consider close friends. This is the first time I've ever met the prime minister," he said.
"How do we work on these relationships so I can call the prime minister a friend? I don't call him an enemy."
This report by The Canadian Press was first published June 2, 2022.
— With files from Colette Derworiz in Calgary
Bill Graveland, The Canadian Press
From Cafe Owner to Political Activist at the heart of the Alberta Prosperity Project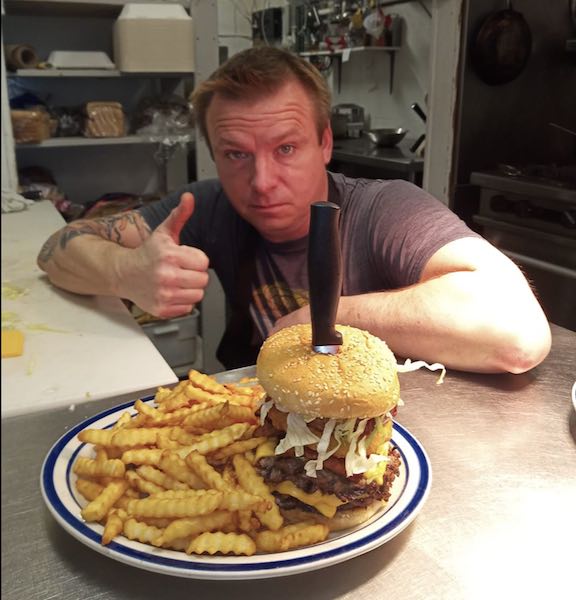 The COVID pandemic has turned Central Alberta Cafe Owner Chris Scott into nothing short of a lightning rod.
Many business owners grumbled and suffered through a couple years of mayhem due to wave after wave of COVID and the various restrictions affecting day to day operations. Where most business owners zigged, Scott, as they say… zagged.
Chances are you know something about his story as he's been in the news and seemingly on a never ending speaking tour ever since this all started.
You likely won't be surprised to know Chis Scott is still operating his cafe, still facing court charges, and heavily involved in trying to influence Alberta politicians.
No matter what side of this discussion you fall on, no matter what you think of the business owners, doctors, and religious leaders who stood in defiance of covid restrictions, this conversation will help you understand where those who have emerged as leaders of those who stood up to the health restrictions are putting their attention in the summer of 2022.
If you're interesting in learning more about the Alberta Prosperity Project.
If you're interested in WS Full Steam Ahead
Voting deadline looms in race to replace Jason Kenney as Alberta UCP leader, premier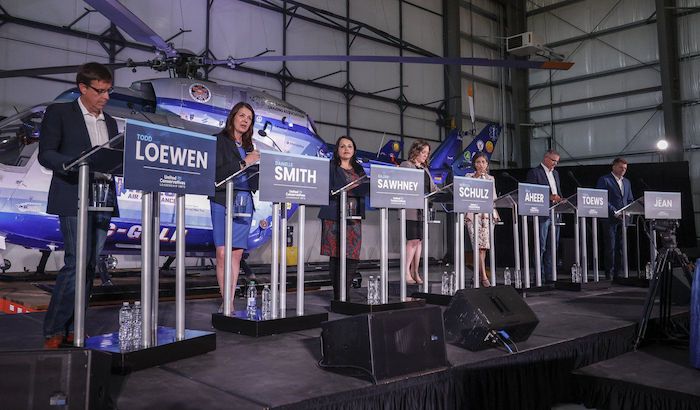 EDMONTON – It's deadline day to buy $10 Alberta United Conservative Party memberships to vote for the next leader and premier.
The party is accepting drop offs by 5 p.m. and online memberships until midnight.
The party will then go through the memberships and confirm information and expects to have the final tally ready in two weeks or so.
Seven candidates are on the ballot seeking to replace Premier Jason Kenney in the party's top job.
Kenney announced in May he was quitting after receiving a lukewarm 51 per cent support in a party leadership review.
The next key date in the race is the second debate, slated for Aug. 30 in Edmonton.
The candidates have been proposing a range of policy ideas from health care to education reform, but the focus of debate has been on how to leverage Alberta's relationship with the federal government to get a better deal in areas such as equalization.
This report by The Canadian Press was first published Aug. 12, 2022.