Pope set for historic apology for school abuses in Canada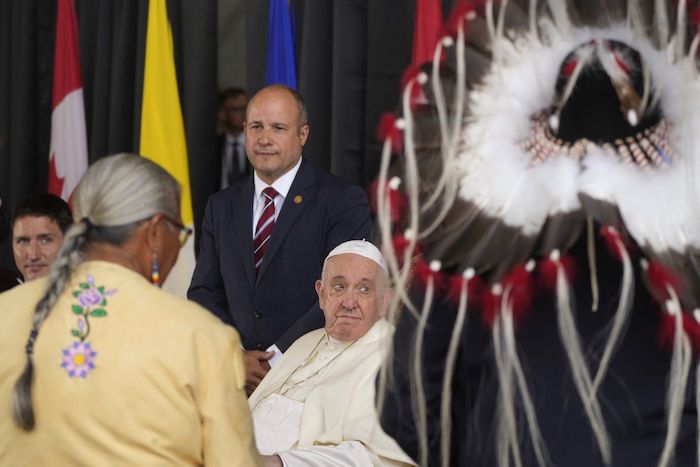 By Nicole Winfield in Maskwacis
MASKWACIS, Alberta (AP) — Thousands of Indigenous people converged Monday on the small Alberta prairie community of Maskwacis to hear a long-awaited apology from Pope Francis for generations of abuse and cultural suppression at Catholic residential schools across Canada.
Francis was scheduled to arrive in mid-morning at the site of the former Ermineskin Indian Residential School, now largely torn down. He planned to pause at the sites of the former school and nearby cemetery before speaking in a large open area to school survivors, their relatives and other supporters.
Indigenous people stood under umbrellas or tents in a drizzling rain, awaiting the pope.
Francis arrived Sunday in Edmonton, where he was greeted by representatives of Canada's three main Indigenous groups — First Nations, Metis and Inuit — along with political and church dignitaries. At the welcome ceremony, Francis kissed the hand of a survivor of a residential school, Elder Alma Desjarlais of the Frog Lake First Nations, a gesture of humility and deference that has he used in the past when meeting with Holocaust survivors.
The Canadian government has admitted that physical and sexual abuse were rampant in the government-funded Christian schools that operated from the 19th century to the 1970s. Some 150,000 Indigenous children were taken from their families and forced to attend in an effort to isolate them from the influence of their homes, Native languages and cultures and assimilate them into Canada's Christian society.
Catholic religious orders operated 66 of Canada's 139 residential schools, where thousands of children died from disease, fire and other causes.
Francis' six-day trip — which will also include other sites in Alberta, as well as Quebec City and Iqaluit, Nunavut, in the far north — follows meetings he held in the spring at the Vatican with delegations from the First Nations, Metis and Inuit. Those meetings culminated with a historic April 1 apology for the "deplorable" abuses committed by some Catholic missionaries in residential schools.
The first pope from the Americas was determined to make the trip, even though torn knee ligaments forced him to cancel a visit earlier this month to Africa. Francis, 85, has called it a "penitential pilgrimage" to help the Catholic Church reconcile with Native peoples and help them heal from what Canada's Truth and Reconciliation Commission has said was "cultural genocide."
That same commission report called on Francis to apologize for the abuses on Canadian soil, a request he is fulfilling with the trip.
Thousands of children died from disease, fire and other causes. The discoveries of hundreds of potential burial sites at former schools in the past year has drawn international attention to the legacy of the schools in Canada and their counterparts in the United States.
Maskwacis, about an hour south of Edmonton, is the hub of four Cree nations.
Event organizers said they would do everything possible to make sure survivors can attend the event. Many will travel from park-and-ride lots, and organizers acknowledge that many survivors are elderly and will require accessible vehicles, diabetic-friendly snacks and other amenities.
Catholics operated a majority of the Canadian schools, while various Protestant denominations operated others in cooperation with the government.
As part of a lawsuit settlement involving the government, churches and approximately 90,000 surviving students, Canada paid reparations that amounted to billions of dollars being transferred to Indigenous communities. Canada's Catholic Church says its dioceses and religious orders have provided more than $50 million in cash and in-kind contributions, and hope to add $30 million more over the next five years.
Prime Minister Justin Trudeau, who last year voiced an apology for the "incredibly harmful government policy" in organizing the residential school system, will also attend the Maskwacis event along with other government officials.
In Maskwacis, the former school where Francis is visiting has been replaced with a school system operated by the four local Cree nations. The curriculum affirms the Indigenous culture that was once suppressed.
Chief Greg Desjarlais of the Frog Lake First Nation in northern Alberta, a school survivor, said after the pope's arrival Sunday that there are "mixed emotions across this country" over his visit.
"I think today of the young people that didn't make it home and are buried around residential schools," he told a news conference after the airport welcome ceremony. But he expressed optimism that the visit can begin to bring reconciliation.
"I do know when two people have apologized we feel better," he said. "But our people have been through a lot. … Our people have been traumatized. Some of them didn't make it home. Now I hope the world will see why our people are so hurt."
On Monday afternoon, Francis is scheduled to visit Sacred Heart Church of the First Peoples, a Catholic parish in Edmonton oriented toward Indigenous people and culture. The church, whose sanctuary was dedicated last week after being restored from a fire, incorporates Indigenous language and customs in liturgy.
"I never in my life thought I would see a pope here at Sacred Heart Church," said Fernie Marty, who holds the title of church elder. "And now we get that opportunity."
When Francis visits, the church will display the clothing, bread and other supplies it regularly provides to the needy, including many of Edmonton's estimated urban Indigenous population of 75,000.
The visit will be an "encounter" that will help "for people to know what we are, who we are," said its pastor, the Rev. Jesu Susai.
___
Associated Press reporters Peter Smith in Edmonton and Rob Gillies in Toronto contributed to this report.
___
Associated Press religion coverage receives support through the AP's collaboration with The Conversation US, with funding from Lilly Endowment Inc. The AP is solely responsible for this content.
'A crisis': Calgary charity seeks one-month homes for Ukrainian refugees after influx
Ukrainian evacuees Dmytro Syrman, left, his wife, Anastasiia, centre, and their four-year-old daughter Varvara attend a news conference highlighting the need for temporary housing in Calgary on Wednesday, March 29, 2023. THE CANADIAN PRESS/Jeff McIntosh
By Bill Graveland in Calgary
After six months under Russian occupation, Dmytro Syrman and his family decided to flee Ukraine for a safer life abroad and are now in Calgary.
The family lived in Dniprorudne, a mining city of 17,000 in southern Ukraine. Syrman worked as a human resources manager at an iron factory.
In August, Syrman, his wife, Anastasiia, and four-year-old daughter Varvara embarked on a six-day, 3,000-kilometre drive to Poland.
"On the 24 of February, when the Russian army attacked Ukraine and occupied our city in March 2022, we lost everything," Syrman said Wednesday.
He said they began planning their escape when they realized Russian soldiers weren't leaving their city.
"We started all of this because we were scared for Varvara," he said. "When Russian bombs were falling near our city it was really scary."
Their home is still under Russian occupation.
For the past year the family stayed in Poland, sent in their paperwork to come to Canada, and two weeks ago arrived in Calgary.
They're now staying with a host family for a month while they look for long-term accommodation and to find jobs.
"We are here and starting a new life. We can't believe about people who don't know us and many helped us. We're really shocked," Syrman said.
The Syrmans were helped by Calgary's Centre for Newcomers, which started a campaign to find 100 hosts for Ukrainian families or individuals for a month while they find housing of their own.
Kelly Ernst, chief program officer with the centre, said there has been a flood of Ukrainians trying to take advantage of a federal program that allows them to temporarily resettle in Canada.
The Canada-Ukraine Authorization for Emergency Travel program has been extended until July and Ernst said he expects people will continue to flee the war-torn country.
"We're in a desperate, dire need at the moment for host homes to try to accommodate the evacuees coming from Ukraine. It's reaching the proportions of being a crisis moment," said Ernst.
He said people arriving elsewhere in Canada are migrating to Calgary because the rents are lower than in larger cities such as Toronto and Vancouver.
Ernst said approximately 450 people have been arriving in Calgary every week from Ukraine and his organization has helped people staying nights in the airport, off the street and at homeless shelters.
Natalia Shem, who is the manager of housing for the Ukrainian evacuees, said it's difficult for the newcomers to find somewhere to live before arriving.
"It's almost impossible to find long-term rent being outside of Canada and people who come here need one month of stay," Shem said. "It's an average time a family can find long-term rent, job and settle down here in Canada."
This report by The Canadian Press was first published March 29, 2023.
Budget measures unlikely enough to spur major carbon capture investments: Experts
Deputy Prime Minister and Minister of Finance Chrystia Freeland delivers the federal budget in the House of Commons on Parliament Hill in Ottawa, Tuesday, March 28, 2023. Industry watchers say Tuesday's federal budget likely won't be enough to convince Canadian oil and gas companies to pull the trigger on expensive, emissions-reducing carbon capture and storage projects. THE CANADIAN PRESS/Sean Kilpatrick
By Amanda Stephenson in Calgary
A question mark continues to hang over the future of carbon capture and storage projects in Canada, in spite of a pledge in Tuesday's federal budget to deliver more investment certainty for major emissions-reducing projects.
"Look, we have set some very aggressive climate targets in Canada. You can't kick the can down the road," said carbon capture advocate James Millar, arguing that's exactly what the federal government did Tuesday when it provided no additional details around its previously stated intention to reduce the risk of investing in pricey emissions-reduction projects by essentially guaranteeing the future price of carbon.
"The difference comes down to investment certainty in the U.S., versus the promise of investment certainty in Canada."
As president and CEO of the International CCS (carbon capture and storage) Knowledge Centre, a non-profit organization based in Regina, Millar had been closely watching Tuesday's budget in hopes of obtaining more federal support for the expensive technology that can be used to trap harmful greenhouse gas emissions from industrial processes and store them safely underground.
Heavy emitters — in particular, the oil and gas sector — have identified carbon capture and storage technology as key to helping the sector meet its emissions reduction targets and have been looking for government incentives akin to what is being offered south of the border, where the U.S. Inflation Reduction Act promises to pay companies a guaranteed US$85 price for each tonne of injected carbon.
While Canada has already announced an investment tax credit that will help to offset some of the up-front capital costs of carbon capture projects, companies have so far been hesitant to pull the trigger and go ahead with proposed large-scale projects.
The Pathways Alliance, for example, a consortium of oilsands companies, has proposed building a $16.5-billion carbon capture and storage transportation line to combat emissions from existing oilsands infrastructure in northern Alberta.
But the group has not yet made a final investment decision, saying it needs to know its project will be competitive with those in the U.S. before proceeding.
One thing the oil and gas sector has said will help with that is some kind of mechanism that would reduce the risk to companies that the federal price on carbon could be lowered or eliminated. If a new government were to be elected and remove or change Canada's carbon pricing system, investing in expensive carbon-reducing technology could suddenly become uneconomical.
On Tuesday, the federal government reiterated that it intends to create such a mechanism through a so-called carbon contracts for difference system — but disappointed many who were hoping for details. Instead, the government announced it plans to begin consultations around the development of such a program.
Millar said while he doesn't doubt the government's good intentions, companies that have proposed large-scale projects need to get moving now if they have any hope of meeting Canada's goal to reduce this country's overall emissions by 40 per cent below 2005 levels by 2030 looms.
"We're already in 2023, we're seven years out. The consultations that were announced yesterday will take months," he said. "I think it will take at least a year because it's going to take time to set up the process."
The Pathways Alliance itself took a diplomatic tone Tuesday, issuing a statement after the tabling of the budget saying it was "encouraged" by the signal that more policy certainty is coming, and adding it looks forward to a "better understanding" of the government's intentions.
But Greg Pardy of RBC Capital said in a research note that in spite of some enhancements to the previously announced investment tax credit, budgetary support for carbon capture and storage was "somewhat limited — perhaps even disappointing."
"In our view, Canada's federal government needs to shift into much higher gear when it comes to incentivizing decarbonization investment if it is to achieve its bold climate change ambitions," Pardy said.
A report from BMO Capital Markets published just before the release of Tuesday's budget said Canada's policy framework for large-scale deployment of carbon capture and storage disadvantages producers here compared to the U.S., "despite claims to the contrary from some proponents of the environmental lobby."
Environmentalists have been critical of any additional federal support for carbon capture, calling it akin to a subsidy for oil and gas companies that enables them to increase production when the world should be scaling down fossil fuel usage.
But the BMO report said carbon capture is an essential part of the energy transition, and without offering improved incentives to keep up with the U.S., Canada risks not meeting its 2030 emissions reduction targets.
"Canada's market-based carbon price systems are much too uncertain to act as 'incentive' for industry to invest in major decarbonization projects," the BMO report stated.
"Emitters need financial supports that are tangible and recognized by financial institutions to underwrite bank financing."
This report by The Canadian Press was first published March 29, 2023.