Pope says Indigenous people suffered genocide at residential schools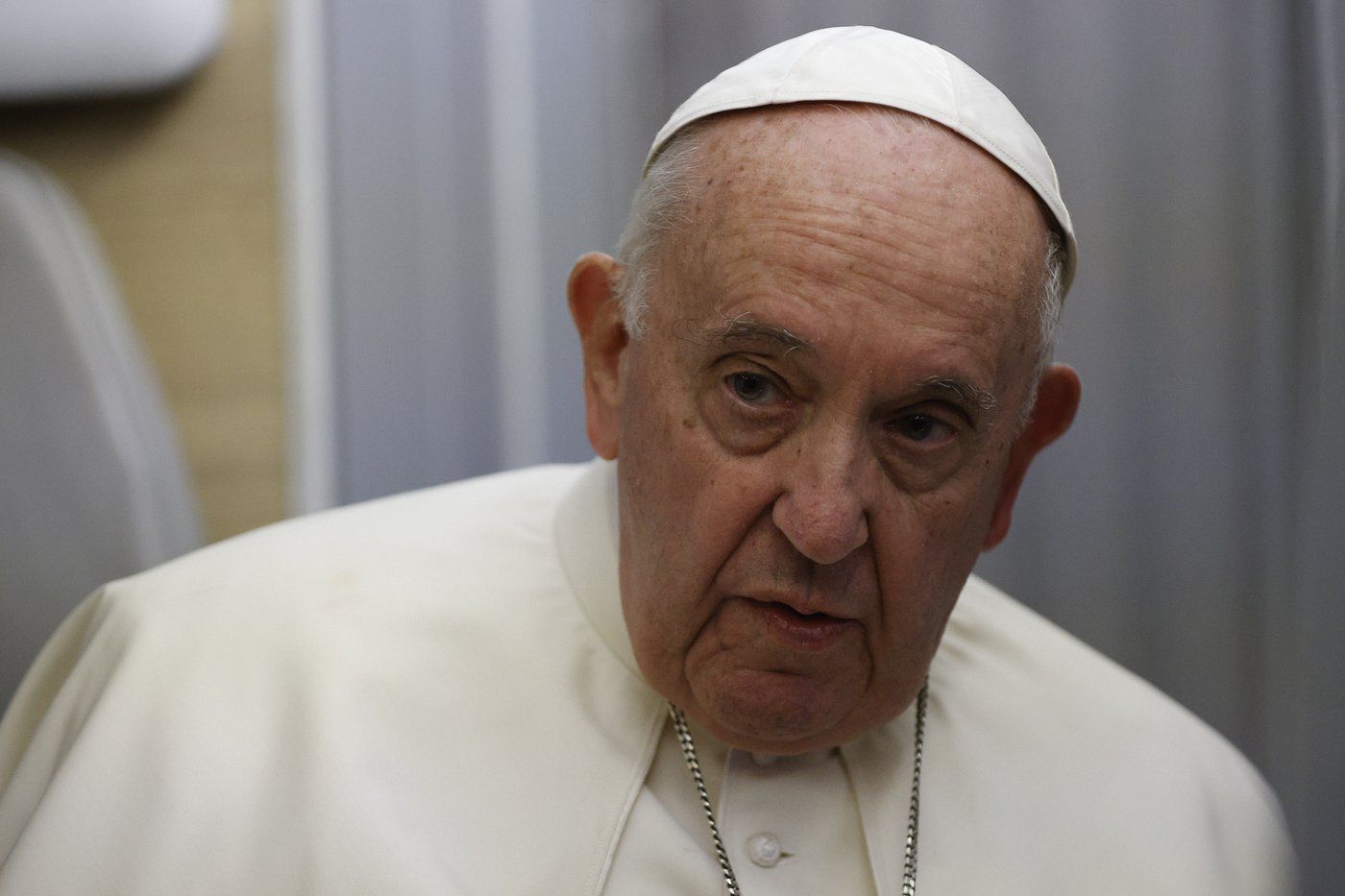 By Brittany Hobson in Rome
Pope Francis says the abuses Indigenous Peoples faced while being forced to attend residential schools amounted to genocide.
The pontiff made the comment Friday to reporters on his flight from Iqaluit back to Rome following his six-day tour of Canada.
Francis apologized multiple times throughout the week for the role the Roman Catholic Church played in the institutions. He begged for forgiveness for abuses committed by some members of the church as well as for cultural destruction and forced assimilation.
Some Indigenous people said they were disappointed that during his visit the Pope did not name the crimes and abuses that students and survivors faced. They also criticized him for not using the term genocide.
When asked if he would use the word genocide and accept that members of the church participated in genocide, Francis said yes.
The Pope said he didn't think to use the word genocide during his trip, calling it a technical term.
"I asked for forgiveness for what has been done, which was genocide, and I did condemn this," he said in Spanish through a translator.
Francis said instead of using the word genocide he described the attempts at destroying Indigenous Peoples through assimilation and colonization.
"To take away children, to change the culture, their mindset, their traditions — to change a race, an entire culture … yes I (do) use the word genocide."
The Truth and Reconciliation Commission referred to residential schools as a form of cultural genocide when it released its final report in 2015. But since then a number of Indigenous groups have amended this to say it was genocide.
Leah Gazan, an Manitoba NDP member of Parliament, tabled a motion in the House of Commons last year calling on the federal government to recognize what happened at residential schools as a genocide, but it did not gain unanimous consent.
The National Inquiry into Missing and Murdered Indigenous Women and Girls concluded in its final report that violence against women and girls is a form of genocide. The effects of residential schools were the subject of many testimonies from families and survivors.
Neglect and physical and sexual abuse were rampant in the schools, and the Catholic Church ran 60 per cent of the institutions.
Throughout his Canadian visit, Francis expressed sorrow, indignation and shame.
"In the face of this deplorable evil, the church kneels before God and implores his forgiveness for the evil committed by so many Christians against the Indigenous Peoples," he said Monday to a group of residential school survivors and their families gathered in Maskwacis, Alta.
Throughout his stops in Alberta, Quebec and Nunavut, the Pope was met with messages urging him to rescind the Doctrine of Discovery, papal bulls or official declarations that were developed to justify the colonization of the Americas. The doctrine was connected to thinking that lands being colonized were empty, when in fact they were home to Indigenous Peoples.
Some Indigenous academics say the doctrine underlies all the policies that came after it.
Indigenous leaders have been calling for decades for it to be rescinded and the messaging ramped up before and during the Pope's visit.
Many said they were disappointed it was not part of the Pope's apologies.
He was asked on the plane Friday if he thought it was a missed opportunity to provide a concrete action toward reconciliation.
"Colonization is bad. It's unfair and even today it's used. Perhaps with silk and gloves, but it is used all the same," he said.
"Let us be aware that colonization is not over. The same colonization is there today as well."
Vatican officials have said a statement on the matter is to come.
The Canadian Conference of Catholic Bishops, who helped organize the papal trip, said in a statement that the bishops plan to work with the Vatican to have it addressed.
This report by The Canadian Press was first published July 30, 2022.
B.C. First Nation arrives in Scotland, asks museum to return totem pole taken in 1929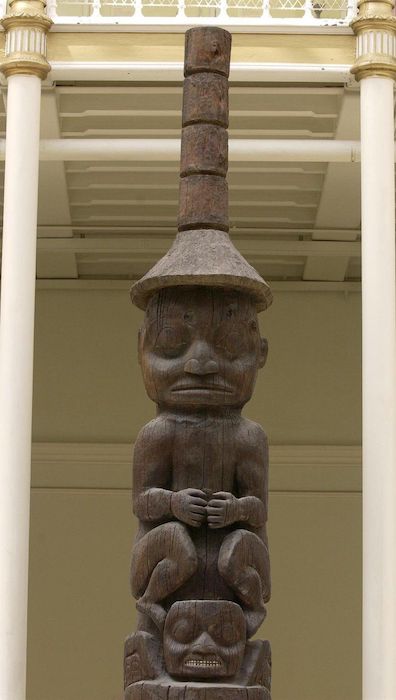 By Brieanna Charlebois in Vancouver
Delegates from the Nisga'a First Nation are in Scotland this week to discuss repatriating a memorial totem pole it says was stolen nearly a century ago.
Seven members, including Nisga'a Nation Chief Earl Stephens, have travelled from British Columbia and are scheduled to meet with staff, curators and politicians at the National Museum of Scotland on Monday.
"This will be the first time in living memory that members of the House of Ni'isjoohl will be able to see the memorial pole with our own eyes," Stephens said in a news release. "This visit will be deeply emotional for us all."
The Nisga'a totem pole, also known as the Ni'isjoohl memorial pole, was hand-carved in the 1860s. It depicts the story of Ts'wawit, a warrior who was next in line to be chief before he was killed in a conflict with a neighbouring nation.
The nation said the pole was taken in 1929 without its consent by ethnographer Marius Barbeau while members were away from their villages for the annual hunting and food harvesting season, and it was later sold it to the museum in Scotland.
Amy Parent, a Canada Research Chair in Indigenous Education and Governance at Simon Fraser University and a representative from the nation, said returning the artifact will mean restoring a piece of the nation's cultural identity.
"I want our children to wake up every day and not have to search so hard for a story of who we are," she said in an interview.
She said the delegates intend to discuss their "exact intentions" with museum and government officials to request the legal title of the pole be transferred back to the nation.
"At this point, they have been positive in terms of their communication with us and their desire to ensure that they are being culturally respectful upon their reception of our delegation," Parent said.
"We're trying to be cautiously optimistic in terms of the conversation that will unfold."
Parent said this isn't the first time Nisga'a Nation representatives have travelled to Europe in an effort to identify and reclaim its cultural artifacts. She said a group had visited the National Museum of Scotland in 2018, but was told the pole was too fragile to be removed.
However, Parent said she later discovered it had been moved when the museum went through recent renovations.
"Leading Canadian experts have determined that the pole is in good enough shape to be moved and they wouldn't hesitate to say that it could withstand the trip back to Canada and back to our nation," she said.
This prompted their decision to travel back to the U.K. in the hope of retrieving it, she said.
"I think they can help us rewrite history through this act of reparation," Parent said. "It is the government of Scotland's opportunity to show the world that UNDRIP really is more than something that's symbolic. It's a legal instrument that can transform the lives of Indigenous people globally, and we know that the world is watching."
The United Nations Declaration on the Rights of Indigenous Peoples, or UNDRIP, was established in 2007 as a framework of minimum standards for the survival and well-being of Indigenous people worldwide.
National Museums Scotland, the body which oversees the museum, said in a statement that "we welcome open dialogue and foster collaboration with communities for whom objects in the collection have special relevance."
"We look forward to hosting a delegation from the Nisga'a Nation at the National Museum of Scotland to view the memorial pole, share information on it and share our procedure for considering requests for the transfer of objects," it said.
Parent said the nation also hopes the government of Scotland and National Museums Scotland will front the bill for the totem pole's return to B.C.
"The onus shouldn't be on us as a family or as a nation to have to pay for its return," Parent said.
Should they be successful in repatriating the pole, the nation said it plans to erect it inside the Nisga'a Museum, which is home to more than 300 other cultural relics.
This report by The Canadian Press was first published Aug. 20, 2022.
Deal freeing Catholic entities from $25M campaign for residential schools released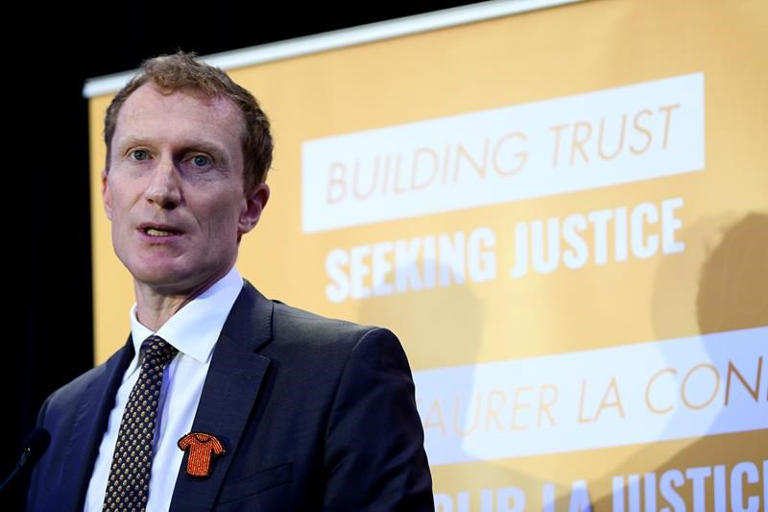 OTTAWA — Canada agreed to "forever discharge" Catholic entities from their promise to raise $25 million for residential school survivors and also picked up their legal bill, a final release document shows.
The Canadian Press obtained a signed copy of the 2015 agreement through federal Access-to-Information laws, marking what appears to be the first time the document has been widely publicized.
"That's a very, very important set of records," said Ry Moran, an associate librarian at the University of Victoria and founding director of the National Centre for Truth and Reconciliation.
"Like all questions around accountability … the question is who made the decision? How was that decision made? Who ultimately signed off on this?"
Indigenous leaders and legal experts have long questioned why Ottawa opted to give up an appeal of a court decision that meant Catholic entities didn't have to pay their remaining financial obligations under the historic Indian Residential School Settlement Agreement.
The actions of the Catholic groups involved — and by extension, the Catholic Church as an institution — as well as Ottawa, have been under renewed scrutiny since the uncovering of what are believed to be hundreds of unmarked graves at former residential school sites, which First Nations began announcing last year.
The dispute in question arose years before and culminated in a court decision handed down by a Saskatchewan judge in July 2015.
The residential schools settlement obligated the 48 Catholic entities involved to pay $79 million, which was broken into three parts, including making "best efforts" to raise $25 million for residential school survivors.
There was a disagreement between Ottawa and the Catholic entities about one part of their obligations.
At issue was whether lawyers for both sides had struck a deal freeing the church groups from all their financial commitments — including the $25 million for survivors — in exchange for a payment of $1.2 million, or only had an agreement covering a more narrow part of their financial responsibilities.
Ultimately, Justice Neil Gabrielson ruled the agreement covered all the church's financial commitments, allowing Catholic entities to walk away from their fundraising promise to survivors after raising less than $4 million.
Records obtained by The Canadian Press show that a month after that July 2015 decision, federal officials filed a "protective notice of appeal" while negotiating a final release agreement with the Catholic groups.
By Oct. 30, 2015, a final agreement was signed by the former deputy minister in what had been called Aboriginal and Northern Affairs Canada, freeing the Catholic entities of their financial obligations.
"Canada does hereby remise, release and forever discharge the Catholic entities … its directors, officers, shareholders, agents, lawyers, and employees … of and from all manners of actions, causes of action, suits, debts, dues, accounts, bonds whatsoever against the releasees," it reads.
It continues: "Canada further covenants and agrees not directly or indirectly to join, assist, aid, or act in concert in any manner whatsoever with any person or entity in making any financial claim or demand whatsoever against the releasees."
The signed agreement was released as part of more than 200 pages of briefing documents and court records prepared for Crown-Indigenous Relations Minister Marc Miller last fall after he committed to finding out what happened that led Canada to abandon its appeal. Many of the government records were redacted either in part, or in full.
Miller has, in at least one media interview, expressed openness to the idea of reviewing the government's 2015 decision.
However, Canada's agreement to "forever discharge" the Catholic entities and the broad language of the signed document raise questions about whether that can happen.
"The minister committed to understanding the circumstances and events that led the appeal to be dropped by the government of the day," Miller's office said in a statement Friday.
"He further committed to ensuring that the Catholic Church be held to account."
A spokesperson also deferred questions to the Department of Justice about the legal fees paid by Canada.
Government documentssuggest the decision to appeal hinged on whether the Catholic entities would try to relieve themselves further and broaden it to focus on their non-financial commitments under the settlement agreement.
"Should discussions around the order result in a release that is limited to three financial obligations, Canada will not pursue the appeal," reads a document dated September 2015. It included an illegible signature from a former minister in Stephen Harper's Conservative government, which at the time was in the middle of a federal election campaign.
Miller said it belong to Bernard Valcourt, Harper's former minister of aboriginal affairs.
The document noted releasing them from some of their non-financial obligations "could pose significant risk for Canada."
"Of particular concern to Canada would be releasing the Catholic entities from obligations such as co-operating in the defence or resolution of all Indian Residential Schools abuse claims outside of the settlement agreement."
While it said the court ruling could free Catholic entities from the "$21.5 million shortfall" of their fundraising campaign for survivors, "the likelihood of compelling the Catholic entities to meet their remaining fundraising obligations is very low."
Finally, the document said appealing would mean Canada would be back at "square one" when it came to trying to get any agreement in place over settlement money with the Catholic entities.
Ken Young, a former chief at the Assembly of First Nations and a residential school survivor, said he doubts Canada would have been successful in an appeal.
"Canada could have litigated until the cows came home," he said in a recent interview. "I think we're in a new phase."
Young, who is critical of how the Catholic churches' said fundraising would depend on their "best efforts," believes leaders have since learned their lesson.
He points to a promise made by the Canadian Conference of Catholic Bishops for dioceses to raise $30 million for reconciliation-related efforts over five years. As of July, they reported raising $4.6 million.
Young believes the bishops will keep their word, but said given the wealth of the Vatican and Catholic Church as an institution, fundraising shouldn't be necessary.
"Write a cheque today, never mind bothering your parishioners to raise it."
This report by The Canadian Press was first published Aug. 20, 2022
Stephanie Taylor, The Canadian Press