Police: Parade-crash suspect was in a domestic disturbance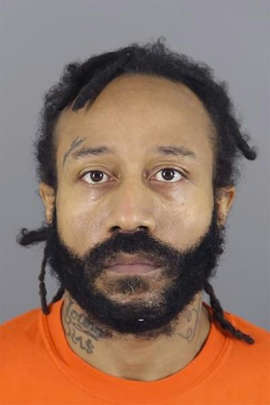 WAUKESHA, Wis. (AP) — The SUV driver who plowed into a Christmas parade in suburban Milwaukee, killing at least five people and injuring 48, was leaving the scene of a domestic dispute that had taken place just minutes earlier, Waukesha's police chief said Monday.
Police Chief Dan Thompson said that there was no evidence the bloodshed Sunday was a terrorist attack or that the suspect, Darrell Brooks Jr., knew anyone in the parade. Brooks acted alone, the chief said.
Brooks, 39, of Milwaukee, had left the site of the domestic disturbance before officers arrived, and was not being chased by police at the time of the crash, according to the chief, who gave no further details on the dispute.
Police said they were drawing up five charges of intentional homicide against Brooks.
He has been charged with crimes 16 times since 1999 and had two outstanding cases against him at the time of the parade disaster — including one in which he was accused of deliberately running down a woman with his vehicle.
On Sunday, a joyous scene of marching bands and children dancing in Santa hats and waving pompoms gave way in an instant to screams and the sight of crumpled bodies as the SUV sped through barricades and struck dancers, musicians and others in the community of 72,000.
The dead were identified as four women ages 52 to 79 and an 81-year-old man. Members of a Dancing Grannies club were among those killed, as was a bank employee.
Mayor Shawn Reilly described the parade as a "Norman Rockwell-type" event that "became a nightmare."
"It looked like dummies being thrown in the air," said Nicole Schneiter, who was there with her children and grandchildren. "It took a second to register, like, 'Is that what we really just saw?' And then you looked in the road and there were just people laying in road."
At least nine patients, most of them children, were listed in critical condition two hospitals, and seven others were reported in serious condition.
The chief said that while police were not pursuing Brooks before he entered the parade route, an officer did fire a shot to try to stop him but ceased shooting because of the danger to others. Brooks was not injured.
Brooks has two open criminal cases in Milwaukee County. In one case, filed Nov. 5, he is charged with resisting or obstructing an officer, reckless endangering, disorderly conduct, bail jumping and battery. Records show his $1,000 cash bond was posted on Friday.
In that case, a woman told police that Brooks deliberately ran her over with his vehicle in a gas station parking lot after a fight. She was hospitalized for her injuries.
In the other case, filed in July 2020, Brooks is charged with reckless endangering and illegal possession of a firearm.
His attorney in those cases, Joseph Domask, said he was not representing him in the parade crash.
The Milwaukee County District Attorney's Office said prosecutors' $1,000 bail recommendation for Brooks was "inappropriately low," given the charges. The DA's office said it is investigating the matter.
Republican Rebecca Kleefisch, a former Wisconsin lieutenant governor who is running for governor in 2022, called the killings "yet another avoidable tragedy that occurred because a violent career criminal was allowed to walk free and terrorize our community."
Brooks is an aspiring rapper. On a YouTube page, a video that has since been removed showed him rapping in front a red Ford SUV resembling the one at the parade. The rapper uses the name MathBoi Fly on his Twitter and other social media accounts.
The horror of the crash was recorded by the city's livestream and onlookers' cellphones. One video shows the moment the SUV broke through the barricades and includes the apparent sound of gunfire.
"It was like a war scene walking through there" afterward, said Ken Walter, who had been riding in the parade in a hot air balloon basket along with his wife and youngest son. "There were these piles of blankets with cops standing over them that you just knew were bodies."
Walter said he saw a red SUV careen into view and watched it hit a member of his real estate-agency parade contingent, then barrel straight into members of the Waukesha South High School marching band.
The SUV continued down the parade route. Behind it, people were screaming, running, searching for family and friends and unsure whether they were still in danger, he recalled.
Schneiter said that after sheltering in a store, she emerged to see bodies in the street, along with strollers, chairs, candy and shoes.
Police identified those killed as Virginia Sorenson, 79; LeAnna Owen, 71; Tamara Durand, 52; Jane Kulich, 52; and Wilhelm Hospel, 81.
The Milwaukee Dancing Grannies posted on its Facebook page that its members were "doing what they loved, performing in front of crowds in a parade, putting smiles on faces of all ages, filling them with joy and happiness."
Eighteen children ages 3 to 16 were brought to Children's Wisconsin Hospital, including three sets of siblings, said Dr. Amy Drendel, medical director of the emergency department.
They suffered injuries ranging from scrapes on their faces to broken bones and serious head injuries, she said. Six were listed in critical condition.
The Waukesha school district canceled classes Monday and Tuesday and said extra counselors would be on hand for students and staff. The parade's lineup included cheer, dance and band entries associated with district schools.
The parade, held each year on the Sunday before Thanksgiving, is sponsored by the Chamber of Commerce. This year's parade was the 59th one.
Waukesha is about 55 miles (90 kilometers) from Kenosha, where Kyle Rittenhouse was acquitted Friday of all charges in the shooting deaths of two men and the wounding of a third during unrest there in 2020.
___
This story has been corrected to show that online court records indicate a Darrell Brooks Jr. faces charges in another case that include second-degree recklessly endangering safety and that bail in a previous case was $1,000, not $500.
___
Bauer reported from Madison, Wis., and Balsamo reported from Washington. Associated Press writers Doug Glass in Minneapolis, Kathleen Foody in Chicago, Tammy Webber in Fenton, Michigan, Bernard Condon in New York and Michael Biesecker in Washington contributed.
Scott Bauer, Michael Balsamo And Mike Householder, The Associated Press
Luxury goods tax on super-rich could hit electric vehicles: expert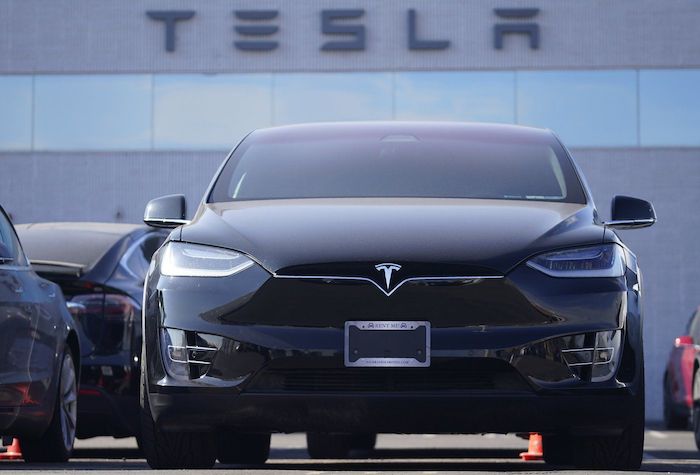 By Marie Woolf in Ottawa
A new tax on yachts, luxury cars and private aircraft designed to hit the super-rich could also cover vehicles meant to help the environment, a tax expert warns.
The luxury goods tax, which will come into force on Sept. 1, will cover cars and SUVs, as well as private planes and helicopters, worth more than $100,000.
The federal tax will also cover yachts and boats — including motorboats — worth more than $250,000.
But senior tax lawyer Héléna Gagné says the new tax could also hit some electric and hybrid vehicles, including Tesla and BMW models, which cost more than $100,000.
The federal government has been encouraging Canadians to invest in clean technology and zero-emission vehicles, which can carry a higher price tag than cars that run on fossil fuels.
Gagné said the thresholds for the tax could also affect people who would not be regarded as wealthy, but have saved up to buy a private plane for a hobby.
"It seems to be assumed that it is only the wealthiest who will be impacted by the luxury tax but it is not necessarily the case," said Gagné, a partner at Osler, Hoskin & Harcourt LLP. "It can also impact indirectly taxpayers who may not consider themselves as being among the wealthiest but who may decide to purchase an electric vehicle with a retail sales price that happens to be over the $100,000 threshold."
Adrienne Vaupshas, a spokeswoman for Finance Minister Chrystia Freeland, said the measures, originally proposed in the 2021 budget, are not designed to hit the middle class.
She said the threshold for the tax for boats was deliberately set at $250,000 so it would cover superyachts and not middle-class families buying boats.
Vaupshas said it was "only right and fair that the very wealthiest are asked to pay their fair share."
"The government was re-elected on a platform that included a commitment to bring forward a luxury tax on yachts, private jets, and luxury cars and implementing this measure is a priority," she said.
The tax was originally proposed in the 2021 budget. It will cover luxury cars, planes, and boats bought for personal use and leisure. Commercial vehicles, including small planes selling seats, and emergency vehicles are among the classes of vehicle exempt from the new tax.
The tax amounts to either 10 per cent of the taxable amount of the item or 20 per cent of the amount over the price threshold — whichever is less.
The NDP has been putting pressure on the federal government to do more to tax the super-rich. Measures to increase taxes on the wealthiest people in Canada, however, were not included in the Liberal-NDP confidence and supply pact.
NDP critic for tax fairness and inequality, Niki Ashton, said at a news conference last month that she wants the federal government to close loopholes she says are being used by the super-rich and corporations to avoid paying billions in taxes.
This report by The Canadian Press was first published Aug. 11, 2022.
Ex-police officer gets 7-plus years in prison in Jan. 6 case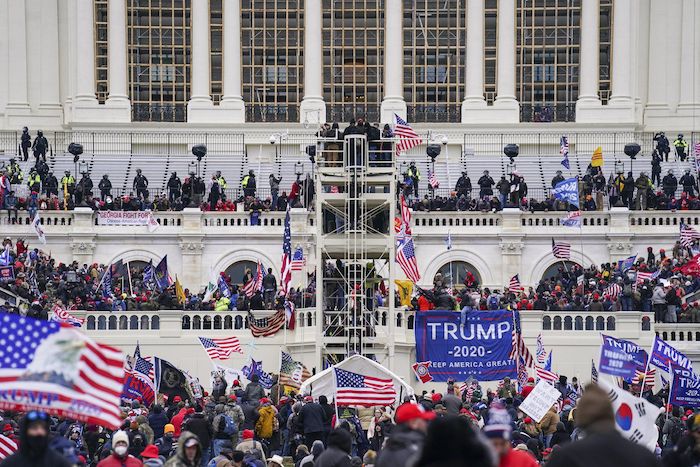 By Michael Kunzelman in Washington
WASHINGTON (AP) — An off-duty Virginia police officer who stormed the U.S. Capitol with a fellow officer was sentenced Thursday to more than seven years in prison, matching the longest prison sentence so far among hundreds of Capitol riot cases.
Former Rocky Mount Police Sgt. Thomas Robertson didn't speak in court before U.S. District Judge Christopher Cooper sentenced him to seven years and three months in prison. Cooper also sentenced Robertson to three years of supervised release after his prison term.
Federal prosecutors had recommended an eight-year prison sentence for Robertson. The sentence he got equals that of Guy Reffitt, a Texas man who attacked the Capitol while armed with a holstered handgun.
Robertson gets credit for the 13 months he has already been jailed.
In April, a jury convicted Robertson of attacking the Capitol on Jan. 6, 2021, to obstruct Congress from certifying President Joe Biden's 2020 electoral victory. Jurors found him guilty of all six counts in his indictment, including charges that he interfered with police officers at the Capitol and that he entered a restricted area with a dangerous weapon, a large wooden stick.
Robertson traveled to Washington on the morning of Jan. 6 with another off-duty Rocky Mount police officer, Jacob Fracker, and a third man, a neighbor who wasn't charged in the case.
Fracker was scheduled to be tried alongside Robertson before he pleaded guilty to a conspiracy charge in March and agreed to cooperate with federal authorities. Cooper is scheduled to sentence Fracker next Tuesday.
Prosecutors have asked Cooper to spare Fracker from a prison term and sentence him to six months of probation along with a period of home detention or "community confinement." They said Fracker's "fulsome" cooperation and trial testimony was crucial in securing convictions against Robertson.