Police: 'Empire' actor turns self in to face charge
CHICAGO — "Empire" actor Jussie Smollett turned himself in early Thursday to face accusations that he filed a false police report when he told authorities he was attacked in Chicago by two men who hurled racist and anti-gay slurs and looped a rope around his neck, police said.
Smollett turned himself in at central booking and was arrested, Chicago police spokesman Anthony Guglielmi said. Chicago police Superintendent Eddie Johnson was scheduled to hold a Thursday morning news conference, and Smollett was expected to appear in court later in the day. Police haven't described a motive.
The whispers about Smollett's account started with reports that he had not fully co-operated with police after telling authorities he was attacked. Then detectives in a city bristling with surveillance cameras could not find video of the beating. Later, two brothers were taken into custody for questioning but were released after two days, with police saying they were no longer suspects.
Following three weeks of mounting suspicions, Smollett was charged Wednesday with felony disorder conduct, a charge that could bring up to three years in prison and force the actor, who is black and gay, to pay for the cost of the investigation into his report of a Jan. 29 beating.
In less than a month, the 36-year-old changed from being the seemingly sympathetic victim of a hate crime to being accused of fabricating the entire thing.
The felony charge emerged on the same day detectives and the two brothers testified before a grand jury. Smollett's attorneys met with prosecutors and police, but it was unknown what they discussed or whether Smollett attended the meeting.
In a statement, attorneys Todd Pugh and Victor Henderson said Smollett "enjoys the presumption of innocence, particularly when there has been an investigation like this one where information, both true and false, has been repeatedly leaked."
The announcement of the charges followed a flurry of activity in recent days, including lengthy police interviews of the brothers, a search of their home and their release after officers cleared them.
Investigators have not said what the brothers told detectives or what evidence detectives collected. But it became increasingly clear that serious questions had arisen about Smollett's account — something police signalled Friday when they announced a "significant shift in the trajectory" of the probe after the brothers were freed.
Smollett, who plays a gay character on the hit Fox television show "Empire," said he was attacked Jan. 29 as he was walking home from a downtown Subway sandwich shop. He said the masked men beat him, made derogatory comments and yelled "This is MAGA country" — an apparent reference to President Donald Trump's campaign slogan, "Make America Great Again" — before fleeing.
Earlier Wednesday, Fox Entertainment and 20th Century Fox Television issued a statement saying Smollett "continues to be a consummate professional on set" and that his character is not being written off the show. The series is shot in Chicago and follows a black family as they navigate the ups and downs of the recording industry.
The studio's statement followed reports that Smollett's role was being slashed amid the police investigation.
After reviewing hundreds of hours of video, detectives did find and release images of two people they said they wanted to question and last week picked up the brothers at O'Hare International Airport as they returned from Nigeria. Police questioned the men and searched their apartment.
The brothers, who were identified by their attorney as Abimbola "Abel" and Olabinjo "Ola" Osundairo, were held for nearly 48 hours on suspicion of assaulting Smollett.
The day after they were released, police said the men provided information that had "shifted the trajectory of the investigation," and detectives requested another interview with Smollett.
Police said one of the men had worked on "Empire," and Smollett's attorneys said one of the men is the actor's personal trainer, whom he hired to help get him physically ready for a music video. The actor released his debut album, "Sum of My Music," last year.
Smollett was charged by prosecutors, not the grand jury. The police spokesman said the brothers appeared before the panel to "lock in their testimony."
Speaking outside the courthouse where the grand jury met, the brothers' attorney said the two men testified for about two and a half hours.
"There was a point where this story needed to be told, and they manned up and they said we're going to correct this," Gloria Schmidt said.
She said her clients did not care about a plea deal or immunity. "You don't need immunity when you have the truth," she said.
She also said her clients received money from Smollett, but she did not elaborate.
Smollett has been active in LBGTQ issues, and initial reports of the assault drew outrage and support for him on social media, including from Sen. Kamala Harris of California and TV talk show host Ellen DeGeneres.
Referring to a published account of the attack, President Donald Trump told reporters at the White House that "it doesn't get worse, as far as I'm concerned."
But several hours after Smollett was declared a suspect and the charges announced, there was little reaction from celebrities online.
Former Cook County prosecutor Andrew Weisberg said judges rarely throw defendants in prison for making false reports, opting instead to place them on probation, particularly if they have no prior criminal record.
Smollett has a record — one that concerns giving false information to police when he was pulled over on suspicion of driving under the influence. According to records, he was also charged with false impersonation and driving without a license. He later pleaded no contest to a reduced charge and took an alcohol education and treatment program.
Another prospective problem is the bill someone might receive after falsely reporting a crime that prompted a nearly monthlong investigation, including the collection and review of hundreds of hours of surveillance video.
The size of the tab is anyone's guess, but given how much time the police have invested, the cost could be huge.
Weisberg recently represented a client who was charged with making a false report after surveillance video discredited her account of being robbed by three men at O'Hare Airport.
For an investigation that took a single day, his client had to split restitution of $8,400, Weisberg said. In Smollett's case, "I can imagine that this would be easily into the hundreds of thousands of dollars."
___
Check out the AP'scomplete coverage of the Jussie Smollett case.
Don Babwin, The Associated Press
Everything old is new again after election returns virtually identical Parliament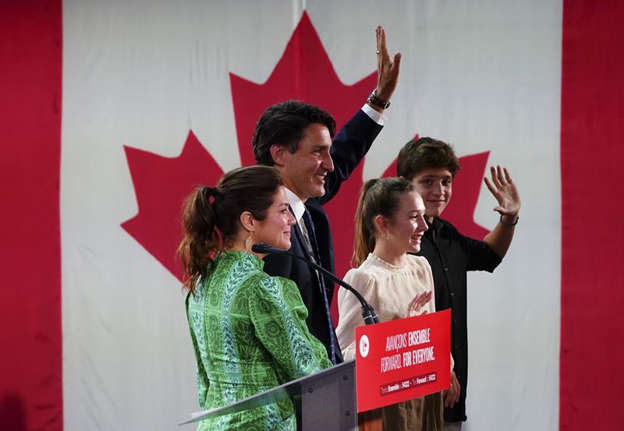 OTTAWA — Prime Minister Justin Trudeau will be returning to Ottawa without the majority government mandate Liberals had hoped for when he called the early election last month.
Early Tuesday, the Liberals were hovering between 155 and 157 seats. The former is the number they had when Trudeau called the election in August, and the latter is what they won in 2019.
The Conservatives were teetering on 121 or 122 seats, after winning 121 less than two years ago.
They will remain the official Opposition, with leader Erin O'Toole promising the "changed" party he leads will speak for all Canadians from all walks of life.
The Bloc Québécois and NDP will bring up the rear, each individually potentially holding the balance of power in the minority House of Commons, both also within a few seats of their 2019 tallies.
With more people voting by mail than ever before, the final result in some ridings might not be known for days.
Elections Canada will start counting more than 780,000 mailed-in ballots Tuesday, and it expects most to be finished by Wednesday, but officials did warn some ridings could take up to four days for final counts.
Some extremely close races in Vancouver Granville, Edmonton Centre, and Davenport in Toronto were still going back and forth between parties as votes were counted well into the night.
Trudeau attempted a conciliatory tone in his acceptance speech, promising Canadians that he knows all they want is to finally get back to normal after the pandemic. He says the government they elected will do just that.
O'Toole said that in his concession phone call, he warned Trudeau off calling another early election to make a grab for a majority government.
"I told him if he thinks he can threaten Canadians with another election in 18 months the Conservative party will be ready," O'Toole said at his election night event in Oshawa, Ont.
NDP Leader Jagmeet Singh, who two years ago was chided for dancing and celebrating at an election night party despite losing 20 seats, delivered a very short, more subdued speech from Vancouver, even though this time his party did make some gains.
Most election parties were smaller and quieter than usual, with pandemic restrictions keeping crowd sizes to a minimum.
The People's Party of Canada more than doubled its share of the popular vote and might have played spoiler to the Conservatives in some ridings by drawing away right-of-centre voters, but failed to elect a single MP.
The Green Party's pre-election turmoil left it with less than half the vote share it achieved in 2019, following a campaign where Leader Annamie Paul finished fourth in her own riding, and was asked not to visit many others by her own candidates.
No leaders stepped down Monday, but the future is murky for many, including Trudeau, who failed to secure a majority mandate after triggering the early election.
O'Toole was clearly sending the message in his speech he has no intention of stepping down.
This report by The Canadian Press was first published Sept. 21, 2021.
Mia Rabson, The Canadian Press
Liberals win most seats but not enough seats for a majority government
OTTAWA — The Canadian Press is projecting the Liberals have won enough seats to stay in power with a minority government but have fallen short of winning a majority.
Prime Minister Justin Trudeau will need the support of at least one other party to maintain a minority government.
As of late Monday night, The Canadian Press projected that the Liberals were leading in 156 ridings, the Conservatives in 123, the Bloc Québécois in 29, the NDP in 28 and the Greens in two.
The Liberals enjoyed a healthy lead as poll results trickled in across the country.
The party's share of the vote in the two most populous provinces, Ontario and Quebec, was well ahead of what polls heading into the election had forecast.
The Grits were hanging onto their commanding position in Atlantic Canada, where the Conservatives made modest gains.
The NDP lost its lone Atlantic seat, St. John's East, to the Liberals. It had been held by New Democrat Jack Harris, who did not seek re-election.
Trudeau cabinet ministers Seamus O'Regan, Dominic LeBlanc and Lawrence MacAulay cruised to victory.
But Bernadette Jordan, who served as fisheries minister, lost to her Conservative rival in Nova Scotia's South Shore-St. Margarets, evidently hurt by the lobster fishery dispute between Indigenous and non-Indigenous fishers in the region.
In Fredericton, N.B., Jenica Atwin, the former Green MP who defected to the Liberals last spring, was in a tight, see-saw battle with the Conservatives.
Green support largely collapsed throughout the region.
Heading into Monday night, polls suggested a dead heat across Canada between the Liberals and Conservatives — neither of them within reach of the 170 seats needed to form a majority government.
Trudeau pulled the plug on his minority Liberal government on Aug. 15, a little less than two years after Canadians first reduced the Liberals to a minority.
He argued that Canada was at a pivotal moment in history and Canadians deserved a chance to decide how they wanted to finish the fight against COVID-19 and build back the shattered economy.
But the timing of his election call, coming as a fourth wave of the novel coronavirus was beginning to sweep the country, quickly sapped the good will Trudeau had built among Canadians for his government's handling of the pandemic over the previous 18 months.
And it gave rival leaders an opening to attack Trudeau's character, describing him as a selfish egoist who can't be trusted to put the interests of Canadians ahead of his personal ambition to secure a majority.
At dissolution, the Liberals had 155 seats, the Conservatives 119, the Bloc Québécois 32, the NDP 24 and the Greens two. There were also five independents and one vacancy.
While another minority seemed likely, it was a toss-up heading into Monday night whether it would be a Liberal or Conservative minority.
Which of the two front-runners ultimately forms government doesn't necessarily depend on who wins the greatest share of the popular vote or even who wins the most seats.
Rather, it depends on which party can muster enough support from one or more smaller parties to survive crucial confidence votes in the House of Commons.
Canadians may well have to wait until Wednesday to learn which party will form the government.
There are almost one million mail-in ballots that election officials won't start counting until Tuesday. Elections Canada has said it expects to finish the mail-in count in most ridings by Wednesday, but some may take another day or two.
According to Elections Canada, almost 6.8 million people voted early, most of them at advance polls over a week ago, and the rest through special ballots cast by mail or at Elections Canada offices.
Canada has more than 30 million eligible voters.
Elections Canada had previously warned that the pandemic could lead to longer waits for voters compared to past elections. Public health protocols involve keeping people at a distance and collecting extra information for contact tracing purposes, which could take extra time.
The polling stations themselves were also likely to be farther away, as many schools and landlords opted out of hosting crowds of voters during the fourth wave of the pandemic.
Elections Canada encouraged voters to wear masks but only required them in places where they were mandated by provincial rules. Proof-of-vaccination regulations do not apply at polling stations in any province where they currently exist.
George Walker cast his ballot in Toronto Monday afternoon. He described the experience as "smooth," and he called the safety precautions taken at the polling station "wise."
"But it took longer than it has in the past, mainly because of COVID," Walker said, adding he didn't mind the extra 15-minute wait.
Shannon Fernandez said voting on election day was "super easy," "stress free" and "very straightforward."
"I felt like it was very well-organized," Fernandez added. "No complaints at all."
This report by The Canadian Press was first published Sept. 20, 2021.
The Canadian Press