Poland demands $1.3 trillion war reparations from Germany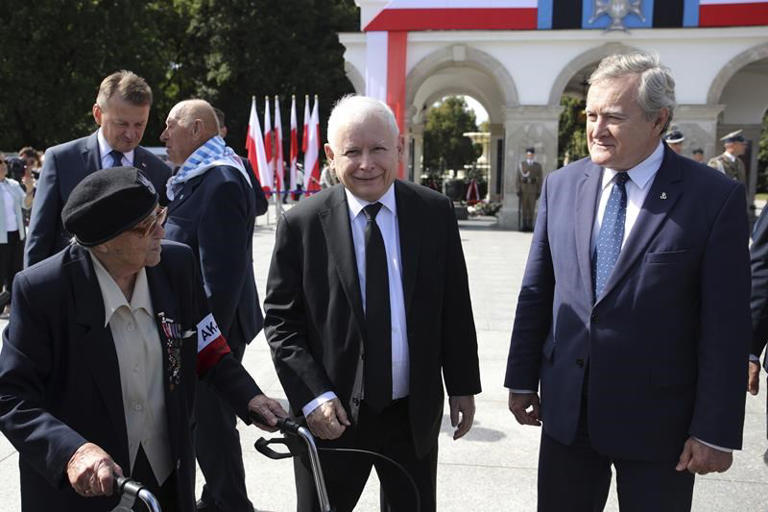 WARSAW, Poland (AP) — Poland's top politician said Thursday that the government will seek equivalent of some $1.3 trillion in reparations from Germany for the Nazis' World War II invasion and occupation of his country.
Jaroslaw Kaczynski, leader of the Law and Justice party, announced the huge claim at the release of a long-awaited report on the cost to the country of years of Nazi German occupation as it marks 83 years since the start of World War II.
"We not only prepared the report but we have also taken the decision as to the further steps," Kaczynski said during the report's presentation.
"We will turn to Germany to open negotiations on the reparations," Kaczynski said, adding it will be a "long and not an easy path" but "one day will bring success."
He insisted the move would serve "true Polish-German reconciliation" that would be based on "truth."
He claimed the German economy is capable of paying the bill.
Germany argues compensation was paid to East Bloc nations in the years after the war while territories that Poland lost in the East as borders were redrawn were compensated with some of Germany's pre-war lands. Berlin calls the matter closed.
Poland's right-wing government argues that the country which was the war's first victim has not been fully compensated by neighboring Germany, which is now one of its major partners within the European Union.
"Germany has never really accounted for its crimes against Poland," Kaczynski said, claiming that many Germans who committed war crimes lived in impunity in Germany after the war.
Top leaders including Kaczynski, who is Poland's chief policy maker, and Prime Minister Mateusz Morawiecki attended the ceremonial release of the report at the Royal Castle in Warsaw, rebuilt from wartime ruins.
The release of the three-volume report was the focus of national observances of the anniversary of the war that began Sep. 1, 1939, with Nazi Germany's bombing and invasion of Poland that was followed by more than five years of brutal occupation.
The head of the report team, lawmaker Arkadiusz Mularczyk, said it was impossible to place a financial value on the loss of some 5.2 million lives he blamed on the German occupation.
He listed losses to the infrastructure, industry, farming, culture, deportations to Germany for forced labor and efforts to turn Polish children into Germans.
A team of more than 30 economists, historians and other experts worked on the report since 2017. The issue has created bilateral tensions.
The war was "one of the most terrible tragedies in our history," President Andrzej Duda said during early morning observances at the Westerplatte peninsula near Gdansk, one of the first places to be attacked in the Nazi invasion.
"Not only because it took our freedom, not only because it took our state from us, but also because this war meant millions of victims among Poland's citizens and irreparable losses to our homeland and our nation," Duda said.
In Germany, the government's official for German-Polish cooperation, Dietmar Nietan, said in a statement that Sept. 1 "remains a day of guilt and shame for Germany that reminds us time and again not to forget the crimes carried out by Germany" that are the "darkest chapter in our history" and still affect bilateral relations.
Reconciliation offered by people in Poland is "the basis on which we can look toward the future together in a united Europe," Nietan said.
Poland's government rejects a 1953 declaration by the country's then-communist leaders, under pressure from the Soviet Union, agreeing not to make any further claims on Germany.
An opposition lawmaker, Grzegorz Schetyna, says the report is just a "game in the internal politics" and insists Poland needs to build good relations with Berlin.
Some 6 million of Poland's citizens, including 3 million Jews, were killed in the war. Some of them were victims of the Soviet Red Army that invaded from the east.
______
AP writer Frank Jordans in Berlin contributed.
Monika Scislowska, The Associated Press
Russia arrests Wall Street Journal reporter on spying charge
Wall Street Journal reporter Evan Gershkovich is escorted by officers from the Lefortovsky court to a bus, in Moscow, Russia, Thursday, March 30, 2023. Russia's top security agency says an American reporter for the Wall Street Journal has been arrested on espionage charges. The Federal Security Service said Thursday that Evan Gershkovich was detained in the Ural Mountains city of Yekaterinburg while allegedly trying to obtain classified information. (AP Photo/Alexander Zemlianichenko)
Moscow (AP) – Russia's security service arrested an American reporter for The Wall Street Journal on espionage charges, the first time a U.S. correspondent has been detained on spying accusations since the Cold War. The newspaper denied the allegations.
Evan Gershkovich was detained in the Ural Mountains city of Yekaterinburg while allegedly trying to obtain classified information, the Federal Security Service, known by the acronym FSB, said Thursday.
The service, which is the top domestic security agency and main successor to the Soviet-era KGB, alleged that Gershkovich "was acting on the U.S. orders to collect information about the activities of one of the enterprises of the Russian military-industrial complex that constitutes a state secret."
Kremlin spokesman Dmitry Peskov told reporters Wednesday: "It is not about a suspicion, is it about the fact that he was caught red-handed."
"The Wall Street Journal vehemently denies the allegations from the FSB and seeks the immediate release of our trusted and dedicated reporter, Evan Gershkovich," the newspaper said. "We stand in solidarity with Evan and his family."
The arrest comes at a moment of bitter tensions between the West and Moscow over its war in Ukraine and as the Kremlin intensifies a crackdown on opposition activists, independent journalists and civil society groups. The sweeping campaign of repression is unprecedented since the Soviet era.
Earlier this week, a Russian court convicted a father over social media posts critical of the war and sentenced him to two years in prison while his 13-year-old daughter was sent to an orphanage.
Gershkovich is the first American reporter to be arrested on espionage charges in Russia since September 1986, when Nicholas Daniloff, a Moscow correspondent for U.S. News and World Report, was arrested by the KGB. Daniloff was released without charge 20 days later in a swap for an employee of the Soviet Union's United Nations mission who was arrested by the FBI, also on spying charges.
At a hearing Thursday, a Moscow court quickly ruled to keep Gershkovich behind bars pending the investigation, according to the official Telegram channel of the capital's courts.
While previous American detainees have been freed in prisoner swaps, a top Russian official said it was way too early to talk about any such deal.
There was no immediate public comment from Washington, although a U.S. official indicated the U.S. government was aware of the situation and awaiting more information from Russia.
Gershkovich, who covers Russia, Ukraine and other ex-Soviet nations as a correspondent in The Wall Street Journal's Moscow bureau, could face up to 20 years in prison if convicted of espionage. Prominent lawyers noted that past investigations into espionage cases in the past took a year to 18 months during which time he may be held with little contact with the outside world.
The FSB noted that Gershkovich had accreditation from the Russian Foreign Ministry to work as a journalist, but ministry spokeswoman Maria Zakharova said Gershkovich was using his journalistic credentials as a cover for "activities that have nothing to do with journalism."
Gershkovich speaks fluent Russian and had previously worked for the French agency Agence France-Presse and The New York Times. His last report from Moscow, published earlier this week, focused on the Russian economy's slowdown amid Western sanctions imposed when Russian troops invaded Ukraine last year.
Ivan Pavlov, a prominent Russian defense attorney who has worked on many espionage and treason cases, said Gershkovich is the first criminal case on espionage charges against a foreign journalist in post-Soviet Russia.
"That unwritten rule not to touch accredited foreign journalists, has stopped working," said Pavlov, a member of the First Department legal aid group.
Pavlov said the case against Gershkovich was built in order for Russia to have "trump cards" for a future prisoner exchange and will likely be resolved "not by the means of the law, but by political, diplomatic means."
Russian Deputy Foreign Minister Sergei Ryabkov ruled out any quick swap.
"I wouldn't even consider this issue now because people who were previously swapped had already served their sentences," Ryabkov said, according to Russian news agencies.
Ryabkov added that the U.S. citizens swapped in the past were behind bars on "quite serious charges" while the Russians in the American custody had found themselves in "the millstones of the American system of persecution."
Gershkovich's arrest follows a swap in December, in which WNBA star Brittney Griner was freed after 10 months behind bars in exchange for Russian arms dealer Viktor Bout.
Another American, Paul Whelan, a Michigan corporate security executive, has been imprisoned in Russia since December 2018 on espionage charges that his family and the U.S. government have said are baseless.
Jeanne Cavelier, of press freedom group Reporters Without Borders, said Gershkovich's arrest "looks like a retaliation measure of Russia against the United States."
"We are very alarmed because it is probably a way to intimidate all Western journalists that are trying to investigate aspects of the war on the ground in Russia," said Cavelier, head of Eastern Europe and Central Asia desk at the Paris-based group. "The Western powers should immediately ask for clarifications on the charges, because as far as we know he was just doing his job as a journalist."
Russian journalist Dmitry Kolezev said on the messaging app Telegram that he spoke to Gershkovich before his trip to Yekaterinburg.
"He was preparing for the usual, albeit rather dangerous in current conditions, journalist work," Kolezev wrote. He said Gershkovich asked him for the contacts of local journalists and officials in the area as he prepared to arrange interviews.
Another prominent lawyer with the First Department group, Yevgeny Smirnov, said that those arrested on espionage and treason charges are usually held at the FSB's Lefortovo prison in Moscow, known for its stringent conditions. It was Moscow's Lefortovo District Court that ruled behind closed doors to keep Gershkovich in custody.
Smirnov said espionage suspects are usually held in a total isolation, without phone calls, visitors or even access to newspapers. At most, they can receive letters, often delayed by weeks. Smirnov called these conditions "tools of suppression."
Smirnov and Pavlov both said that the investigation could last for 12 to 18 months, and the trial would be held behind closed doors.
According to Pavlov, there have been no acquittals in treason and espionage cases in Russia since 1999.
Most recently, Smirnov and Pavlov defended Ivan Safronov, a former Russian journalist turned an official with the federal space corporation Roscosmos who was convicted of treason.
Russia stops sharing missile test info with US, opens drills
Russian President Vladimir Putin attends a cabinet meeting via videoconference at the Novo-Ogaryovo residence outside Moscow, Russia, Wednesday, March 29, 2023. (Gavriil Grigorov, Sputnik, Kremlin Pool Photo via AP)
By Vladimir Isachenkov in Moscow
MOSCOW (AP) — Russia will no longer give the U.S. advance notice about its missile tests, a senior Moscow diplomat said Wednesday, as its military deployed mobile launchers in Siberia in a show of the country's massive nuclear capability amid fighting in Ukraine.
Deputy Foreign Minister Sergei Ryabkov said in remarks carried by Russian news agencies that Moscow has halted all information exchanges with Washington after previously suspending its participation in the last remaining nuclear arms pact with the U.S.
Along with the data about the current state of the countries' nuclear forces routinely released every six months in compliance with the treaty, the parties also have exchanged advance warnings about test launches. Such notices have been an essential element of strategic stability for decades, allowing Russia and the United States to correctly interpret each other's moves and make sure that neither country mistakes a test launch for a missile attack.
The termination of missile test warnings marks yet another attempt by Moscow to discourage the West from ramping up its support for Ukraine by pointing to Russia's massive nuclear arsenal. In recent days, President Vladimir Putin announced the deployment of tactical nuclear weapons to the territory of Moscow's ally Belarus.
Last month, Putin suspended the New START treaty, saying Russia can't accept U.S. inspections of its nuclear sites under the agreement at a time when Washington and its NATO allies have openly declared Moscow's defeat in Ukraine as their goal. Moscow emphasized that it wasn't withdrawing from the pact altogether and would continue to respect the caps on nuclear weapons the treaty set.
The Foreign Ministry initially said Moscow would keep notifying the U.S. about planned test launches of its ballistic missiles, but Ryabkov's statement reflected an abrupt change of course.
"There will be no notifications at all," he said in remarks reported by Russian news agencies when asked if Moscow would also stop issuing notices about planned missile tests. "All notifications, all kinds of notifications, all activities under the treaty. will be suspended and will not be conducted regardless of what position the U.S. may take."
Ryabkov's announcement followed U.S. officials' statement that Moscow and Washington have stopped sharing biannual nuclear weapons data that were envisioned by the New START treaty. Officials at the White House, Pentagon and State Department said the U.S. had offered to continue providing this information to Russia even after Putin suspended its participation in the treaty, but Moscow told Washington it would not be sharing its own data.
The New START, signed in 2010 by then-Presidents Barack Obama and Dmitry Medvedev, limits each country to no more than 1,550 deployed nuclear warheads and 700 deployed missiles and bombers. The agreement envisages sweeping on-site inspections to verify compliance.
The inspections have been put on hold since 2020 because of the COVID-19 pandemic. Discussions on resuming them were supposed to have taken place in November 2022, but Russia abruptly called them off, citing U.S. support for Ukraine.
As part of the Russian drills that began Wednesday, Yars mobile missile launchers will maneuver across three regions of Siberia, Russia's Defense Ministry said. The movements will involve measures to conceal the deployment from foreign satellites and other intelligence assets, the ministry said.
The Defense Ministry didn't say how long the drills would last or mention plans for any practice launches. The Yars is a nuclear-tipped intercontinental ballistic missile with a range of about 11,000 kilometers (over 6,800 miles). It forms the backbone of Russia's strategic missile forces.
A Defense Ministry video shows trucks carrying the missiles driving from a base to go on patrol. The maneuvers involve about 300 vehicles and 3,000 troops in eastern Siberia, according to the ministry.
The exercise took place days after Putin announced a plan to deploy the tactical nuclear weapons in Belarus, Russia's neighbor and ally. Such weapons are intended for use on the battlefield and have a relatively short range and a much lower yield compared with the long-range strategic missiles fitted with nuclear warheads that are capable of obliterating whole cities.
Putin's decision on the tactical weapons followed his repeated warnings that Moscow was ready to use "all available means" — a reference to its nuclear arsenal — to fend off attacks on Russian territory.
Ryabkov said Wednesday that Putin's move followed the failure by Kyiv's allies to heed previous "serious signals" from Moscow because of what he described as the "fundamental irresponsibility of Western elites before their people and international security."
"Now they will have to deal with changing realities," he said, adding: "We hope that NATO officials will adequately assess the seriousness of the situation."
Russian officials have issued a barrage of hawkish statements since their troops entered Ukraine, warning that the continuing Western support for Kyiv raised the threat of a nuclear conflict.
In remarks published Tuesday, Nikolai Patrushev, the secretary of Russia's Security Council, which Putin chairs, sternly warned the U.S. and its allies against harboring hopes for Russia's defeat in Ukraine.
Patrushev alleged that some American politicians believe the U.S. could launch a preventative missile strike on Russia to which Moscow would be unable to respond, a purported belief that he described as "short-sighted stupidity, which is very dangerous."
"Russia is patient and isn't trying to scare anyone with its military superiority, but it has unique modern weapons capable of destroying any adversary, including the United States, in case of a threat to its existence," Patrushev said.